The Tart Sisters is a wholesale tart business that has been going strong for 20 years turning out delectable tarts. Originally Felicity Peel and her sister Katrina started rolling their pastries in an old fish and chips shop on Pier 1. Now Felicity runs the business in Ashfield and has incorporated cakes and cookies into the repertoire. One year ago she opened up a shop so that retail customers can buy these delicious morsels direct.
Most of our adventures start out revolving around food. One of my friends usually comes up with a suggestion and we work a plan around it. But this visit to The Tart Sisters started another way, via of all things, sport. You see Mr NQN is a voraciously keen cyclist and Belinda's two girls Mia and Ruby are learning to ride a bike.
Mia was scared of riding and asked Belinda "Why are you making me ride this death trap?" but within one lesson Mr NQN had taught her how to ride with a degree of confidence. The challenge for the next ride became six year old Ruby's turn. It was around this time that Belinda sent me a picture of a fig and mascarpone tart that she was eating from The Tart Sisters and we thought that we would combine the two pursuits: learning to ride a bike and eating.
Located on Holden Street in Ashfield, it is a neat little shopfront where people can buy take away sweet and savoury tarts, cakes, biscuits, granola jars and flatbreads. It is a business that been going for 20 years - originally Felicity Peel and her sister Katrina started the business making tarts and Felicity recalls working out of an old fish and chips shop on Pier one. "We'd have a view of the tugboats while we were rolling pastry." They shared a kitchen with Rachel Grisewood from Manna from Heaven and the three regularly bartered recipes. It was Rachel who came up with their divine fig and mascarpone tart recipe as payment for some work.
About 10 years ago Katrina left the business as she had a family and Felicity opened up the store in Ashfield about 1 year ago. She was reluctant as the sisters had opened a business with Rachel that was tucked away in the back streets of Surry Hills and that hadn't gone as well as hoped. The push Felicity needed was her sick dog and mounting vet bills that needed paying.
Now the shop is a popular place to stop by to pick up goodies. The display features savoury items with several round and flat tarts while the glass display holds the small cakes. Wedged between these are the larger cakes. Their business supplies many other cafes, restaurants and David Jones Food Hall with small-batch made goodies.
On Wednesdays and Saturdays they stock Brickfields Bakery bread and Pepe Saya butter but the rest is all made in-house using organic free range eggs from Clarendon Farms. Their small kitchen is next door with large whisks and sieves hanging up in the window. But as there is nowhere to sit and eat their goodies a picnic seemed to be the best plan. And should you be planning a Valentines Day picnic this year, Felicity is making milk chocolate tarts and the divine fig and mascarpone tart will be available (although the latter sells out quickly).
Felicity incorporates a couple of new items every day although there are items that she cannot take off like the salted caramel brownie, mushroom tart, goat's cheese & basil tart and the fig & mascarpone tart. Prices are very reasonable and we try a little bit of everything and end up with almost $50 worth of tarts and pies. We take them to the park where Mr NQN takes Ruby out for a ride while the rest of us divide up the tarts and start eating.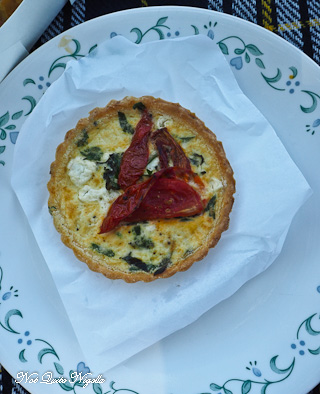 We start with the two round savoury tarts. There is a roasted tomato and goat's cheese and basil tart and a spinach, feta, ricotta, onion and parmesan tart that both have a nice crisp shell and a flavoursome filling.
We try the mushroom and caramelised onion tart and the spinach and feta tart. The mushroom tart is my favourite of the savoury pastries with plenty of sweet caramelised onions and a delectable parmesan and olive oil pastry.
The tomato and cheese flatbread is a thin, slightly crispy edged bread topped with roasted tomatoes, olives and a dollop of cheese. It is also delicious but the dollop is cheese isn't really spread across the whole bread so some bites are tastier than others.
Shaking off the bits of pastry, we try the sweets. The little lemon cakes are tiny two bite sized lemony morsels moist with coconut. The small round salted caramel brownie is divine and has chunks of chocolate and a centre of salted caramel while the chocolate, rye and olive oil cake makes me want to start baking with rye flour. The texture of the cake is so damp and moist with just the lightest hint of rye.
Perhaps my favourite of the little cakes however is the apple, rhubarb and cinnamon crumble with chunks of tender apple and slightly tart rhubarb on top of a cake aromatic in cinnamon. At $3.50 they're all fantastic value and quality.
We've saved our favourites for last. The fig and mascarpone tart is nothing but a cloud of bliss. Soft clouds of mascarpone fill the crispy pastry shell and there are slices of syrupy fig peeking out from the top. It is one of those tarts that you think about long after you've eaten it and go back for time and time again. The blackberry frangipane tart is also a stunner, but in a different way with jammy sweet blackberries with a light tang of tartness and a rich frangipane base. We lick our fingers grabbing every crumb.
So tell me Dear Reader, will you do something bigger because Valentines Day falls on a Saturday this year? How often do you do picnics? And I just heard this question on TV but do you think it's strange if a woman gives a man flowers on Valentines Day?
All food in this post was independently paid for
The Tart Sisters
117 Holden st Ashfield, New South Wales
Tel: +61 (02) 9716 6998
http://www.thetartsisters.com.au/
Open Wednesday to Friday 8am-3pm
Saturday 8:30am-2pm
Closed Sunday