Sometimes all you want to achieve on a Sunday is a leisurely, stress free day. By then Saturday, the day for chores has passed and the moody grey weather reduces plans to a simple "brunch with friends." And the most taxing the conversation is simply to discuss at length, "The best way to cut up an ice block when sharing" or "Your dream sandwich."
Given the latter, it seems appropriate that we are at Pioik Bakery on Harris Street in Pyrmont. Pioik meaning bread in Coptic or Ancient Egyptian is newish bakery on Harris Street in Pyrmont. The baker Shady Wasef (who has worked with chefs like Stefano Manfredi) and his wife Rose run the bakery. There also seems to be a concerted and genuine effort to get to know the patrons as we overhear them talking to customers about their previous orders.
As it is around 1pm (okay scrap brunch, let's go for lunch and then a nap), most of the breads have sold out so while we wait for Nick to arrive, I ask to put a couple of breads aside. I notice someone buying a quarter loaf of "The Epooro" or the King. It's a whole wheat boule that weighs 2 kilos in its whole incarnation and is made with 100% whole wheat flour. The fruit loaf looks appealing to me so I put one of those aside and order some drinks. My chai latte is very good while Mr NQN orders a long black made with Espresso di Manfredi coffee beans.
On the counter are samples of the Enkir bread made with Enkir flour from Italy and sold only on weekends. It's a new bread as they only received the flour only a few weeks ago. It's a low gluten high protein flour that makes a dense loaf reminiscent of spelt with a slight nuttiness. It is priced at $12.50 a loaf as the flour itself is costly. Enkir is said to be the oldest cereal in the world dating back to 12,000 years ago.
Pizza filled with salami $12
Nick saunters in just as I start to get anxious about food running out so we choose a few sandwich options and some sweets. A thin focaccia style pizza is studded with sweet caramelised garlic cloves and rosemary sprigs. They serve this filled with salami and the texture is wonderful. There's a satisfied silence as we chew on these and wish that we hadn't bought the last one as we wanted to take some home and fill it with cheese and salami and toast it.
Smoked salmon sandwich $5
Although there are seats and tables, the items to eat-in are served in the takeaway boxes which is fine and this also keeps prices down. I don't know anywhere else you can find a great sandwich for just $5 especially made on bread as good as this. The filling has just the right amount of spread and filling and they toasted it for us too.
Pioik Egg Sandwich $5.50
The egg sandwich is filled with an egg frittata and while the bread is excellent it might be a bit better with a relish or something to give it a bit of moisture.
Danish $5
I love a good schiacciata and this is their version made with brioche rather than foccacia and sweet glazed on top. It's good but as it has been refrigerated, the buttery goodness of the brioche becomes a bit too firm.
Orange cake $6.50
The orange cake is that gorgeous moist Middle Eastern orange and almond cake made famous by Claudia Roden. Here it is served in squares and topped with chocolate shards.
Eclair $6.50
The eclair is topped with chocolate and filled with a coffee cream filling. It is a little wet from the filling while I prefer eclairs to be a bit crisper.
Meringue $2
The display of fluffy meringues catch Nick's eye so he adds one to our order. It's a pistachio and rosewater number, sweet and fragrant and reminiscent of Turkish Delight. I was inspired to make a version of my own shortly after.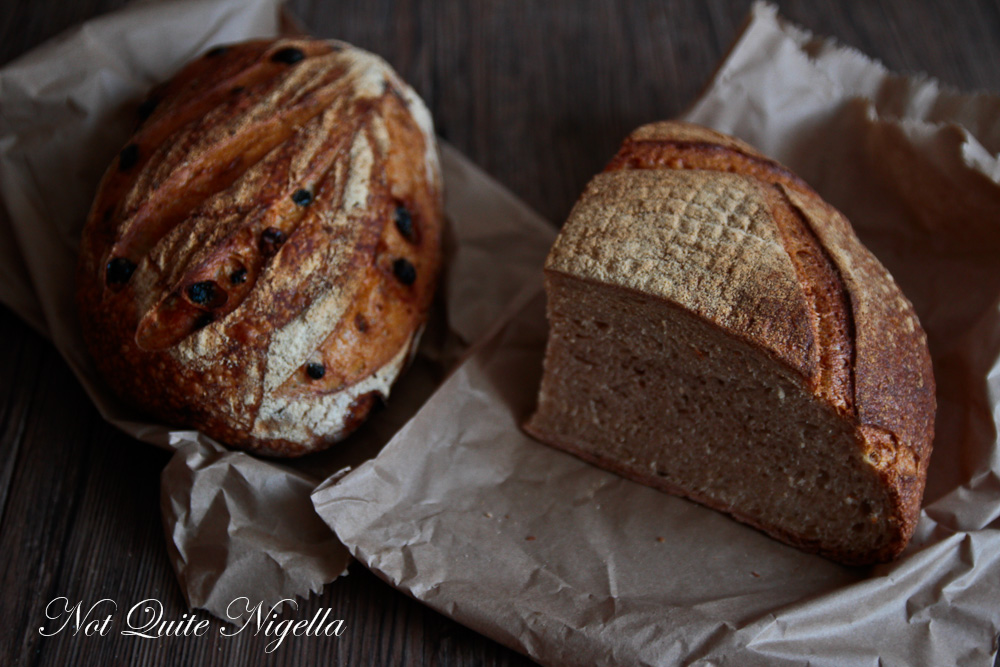 Owtah Fruit Loaf $8.50 and Epooro quarter $6
Back at home, we try both loaves. The Owtah fruit loaf has sultanas, currants, walnuts and fennel seeds and has a nice crispy, thin crust to it and slices easily. The Epooro has a good density and a touch of almost sweetness to it. And a quarter seems just right for just the two of us.
So tell me Dear Reader, how often do you buy or bake bread? And how much bread do you eat in a day?
This meal was independently paid for.
Pioik Bakery
176-178 Harris Street, Pyrmont, NSW
Tel: +61 (02) 9660 0343