A buttery, eggy babka dough is layered with blueberry jam and is drizzled with vanilla icing drips. Serve this blueberry babka warm and by the slice-but be warned, you may want more than one slice!
I basically make what I want to eat and I woke up one day wanting to eat a delicious ribboned babka bread, with plenty of butter and eggs so that it was as buttery as a brioche. I used some of Valentina's duck eggs in this although I know that they're hard to get so you can use chicken eggs too. The smell of this jammy bread baking is a prelude to how delightful this babka bread is. I ate a whole slice without pause and reached for another shortly after.
A couple of weeks ago I came home from overseas to find that we had a new guest in our apartment. I was making a cup of tea and I opened up the tea drawer and out scurried a rat. Nigel the rat (I had to give him a name) ran under the fridge never to be seen again.
I screamed and shuddered. While I don't have a particular rat phobia it was still a living, breathing thing that we hadn't invited in. I messaged Mr NQN who (unhelpfully) asked if I was sure that it was a rat and not a cockroach.
"Unless cockroaches are now 10cms (4 inches) big then no!" I answered still highly agitated. "Yeah I thought I heard some rustling in the kitchen..." he mused.
I don't know why rats appear and I try and keep our place as clean as possible. I have a thing for clean floors so I vacuum every second day and wash dishes up straight away. I think Mr NQN started to feel quite guilty that it was his habits that "invited" Nigel to move in.
Mr NQN will do strange things like take Teddy's food and put it on the placemat (out of the bowl-whyyyy?) and then fall asleep and clean it up in the morning. For me, if Teddy doesn't eat his food within 30 minutes I'll put it away.
In fact for the first time ever he volunteered to clean out the pantry in an effort to find Nigel's nest (which we still haven't found). Mr NQN was keen to suggest that Nigel had left our place. "I think he got a fright and decided to leave," but I don't know about that...and I made sure not to encourage Nigel by leaving around any blueberry babka!
So tell me Dear Reader, do you have any tips for dealing with a rat? Have you ever had a rat?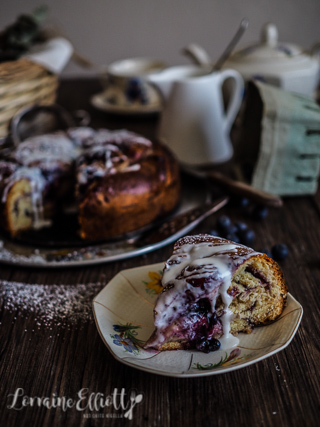 Did you make this recipe?
Share your creations by tagging @notquitenigella on Instagram with the hashtag #notquitenigella
Blueberry Scroll Ring
An Original Recipe by Lorraine Elliott
Preparation time: 45 minutes
Cooking time: 45 minutes
450g/1lb. bread flour
125g/4ozs. caster or superfine sugar
1.5 teaspoons instant dried yeast
2 duck eggs (or 3 chicken eggs), lightly beaten
50ml/1.7flozs. water
1 teaspoon vanilla extract
150g/5ozs. butter, cubed, room temperature
1/2 teaspoon salt
1 cup blueberry jam
Egg wash
For vanilla icing
1 cup icing sugar, sifted
2-3 tablespoons water
1 teaspoon vanilla extract
Step 1 - Mix the flour, sugar, yeast, eggs, water and vanilla together in the bowl of an electric mixer. Fit the mixer with a dough hook.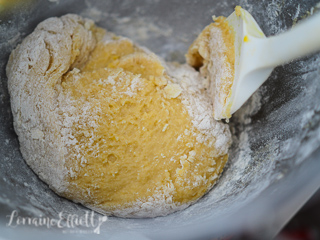 Step 2 - Knead for 3-4 minutes and then add the butter a few cubes at a time. Knead until elastic (around 10 minutes). Shape into a ball and place in a bowl and cover and place in a warm, draught free area. Allow to rise until twice in size (1-2 hours). Punch down and knead in the salt.
Step 3 - Line a 20cm/8inch spring form pan on the base and sides. Flour a large surface and roll out the dough until 40x30cms (16x12inches). Spread with the blueberry jam and roll up along the longest side. Cut in half lengthways and then twist carefully. Curl up into a circle and place in the tin and add the second piece curling that around it. Cover and place in a warm area and allow to double in size. Brush with eggwash.
Step 4 - Preheat oven to 180C/350F and bake for 20 minutes. Then cover (to prevent the jam burning) and bake for 25 minutes.
Twirl to create twist pattern
Curl up both to form a ring
Step 5 - Mix the icing sugar, water and vanilla and make a vanilla glaze and drizzle over the warm bread.