At the age of seven during school recess, I opened up my lunchbox and there it was. Fried rice. And everyone else had white bread with devon, Vegemite or jam sandwiches. I tried to shut it closed again quickly but my friend saw or perhaps it was the aroma of something "different" and she leaned over curiously.
"What is it?" she said sensing something different.
"Um nothing" I said closing the lid quickly. But the smell of nutty sesame oil, sweet and smokey char siu bbq pork, spring onions and egg pervaded our small patch of the concrete school ground.
I lifted the lid . Other kids gathered around and peered at it curiously like it was a museum specimen. I could have been carrying a dinosaur egg and been less conspicuous.
"But what IS it?" someone asked and they breathed in the smell.
"I'll swap you for this Vegemite sandwich" one boy said. As it turns out I don't really like Vegemite but then other offers came around and when someone offered me their devon and tomato sauce sandwich I eagerly swapped. You see I've always had high falutin' tastes ;)
Call it a 180 degree shift but I have come to love things that are a little different and nowadays unless the white bread sandwich has devon and tomato sauce on it or is served at high tea, I probably wouldn't go for it. I'd much rather go for something crazily conspicuous like this bread. As soon as I saw this Dutch Crackle bread come up in the Daring Baker's challenge this month I knew that I wanted to make it. Dutch crackle bread aka tiger bread or giraffe bread (renamed at one supermarket at the suggestion of an observant child that thought that the pattern looked more giraffe than tiger),  it is a spectacular looking loaf  with a crunchy crackle crust on top.
The crackling effect is achieved easily, by covering the bread with a paste and you can do this to any bread dough adding just 20 minutes to your regular bread recipe. The crackle paste made out of rice flour, water, yeast, oil, sesame oil, sugar and salt. As the bread proves and the crust expands from the yeast, the distinctive pattern is made and this is furthered by baking. The sesame oil gives this bread a distinctive taste and it is wonderfully addictive. The recipe called for us to allow them to cool completely but I couldn't resist and buttered one and ate it warm from the oven. I've since made a few batches of it (being as addictive as it is) and I found the best results from the crackle are in the recipe below. As long as you put a thick amount of crust and allow the bread to prove for a second time with paste on top, you can be sure to get a lovely crackly pattern.
So tell me Dear Reader, what did your parents give you for lunch at school? And what is your favourite bread type?
Blog-checking lines: Sara and Erica of Baking JDs were our March 2012 Daring Baker hostesses! Sara & Erica challenged us to make Dutch Crunch bread, a delicious sandwich bread with a unique, crunchy topping. Sara and Erica also challenged us to create a one of a kind sandwich with our bread.
DID YOU MAKE THIS RECIPE? Share your creations by tagging @notquitenigella on Instagram with the hashtag #notquitenigella
Dutch Crackle Bread (aka Tiger or Giraffe Bread)
Soft White Roll
Servings: Makes six small rolls and one large roll or two large rolls or loaves
Ingredients
1 tablespoon (1 packet) (15 ml) (7 gm/ ¼ oz) active dry yeast
¼ cup (60 ml) warm water (105-110º F) (41-43°C) (No need to use a thermometer – it should feel between lukewarm and hot to the touch).
1 cup (240 ml) warm milk (105-110º F) (41-43°C) (you can also use  nonfat and 2%)
1½ tablespoons (22½ ml) (20 gm/ ? oz) sugar
2 tablespoons (30 ml) vegetable oil (plus a very small amount of olive or vegetable oil for greasing bowl during rising)
1½ teaspoons (7½ ml) (9 gm/? oz) salt
Up to 4 cups (960 ml) (600 gm/21oz) all purpose flour (I used between 2-3 cups of flour)
Crackle topping recipe follows below
Directions:
Step 1 - In the bowl of an electric mixer or large mixing bowl, combine yeast, water, milk and sugar. Stir to dissolve and let sit for about 5 minutes (the mixture should start to bubble or foam a bit and smell yeasty).
Step 2 - Add in vegetable oil, salt and 2 cups of flour. Using the dough hook attachment or a wooden spoon, mix at medium speed until the dough comes together.
Step 3 - Add remaining flour a quarter cup at time until the dough pulls away from the sides of the bowl.
Step 4 - Turn out onto a lightly floured surface and knead for about 5 minutes, until smooth and elastic.
Step 5 - Place in a very lightly greased bowl and cover with plastic wrap. Set timer for 45 minutes, or until the dough has doubled in size. Meanwhile mix together the Dutch crunch topping (see recipe below). It should only take 5 minutes to mix together and then allow it to rise for 15 minutes. You want the bread and the topping to be ready at the same time.
Step 6 - Once the dough has risen and the Dutch crunch topping has also risen you are ready to shape the bread. Turn out the bread dough onto a lightly floured surface and divide it into the shapes that you want (a dough scraper works well). I made a large round roll and six smaller rolls. Place on a parchment-lined baking sheet (try not to handle the dough too much at this point). I would recommend putting the six rolls on one baking tray and the large round loaf on a separate tray as the topping drips down and they will attach to each other once baked.
_With the topping on it (too close, I'd recommend putting them on two baking trays)
_
Step 7 - Immediately coat the top of each roll or loaf with the already prepared and risen Dutch crunch topping - I stirred this first but it puffs up quite quickly and the puffy topping stays put on top of the roll better. Allow the bread with topping to stand, uncovered, at room temperature for 30 minutes - you will see the crackling already taking place by the time they go into the oven. Meanwhile preheat your oven to moderately hot 380ºF/190°C/gas mark. When the second prove is complete, bake for 25-30 minutes until well browned. Let cool on wire rack before serving.
Dutch Crunch Topping
Ingredients
1 tablespoon (1 packets) (15 ml) (7.5 gm/4 oz) active dry yeast
1/2 cup (120 ml) warm water (105-115º F) (41-46°C)
1 tablespoon (15 ml) (15 gm/1/2 oz) sugar
1 tablespoon (15 ml) vegetable oil
3/4 cup (180 ml) (120 gm/ 4/1/4 oz) rice flour (white or brown; NOT sweet or glutinous rice flour, increase by 1 cup or more for home-made rice flour)
Directions:
Step 1 - Combine all ingredients in a large bowl and beat with a whisk; beat well to combine. The consistency should be like stiff royal icing – spreadable, but not too runny. If you pull some up with your whisk, as shown below, it should drip off slowly. Add more water or rice flour as necessary. Let stand 15 minutes.
After 15 minutes
Step 2 - Coat the top of each loaf or roll with a thick layer of topping. We tried coating it with a brush but it worked better just to use fingers or a spoon and kind of spread it around. You should err on the side of applying too much topping – a thin layer will not crack properly.
After allowing the bread and topping to rest for 15 minutes
Step 3 - Let stand, uncovered, for any additional time your recipe recommends (30 minutes for this bread). You can also place the rolls directly into the oven after applying the topping.
After allowing the bread and topping to rest for 30 minutes - cracks are more prominent
Step 4 - When baking, place pans on a rack in the centre of the oven and bake your bread as you ordinarily would. The Dutch Crunch topping should crack and turn a nice golden-brown colour. If you have any leftover crunch topping, you can bake that too, it's delicious!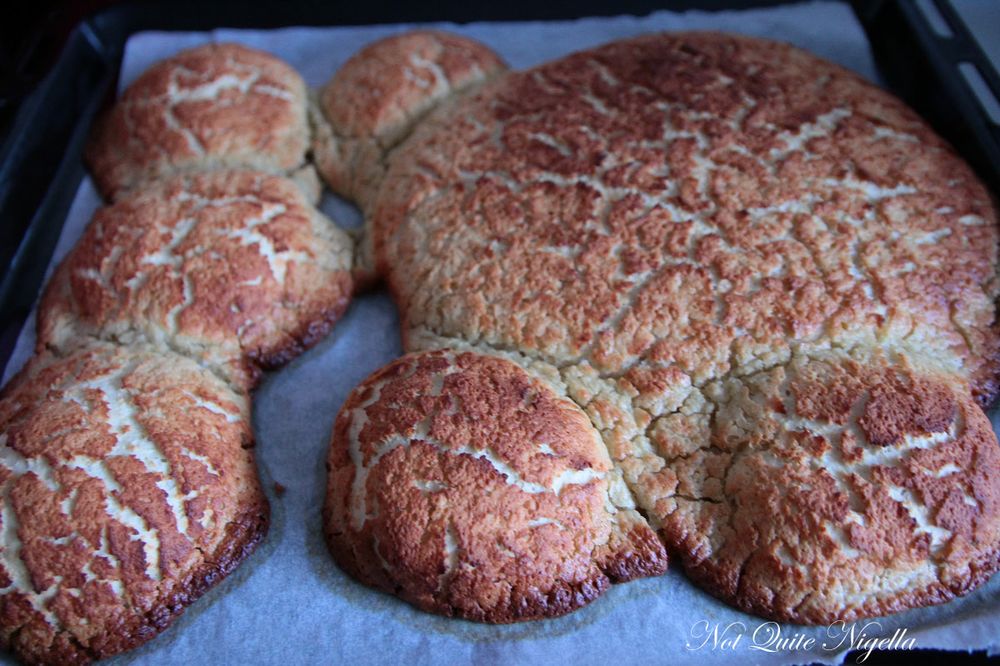 Stuck together but crackled!