Pasta al Limone or creamy lemon pasta is such a wonderfully classic but simple pasta recipe. It shows how you can make a wonderful meal out of just a few ingredients and Italian food at its simple best!
Pasta al limone is a dish that is said to originate in Southern Italy and Sicily, Naples (Sorrento Peninsula) and the Amalfi coast. It is popular basically anywhere in Italy where they are known for their lemons. It is a popular dish particularly during the summertime (although lemons are available all year round, the peak season in Australia is from January to April or from July to December in the Northern Hemisphere).
For pasta al limone or lemon pasta, you can either add cream or leave it without cream. I love both but if you are limiting dairy then by all means make it without which is just as good. Like Cacio e Pepe, it uses cheese and pasta cooking water that emulsifies to create a wonderful yet simple sauce.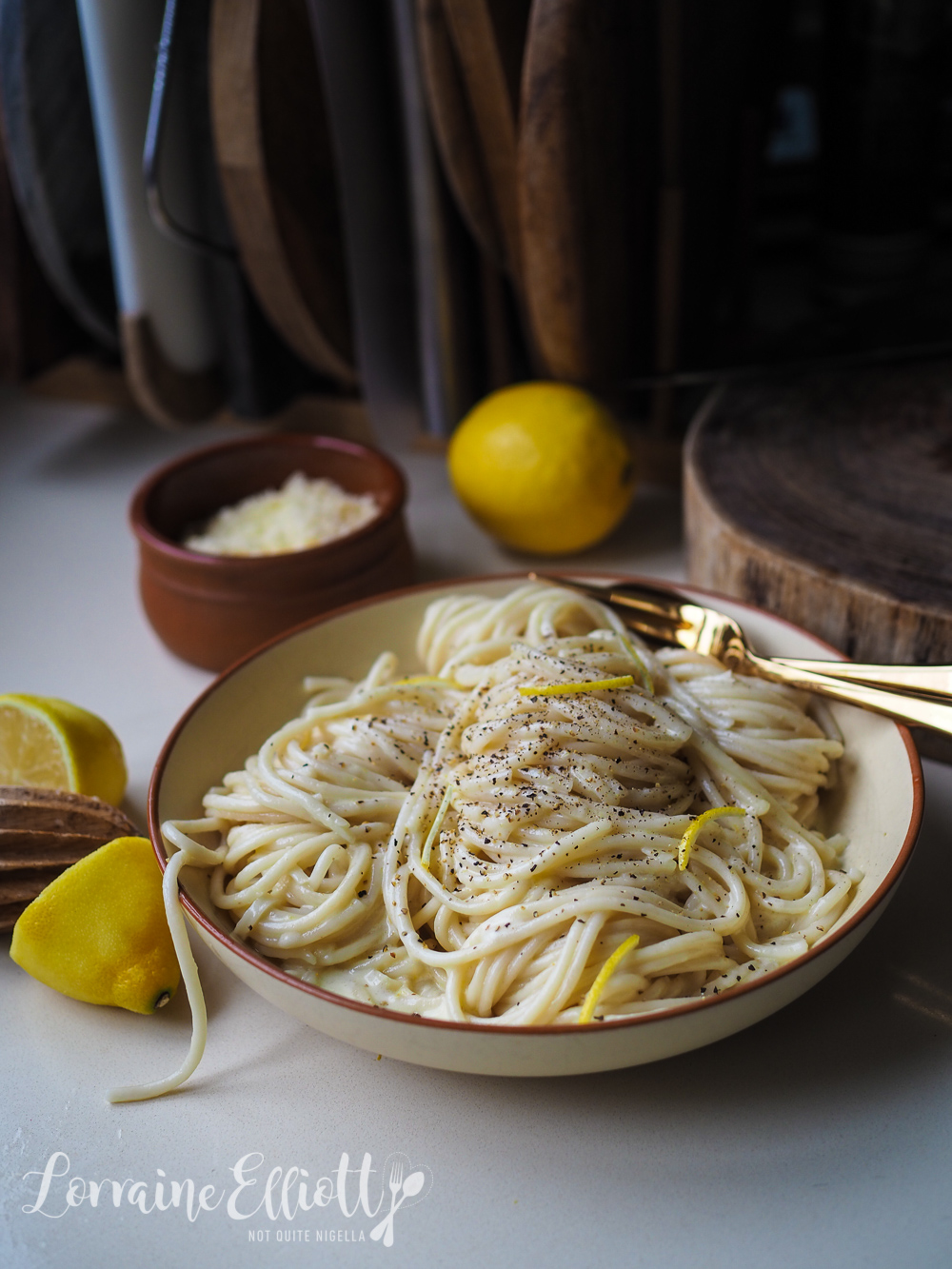 Important note: pasta water is best for this pasta if it is quite starchy and concentrated so don't cook the spaghetti in a vast amount of water. This is especially important if you are omitting the cream as the starches in the pasta water thicken the sauce and give it a creamy texture. The other key is to make sure that the pasta is cooked in well salted water.
While this pasta is simple and I love the simplicity of it, you can add vegetables. Asparagus, chicken, prawns or shrimp, fish can all be added. I actually like it as it is though!
I saved this recipe for a low grocery day which was a few days before our vege box delivery and supermarket shopping. I had a little cream left in the fridge, a lemon and spaghetti and that's all you really need for this wonderful dish.
There's something quite life affirming from making a delicious dish from just a few ingredients. It's similar to the feeling you get when you make a dish from something you would have thrown away. I think you feel like you could survive almost anything with a simple dish.
My friend once made a divine fresh tuna pasta and as she was shaving bottarga on top she quipped, "This is why I'm poor, because I spend money on sashimi and bottarga!". And it's true, so much of our bills go to eating good food whether it be the ingredients or eating out. But it's good to know that sometimes you can eat well and not go broke!
So tell me Dear Reader, have you ever tried Pasta Al Limone? Do you spend a lot of money on food?
DID YOU MAKE THIS RECIPE? Share your creations by tagging @notquitenigella on Instagram with the hashtag #notquitenigella
Pasta Al Limone or Creamy Lemon Pasta
Rated 5.0 out of 5 by 2 readers
An Original Recipe by Lorraine Elliott
Preparation time: 5 minutes
Cooking time: 15 minutes concurrently
Serves: 4 people as pasta or primi course
Salt
375g/13ozs. spaghetti
1 lemon, washed well
60g/3 tablespoons butter
2 cloves garlic, peeled and thinly sliced or minced
1/2 cup/125ml/4flozs cream (optional or sub with more pasta cooking water)
50g/1.7ozs grated parmesan cheese
Black pepper
Step 1 - Place a pot of well salted water onto boil and cook the spaghetti for 6 minutes.
Step 2 - While the spaghetti is cooking, finely grate the lemon zest into a frypan or skillet (I also peeled off one piece of lemon zest to slice thinly to decorate on top). Add the butter and garlic and saute on medium heat until the garlic is starting to soften but you don't want to brown the butter or garlic at all.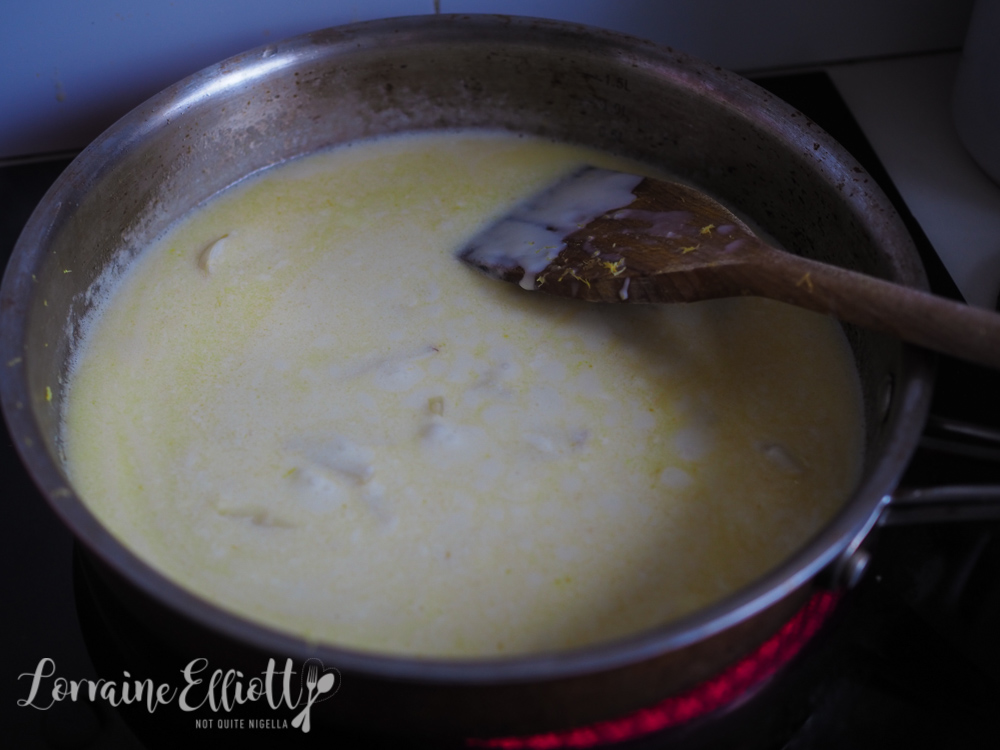 Step 3 - The pasta should be ready by this time (if not, then remove the garlic butter from the heat until ready). Using a cup, remove a cup of pasta cooking water from the pot. Add some of this pasta water gradually to the buttery mixture. I ended up using 1/2 cup of the pasta water. Then add the cream and stir. Note: if you are omitting the cream, add the parmesan cheese here while adding the pasta cooking water. The sauce will be have a lovely sheen to it and become creamy.
Step 4 - With tongs, remove the spaghetti from the water into the pan and gently toss to coat the spaghetti. At first it might seem too liquid but it will thicken considerably and all of a sudden the pasta will have sucked up a lot of the sauce so veer on the side of too liquid. Season with black pepper and serve immediately with parmesan cheese.
Tip: if you are reheating the pasta the next day, save a cup of pasta cooking water to add to the pasta the next day to "re-sauce" it.