My parents have a certain way that they like to do things: neat, orderly and conservative. So one night when they arrive at our place and I tell them that we are taking a taxi to Kings Cross I think my mother clutched her pearls a bit tighter (Kings Cross!) while my dad clutched his wallet a bit tighter (the cost of Sydney taxis!).
When we arrive at Kings Cross (where I once lived, the horror to them!) there was a truck blocking the way so we alighted the taxi and they follow me down a small laneway. "There's nothing here!" I whispered to Mr NQN. He reassures me that it was on the right and so it was, El Cubano, a Latin American and Cuban restaurant in neon blue lights. Cuba has always fascinated me and is my top 5 countries I want to visit.
I had booked El Cubano for Mr NQN's birthday. They were good about us bringing birthday cake - sometimes it feels as though a birthday cake is almost like asking if you can bring a corpse along to dinner. They were easy going when Tuulikki changed the numbers numerous times as the number of Elliotts attending fluctuated on a daily basis. And they were friendly when we walked into the restaurant. Downstairs is a bar where they have tequila and cigar nights, and salsa Fridays and upstairs is the restaurant.
The menus are laid out on the tables and there's a lot to try. Our waiter is a funny guy that quips, "I hear the service isn't so good but the food is excellent!". He and Nick bond immediately (lord help us!). Nick asks him if there is a set menu that they can do for the table with the highlights of the menu and they accommodate us easily. Chef Jose Antonio Perez Arguelles is from Trinidad in Cuba and arrived in Australia six years ago when he married his Australian wife. He was formerly at La Bodeguita del Medio and the Shangri-la Hotel.
The night starts with cocktails. It is a "Love More" for Mr NQN and a mojito for Nick. I try both and the Love is more my style (but then again I'm a fan of sweeter cocktails).
The food starts coming out and the vegans look to be well catered for. I had warned them in advance and they made a delicious Cuban platter for them.
Vegan platter
Cocktail de camarones $13
We add a couple more dishes to our order apart from the set menu. We were just talking about the appeal of retro food when the prawn cocktail catches Nick's eye. We order a couple of serves of this hoping for some prawns hanging from the rims of a glass. Whilst they're not presented as such they're succulent and perfectly cooked and served in a spicy mayonnaise style sauce.
For the non vegans we start with an entree platter of our own. There are four items on this plate and I start with the Malanga, a taro croquette which is a quennelle of lightly battered mashed taro on a salsa havanera and mayonnaise. It's delicious and perhaps my favourite morsel on the plate. Next is the tostones fried banana - I'll admit plantains always sound exciting but are often dry. Here the addition of onion really lifts them. The next is the tamale served outside of the corn husks and topped with corn kernels. It is comforting and mild in flavour and goes well with the next item - congris, i.e. black beans and rice. The rice is excellent here and full of flavour. I'm sure even a rice purist like my father is enjoying it.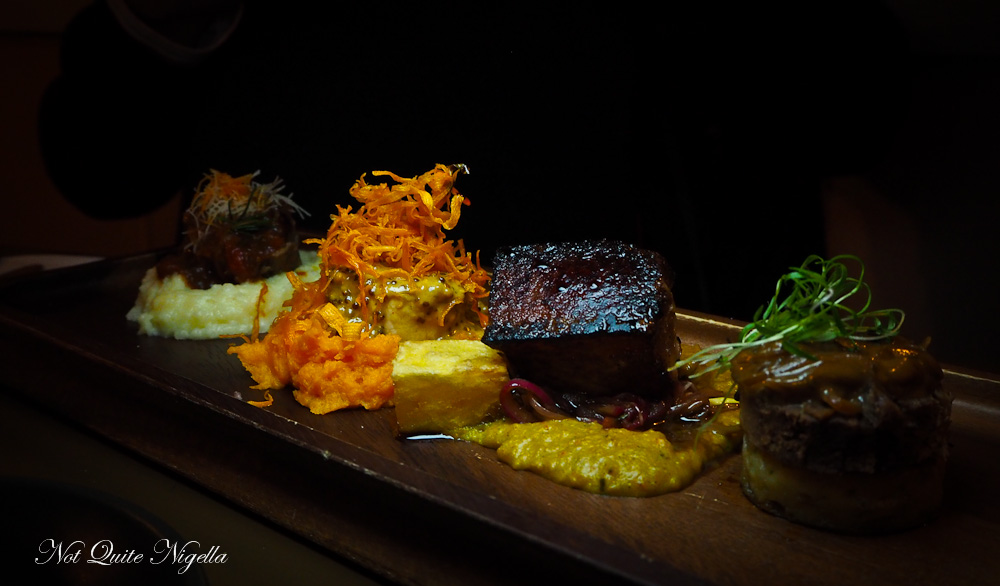 Our mains come out also on wooden platters and by now I'm regretting having finished everything on my entree plate. There are four types of meat as Cuban is a meat heavy cuisine. The ropa vieja is one of my favourite items. It's a slice of soft braised beef shoulder on a potato galette with El Cubano sauce. Next is the Falda Crujientes de Cerdo Estilo Cubano or Cuban style crispy spiced pork belly on a bed of corn puree, yucca chips and hot Cuban mojo salsa. We all love the gelatinously soft texture of the pork belly and there is a lovely hit of chilli at the end too.
The next bite is the Pollo Relleno con Pure de Boniato or the chicken stuffed with cheese and jamon serrano that is draped in a creamy mild mustard seed sauce and topped with crispy rosemary scented sweet potato shreds and a rough sweet potato puree. Last is Mr NQN's favourite the Fricasee de Carnero a lo Cubano, the slow cooked lamb neck done Cuban style in a tomato and herb based sauce. It's soft, unctuous and comforting.
Arroz Imperial Cuban Imperial Rice for one $27
I was a bit concerned that my father hadn't had enough rice (he has a lot of rice every night for dinner) so we ordered a single serve of the Cuban rice and the kitchen was nice enough to allow us to have a single serve over the serve for two that is on the menu. It arrives and it is a generous serve with a single slice of jamon on top of yellow rice. Underneath lies a treasure trove of goodies from calamari, prawns, soft beef, chorizo and scallops. It's like unearthing treasure. Although we are all full, it's a dish that we keep going back for spoonfuls of.
It's time for dessert and we've brought a home made cake for Mr NQN. It's in a South American theme and they bring out plates (and no cakeage charge too!). Nick takes the opportunity to charm Tuulikki ("Parents love me!" he says winking). "Do you like the musician Prince?" he asks her alluding to her ever present purple clothes. Alas this only serves to confuse matters and he has to explain his musical reference. We sing Happy Birthday to Mr NQN the birthday boy in our out of tune style.
So tell me Dear Reader, have you tried much Cuban food? And what are the countries in your top 5 want to visit list?
This meal was independently paid for.
El Cubano
13-15 Kellett Way, Potts Point NSW 2011
Tel: +61 (02) 8065 1625
Closed Sunday to Tuesday
Wednesday 6:00 pm - 2:00 am
Thursday 6:00 pm - 2:00 am
Friday 6:00 pm - 2:00 am
Saturday 6:00 pm - 2:00 am
http://www.elcubano.com.au/