In the mood for Brazilian food? Not just churrasco but regional Brazilian dishes? Think feijoada aka a smoky black bean stew studded with pork sausage or Coxinha, crumbed and deep fried chicken filled gnocchi dough dumplings!
Mr NQN's workplace is a surprising source of food tips. He works for a large fashion company and they just happen to have a lot of Brazilians working there. And the one place that he excitedly told me about was Ovo cafe. I had a look and while the cafe looked interesting, the Boteco in Potts Point looked perfect for a dinner out with Nina and Garth.
"Look, there are so many options for you that don't involve goats cheese and green beans," I said to Nina pointing out the vegetarian options.
It's a busy Friday night in Potts Point when we arrive. It's just before Mardi Gras so there's a convivial spirit in the air and Mardi Gras masks adorn the colourful restaurant. Ovo Boteco is located in the basement level right next to Harajuku Gyoza on Bayswater Road.
Pao de Queijo $11 (left) and Coxinha $12 (right)
We make our order quickly as we have tickets to a comedy show. I adore Brazilian cheese bread and we upsized this to four pieces. It's spongey and light and it comes on a plate with three sauces, a pesto aioli, chilli sauce and catupiry, a cream cheese sauce. We were also intrigued by the sound of the coxinha. In the centre is shredded chicken wrapped in a gnocchi-style dough that are then crumbed and fried. They're like a delicious cross between an arancini and a hush puppy.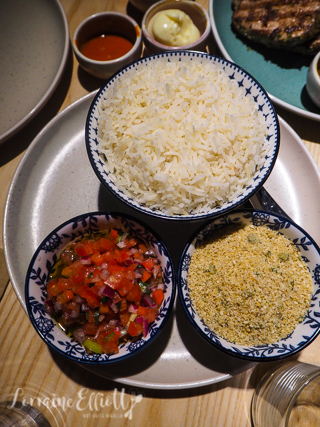 Clockwise from bottom left: vinegrete salad, rice and farofa
Gratinado de Picanha com Catupiry $17
Our waiter had recommended the Picanha strips which are steak strips. They're served in a cast iron pot blanketed in a traditional Brazilian cheese sauce with small bread slices. It's rich and would be ideal in winter.
Linguica Artesanal Come Feijao Tropeiro e Vinegrete $44
I saw this on their Instagram and ordered it based on the striking appearance. It's a Brazilian artisanal sausage spiral served with feijão tropeiro (beans topped with toasted cassava or manioc) and vinegrete salad. The Brazilian vinegrete isn't a dressing, it's like a fresh salad with tomato, onion, capsicum, lime and coriander. It's not bad but I think we preferred the other dishes as the sausage is quite dry in texture.
Moqueca de Banana $26
Nina was intrigued by the plantain cooked in coconut milk. It's certainly a pretty dish with palm heart oil, capsicum, onion, herbs, chilli and chunks of plantain but it's on the sweet side. Usually when I've had plantain chips the banana flavour has been quite mild in banana flavour but this has a strong banana flavour.
Feijoada Completa come Bisteca de Porco $56
It's a risk to "invest" two of your mains into a large dish for two and we ummed and aahed about this, especially as Mr NQN isn't a huge fan of pork. But this is my favourite dish of the night. This is literally a pork fest with two parts to it. First there's the Feijoada, a traditional pork sausage and black bean stew.
Then there are two grilled pork chops served with sauteed kale, oranges, white rice, farofa (a toasted cassava flour mixture) with a black bean and chilli salsa. The stew is deliciously warming but the juicy pork steaks edged in herbs are so juicy and tender I end up almost eating a whole steak to myself before remembering that I am sharing.
Mandioca Frita Cassava chips $10
We also have a serve of cassava chips. These come as super thick, crispy edged chips that are similar to a potato but with a drier texture. They're good dipped into the pesto aioli.
Alas, there's no time for dessert as we have to dash-that will have to wait for another visit!
So tell me Dear Reader, have you tried much Brazilian food? Do you feel apprehensive investing your main into one large dish? Do you get many eating out recommendations from your work?
This meal was independently paid for.
Ovo Boteco
Shop 1a/9-15 Bayswater Rd, Potts Point NSW 2011 Tuesday to Friday 6–10pm
Saturday & Sunday 12:30–10pm
Monday closed
Phone: (02) 9368 0547
ovotribe.com.au/