I was in a restaurant with a friend (who has asked to remain nameless in this story). We were eating dinner - well, correction, I was eating dinner and she was distracted by the chef.
He wasn't good looking in the traditional sense. He was a giant in both height and hulk and towered over most mortals. And there she was, my friend with her head resting on two balled up fists, staring at him enraptured. If she were a cartoon, pulsating red hearts would have been emanating from a thought bubble.
"Him? Really?" I said and then paused between bites. I wasn't sure if she were swooning over the food or the chef. The food was great - not that she knew as she had barely tasted it. I put down my fork and knife. "You're being totally serious aren't you?" I asked her.
Her hands moved to her lap where she clutched them tightly. "Look at him and look at me," she said. I regarded both of them, still none the wiser. "He'd make me feel dainty and pretty!" she trilled excitedly. She was a voluptuous, tall girl and he was tall, strapping and scarred.
I thought of her scar and enormous giant fetish when I made these brownies for Hallowe'en. The original ones by Heartache Cakes in the UK had rocky road at the bottom but I thought that the scars might make a good topping for brownies. Not just any brownies but chocolatey rich brownies with blood clots aka cranberries inside them!
The bonus of all Halloween items is that the uglier they are, the better they are! All you need to do is add a layer of chocolate ganache to the brownies (truthfully you can skip this bit) and then roll out some flesh coloured fondant on top. The scars, stitches and wounds are really easy and just require a little knife action and painting with a red enhanced jam. I dare say my friend would love these too!
So tell me Dear Reader, what is your ideal partner like physically? Are they similar to you or opposite you?
DID YOU MAKE THIS RECIPE? Share your creations by tagging @notquitenigella on Instagram with the hashtag #notquitenigella
Bloody Brownies
An Original Recipe by Not Quite Nigella
Preparation time: 45 minutes
Cooking time: 25 minutes
100g/3.5ozs butter
225g/8oz dark chocolate
150g/¾ cup sugar
1 teaspoon vanilla extract
2 large eggs, at room temperature
80g/1/2 cup plain flour
1 teaspoon baking powder
1 cup cranberries
Chocolate ganache
100g/3.5ozs. chocolate
2 tablespoons cream
Topping
250g/0.5lb. fondant tinted skin colour (I used dusty rose and a little black)
Red or black icing pen
2 tablespoons seedless berry jam mixed with some food colouring
Step 1 - Line a small brownie tin (either 20x20cms/8x8 inches or a rectangular lamington tin. Preheat oven to 160C/320F. Melt the butter and chocolate together in a saucepan on low heat. Remove from heat and mix in sugar, vanilla and eggs. Stir in the flour and baking powder and mix until smooth. It will be grainy at first but then smooth out after a minute or two of mixing. Stir in the cranberries and place in the prepared tray and smooth out the top. Bake for 25 minutes. Cool in tin before removing.
I used cinnamon chocolate ganache which is why it is a lighter shade
Step 2 - Melt the chocolate with the cream until smooth. Turn over the brownie so that you have the smooth side facing upwards. Spread the chocolate ganache over the top and smooth the surface. Allow to set.
Step 3 - Soften the fondant and roll it out on a clean surface. I find this easiest if I roll it out in two halves especially if the fondant is really soft or the weather is hot. Do not roll it too thin, you want to be able to cut into it. Cover the brownie with the skin tinted fondant. I give it a little texture by rolling a lemon over the surface-not that a lemon is like human skin but it means that it isn't super smooth.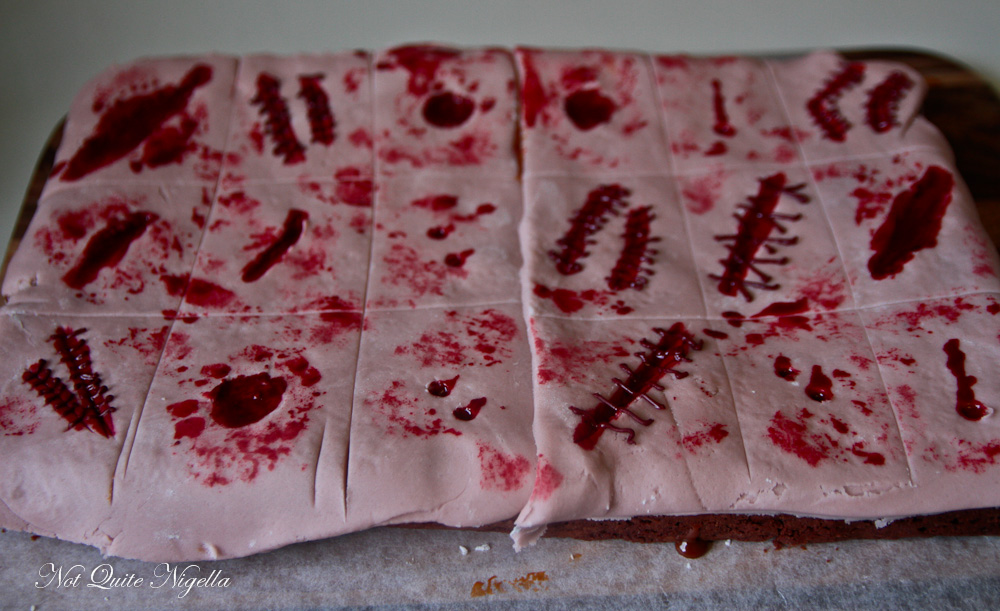 Step 4 - Using a sharp knife, score where you will be cutting the brownies - you perhaps want one scar per brownie. Use the paring knife, make patterns. You can slice into the fondant, make holes or wounds or use straws to simulate vampire bites. Use a small paintbrush to fill with the jam mixture. Dip a small piece of paper towel into some the jam mixture and dab around the wounds.