It's 5pm in Hong Kong. The ever present mist or smog shrouds the mountains and greenery and we are engaged in a battle of wills to get to our destination. The highways are full of trucks, buses as well as expensive sportscars with vanity places, all favouring combinations of the Chinese lucky number 8 and family names. To an outsider the whole snarling mess of lanes and merging traffic makes no sense but it's just an every day commute as cars come within inches of scraping their expensive tangerine orange paintwork against a battered truck's scratched paint job.
We arrive to our hotel, the Ozo Wesley. It's a new hotel located in the Wan Chai area. It's a four star business hotel where the focus is on a good night's sleep rather than luxuriating in what the room has to offer. A lot of things are DIY and it is clean and self service. There is a fridge in the lobby where you can buy sandwiches and drinks as there is no mini bar.
I go upstairs to my room 1908, one of the dream rooms and the room is very compact in size. They fit a lot into the room like a television, coffee and tea, a safe and the bathroom is well stocked but this is the sort of room you might book if you just wanted somewhere to sleep and work. Everything is designed around either getting a bit of work done (free wifi, a work desk where you can change the height) or a good night's sleep with complimentary sleep teas available in the lobby every evening that change regularly to the bed which is extremely comfortable.
Bread Street Kitchen, Lan Kwai Fong
After a quick shower we head out into the night. Our first meal in Hong Kong is the brand spanking new Gordon Ramsay restaurant Bread Street in the clubbing district of Lan Kwai Fong and Soho. As a former colony, Hong Kong's history is tied to Britain. The menu is based on the original Bread Street restaurant in London. The interior is darkly lit with purposefully mismatched lights, rather odd yellow lighting, wooden tables, booths and a battalion of staff on duty.
It's the first night of the restaurant headed by Head Chef Gilles Bosquet. The first night of course isn't ideal to judge but considering that the menu probably won't change much we are eager to try the food. It is Ramsay's first foray into Asia and Hong Kong. Prices are moderate to high although relatively on par with Australia.
Seared yellow fin tuna, Aji Amarillo pepper dressing 138HKD/$19.71AUD
We try a range of dishes from the menu recommended by the kitchen. The tuna pieces are seared on the outside with a spice crust and are served with an aji amarillo pepper dressing. It's a fresh and delicious and a great way to start the meal.
Potted beef brisket, grain mustard, piccalilli, buckwheat cracker 108HKD/$15.42
At first I saw this and wondered exactly what this dish was. It's a potted beef brisket, soft and melting much like rillettes, served with a piquant range of crunchy piccalilli pickles with small pearl onions and cauliflower. It's delicious although I'm less decided about the buckwheat cracker that isn't particularly crisp.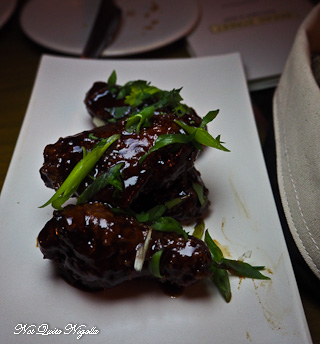 Tamarind spiced chicken wings, spring onions, coriander 128HKD/$18.28AUD
If there was one dish that we all went for it was the tamarind spiced chicken wings. Even picking one up you can feel the crunchy in the outside coating. The sauce is sour and slightly sweet and full of flavour.
Flat bread, caramelized onions, taleggio cheese, cured pigs check, basil pesto 108HKD/$15.42AUD
The flat bread is topped with caramelised onions, melted taleggio cheese, diced cured pigs cheek and a basil pesto that really dominates the bread.
Kale, red cabbage, shaved fennel, sunflower and pumpkin seeds, white balsamic dressing 118HKD/$16.85AUD
The kale is perfect for a refreshing break and there's texture from the seeds and tang from the balsamic dressing and orange.
Beer battered cod, crushed peas, hand cut chips 198HKD/$28.28AUD
The cod and chips are fantastic. The cod pieces come out as large fillets of fish with a thin beer batter crust on tartare sauce. The cod inside melts in the mouth and the chips are golden and crunchy.
Bread Street Kitchen short rib burger with Monterey jack cheese, spicy sriracha mayo 158HKD/$22.57AUD
I wasn't quite as smitten with the short rib burger. Some found it too rare inside which didn't bother me so much. The flavours just weren't quite as balanced as I would have liked.
Slow roasted Dingley Dell pork belly, spiced apple puree, apple relish 198HKD/$28.28AUD
The pork belly is perfectly cooked and well seasoned with plenty of flavour. It comes with a silky spiced apple puree and diced apple relish.
Whole lobster macaroni cheese 488HKD/$69.71AUD
I was really hoping that we would try this dish. I'm an avowed lobster lover and this dish is a two parter with a split whole lobster and a ramekin of crispy crumbed lobster mac and cheese with chunks of lobster. It's satisfyingly rich and generous with the lobster and the layer on top remains crisp.
Eton mess with strawberries, Chantilly cream, meringue 78HKD/$11.15AUD
The first dessert to arrive is the much anticipated Eton Mess. After all who better to do a British dessert than Ramsay? There are sweet strawberries, meringue and chantilly cream and it's a sure-fire reliable combination.
Pineapple carpaccio, passion fruit, coconut sorbet 78HKD/$11.15AUD
However I'm much more taken with the pineapple carpaccio. Made up of paper thin slices of sweet pineapple laced with passionfruit seeds it is served like the petals of a flower. All it needs is the coconut sorbet in the centre. I go back for thirds!
Banana sticky toffee pudding, Muscovado caramel, clotted cream 88HKD/$12.57AUD
By now my stomach is getting dangerously full but not full enough to refuse a bite of the banana sticky toffee pudding. Served warm with fresh banana in a pool of thick muscovado caramel sauce and some clotted cream it's rich and sweet but also sublime.
Chocolate fondant and mint chip ice cream 98HKD/$14AUD
While the dark chocolate fondant is well made I'm just too full to appreciate something like this especially as it comes out last and unexpectedly. My sleep tonight at the Ozo Wesley is long and deep which affords me a good rest for the next day's eating activities.
Aberdeen Street Social, Central
There's virtually no trace of the Police Marriage Quarter's former use in British Chef and Gordon Ramsay's former protégé Jason Atherton's latest venture Aberdeen Street Social. Given an industrial chic makeover it has become a hot place for expats and locals to dine.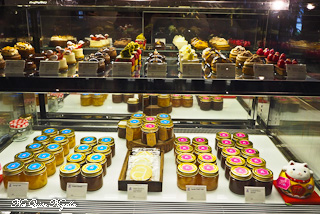 Downstairs is Sweet Social which is a casual cafe with a gleaming range of pastries and baked goods all made in house. People perch on the bar with a glass of wine or set up shop using the wifi. Upstairs is a bistro where Atherton's right hand man executive chef Chris Whitmore stands at the pass.
CLT Crab lettuce and tomato $178HKD/$25.42AUD
I survey the Modern British lunch menu and my eyes are drawn to the CLT-the crab lettuce tomato. The crab is creamy and it's a light entree with a pleasing richness balanced with the salad.
Braised ox cheek, roasted bone marrow, sourdough crumb $318HKD/$45.42AUD
But it's the braised ox cheek that arrives on the plate atop silky horseradish mash that has me swooning. Okay it's blisteringly hot and muggy outside but I couldn't resist the recommendation. The ox cheek is so soft that it must have threatened to fall apart when transported onto the plate. I'm given a teaspoon to scoop out the sourdough crumb topped jellied bone marrow and I spread it on some fresh warm bread. Bliss.
Roasted corn $110HKD/$15.71HKD
We all share some of the desserts. The roasted corn dessert is more a nod to Asia than Modern Britain. It is an intriguing mix of caramel popcorn, doriyaki, cherry, shiso and roasted corn ice cream. My favourite component is the roasted corn ice cream.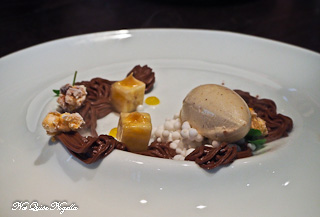 JAAL 75% $110HKD/$15.71HKD
The Jaal is a type of chocolate used by Jason Atherton in all of his restaurants. Jaal stands for Jason Atherton Andres Lara his award winning pastry chef. It's a 75% dark chocolate served soft and piped in squiggles. There is also the flavour of banana and calamansi fruit with an intriguing mix of curry spices.
Classified, Tai Hang
When I lived in Japan, two things that were a little hard to find where cheese and wine. Both items are expensive in Asia and they are among the foods often missed by Westerners. Another popular place for Western food in the Tai Hang area is Classified where there is a menu with pastas, burgers and salads.
The main draw is the Neals Yard cheeseroom where there is a great range of cheeses from blues, washed rinds and hard and soft cheeses from all around the world including a King Island blue. Same goes for the wine list, with some great international selections that are not just comprised of expectedly big names.
5 selection cheese platter 296HKD/$42/28AUD
On our visit we choose a five selection cheese platter and it arrives well prepared with the cheese served at the correct temperature. Our selection includes a Comte from France, Ticklemore goat's from the UK and Gorgonzola Dolce from Italy and a surprisingly mild blue that looks vividly saffron in colour.
Spicy meatball spaghetti 102HKD/$14.57AUD
For a main I choose a spicy meatball spaghetti. For every serving of this dish, Classified will donate $5 to Liberty Asia a slavery fighting organisation. It's wonderfully spicy dish with a good amount of soft meatballs at the bottom and a generous amount of well seasoned tomato sauce.
Fu Lu Shou, Central
Back in Central, Fu Lu Shou's owner Ping Lam bellows out a greeting in her strong Australian accent. It's the Sydneysider's first food and beverage business (she also owns a series of upscale nail bars in Hong Kong). Fu Lu Shou is part of the trend of secret door dining where guests have to know the entry code to enter a non descript building.
Even the name of the bar and eatery is absent from the directory and it's only when you reach the top floor that you see the downlit three gods for prosperity, longevity and good fortune (Fu, Lu and Shou). But don't worry Dear Reader, all you have to do is call up to get the code.
Most of the space at Fu Lu Shou is taken up by a rooftop bar but there is also an indoor area. The mixologist is from Upper House, regarded to be one of Hong Kong's best hotels. The cocktail menu features an Asian themed cocktail list with Asian spins on traditional cocktails. The Chrysantini is my favourite and is made with Beefeater 24, home made chrysanthemum syrup, lemon juice and an egg white froth. The "Joh Sun" or "Good Morning Hong Kong" is their most popular and is equally as good and is an homage to tom yum soup in a cocktail form.
For those expats missing or those curious about Australianised Chinese food, Ping has filled the bar menu with items like prawn toast, "Big arse" dim sim, honey king prawns and Americanised Chinese dishes like Chop Suey and Kung Pao chicken.
Fried tofu in spicy salt $138HKD/$19.71AUD
The fried tofu will make a believer out of any tofu haters. The outside is crispy and flavoured with chilli salt but the tofu inside is silky and melts in the mouth.
The Boss's Honey Prawns $198HKD/$28.28AUD
The honey king prawns are straight from your favourite Australian suburban restaurant kitchen. Served on a plate of fried noodles, the prawns are enormous, crisp on the outside and tender on the inside with a drizzle of honey to sweeten.
Sesame Prawn toast $88HKD/$12.57AUD
Likewise the sesame prawn toast may transport you back home to Australia. As we leave they offer us a fortune cookie. I look down and expect to read a wise or amusing saying-instead it is my lucky numbers.
So tell me Dear Reader, do you enjoy relaxing in a hotel or do you mainly use it as a place to sleep? And what food do you miss the most when you are overseas?
NQN visited Hong Kong as a guest of Cathay Pacific, Hong Kong Tourism Board and Wendy Wu Tours
Cathay Pacific
www.cathaypacific.com/au
Wendy Wu Tours
https://www.wendywutours.com.au/
Hong Kong Tourism Board
www.discoverhongkong.com/au/‎
Bread Street Kitchen
Mezzanine Floor, LKF Hotel, 33 Wyndham Street, Lan Kwai Fong, Central, Hong Kong, Hong Kong
Phone: +852 2230 1800
http://www.gordonramsay.com/hk/bsk/
Aberdeen Street Social
PMQ, Ground Fl, JPC, 35 Aberdeen Street, (enter gate closest to Hollywood Rd. intersection),Central, Hong Kong
Phone: +852 2866 0300
http://www.pmq.org.hk/shop/aberdeen-street-social/
Classified
1-9 Lin Fa Kung Street West, Tai Hang, Hong Kong
Phone: +852 2857 3454
http://www.classifiedfood.com/eng/locations/
Fu Lu Shou
L7, 31 Hollywood Rd Central, Hong Kong
+852 2336 8812
https://www.facebook.com/FuLuShouHK
Mon - Sat: 5:00 pm - 2:00 am