Before I went to Macau I knew of it for a couple of things: gambling and food. The city is a mecca for Chinese gamblers turning over $28.33USD billion in 2015 with 90% of tourism from mainland China. But while gambling is of no interest to me, food definitely is. And Macau or Macao (the latter is the English way to spell it while the former is the Portuguese) has a fascinating confluence of Chinese and Portuguese culture. The two created a unique cuisine that melds Chinese and European to become Macanese and is said to be the oldest type of Asian fusion cuisine in the world. Nowadays there are roughly 10 or so good quality Macanese restaurants that are owned by Macanese proprietors and serve only Macanese food found in Macau. Along with this are fantastic Portuguese and Chinese restaurants.
And here are 10 dishes that you absolutely have to visit Macau to try!!
1. Pork Chop Buns at Tai Lei Loi Kei, Taipa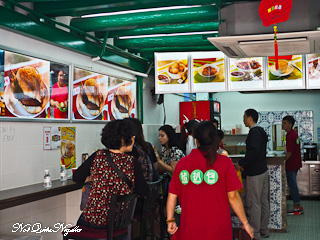 Macau is a city state of China (it's complicated, it's not a country but has its own currency, police and government) with a lot of contrasts. Literally across the road from the glittery Disneyland-type castle of the Galaxy complex is a traditional village of Taipa. And along with gorgeous, traditional architecture and some of the loveliest buildings and streetscapes comes some of Macau's best food.
The pork chop bun was said to originate at Tai Lei Loi Kei which was established in 1968 by Ms Kwok Loi Ho. There is a new shop towards the centre of Rua do Cunha, the busiest tourist thoroughfare (the original shop is on a quieter street a bit further away from the action). You can either look out for the man holding a sign or follow the crowd.
The pork chops are made to order and served bone in, with a delicious garlic and ginger seasoning and come with either one large or two smaller chops per bun. Tai Lei Loi Kei's pork chop buns are more costly than other places at $48MOP/$8AUD (compared to $28MOP/$4.66AUD elsewhere) but they're worth it. There's a steady stream of customers and although the menu has plenty of other options there's no competition really. Everyone orders one of these (oh and there's also the option to have a pork chop pineapple bun too).
2. Pastelaria Fong Kei, Taipa
I was a bit worried when I finally reached the front of the long queue at Pasterlaria Fong Kei just around the corner from Tai Lei Loi Kei in Taipa Village. I had no idea what to order although I had tried looking at what everyone else was ordering but it seemed to be a mixed bag. But the lady behind the counter although busy, gives me a smile and shows me the three most popular items. These Chinese cookies are perhaps unfamiliar to Westerners.
The Almond biscuits aren't a favourite of Mr NQN who thinks that they are powdery and dry. I happen to love them and here they are fresh and aromatic with pieces of almond in them (and yes dry but I have them with tea at home). The shop has been open since 1906 and I watch as people buy a couple of preserved plums with their biscuits. They're all really wonderfully crisp and quite eggy (except for the almond cookie). Some use spices like star anise while others are filled with red beans or taro.
3. Fish Balls from Hang Yau
In Asia queues are always a dead giveaway for a great food place and down the little alleyway of Travess da Se a short walk from the Ruins of St. Paul's and the Museum of Macau is a shop that is famous for its curry fish balls.
They come in many shapes and sizes and are very cheap. There's no English sign but they're very friendly and you can just point at the stick you want, they cook it up and serve it off the stick in a bowl with a spicy curry sauce. Everyone is huddled under the awnings avoiding the rain, spearing these little fish balls. The candy striped one has a centre of fish roe while the drop shaped one is spongey and light. The curry sauce is the perfect consistency for these and we end up drinking up the sauce hungrily afterwards.
4. Portuguese Egg Tarts or Pastel de Nata at Lord Stow's Bakery, Coloane Island
With any popular food, there are many that claim to have the best. But Lord Stow's egg tarts are something special and are widely regarded as the best Portuguese custard tart in Macao. Some say that they are even better than the Pastel de Nata in Portugal. They sell thousands of these a day at the bakery which was originally opened to sell bread.
Lord Andrew Stow wasn't an actual lord but he was British and this informal title was bestowed upon him. He has now passed on and his sister now manages the stores but his tarts remain a perennial favourite. And once you sink your teeth into a warm from the oven tart you will know why. The base is made up of crispy, layered pastry that only just holds in the silky, luscious custard filling. The shop is located at Coloane Island just 10 minutes away from the centre of Macau but there is also a concession stand at The Venetian hotel.
5. Take Tea at Long Wa Tea House
Long Wa tea house is a place with history. 60 years ago men used to bring their birds in cages to the tea house-it was a chance for them to socialise as much as the birds. Now it remains as an old style tea house, a concept that sees the number of tea houses rapidly shrinking.
The tea here is smokey and dark in colour and there is also dim sum and noodles served here. It's worth a stop for the old world atmosphere over the tea itself which is a bit of an acquired taste.
6. Chef Rosa's Clams at Miramar, Coloane Island
It's a simple dish but if you've made the short trip out to Coloane Island for a bit of serenity and one of Lord Stow's egg tart you may as well make an afternoon or evening out of it. And if you're looking for family style Portuguese food, then try Miramar. Located on the beach it's a simple Portuguese restaurant with a mostly female kitchen.
You can sit inside or on the outdoor covered terrace. Chef Rosa is the boss and her original creation is Chef Rosa's clams. It's a simple dish but the tender clams and the rich white wine cream sauce are comforting heaven. Dip the fresh, soft pillowy white bread into it and it's sublime, calories be damned.
7. African Chicken or Galinha à Africana at Restaurante Litoral
African Chicken was invented in the 1940's in Macau by chef Americo Angelo. At Restaurante Litoral the African chicken is nothing short of divine. It features a thick sauce made up of shallots, garlic, paprika, tomato, coconut, lemon and peanuts. The chicken underneath the sauce below is soft and served on the bone and I defy anyone to have just one piece.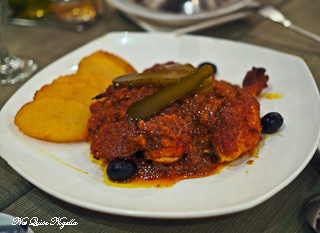 Alas Americo Angelo passed away 30 years after it was invented leaving only scraps of information about the original recipe so his African chicken recipe remains a mystery. Restaurante Litoral's co owner Manuela Ferreira also worked with Americo Angelo at the Hotel Lisboa so some say that she has a secret advantage to knowing the secret recipe.
8. Portuguese Fried Rice at Restaurante Litoral
We all know fried rice right? But in Macao the Portuguese version has a tomato seasoned rice with pieces of chorizo and black olives along with shrimp. And you know what? It's spectacular (and the perfect foil for African chicken). I'll start adding olives and chorizo to mine at home.
9. Serradura Pudding
I feel slightly conflicted writing about Serradura pudding. Mainly because I didn't overly love it but if you're looking for a unique Macanese dessert, it's this one also called "Sawdust pudding". The "sawdust" is actually crushed up plain Marie biscuits layered with whipped cream and sweetened condensed milk. I found it a bit "one note" but it's worth a try. Admittedly apart from the egg tarts, I wasn't a big fan of the Portuguese desserts that we tried because they were exceedingly sweet.
10. High End Yum Cha at The Eight
The casinos bring in big money and with it high rollers. And what do they like to do apart from gamble? They also like to eat. There are plenty of lauded Michelin starred restaurants in Macau and The Eight located in the incredibly lit Grand Lisboa (the top is a lotus and the bottom bulb has 1.2 million LED lights) offers 3 Michelin star yum cha.
There are 40 types of dim sum available each day during lunch and there is a goldfish theme carrying throughout the restaurant. Stick to the delicate dim sum morsels and you won't go wrong. It's some of the best yum cha I've ever eaten with gorgeous little goldfish dumplings filled with steamed cristal blue shrimp or crispy bottomed barbecue pork buns with preserved vegetables fashioned into the shape of a hedgehog. It's not just cute distraction though, the flavours are superb and you can also take home some of their delicious XO sauce ($180MOP or $30AUD) and yes it's fine even with our tight customs regulations.
Travelling to Macau? Here are some tips:
The easiest way to access Macau is with the Turbo Jet ferry from Hong Kong airport. There are two classes, super and economy and prices depend on the day and direction (e.g. Hong Kong to Macau is a bit more expensive). The maximum price for a economy ticket is $200HKD (around $33AUD at the time of writing). It currently takes 70 minutes to cross over. There is said to be internet on the ferry but I couldn't get it to work.

I always recommend getting a local SIM card at every destination and the price for 3 days and 8GB of data was around $25AUD.

Macau has their own currency, The Macanese Pataca which is pegged to the Hong Kong Dollar. You can use HKD as well as USD.

We stayed at the Banyan Tree Macau which was quite simply perfection. A separate review will come up but I can't recommend the hotel enough. The entry level rooms are enormous and luxurious and very well priced at around $324USD. It is easily one of the best city hotel rooms I've ever stayed in in terms of details, size, luxury and price.

Some of the signature foods that originated in shops a little further out have opened up concessions within the larger casinos for easy access points.

At some points in Macau, you can look across the water and see China. At low tide it looks entirely possible to walk the distance!
So tell me Dear Reader, have you ever been to Macau? Does the idea of a Las Vegas style place appeal to you? Which dish looked the most interesting to you? Have you tried African chicken?
NQN travelled to Macau as a guest of the Macao Government Tourism Office and Banyan Tree Hotels but all opinions remain her own. Get to Macau via Hong Kong. For more information on flights to Hong Kong, visit www.cathaypacific.com.au
Tai Lei Loi Kei
45 R., 37 R. dos Clerigos, Macau (just off the food street R. do Cunha
http://www.taileiloi.com.mo/
Tel:(853)2836 6085
Open 7 days: 10:30am – 7:00pm
Pastelaria Fong Kei
14 R. do Cunha, Macau, China
Tel: (853) 28827142
Hang Yau
2 Travessa da Se. Macau
Open: days 12pm – 12am
Lord Stow's Bakery
1 Rua do Tassara, Coloane, Macau
Tel: (+853) 2888 2534
Open 7 days 07:00 - 22:00
http://www.lordstow.com/
Long Wa Tea House
3 R. Norte do Mercado Alm. Lacerda, Macau
Phone:+853 2857 4456
Open 7 days 7am-2pm
Miramar
Zona Norte Praia de Hác Sá, Coloane, Macau
Tel: (+853) 2888 2601
Open weekdays: 11:30 to 15:00 and 18:00 to 23:00
Weekends: 11:30 to 23:00
http://miramar.com.mo/
Restorante Litoral
261 R. do Alm. Sergio, Macau
Phone:+ (853) 2896 7878
http://www.restaurante-litoral.com/
The Eight
2/F, Grand Lisboa, Avenida e Lisboa, Macau
Tel: (+853) 28283838
Lunch: 11:30 - 14:30 hrs (Mon - Sat), 10:00 - 15:00 hrs (Sun / Public Holidays) Dinner 18:30 - 22:30 hrs http://www.grandlisboahotel.com/dining-the_eight-en