It's that smell. The smell of Asia, the one that tells you that you are home or at least in a completely different country. It's a strange feeling that I get when I step off the plane as I've never lived here but somehow, an instinct in me tells me that I'm back home, as if it knows that childhood holidays spent here and a father from Hong Kong affords me that luxury.
And I'm seeing it today as a local would. As if to demonstrate that, the first introduction to local foods is a doozy. Snake soup followed by snake bile, snake wine and then snake...penis? Our group of Australian food writers ponder the fact that we've never actually contemplated a snake's reproductive organ. Who knew that they had penis?
Gibson Cheung is a third generation snake restaurateur. It's a business that is slowly dwindling, its demise brought on by the difficulty in procuring snakes. He tells us that his grandfather used to buy hundreds of snakes for the same price and that one hundred would be sold in a week - now he is lucky if they harvest a few a week. Most go to the affluent Chinese market that can afford to pay more for the snakes. Previously, they had four stores just in Sham Shiu Po but now they have two, having bought out another snake store which was closing because there was no future generation to take it over. "I'm an animal activist" Gilbert says in his perfect Canadian English accent and he acknowledges that this is at odds with his job.
Gibson Cheung showing us a snake gallbladder
He shows us a gallbladder removed from a snake only a few days ago. This one is a twin gallbladder, usually there is only one, and he pricks it and releases the bile, a bitter, foul smelling liquid that resembles soya sauce. This is mixed with water or wine and then swallowed to relieve sore throat or phlegmy symptoms. He tells us that people see results within 2-3 minutes. A shot like this would be $100HKD/$12AUD.
The snake soup is filled with sliced mushrooms, thinly sliced snake meat, wood ear mushrooms, chicken, tangerine peel and ginger and is a warming soup. Snake is a winter food because it is said to raise temperatures so the snake business is a vulnerable one during summer time when customers don't tend to eat it. We watch as an elderly man shakes a copious amount of white pepper on his bowl before picking up his spoon. You can also add a little thinly sliced dried lemon leaf or pieces of deep fried dough.
The snakes used can range from a watersnake to a land snake. Copperhead racers are popular as are cobras while the expensive king cobra usually goes to the Chinese market. Poisonous snakes are said to be more prized than non venomous-the reasoning behind this is that they believe that the snake must live with its own poison and therefore it must be a superior type of snake.
Much of the snake meat served here is frozen here and the live snake out the front is designed as a lure to entice curiosity and customers-indeed putting a king cobra in the cage is ideal marketing and this draws crowds and customers. The live ones are sold to customers who require them for Chinese medicine. We try a serving of snake meat which is sold as a set with snake soup and rice for $80HKD/$10AUD.
There are two types of snake meat in this: cobra and copperhead racer. The lighter coloured copperhead racer is quite a different texture-extremely springy and chewy while the cobra is softer in texture. The sauce is delicious and it's actually not too dissimilar to eating eel. Gibson's theory on this is that venomous snakes have softer meat than snakes that constrict their prey as the latter need stronger muscles to kill their prey.
Which brings us to snake penis...I promised you guys penis didn't I? ;) Well snake penis is said to be good for men's libido or to relieve pain (and we'll quickly learn that most things that we come across are either great for men's libido or great for the skin) and it is mixed up with herbs. Rhey give us a dried snake penis as a souvenir-it splits in two at the end and when they mate, apparently they look as if their tails are joined.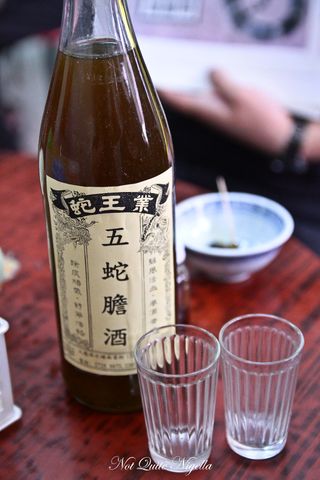 Snake wine packs a punch-with 30% alcohol, it tastes like a spirit and is said to be good for an upset stomach or gas. Gilbert recommends gargling it before swallowing it to get the full effect. He brings out the snake from its cage and handles it gently. This snake has had its gallbladder removed and he tells us that it can live for another 2-3 weeks without it. It's a skill removing the gallbladder without a lot of blood loss and his father is expert at it with a small 'X' located where the organ sat.
All images taken on a Sigma 17-50mm F2.8 EX DC OS lens
Two Russian tourists come in, having been recommended here by a Chinese friend and they are eager to try the snake. And looking up we see the suitcases which are the snake cases that used to sit on the ground and house the snakes. How times have changed.
We leave the snake shop and walk around to the dried foods district where practically anything you can think of is dried and sold. Why do they eat dried food if fresh is available? Our local Hong Kong guide Fred tells us it is because the flavour of dried is better. Prices vary dramatically according to quality from $1,000HKD ($125AUD) to $5,800HKD ($727AUD) a kati.
An enormous range of sea cucumber
You can find costly items like sea cucumber (rich in collagen, good to skin, no cholesterol), abalone, fish maw, bird's nest, deer horn, deer leg sinew, and conpoy all sold in kati instead of kilos or grams. One kati is approximately 600 grams or 1 1/3 ounce and it is a traditional way of measuring things.
Clockwise from top: bundles of tendons, dried quail and dried lizard
Meats such as duck kidneys, whole quail, tendons wrapped as little bundles and even split and splayed lizard on sticks are sold. On the street, every corner or space is used and we see whole fish or fish maw drying, even on construction sites.
Clockwise from top: fish and squid drying on construction sites, a worker in the heat, a shop owner on a busy road
At Kau Kee Noodle on Gough Street, we stop for a lunch of beef brisket noodles, a local speciality. We watch as a bride in her wedding dress and a jacket comes in with her new husband for a fix of noodles. We share a table with a solo diner and one graciously moves to another table to allow our group to sit down.
Beef Brisket noodles $34HKD ($4.26AUD), stewed lettuce with oyster sauce
The beef brisket is deliciously soft, cooked for hours. We try it with rice noodles as well as flat noodles and you can also add in some chilli sauce. I choose Iced Horlicks to wash it down with, which is sweet and a hark back to my childhood.
As we're leaving, a queue has formed outside and a couple of people chide our large group for taking so long to leave. We have a few minutes to shop and I make some purchases at Homeless, a home wares store with a fascinating range of items including a white sheep rocking horse and I also venture down to Petit Bazaar which has an adorable selection of mostly French children's items.
We take a quick stop in Lock Cha Tea House where they hold complimentary tea appreciation and tea ceremony classes as part of a Hong Kong Tourism initiative. Classes take about an hour and need to be booked ahead of time.
I had all intentions to only take a mouthful of everything at Sun Yuen restaurant at Queen's Road Central but once I tried the honeyed char siu, crunchy skinned roasted pork and the glossy soya sauce chicken, all good intentions evaporated. Here for over 30 years, they still use an abacus to calculate your bill.
The home made lup cheong and duck sausage are also fantastic, not to mention utterly moreish and will break any dietary resolve. The total bill here? $140HKD or $17.56AUD!
We're heading back to Hollywood Road where Kung Lee squeezes fresh sugar cane juice using their ancient torture machine (well it just looks like it) and it is a sweet, energising khaki green drink. A cup is $10HKD ($1.25AUD) and a sign also catches our eye for turtle shell with herb jelly. It comes as a deep bowl full of the darkest inky black unsweetened jelly and you add some syrup to it and it tastes very much like grass jelly.
Nearby the dan tart shop made famous by former HK governer Chris Patton. They do a roaring trade of the sweet buns and the pastry here is like a shortcrust pastry rather than the multi layered pastry. They are served warm from the oven. Mr NQN and I had visited here last time along with the next place.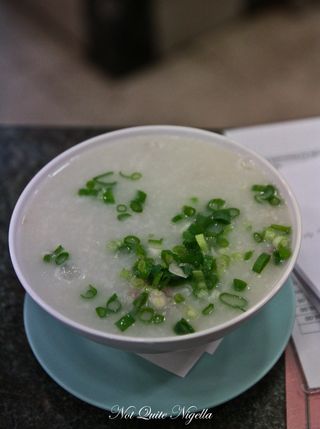 Lean meat and century egg congee $26HKD
Law Fu Kee's congee is the type of congee that you dream of. In fact, when we first touched down, all I wanted was a bowl of their lean meat and century egg congee. I dig deep into the bowl to fish out the pieces of glossy, dark century egg and soft meat. They also give us a plate of century egg, sliced and served with sweet, pickled ginger, a perfect combination.
French toast $16HKD/$2AUD
Since when is French toast a local Hong Kong item? Well when it is two slices of white bread, filled with kaya coconut jam and coated in egg, deep fried and served with a house made golden syrup, then it is Hong Kong style! At Lang Fong Yuen, the deep frying ensures that the French toast is crispier than normal and the kaya and golden syrup ensure that it is sweeter than sweet.
Stocking milk tea
I go through the narrow passageway where what appears to be a secret cafe is bustling with young customers who order the stocking milk tea, a tannic and strong concoction, pork buns or a stir fried noodles Hong Kong style with chicken and egg.
I meet owner Mr Lam who sits in front of a picture of him and Chow Yun Fat. Fred also shows us a jar of salty limes where he drinks this with soda water for a refreshing summer time beverage.
Salty limes
Almost one final item! It's the wanton noodles at Tsim Tsai Kee on Wellington Street. Here we have a serving of wonton noodles with the plumpest king prawn noodles for a phenomenally low price.
King prawn noodle $21HKD/$2.63AUD
Even though it is at the end of a day with a lot of food, I can't help but finish my serve of the noodles and fresh, juicy prawns. I only wish that I had more stomach space to eat more.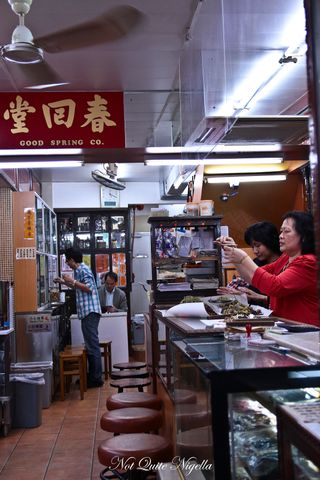 Ever tried a herbal tea? At Good Spring company, we watch as a woman measures medicine for the in house Chinese doctor while other staff members dispense cups of herbal tea, all portioned out and ready to go. There is a choice of either a sweet flower tea, American ginseng or a bitter 24 varieties tea.
We choose the latter and it is strong, extremely bitter stuff and reminds me of growing up and smelling my mother boil these concoctions. Not for the faint hearted!
Dinner is at Tsui Wah, another Hong Kong local's classic. With several branches all over Hong Kong, we wanted to continue on the local theme and we took Fred's recommendations for dishes. Unfortunately my first choice corn drink was not available so I settled for the next kinkiest thing, a champagne milk tea. Rest assured Dear Reader, this isn't a tea with champagne poured into it (although they do a notorious coffee and milk drink called Yin Yang in Hong Kong).
Champagne simply refers to the way it is served, in a bottle in a bucket of ice. Oh and did I mention that we were sitting in a booth too? The kitsch factor is a little high but I don't mind that. The milk tea, well it's that strong Hong Kong milk tea, tannic and not particularly sweet.
Swiss style chicken wings $51HKD/$6.39AUD
I'm still not sure what makes these Swiss style, as these are soy sauce chicken wings. My mother makes a great version of them here and they're sweet and salty and simple. But not Swiss as far as I can see.
Malaysian brisket of Beef curry $54HKD/$6.77AUD
Softer than soft, the beef brisket melts in the mouth and apart from gelatinously soft pieces, there are also cubes of potato and a separate plate of rice.
Sizzling king prawns and fried noodles $72HKD/$9.03AUD
This came to the table sizzling hot with little pockets of crispy fried noodles with almost a sweet and sour sauce on them and lots of king prawns.
Hainanese chicken rice
The chicken rice was served cold and was lovely and jellied and so tender and slippery. It came with a sweet soy and a ginger and shallot sauce and a bowl of chicken rice-out of the two, I preferred the chicken to the rice. There was also a bowl of tomato and potato soup which I tried a little of-it tasted very much like potato.
Vegetables
This was mixed mushrooms and broccoli, just because you should always eat your vegetables ;) I particularly loved the giant flower shiitake mushrooms which were so meaty and delicious.
Abalone fried rice
The fried rice had small pieces of abalone and had a slightly wetter or stickier texture than regular fried rice. I liked the way that this was seasoned and went back for several serves. And yes a diet was in order after this!
So tell me Dear Reader, would you or have you ever tried snake or Chinese medicine?
NQN travelled to Hong Kong with Qantas and the Hong Kong Tourism Board
Sher Wong Yip and Shea Wong Yuen (snake shop)
139 Nam Cheong Street, Sham Shui Po, Kowloon, Hong Kong
Tel: 2387 1902, 2728 8675
Kau Kee Noodles (beef brisket soup)
21 Gough St Sheung Wan, Hong Kong
Tel: +852 2850 5967
Lock Cha Tea House (tea house)
288-290 Queen's Road Central
Tel: +852 2805 1360
Sun Yuen (roast meat)
G/F, 19-21C Hankow Road, Hong Kong, China
Tel: + 852 2375190
Kung Lee (sugar cane juice)
G/F, 60 Hollywood Road, SOHO, Central
Tel: +852 2544 3571
Tai Cheong (dan tarts)
35 Lydhurst Terrace, Central, Hong Kong, China
Tel: + 852 25443475
Law Fu Kee (congee)
G/F, 142 Queen's Rd C, Central
Tel: +852 2543 3881
Lang Fong Yuen (HK milk tea, French toast and noodles)
2 Gage Street, Central
Tel: +852 2544 3895 / 2854 0731
Tsim Tsai Kee (wonton noodles)
98 Wellington St Hong Kong Island, Hong Kong
Tel: +852 2850 6471
Good Spring Company (herbal tea)
8 Cochrane St (at Stanley St), Central, Hong Kong, Hong Kong
Tsui Wah restaurant (local HK style restaurant)
G-2/F, 15-19 Wellington Street, Central
Tel: +852 2525 6338