The view of Macau from the boat is hazy, the sun casting a golden, radiating glow but the glass is so weather worn and in need of a clean that it's impossible to get a clear view of our destination, Macau. It is a 70 minute Turbo Jet ferry ride from Hong Kong to arrive at the sub tropical peninsula south west of Hong Kong.
We get a clearer view of Macau from the pier to our hotel. There are certainly the futuristic city scapes that Asia is known for but there are also quirky Disney-esque buildings that look like they have been transported from the set of a child's fantasy play date. And there is also the glitz and glamour and bright lights that remind us of Las Vegas.
Macau or Macao was a name that developed after Portugeuse sailors arrived during the age of discovery. They asked the local people for the name of where they had landed and were given "A Ma Gao or 'place of A Ma', to honour of the goddess of sailors. This would eventually become Macau. Macau is now two islands, one connected to the Guandong province of China while the other island is South of this and the two are connected by three bridges.
It is now a territory of China although it has its own police force, currency and government. The Portuguese handed back their titles to China in 1999 but the effect of their presence is still felt and many official signs are in Portuguese and Chinese while streets bear Portuguese names. It is also densely populated - for its size of around 30 square kilometres, 566,000 call Macao home.
Our hotel is the Banyan Tree Macau, part of the glittery Galaxy complex situated on the Avenida de Cotai. Hotels here in Macau are based on Vegas proportions - big rooms, big hotels with an enormous number of rooms and plenty of lights and gold.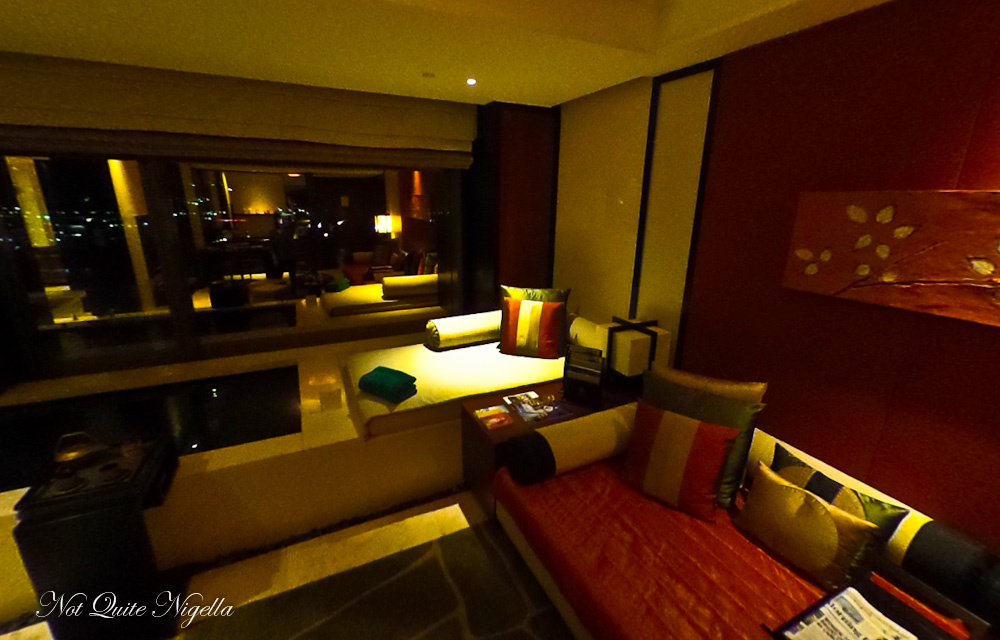 Click and drag for a 360 degree view
And space is not just lip service. Although we've been given the entry level room (a pool Cotai villa) at the Banyan Tree it is enormous at 100 square metres and so beautifully decked out that it's hard to believe that this is the most inexpensive room available (around $300USD a night).
My room #2215 has a generously portioned living room with a comfortable chaise lounge and a large flat screen television. But the real draw card is that each suite (and they're all suites in this hotel) has a small floating pool set to 27C/80.6F. On each end of the pool is another day bed and towel and you can float or swing your elbows over the edge and watch the water and the city's lights twinkle.
Click and drag for a 360 degree view
The bedroom can be partitioned off and features a fabulously comfortable super king bed with velvety smooth sheets and several types of pillows. There is also another television facing the bed. The bedroom connects into the bathroom with a large Japanese style wooden tub big enough for 3-4 people and a large separate shower with two pairs of shower heads so you can shower side by side if you want. And even the luggage area is spacious.
Click and drag for a 360 degree view
Every day they use a different fragrance with their incense and oil burners. Today it is lemongrass and rose, a combination that I haven't seen together before but it is a beautiful combination of Eastern and Western fragrances.
The next morning we explore more of Macau and make our way to the Macau Peninsula island. In the 16th century the Portuguese arrived and aided by the Jesuit priests, worked with the Chinese to establish a lucrative trading relationship even going so far as to trade on behalf of China. The Portuguese wanted an entryway into trading in China which was at that time closed off to the West.
The impact of these two cultures on Macau shows with beautiful pastel coloured buildings and the food features three types of cuisine: Chinese, Portuguese and Macanese, the latter a blending of Southern Chinese and Portuguese based on the Portuguese creating their own traditional dishes using ingredients that are found locally.
The Museum of Macao is a small museum that traces the history of the island peninsula. The third level of the museum holds stunning 360 degree views of Macau below.
Just nearby is the historic centre of Macau where streets teem with people visiting the Ruins of St Paul's and Senado Square. These streets are also dubbed as sample streets as vendors offer samples of their goods. There are egg tarts, wafers and plenty of bak kwa or sweet Chinese pork and beef jerky. They aren't pushy and you can try most things (except for the egg tarts) before you buy them.
Lunch is short car ride away at Restaurante Litoral a traditional Macanese style restaurant that is one of a handful of traditional Macanese restaurants that are owned by Macanese proprieters. There is a leg of Jamon Iberico on the counter and we are offered jugs of white and red sangria.
Caldo Verde $45MOP$7.50AUD
I'm very excited to be trying Macanese cuisine as it is hard if not almost impossible to find in Australia. The first course is a soup. Caldo verde is a soup thickened with mashed potato with slices of chorizo. A generous serving of olive oil is poured on top and this is sustaining, filling and satisfying.
Arroz Chau Chau a Portuguesa or Portuguese Fried Rice $120MOP/$20AUD
Portuguese fried rice is a melding of Chinese and Portuguese cuisines and comes flavoured with tomato sauce, olives, shrimp and chorizo and is a wonderful take on classic fried rice. Olives feature prominently on the menu.
Galinha Africana or African chicken half $200/$33AUD
The menu features African chicken, a divine dish that was created by chef Americo Angelo. He created the dish in Macau in the 1940's and was secretive with his recipe only slowly giving out small pieces of information about the recipe. Now that he has passed, nobody knows his exact recipe but Resturante Litoral's co-owner worked with him so she may know a few of his secret tips. One of the items that they use in the African chicken here is peanuts. Soft chicken is covered in a blanket of sauce made with plenty of shallots, garlic, coconut, tomato paste, paprika, lemon and peanuts. It's soft with a rich moreish sauce and I defy anyone to stop at one piece.
The afternoon holds a little bit of welcome downtime in the hotel. It starts with a spa treatment on their second floor spa with a 90 minute massage. I am led through an expansive spa decorated with bamboo and the clever use of light through to my enormous treatment room. It's big enough for two and my therapist Kik from Thailand shows me around. I disrobe and she asks me about the massage that I would like.
She then offers me a choice of fragrances to be sprayed on a flower that I will inhale when I am face down. There are also several soothing music choices. Not knowing much about them (they all sound similarly placating) I choose the last. She is gentle and intuitive but firm when I want her to be. I have chosen a hot stone massage and it's an excellent massage using the stones to get in deep. The massage is followed by a choice of ginger or lime tea with honey and some fresh fruit.
I've got a lovely surprise for me waiting in my room. It is afternoon tea Asian style that I eat from the comfort of my pool. The 27C temperature is perfect and I pick from the savouries including mini beef satay skewers on cucumber, delicious spring rolls, crab cakes, smoked salmon sandwiches, pear and brie bites and cucumber and cream cheese.
Then I move onto the sweets like the famous Portuguese custard tarts, pineapple and strawberry skewers as well as squares of cake. And then there's a knock at the door and a man carries in a plate of chocolate dipped madeleines! Every day the hotel staff leave a gift for each guest. It may be a notebook, photo frame or fan.
Peering inside a Taipa restaurant window
Macau is really a city of contrasts and despite the enormous glitzy Vegas style buildings, literally across the road from the glamorous Banyan Tree and Galaxy complex is one of the most gorgeous village style areas of Macau: Taipa Village. The quaint streets are a must visit and a real magnet for visitors but there's no doubting the charm of the small cobblestone streets. We walk past "The Avenue of the Well Married" or Travessa Dos Bem Casados. The architecture features neo classic Portuguese government buildings as well as Chinese Coast pastel houses.
Taipa has Macau's most famous pork chop bun shop. Tai Lei Loi Kei's pork chop buns are just that - one or two lightly floured bone in pork chops wedged into a bun. There's no lettuce or anything else in there. The key is the flavour of the pork and eaten hot, it simply melts in the mouth. Be prepared to queue a little for this treat. And if you love cookies, then Pastelaria Fong Kei around the corner has delicious crispy cookies that are very different to Western cookies but still moreish. A sleeve of cookies is $20MOP or $3.33AUD each.
Tonight we are dining at Antonio's, a 1 star Michelin restaurant founded by Antonio Coelho who is quite a personality himself. He wears his badge and stripes with pride and is quite a presence in the modestly sized restaurant whose outer walls are adorned with awards from all over the world. Originally from Portugal he works to promote Portuguese culture and cuisine with the Macau and Portuguese government.
His menu features 85-95% of imported goods from Portugal. We start with a Portuguese apertif made with white port, tonic water and mint. We then move into the main dining room that has reproductions of famous Portuguese paintings as well as a large portrait of him that looks down onto diners.
Arroz de Marisco à "António" Servido em Tacho de Barro $560MOP/$93AUD
A must order here is the Portuguese "Arroz de Marisco à "António" Servido em Tacho de Barro" or Wet Seafood Rice "Antonio" Style that has scallops, mussel, clams meat and prawns served in a ceramic pot. It's an enormous serving with plenty of seafood. I scoop up some rice with a scallop shell and eat from that. The seafood is tender and there's the faintest aroma of saffron.
Bife à Portuguesa com novilho Portugues $265/$44AUD
His other specialty is Bife à Portuguesa com novilho Portugues imported from Portugal. A young calf tenderloin steak is cooked medium rare and served with with potatoes, garlic, pickles and white wine sauce topped with smoked ham and fried egg. The steak is so tender and the smoked ham gives it a salty richness. And honestly who doesn't love a fried egg on top of their meal (apart from a chicken? ;)).
For dessert he makes Crepes Suzette at the table. He enlists the help of Sheriden to make them and pours the liquid at great height. There's traditional Portuguese music played by Mr Mercallino who like Antonio, loves to promote Portuguese culture and at the end of the night he shows me how to sabrage a bottle of champagne with his sword. It's that sort of place.
Macau is not short of Michelin starred restaurants and there are two three Michelin starred restaurants at the Grand Lisboa hotel: The Eight and Robuchon au Dôme. And at The Eight, yum cha is dim sum is elevated to a whole new level. With a lunch menu that spans 40 yum cha items daily there is a lot to choose from. And what makes this yum cha so special is the originality of the dumplings - each is like a little jewel.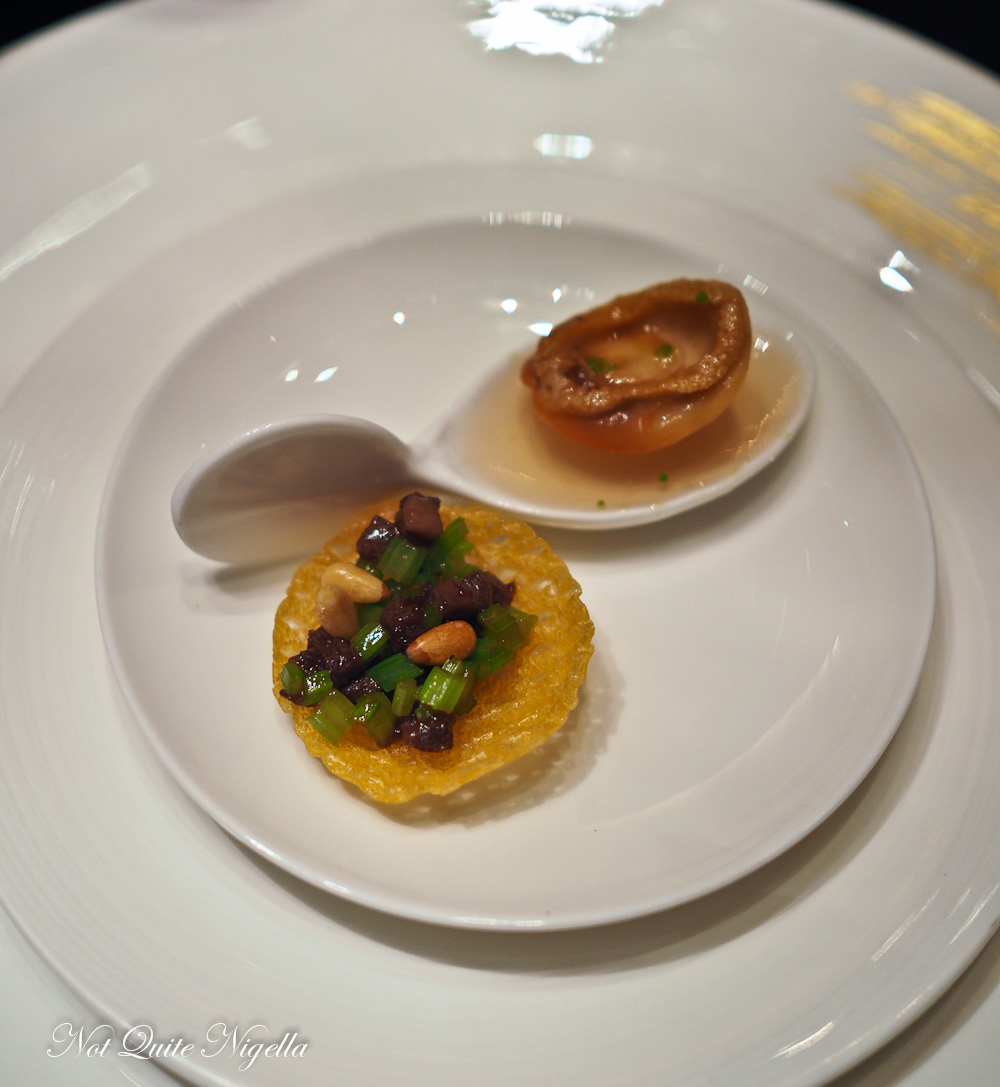 The Grand Lisboa is an enormous lotus shaped glitzy building boasting a ridiculous number of lights and jade sculptures in the lobby although curiously there are no lounges or anywhere to sit in the lobby. We go up to the 2nd floor where The Eight is located. Even the amuse bouche is stunning: abalone atop a plum jelly and tiny cubes of diced wagyu with celery.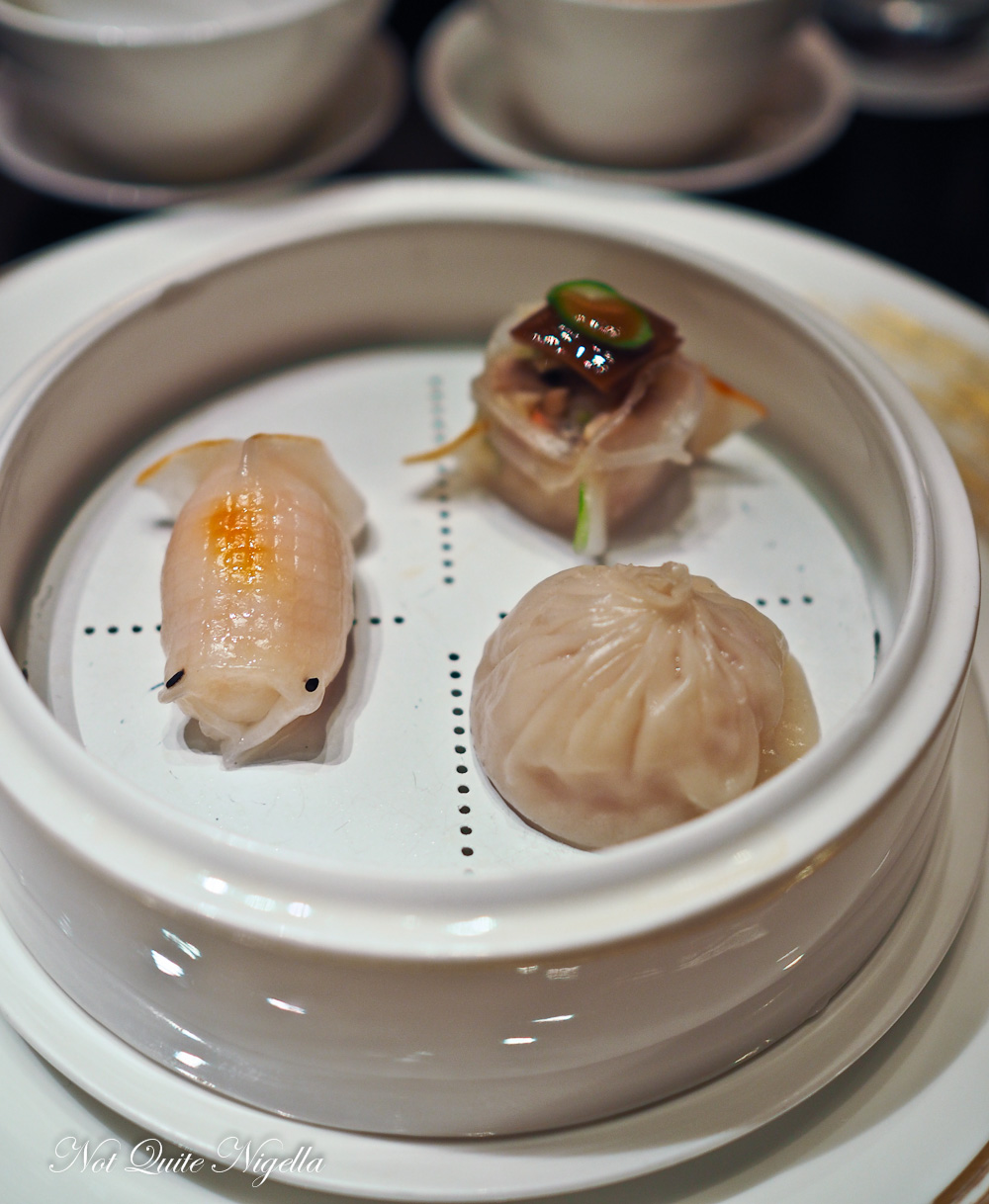 The dim sum arrives. The steamed cristal blue shrimp dumplings are shaped like goldfish-and they are as delicious as they are cute. The steamed dumpling with diced abalone, chicken and asparagus is luxurious while the steamed Shanghainese dumpling or Xiao long bao is filled with lobster.
There are also gourd shaped deep fried glutinous dumplings filled with dried shrimp and roasted pork belly. And the hedgehog bun filled with barbecued pork is served with a crispy fried bottom. The steamed mushroom bun looks like a mushroom from all angles and is filled with diced chicken and a black truffle sauce.
It's hard to go wrong with any of these dim sum and they also serve it along with some fantastic XO sauce that you can also buy. I bought a jar for around $30AUD. One thing I will say is that the meat dishes are more nuanced than the vegetarian offerings that didn't leave me quite as satisfied. However service is wonderful and unobtrusive. And for a minimum spend of $4400MOP for lunch and $6600MOP for dinner people can book out a private dining room.
That evening we head to Coloane Island, an area that people know as the lungs of Macau. Although just 10 minutes away from the hotel this sleepy, lovely small island seems like an entire world away from the bright lights of Macau and the casinos (the latter which we've very easily avoided). The population of Coloane is just over 9,000 and there are vast areas of greenery and bushland. There are plenty of walks and beaches here and many visit from Macau and Hong Kong for the peacefulness and tranquility.
First things first: a stop to Lord Stowe Bakery for what is said to be the best Portuguese custard tarts in Macau. There is such a demand for them that they always seem to be pulling out a batch from the oven so that they are sold warm. One bite into the silky custard and flakey pastry and you can see why there is such a fuss.
They are simply heaven and as soon as I finish one, I want another as I don't want it to end. This particular recipe was developed by "Lord" Andrew Stow who has passed on now and his sister runs the bakery. He wasn't an actual lord but the nickname was given to him as he was British.
For those that have less time, The Venetian also has a concession in the hotel. Is it worth the trip? Yes, and walking through a small village watching folks go about their daily routine, playing mahjong, having friends over for dinner or even a quick peek at iao lei lane de peixe or yao law lane fish where there are fish drying is interesting for its complete lack of pretension. And when we visit it is low tide and across the water, walking distance away is China. We wonder how long it will take us to walk across the sand to reach China.
Our spot for dinner is a short drive away at Miramar restaurant located next to the Westin hotel. There's an indoor area as well as an outdoor terrace which is perfect for this evening as the cool breeze fans us. It's not a fancy restaurant and features plastic checked tablecloths but the food is about family style Portuguese food. The predominantly female kitchen creates home style Portuguese cuisine under the watchful eye of Chef Rosa. They set down a basket of fresh bread and one of the signature dishes: chef Rosa's clams.
Ameijoas a moda Do Chefe $178MOP/$30AUD
And if you are a fan of creamy sauces (yes!!!) then you will adore these gorgeous creamy clams. It's Chef Rosa's original recipe and the cream is spiked by a light flavour of white wine, brine and the sea from the clams. I ate two serves of this and wanted more.
Leitao Assado a moda do Miramar com Batata frita e salada $890MOP/$148.33
Another signature dish is the suckling pig with a gorgeous crackling on top, soft and unctuous meat below. It is served with terrific chips and a very simple salad. But the star is definitely the pork here.
Desserts here look colourful but I found them to be too sweet for me without any other flavours to complement. We tried a range and I didn't really want anything more than a small taste. They use a preponderance of sugar and egg yolks in the desserts and there isn't a particularly strong taste apart from sweetness.
The Macau skyline! It's a sign we will perhaps be back...
The next day as we are getting ready to leave Macau for our next stop of Vietnam, over breakfast at Saffron restaurant, I look over and see Sheriden lifting her coffee cup to her mouth. "Stop!!" I cry and point out the pattern that the coffee has made on her cup. It's a perfect replica of the Macau skyline. Which we interpret in the same fashion as throwing a single coin into the Trevi fountain. We will be back.
So tell me Dear Reader, do you take notice of signs like the one above? Have you ever tried coffee or tea leaf reading? And do you enjoy casinos or do you avoid them?
*NQN travelled to Macau as a guest of the Macao Government Tourism Office, Cathay Pacific and Banyan Tree Hotels but all opinions remain her own.
Cathay Pacific
www.cathaypacific.com.au
Banyan Tree Macau
Galaxy Macau, Avenida Marginal Flor de Lotus, Cotai, Macau, China
城聖 德 母 灣 大 馬路, Macau
Phone:+853 8883 8833
http://www.banyantree.com/en/cn-china-macau
Restaurante Litoral
261 R. do Alm. Sergio, Macau
Phone:+853 2896 7878
http://www.restaurante-litoral.com/
Antonio's
7 R. dos Clerigos, Macau
Phone:+853 2899 9998
http://antoniomacau.com/
The Eight
2nd floor, Grand Lisboa Hotel, Avenida de Lisboa, Macau
Phone:+853 2828 3838
http://www.grandlisboa.com/en/foodandbeverage/indexid1.html
Lord Stow's Bakery
R. do Tassara, Macau
Phone:+853 2888 2534
http://www.lordstow.com/
Miramar
Estrada de Hac Sa, Praia de Hac Sa, Macau, Macau
Phone:+853 2888 2601
http://miramar.com.mo/