My Hong Kong born father is a bit obsessed and very particular with hotels and I think he has passed the hotel obsessed gene to me. I love checking into a new hotel and walking around the room discovering new things. In a room I babble and coo about details while Mr NQN simply looks out at the window and contemplates the view, it's perhaps a zen moment to help cope with a chatterbox wife.
Even the barber shop is stylish!
After a sound sleep, we make sure we wake up in time for something to eat. Breakfast at the Mandarin Oriental is not your usual affair. You see I'm not a big fan of buffets, the food is never as nice as when cooked fresh (I'm looking at you rubbery scrambled eggs) so when we're told there is a choice of two places to eat breakfast here, one a buffet and one a la carte it is a lack of time that prompts us towards the buffet so that we can get something quickly.
The Chinnery bar-where women were only allowed to visit from 1990 onwards!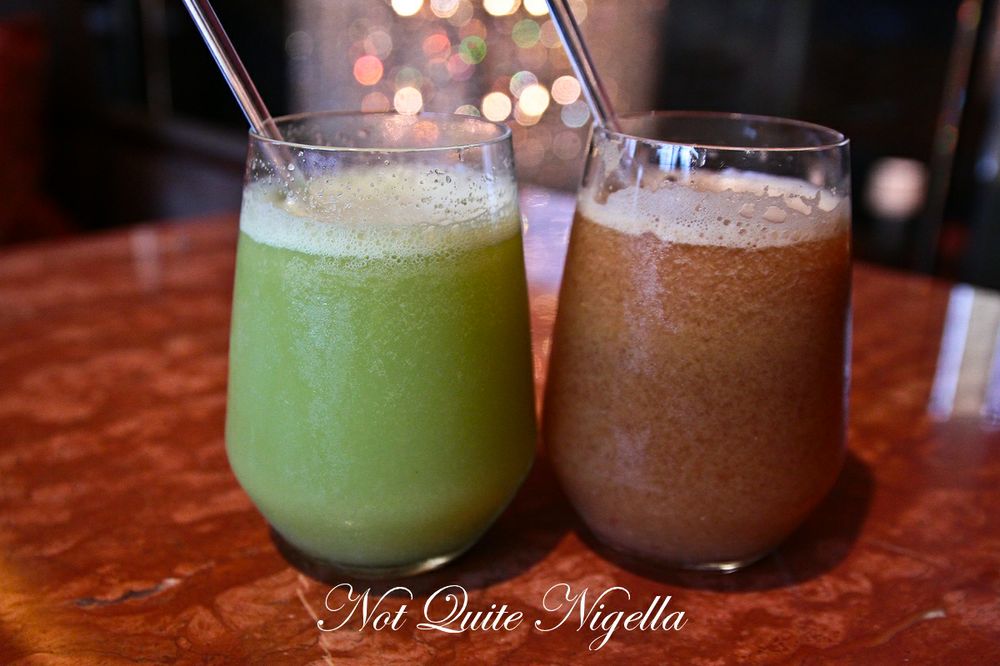 Green apple and red apple juice
You get the sense that they do things differently here when Mr NQN orders an apple juice with the waiter and he asks "Would you like red apples or green?" and then unable to decide but thirsty, Mr NQN orders both. And they taste entirely different.
The issue with the pool of rubbery scrambled eggs leaking liquid is combatted with freshly cooked omelettes. Both chicken eggs and duck eggs are offered. There are also egg white omelettes for those inclined to go low fat with their omelettes and fillings include smoked salmon, chorizo, cheese, chives and a multitude of others.
I order a duck egg omelette with chorizo, mushroom and spring onions and the chef cooks it quickly. The flavours are good but I like them a bit gooier in the centre (although I could have perhaps requested that).
The fruit station is a sight to behold. I adore exotic fruit and this looks like a fetching shop display. I choose some dragonfruit and some Chinese pears.
Pastry display
Yogurt station
Mr NQN is a continental breakfast person who likes fruit and cereal so he picks up a pot of yogurt while I pick up some steamer baskets of dim sum. Yes people eat dim sum for breakfast here which delights me to no end :)
The Mandarin chocolate shop
Nearby, just across the floor near the a la carte breakfast option Cafe Causette, there is the Mandarin chocolate and cake shop where their Willy Wonka-esque chocolatiers make all sorts of unusual things. At first you may think that there are regular sorts of truffles, cakes and pastries but if you look a bit closer at the displays, the screws and pliers are made out of chocolate and dusted in a "rust effect" powder. They come in flavours like milk, caramel, orange and coca cola!
Then it is time for a spa on the 25th floor! "Welcome to the Mandarin Spa" the smiling face behind the counter says to me. I am booked in for an Oriental Essence massage, 60 minutes of bliss in which I would I would exchange my tense body for an upgraded version.
The Mandarin Oriental Spa's waiting area
I swap my shoes for a pair of their slippers and I am led to the ladies change room. I meet my therapist Phoebe who shows me to the therapy room past the Vichy shower room. The rooms are luxurious and serene with glowing candles and smooth surfaces. Phoebe does a full consultation and asks for my preferences and she will then tailor a massage to fit my areas of concern (back and shoulders). She then offers me one of two essential oils scents,a rose and a chamomile.
She applies the perfect pressure checking on room temperature, light and comfort. The bed reclines seamlessly and smoothly and I float away. After the massage, we're led to the waiting room where there is a choice of water or infused tea with honey. I shower and make my way out of the spa where my new body serves me very nicely indeed.
One of the advantages to going away with fashion bloggers is that there is designated shopping time. Combining shopping and eating is like Hong Kong's two favourite sports together so we visit Harbour City, one of Hong Kong's largest shopping malls.
I find myself understanding my Hong Kong father more the more time I spend in Hong Kong. It is a capitalist economy and money talks louder here than many other countries but there are things that Hong Kongers hold sentimental and one of those is the Star Ferry. Taking just eight minutes due to reclamation (we hear some people saying that in years, they'll be able to walk across so take it while you can ;)), the old boats are also one of Mr NQN's favourite memories from when he was an ex pat here.
At $2.50HKD ($0.30AUD) on weekdays to $3HKD ($0.37 AUD) on weekends, it takes you across from Hong Kong Island to Kowloon. Walking through Harbour City to get to the restaurant we pass a who's who of designer names and it reminds me that perhaps they have a Christian Louboutin store and I can perhaps buy the shoes that I've wanted to buy for my birthday!
But shopping plans are put on hold as we arrive at Rice Paper, a Vietnamese restaurant in Harbour City on the third floor. We have a choice of a three course set meal for about $14.50AUD ($118 HKD) or ordering a la carte. The set meal looks like very good value so Mr NQN orders that and I go for a la carte to try something different.
Violet drink
The violet drink, admittedly  ordered because you don't often see a violet soda, was refreshing and a bright violet shade with the syrup at the bottom. It tasted mostly of lime rather than violet though.
Vietnamese drip filter coffee
I like Vietnamese coffee as it is strong and sweet. It is served with either sweetened condensed milk or regular frothed milk.
Fresh lime soda (part of set lunch)
Refreshing and fizzy, this is the drink if you need instant cooling.
Fresh spring rolls with soft shell crab $78HKD/$9.65AUD
The soft shell crab rolls certainly looked striking and the crab was fresh and crunchy. I was less smitten with the mango sauce that they came with though.
Fresh spring rolls with Vietnamese sausage $58HKD /$7.17AUD
The Vietnamese sausage and cucumber rolls are refreshing and just how I like them, low carb and full of tasty freshness and flavour.
Starter platter (part of set meal)
The first course of the two courses, this is enough food in this one course to feed one quite happily. There are an assortment of items with a variety of textures and flavours. The picks were the satay and the long sticky rice flour batons which reminded me of ham sui gok.
Pho (second course of set meal)
The second course is an enormous bowl of fragrant, sustaining beef broth with thinly sliced tenderloin from New Zealand on top. Mr NQN does well with half finishing it given how much food was on the table.
Braised duck in special sauce $128HKD/$15.85AUD
The braised duck in special sauce was a half a duck in a soy based sauce.Whilst the texture of the duck was lovely and soft and fell off the bone appealingly, the sauce needed a bit more seasoning or flavour.
There's no time for dessert as we rush off to our next appointment, meeting some of Hong Kong's fashion and food bloggers at Canton Deli. Even though we've eaten our fill and then some they bring out some of the pick of the restaurant. We're meeting the lovely JJ from The Wanderlister, Janice from e*ting as well as Karen @bridgeways from Harbour City and restaurateur Geoffrey Wu @geoffrey_wu!
There are delicious dan egg custard tarts, noodles, spring rolls, har gow (prawn dumplings), and I did sneak in a bite of most things (just for research purposes). The pineapple bun was interesting. It had crunchy sweet top much like the eclairs with sable topping and was served with a square of butter which melted from the heat of the bun. There is actually no pineapple flavour in the bun though (the Cantonese name which starts with 'bo lo' means pineapple).
Ahh har gow, how I will always have room for you...
Pineapple bun
All washed down with strong tea and a quick session of blogger gossip!
The best thing about shoes is that no matter if you've just eaten a big lunch (or two, who's counting?) is that shoes are always going to fit you. So it is with this knowledge that we visit the standalone Christian Louboutin store in Harbour City to get our fix. Depending on when you visit, there may be a queue outside but this afternoon the store is thankfully queue-less. The classic pump in nude is luckily in stock in my size and before Mr NQN can shake his head I am the very happy owner of a pair of them, sexy red sole and all!
We manage to drool past several stores there including Royce, Leonidas and Jean-Paul Hévin where we buy a box of his chocolates (around $40AUD for 16 truffles). The chocolates are absolutely swoonworthy and worth the price. There are flavours such as 'Gemme' smoked Chinese tea flavoured bitter ganache and 'Troglodyte' which is a bi-layered chocolate almond hazelnut praline and gianduja. My favourites are the delicate pralines with the lovely thin chocolate layer on the outside and finely chopped nuts and cream on the inside. Jean-Paul Hévin has four stores in Paris, five in Japan and two in Hong Kong.
Back at the hotel, getting ready for dinner in record time, we dressed and I noticed a little gift on the bed which all guests get every evening with turn down service. There is a jetlag roll on oil which smells fragrantly of chamomile, one of my favourite calming fragrances. I roll a little on the underside of my wrist and don my new Louboutins.
Look at that view! Sigh...
For Northern Chinese dishes we go to Hutong, located on the 28th floor of 1 Prince Street, an office tower. A hutong is an narrow alley or street mostly found in Beijing's courtyard neighbourhoods so an office tower might seem an odd place to put it. But once the elevator doors glide open you are definitely not in corporate land anymore and you are transported.
Inside it is dark, lacquered black floors and a wishing tree with fastened red tickets declaring wishes in English and Chinese greets you. So dark that I'm glad that we have our fantastic Sigma lenses or we would have really struggled to photograph things! Tonight we will be tasting Hutong's signature dishes.
Scallops, green asparagus and bamboo clams
The starter dish had three components to it - the first are the spears of asparagus which have a delicious sweet sesame coating on the base of each spear and are very nibbly and moreish (must try and replicate at home!). The second is the scallops, thinly sliced and topped with pomelo segments. Pomelo is a fruit that is very popular around Chinese New Year time. It reminds me of a less bitter grapefruit with distinct pulpy flesh. The third was two bamboo or razor clams steeped in Chinese rose wine, chilli sauce and a pungent hit of garlic.
Around this time the light show goes on at 8pm which it does every night.
Cod fillet tossed with crispy fermented beans
This was the dish that wowed everyone and I can't for the life of me remember having this anywhere in Sydney. The cod fillet is a thick slice of boneless fillet but tenderly cooked and soft. It is topped with a lightly crunchy fermented bean and chilli mix (and the chillies are hot). Whenever I've had fermented beans it has always been a flavour or aroma explosion (like natto or fermented black beans) but these are quite mild and almost nutty in flavour and texture. This dish was everyone's favourite.
"Ma la" chilli prawns fried with Sichuan dried chilli and Chinese celery
Another favourite, the prawns are succulent and juicy. It's hard to meet a bad prawn in Hong Kong and they are deliciously spicy with a long, strong lingering burn at the end. And yes I volunteered to eat any extra ;)
"Chinkiang" pork ribs braised with sweet and vinegar sauce
Next come the meat dishes and there are two ribs on offer here: "Chinkiang" pork ribs braised with sweet and vinegar sauce is the first and they are beauties indeed. My mother makes a very similar dish at home which we all love (I might try and persuade her to share the recipe). The sauce is sweet and given acidity from the vinegar. Some of the pork rib pieces are softer than others and some of us struggle with biting the ribs with chopsticks and they sauce is the kind of sauce that you want to order rice for.
Crispy deboned lamb ribs
The crispy deboned lamb ribs came out on a slab looking like one large section of meat portioned into slices. They look to be deep fried and are paired with a sweet vinegar sauce and spring onion. I preferred the others as these were quite dry in comparison and quite oily.
Double decker dessert box
I'll admit it, I'm not a jelly person unless it's that lovely, super wobbly stuff with the texture of panna cotta. There was a red bean and orange jelly and an osmanthus jelly (a lightly fragrant flower) and they were just too firm for me and I don't think many of us were taken by them. Better was the mango and coconut rice wraps which had a sticky rice outer coated in desiccated coconut and a fresh mango filling. Or you might like to skip dessert for a cocktail and dessert upstairs at Aqua Spirit, owned by the same group that own Hutong (as well as a slew of other restaurants).
Daddy Mac $128HKD/$17AUD
At Aqua Spirit people go to drink in views and cocktails such as the ones from their list of eight signature and unique cocktails. There is the Daddy Mac (Mr NQN's choice) with Corralego, Anejo tequila, agave, lime juice, pineapple juice, kaffir lime leaves and an interesting black pepper rim. Or the Amore Mio which is served in a little teapot with fresh edible flowers and amaretto biscotti. It contains cognac, Cinar, home made almond and Grand Marnier syrup, green tea bag, lime leaves and grapefruit bitters.
Amore Mio $148HKD/$19.71AUD
My Sweet Pear $138HKD/$18.37AUD
I tried the My Sweet Pear which has Grey Goose pear, lemongrass, Canton, Averna, lemon juice and a cinnamon sugar crust to sweeten it as it is quite a tart drink.
If you are looking for a western style dessert, platters can be ordered from their restaurant downstairs and contain a warm chocolate fondant with an oozy centre, tiramisu, coffee creme brulee, ginger creme brulee, lemon sorbet and everyone's favourite, a mandarin sorbet which is refreshing, floral and sweet.
Back at the ranch or should I say our exquisite suites, everyone is mindful of the stories they need to write so we retire to our rooms. Mr NQN draws himself a bath and watches the twinkle of Friday night lights before climbing into bed.
And as they say they all slept happily ever after.
So tell me Dear Reader, are you a hotel fiend too?
NQN and Mr NQN travelled to and explored Hong Kong as guests of the Hong Kong Tourism Board, Virgin Atlantic and the Mandarin Oriental Hong Kong
Virgin Atlantic Airways
www.virgin-atlantic.com
Mandarin Oriental Hong Kong
5 Connaught Road, Central, Hong Kong
Tel: +852 2820 4202
http://www.mandarinoriental.com/hongkong/
Harbour City
3 Canton Road Tsim Sha Tsui, Hong Kong
www.harbourcity.com.hk/
Rice Paper
Shop 3319, 3/F, Harbour City, 17 Canton Road, Tsim Sha Tsui, Hong Kong
Tel: +852 3151 7801
Mon.-Sun. 11:30-23:30
Canton Deli
Shop 3303, 3/F, Harbour City, 17 Canton Road, Tsim Sha Tsui, Hong Kong
Tel: +852 2613 9889
Mon – Sun 11am – 10.30pm
Hutong
28th floor, 1 Peking Road Hong Kong
Tel: +852 3428 8342
http://www.hutong.com.hk/
Daily noon-3pm and 6-11pm
Aqua Spirit
29th floor, 1 Peking Road Hong Kong
Tel: +852 3427 2288
http://www.aqua.com.hk/
Open daily from 4pm-2am