If I had to choose a favourite colour, well that would be hard but pink is up there. I'm all about girly lunches and afternoon teas, pink, high heels and hats. So I feel quite at home at a hotel like The Langham, a hotel that is a shrine to the colour pink. In Hong Kong, there are two Langham hotels for the Hong Kong based chain. There is Langham Place which is a more modern version as well as the Langham Hong Kong, their flagship hotel. The location is excellent, right in the middle of many designer stores in Canton Road as well as the chain stores like H&M that are of course open late. It's a 5 minute walk to the Star Ferry and train stations.
The lobby itself is buzzing with activity this evening at 7:30pm and looking up is an ornate traditional ceiling but behind the reception desk are red glass plates that resemble flowers contrast which I find two rather opposing styles. We make our way up to the 11th floor which is the club floor where we check in. The club lounge is also full of people taking advantage of their cocktail time with free cocktails and food and it's a few minutes before we locate seats. There is also breakfast and afternoon tea here during the day.
Tired from the flight and the time difference, we make our way to our rooms. My room #1020 is a deluxe room. The rooms are on the compact size at 32 m2. It has had its turndown service performed and the silk drapes closed. The design is all swirls and gold and pale pink tones with dark wood. A cherry blossom painting sits above the king sized bed on which rests a tiny pink boxed chocolate and a quote from a politician who was a former Langham hotel resident.
Pink is everywhere in little touches so that it isn't too overwhelming. There is the floral gold and pale pink pens and pencils and stationary boxes. A pink chocolate shoe filled with mint dark and white chocolate truffles sits alongside a bowl of fruit. The mini bar has drinks for about $5.50 for a 330ml sparkling mineral water and most items are priced around that. Tea and coffee making facilities are provided with Ronnefeldt tea and instant coffee and UHT milk.
Facing the window is a glass desk with an international adaptor. Internet is free for up to three devices (hooray!) and the view outside the window is of the building opposite, 'One Peking' with stores for Zegna and Cartier below. The closets have fluffy robes, slippers and a safe and iron and ironing board. The hotel's gym is open 24 hours a day while the pool is open early til late from 6am-11pm.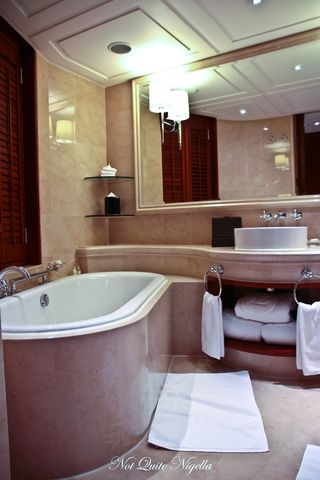 The bathroom has a separate bath and shower and the Langham's pink amenities box is replete with their signature pink boxes of items such as cotton buds and pads, dental kit, sewing kit, comb, talcum powder, shaving kit and nail kit. The shampoo, conditioner, soap and body lotion are by Penhaligons of London in the Quercus scent. The hairdryer is hidden in a nifty little pop out drawer and is already plugged in and ready to go (I love it when things are already plugged in, it's more like being at home that way).
Oh and one reason why I loved the service here? When I rang up to ask for a lemon and a straw for my hot lemon water in the morning, they didn't flinch in the slightest and sent one up within 5 minutes.
Evenings at The Langham start with a civilised dimming of the lights at 7:05pm and every guest in the lounge receives a cocktail and a little snack. Today's is the Pink Lady and foie gras in a pink wafer cup. The reason for that time? The Langham was established in 1865 and added up, that makes the time 7:05pm.
Upstairs is their Cantonese T'ang court restaurant which is their Michelin starred restaurant. The room has sweeping drapes in rich red velvets and is decorated in traditional Chinese style. A glass display cabinet houses engraved chopsticks for the restaurant's most frequent guests.
I'm pretty sure there are a few pleats missing in mine!
Showing the cupping shape to hold the dim sims
My not so perfect specimen
We start with a quick dim sum making lesson-and let me tell you that it looks a lot easier to roll these than it actually is!
Fast, deft hands shape the dim sum, all made by hand, fresh every single day. They make at least 100 of the har gows each day and they are never frozen, only fresh. It takes them just seconds to fashion each morsel into a jewel while it takes us upwards of a good minute.
I'm afraid none of us are going to be hired despite them being politely encouraging. And I promise that I didn't ask this lovely guy to do a thumbs up! ;)
We adjourn to a private room, one of many that the restaurant has. They explain that as people don't tend to entertain at home, restaurants are often a popular place to host or entertain in. Our set menu is $800HKD/$98AUD per person and encompasses their dim sum offerings as well as other dishes.
We start with the three dim sum, all served with their fantastic house made XO sauce which is also available for sale in the gift shop. You can certainly tell the difference between dim sum that is made fresh or frozen and the seafood is springy and fresh in each bite.
Our next plate has a range of three items: the crispy rice flour dumplings with the XO sauce are an absolute stand out. The edges are crispy and the soft inside and yielding-it's similar to chee cheong fan but with a delectable pan fried crispiness. The spring roll is good and filled with conpoy fish and egg white to make it soft inside and there is a small, neat pie filled with chicken and mushroom. The pastry has a nice slightly sweet and very short pastry to it.
The next course is crispy skinned chicken. The chicken is beautifully crisp in the skin but still moist underneath. This is achieved not by deep frying the chicken but by pouring hot oil over the skin so that just the skin crisps up.
Garoupa
By now I was getting very full. The next course was a subtly flavoured garoupa with water chestnut cubes and Chinese kale. They tell us that they use the best part of the kale, the stem and discard the rest which is an extravagant gesture. It's a comforting and simple dish.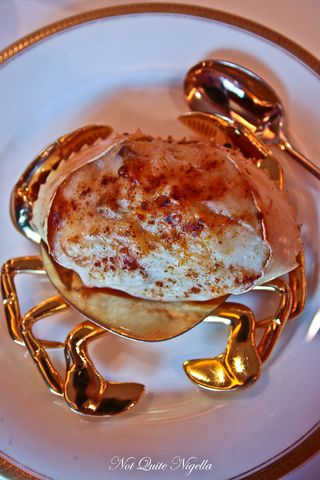 Seafood in the shell
With a stunning presentation on a gold crab shaped holder, the crab shell is filled with a layer of rice and then topped with a creamy seafood sauce with prawns, scallops and mushrooms. It is finished off with a grilling to blister the top which brings the sweetness out.
Mango pudding
No yum cha meal is complete without mango pudding-this one with small pieces of fresh mango throughout it and a topping of whipped cream. Tea is given and poured the traditional way from cup to cup.
And a final touch is the chestnut roulade with small pieces of sweet chestnut and a crunchy still warm from the oven walnut cookie.
The XO sauce can be purchased downstairs at the Flavours of Langham gift shop. I made sure to buy some to take home as gifts! ;)
Afternoon Tea at Palm Court
I'm not a natural solo diner. I've mentioned the reasons why before, the fact that I love eating because I like people and I like company. And quite honestly, once you get the camera out, people that looked at you oddly because you are dining alone, look at you as if you are a bone fide freak when you start taking pictures of the things that you eat. Thankfully a staff member at the Langham's Palm Court where afternoon tea is served every morning, senses this and offers me a choice of magazines or newspapers. Luckily I have Twitter and Facebook too so that keeps me amused for a little while.
There are two types of afternoon teas here and appealingly, they're both fairy tale themed. For adults, there is the Sleeping Beauty or the Beauty and the Beast afternoon tea and there's even a little tiffin tea for children. The Palm Court is a seductively lit space, full of maroon flocked velvet chairs, silver velvet lounges, beautiful Chinese themed paintings from the owner's private collection, vases of fresh lilies and roses and silk drapes. I watch as a curious and chubby little boy attends to his tiffin high tea and then observes mine brought to me. He stares at it transfixed and then asks me something that I don't quite understand but his hunger is palpable. Que sera sera plays in the background.
Beauty and the Beast is the more chocolate themed afternoon tea but having just had some chocolate, I opt for the Sleeping Beauty. Priced at $218HKD/$27AUD per person or $398HKD/$47AUD for two, it also comes with your choice of teas and coffee. I go for the Ronnefeldt Peach tea from Germany which arrives as blush pink beauty.
There are three tiers full of food. They explain that the scones will come out later so as to keep them warm. The savoury layer is elaborate and is full of tasty little morsels beyond the usual sandwich. There are so many little morsels and I really enjoyed them all and while they were very creative, the only one I didn't really go for was the quail scotch egg as it was quite cold and lacked the flavour of the others.
The sweets layer too is full of goodies. The raspberry dome is a lime marshmallow with raspberry glaze. There is also a white chocolate eclaire with pistachio glaze, an almond frangipane with a glossy dome of creme fraiche mousse which was refreshing and not too sweet. Lastly there was a chocolate tart filled with orange curd with a scoop of chocolate quennelle-not quite for me as I don't love chocolate and orange but I'm sure chocolate orange lovers would like it.
Starting from the top layer which was my favourite layer is a tall shot glass of Cox's apple gelee with vanilla bean bavarois and jasmine honey jelly-the pannacotta has a lovely texture and the apple and creamy panna cotta have a nice balance and the jasmine adds a lovely note to the honey jelly. There are three divine little chocolate macarons.
The scones arrive accompanied by a pat of butter, strawberry jam and clotted cream. The scones are smaller than usual and not very warm. They're also a bit hard and a tad dry which I find can often happen with smaller scones. The jam is served very cold and is made with a lot of pectin so that it slices rather than spreads and breaks the scone although it is good that they served them with clotted cream.
On the last day, after we check out, we go upstairs for one last hurrah at the club lounge. We take a seat in the Alice in Wonderland like room and have a quick peruse of the food on offer while staff take our tea orders.
A few of the items are the same as the Palm Court afternoon tea but there is a different selection here. It's not a bad selection although the afternoon tea downstairs features more elaborate morsels whereas this is simpler but with a slightly wider range of snacks.
I sit down to a cup of tea with some sweet pink and red sweets. The raspberry tart has a lovely short pastry shell, vanilla creme patissiere and a fresh icing sugar dusted raspberry while the strawberry cupcake is very moist inside with a good amount of pink buttercream.
So tell me Dear Reader, do you find club lounges and rooms worth the extra expenses? What's the most important thing to you in a hotel?
NQN travelled to Hong Kong as a guest of the Hong Kong Tourism Board, The Langham and Qantas
The Langham
8 Peking Road Hong Kong
Tel: +852 2132 7898
http://hongkong.langhamhotels.com/