In six hours you can do a lot of things:
You can watch three films.
You can fly to another country.
You can murder someone and bury their body (Ok I don't know this for sure, but I'm guessing it's possible from watching Dexter).
You can also see and eat an awful lot of food and when Mr NQN and I had six solid, straight hours in which to explore Hong Kong, we wanted to try some of the food that locals eat. After all, when you're overseas, the locals know best. We were armed with a list put together by our fantastic local guide Rainbow Wong in conjunction with Tim Ho Wan's chef and owner Chef Pui which included some of his favourite eating places. Along with an excellent map by the Mandarin Oriental's fantastic concierge Anthony, we are off!. All you need to do this is have a dash of verve, a touch of insanity and a bottomless stomach*.
*best attempted after being stranded on a desert island for 3 weeks ;)
Don't you love a map with landmarks based on designer stores like Prada, LV and Coach? So logical in an unfamiliar city where you don't know the street names!
Law Fu Kee
Congee has a special place in Hong Kong people's hearts. They enjoy it at all hours but especially for breakfast. For those who have never tried it, it is a thick, rice based porridge that can be served thick or slightly watery but usually piping hot.
Open from 7am, Law Fu Kee's chefs have been busy since 3am preparing the ingredients for congee. They use Thai jasmine rice which adds a lovely fragrance to the congee and the little eatery is unassuming with the kitchen on the left where two chefs are busy adding pork bones to the congee.
Century egg and lean meat congee $12HKD
Chinese language menus are on the table but the smiling woman who welcomes us offers us a laminated English menu. We order the century egg and lean meat congee which was recommended and a few minutes later, a bowl of steaming congee reaches our table. I didn't grow up eating century eggs at all and I always thought that they'd be alarmingly strong but I loved them straight away with their pretty colours and marbled appearance and the creamy texture inside.
Here they're cut into pieces and mixed in with lean meat pieces, the strands swaying in the creamy congee. As I take each spoonful, I become younger and younger and soon I'm six years old on our family trip to Hong Kong where we rode on the top of a double decker bus to our utter delight. The congee is wonderful and for the upteenth time this trip we say "this tastes so much better here."
Coke $8HKD/$1AUD
For good measure, and because I haven't drunk Coke from a glass bottle in years, we order one. It is also the only drink on the menu.
Yung Kee
The first five pages of Yung Kee's menu lists their accolades over the various years. It really sets the tone for the meal here. It's an elegant restaurant where legs of pork hang displayed for sale (ranging from $800HKD/$100AUD to over $1,000HKD/$125AUD). The staff are perfunctory except for one and the must order item is said to be the roast goose.
Here their goose is also served much like Peking duck, with two courses starting with the skin in a pancake and then the stir fried meat although this requires advance booking and comes at a cost of $800HKD/$100AUD. They set down a plate with a halved century egg and a large amount of pickled ginger, similar to Japanese pickled ginger but in thicker, larger slices.
Roasted goose $150HKD /$18AUD (or so we thought!)
The roasted goose comes out on a plate glistening and glossy. Bone in, it is cleavered into slender sections and picking upa piece we pop it into our mouths. It has that distinctive dark meat goose flavour which I like but Mr NQN is less smitten so he uses the pickled ginger to lighten it and give it a sweet acidity which is the perfect counter for the goose. Underneath the goose slices are little beans flavoured with soy and sugar.
Steamed pig liver dumplings $34HKD/$4.23AUD
Just because we can't resist, we choose a couple of items from the yum cha menu and go for the more unusual ones that we haven't seen before. These dumplings were delicious with ground pork and prawns and were served with a grey slice of pig's liver. Neither of us liked the liver which was a bit tough but the dumpling itself was delicious.
Marinated goose blood with chive flowers $48HKD/$5.98AUD
"You ordered what?" Mr NQN asks me and I look sheepish. "Errm the goose blood..." I say weakly. We had no idea what it would look like and it is a bowl of soup with floating glossy puffs of dark brown goose blood dumplings. We try a little of the slightly thick soup first. It is full of flavour and very moreish indeed with a long spicy after taste. I try some of the goose blood dumpling with the texture of soft tofu. The taste is surprisingly mild and not at all strong and it's actually fantastic with the soup. Both of us end up being really surprised at how good this was.
We must go so we ask for the bill, it's presented to us and he waits and I'm not sure why it's so high but it seems like something has happened to the maths on the way which we didn't notice until I went through the pictures with the menu so I would suggest checking the bill when you get it.
Lin Heung Tea House
On the same road but about 5-8 minutes walk away sits Lin Heung Tea House. Most of us in Australia are used to trolley yum cha but here in Hong Kong, it's usually done by ticking your selection on a piece of paper so that the dumplings arrive freshly cooked. Lin Heung is the most traditional type of dim sum restaurant, Rainbow tells us and features in the Michelin guide but a word of warning: the photo provided of the empty restaurant does not convey the overloaded sensory experience that you get walking into Lin Heung.
A man from the other side of the room sees us and beckons us to follow him. We weave past couples and families and trolley ladies being jostled on all sides by card weilding customers wanting a steamer of their offering. Some customers lift up the steamer lids to see what the trolley lady carries and people wander back to their tables holding prized dishes.
One table of diners get up to leave revealing five neat piles of bones in front of where they sat and the waiter takes a large wet towel and scoops them up expertly. People read large broadsheet newspapers in amongst the chaos holding them up and away from the table. Mismatched wooden chairs and laminate covered stools seat diners and there's not much of an indication of a light renovation in 2009 with walls showing three different types of faux wood panelling.
We're shown to a large round glass topped table with two other couples. The girl is wearing a glitter hat and wants chicken's feet from what we can deduce. The other couple, an older couple has the woman holding a newspaper facing away from her husband and he is busy crunching on large curled pieces of fried bread. There is no English spoken here so you have to take matters into your own hands if you want to get fed.
They ask us if we want tea and we get a teapot of jasmine tea. We look around at our more local dining companions and they have a different type of tea in a medium sized pot with a lid. These pots are periodically refilled by a numbered white smocked gentleman from a very large silver kettle at height and they allow the leaves to steep and this produces a very dark brown tea.
First things first. We get a bowl of hot water which we watch everyone wash their cups, bowls and chopsticks in so we follow suit. We receive a card and woman pushes a cart past so we eagerly grab one thing.
It's a glutinous rice dumpling filled with egg and pork fat. A bowl of eggs with a wooden doorstop on top sits on her trolley and I'm not sure why but I find this very amusing. The dumpling isn't bad but I prefer them with a bit more filling. the sugar on the side doesn't add much to the dumpling and we both prefer it without (perhaps because we've never eaten it with sugar).
Lin Heung is known for the steamed egg cake, risen as high as 10cms and served in large, tall wedges. Not particularly sweet but fluffy and airy, Mr NQN is more of a fan of this than I and I preferrred the sweeter one at Tim Ho Wan.
Fish
We waited for a while and it seemed like our table partners were proactive and getting up to retrieve the steamers from the trolley ladies themselves (as was the whole restaurant). I took the first two steamers that I saw that looked interesting and the result was a fish dish which was bony but delicious with a lovely flavoursome ginger and chilli sauce to it.
Quail egg dumpling
The next dumpling is a bottom layer of pork and prawn topped with a boiled quail's egg wrapped in a semi translucent shroud of pastry. Unusual and also good.
Chee Cheong Fan
There were a few types of chee cheong fan, some with beef inside them and others we weren't quite sure about. I chose the prawn one as Mr NQN loves them. Sadly the rice paper was thick and gluggy although the prawns are springy and excellent.
Char Siu buns
The most popular woman on the floor was the one manning the enormous steamer basket full of barbecued pork buns. I only wanted one but we got two. They were very good with a good amount of filling but once you try the Tim Ho Wan ones, it's hard to go back!
We couldn't leave without trying the famous chow mein deep fried noodles which are crispy and golden brown with a canopy of pork slices, bean sprouts, hot bed chives and mushrooms in a thick, glossy sauce on top. Swoon! I love getting a few of the still crispy noodles from around the edge as well as some of the softer, sauce soaked noodles and despite the fact that we've been eating at an Olympic level, we do a great job finishing this off.
It's getting even more packed now and the throngs circling the trolley ladies grow thicker. We get up to leave and take our ticket to the cash register. There is controlled chaos, a man washes chopsticks under a running tap in the main area and everyone flocks to the trolley ladies as if they were Justin Bieber. The bill? Well, how does $170HKD or $21AUD sound? It's enough to make you want to stalk a trolley lady. ;)
Hehe see anything unusual in this taxi fare list? ;)
We need a break in the day before our "dessert" and tea so we jump in a cab to the Kowloon side of Hong Kong (cost, around $90HKD/$11AUD) to buy some pearl earrings, which I am never without. Rio Pearls is a wholesaler that also sells to the public and many of Hong Kong's top hotels send their customers there. We weren't quite sure what to expect but a large bright blue and yellow sign shows us the way and we ring the doorbell and walk into the showroom.
Service is fantastic, knowledgeable without being confusing or overloading with information and importantly, it isn't pushy. I buy a pair of cultured white pearl earrings in 14 karat white gold for $140AUD. There are also freshwater and Tahitian and South Sea pearls as well as coloured pearls.
I did promise you tea and dessert didn't I? Well allow me to show you some of both from each end of the spectrum. Lan Fong Yuen is near the entrance of the wet market in the Central area on Gage Street near Lyndhurst Terrace and sells their famous stocking tea, either iced or hot. And be aware that you do risk being run over by cars that drive down the alleyway so please look out for them, I don't want you getting run over! ;)
The man in the stand strains the tea through a stocking  hooked on a ring which distends like a enormously fat sausage when it is full with tea. The tea is very strong and very hot comes in a take away cup in a plastic bag along with a sachet or sugar and a stirring spoon. It's stronger than I like it and I prefer milky tea.
On the way back to the hotel, we walk through the wet market where there are a range of items that people buy daily to prepare for dinner.
Wet Market
Reasonably priced seafood
Varieties of rice
Bamboo scaffolding
Salted duck eggs
Tai Cheong Bakery
Yum cha lovers are perhaps familiar with dan tarts, those yellow egg custard tarts that are sold hot from the oven. Tai Cheong Bakery became famous when everyone found out that former governor Chris Patton bought his tarts there. Here they are a mere $5HKD or $0.80AUD and I buy one. It is very warm and the custard is rich and gooey and the pastry more of a shortcrust type of pastry then the layered pastry we are used to in Sydney.
Mandarin Oriental High Tea
Once we get back to the hotel we have one last hurrah for our time in Hong Kong. And it's no slow starter or lossful last. It's afternoon tea at the Mandarin Oriental. Held at the Clipper Lounge on the mezzanine level, it starts at 3.30pm on Sundays and must be booked ahead of time as they are very popular.
The menu tells the story of Anna, the Duchess of Bedford who started the idea of a late afternoon morsel with tea. It goes on to tell us that the first tearoom opened in 1864 by the Aerated Bread Company and then J. Lyons opened up his first tea shop in Piccadilly in 1894. There are two types of afternoon tea, the regular and the Mandarin afternoon tea which also features a warm selection.
We choose tea, I have an Earl Grey and Mr NQN has the flower blossom. They're both expertly poured at the table for us.
Our three tier stand arrives along with a basket of fruit and plain scones and a server of thick cream and their famous rose and strawberry jam. "It's very girly" Mr NQN says spreading the scones thick with cream and the floral scented jam heady in rose petals.
We start with the sandwiches which are thin, crustless ribbon sandwiches with a smoked salmon, cream cheese and chive filling and a york ham and mustard filling which are quite thin and alas with a slight crust on them from not being covered.
Interestingly, the high tea selection for two only has one of everything else which to be honest I find odd and not ideal because if you're sharing it with a friend and both of you like something, then you would have to split it. It was fine for Mr NQN and I at the time because we had had so much to eat already but if you wanted a long, leisurely high tea with friends, you would want your own.
The spinach pastry had a multi layered outer and a rich spinach interior. The pork sausage roll wasn't bad and the bacon and onion quiche was warm and buttery and the madeleine was moist. There were three cocktail buns, one filled with smoked turkey, walnut and apple much like a waldorf filling. Another had egg salad with chive which was my favourite and another had cream cheese, cucumber and herbs.
The sweet layer had four selections; a delicious strawberry tart and a coffee accented Opera slice with a glossy top. There was also a vanilla buttercake and a light cheesecake with coulis on top.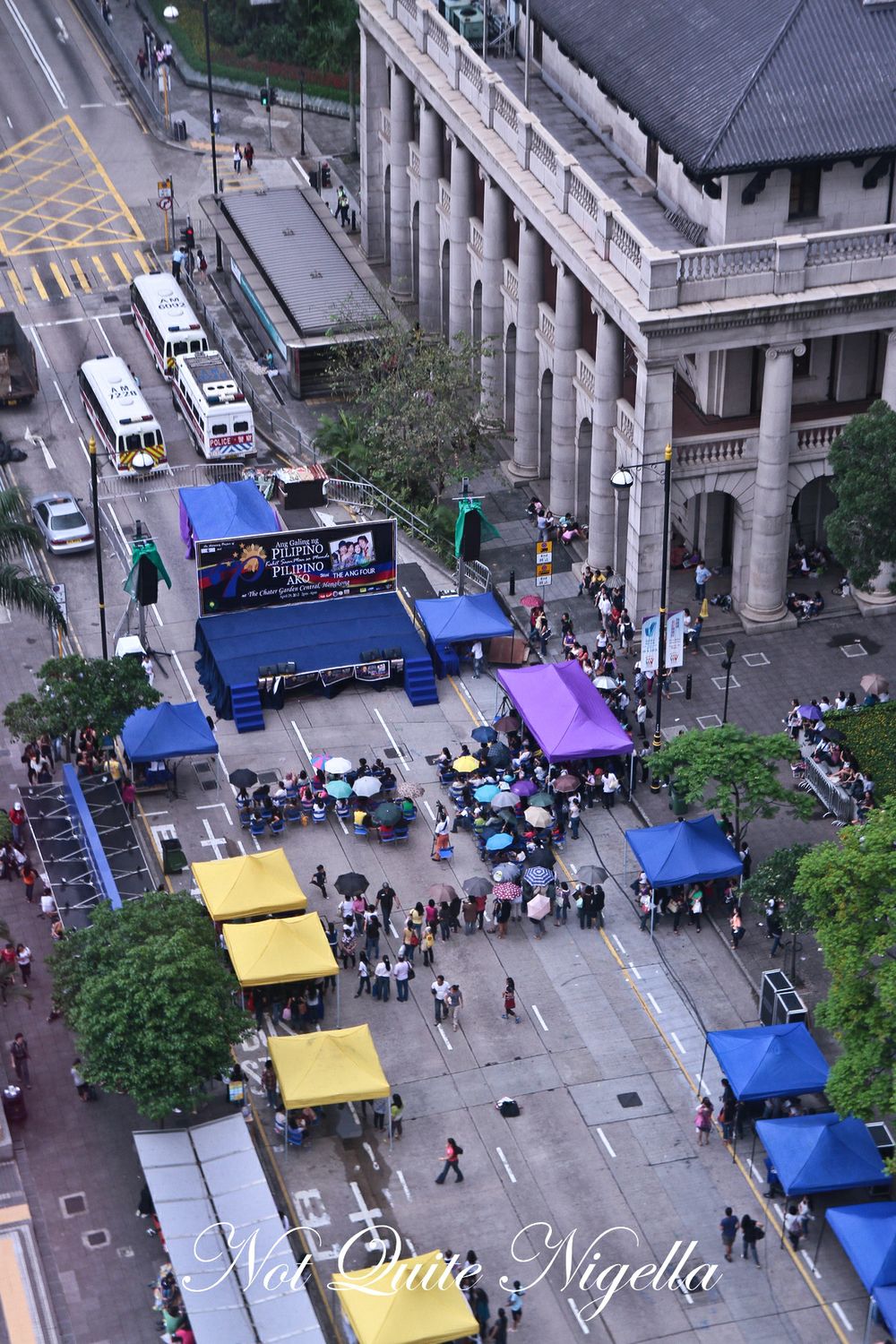 We go back to our suite upstairs and we look out of our 17th floor window onto the street below. Every Sunday is the maid's day off and Filipino maids gather throughout the area, hold concerts and dance, eat and talk to each other. Streets are shut off to accommodate this fascinating occurrence.
"I don't think I need dinner" Mr NQN says to me. I nod my head in agreement although who knows how long that would last?
So tell me Dear Reader, when you have a short time in a city, do you try and do as much as you can or do you pick one or two highlights to do? And with yum cha, do you prefer it with the trolleys going past or do you prefer to order from a menu?
NQN and Mr NQN travelled to and explored Hong Kong as guests of the Hong Kong Tourism Board, Virgin Atlantic and the Mandarin Oriental Hong Kong. All meals in this post were independently paid for except for the afternoon tea at the Mandarin Oriental.
Law Fu Kee
140 Des Voeux Road Central, Central, Hong Kong
Tel: + 852 2541 3080
Open 7 days 7am-10pm
Yung Kee
32-40 Wellington Street Hong Kong
Tel: + 852 2522 1624
Open: Monday to Sunday: 11:00-23:30
Lin Heung Tea House
160 Wellington Street Central, Hong Kong
Tel: + 852 2544 4556
Open: 6am-11pm
Lan Fong Yuen
G/F2 Gage Street Central, Hong Kong
Tel: + 852 25443895,852-28540731
Open: Monday -Sunday 10:00-22:00
Tai Cheong Bakery
35 Lydhurst Terrace, Central, Hong Kong
852-25443475
Open: Monday -Sunday 07:30-21:00
Mandarin Oriental Hong Kong
5 Connaught Road, Central, Hong Kong
Tel: +852 2820 4202
http://www.mandarinoriental.com/hongkong/
All of these eateries are open on a Sunday (except for a day during Chinese New Year). Yung Kee, Lin Heung and the Mandarin Oriental Hotel accept credit cards, the rest take cash.
Virgin Atlantic Airways
www.virginatlantic.com