There's always an awkward moment when you're on holiday. Perhaps you know the one that I am talking about. During the first few days you wear your tightest clothes and then towards the end the wrap dresses and loose waisted clothing come out.
"Honey can you do the zip up for me?" I ask Mr NQN. He grunts loudly and pulls on a zipper that normally seamlessly zips.
Gulp...
Well I know that I am to blame. And the reason? All of the food we've been eating. The St Regis Princeville is also home to the only Jean-Georges Vongerichten restaurant in Hawaii: The Kauai Grill. The design of the grill is interesting. There are about six tables that occupy prime position by the window but the restaurant is replete with enormous medium height booths that take up a lot of space.
However the predominant clientele here is couples so it's a lot of space taken up by the booths with so many couples sitting in enormous booths. The height of the booths is such that anyone not in the front booths or on the window tables barely sees the views.
It's apparently first come first served with the tables and since our booking is for 7:15pm we're seated right near the back.
The breads are brought out with some very salted butter. There is a foccacia and a white sliced bread. While fresh, it would have been nice if these were served warm.
Rice Cracker Crusted Bigeye Ahi Tuna Citrus-Chili Sauce $21USD
I'm not sure if it was an error from the kitchen but our first starter came out by itself. It is a crunchy rice cracker crusted bigeye ahi tuna roll that is crunchy on the outside and paired with a citrus chilli sauce. I did think that the presentation could have been better as the sauce is just poured on the side. The tuna is crunchy and it's like having fried chicken crossed with ahi but it needed a flavour burst from something like ginger. It is a dish however that a lot of people on review sites seem to like.
Sashimi Duo $18USD
Two tables by the window finish eating so we are moved to one of them which is nice of them. I don't know if this contributed to the second starter arriving 25 minutes after we had finished the first or not. When it arrives it is a tuna and hamachi sashimi on crispy rice cubes with a chipotle emulsion. This was very good and gone within a few bites.
*Mahi Mahi Nut and Seed Crust Sweet and Sour Jus $42 *
We are not kept waiting long for our mains and the kitchen seems back on track. The mahi mahi is a firm white fleshed fish that appears on many menus in Hawaii. It's coated with a finely ground nut and seed crust with a sweet and sour jus that has a strong tarragon flavour in it. There are halved cherry tomatoes and soy beans in it. I like the sauce that it comes in but the crust isn't as flavourful as I would have liked.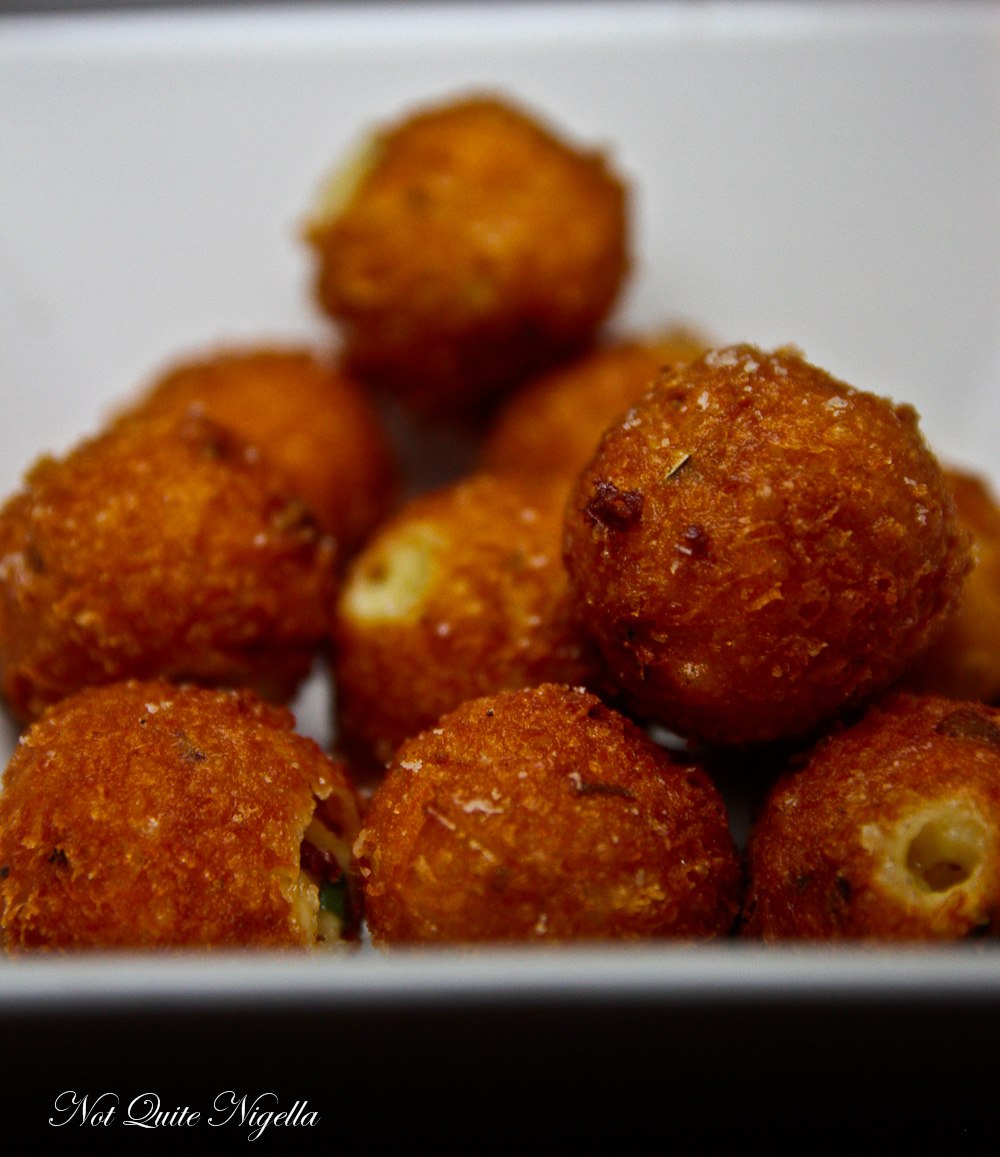 Black Truffle Cheese Fritters $10
The black truffle cheese fritters are little balls of crumbed melted cheese with truffle oil. The truffle scent is not very strong but the balls have a good, melting texture when they're hot.
Soy Glazed Short Ribs, Green Apple Puree Rosemary Crumbs $40
The soy glazed beef short ribs are served off the bone on a green apple puree that is lightened with apple cider vinegar to lift the unctuous meat. On top are rosemary crumbs but these are very mild in taste. And the very second that Mr NQN puts his fork and knife together, they remove our plates!
By now another couple are exchanging words with the management-they're unhappy with their whole meal and service. We had noticed a few odd things mainly with processes - the waiters brought out several tables' worth of drink at one time so a couple of times, the wrong drinks were brought to us and to other tables. We also had to top up our drinks ourselves. There are also odd things like paper placemats. They're not huge errors but for a restaurant of this calibre, they're certainly a surprise.
White Chocolate and Yuzu Pavlova Thai Basil Syrup $12
By now it's getting close to 9pm and the restaurant is emptying out. People really do eat early and fast here and the dessert take no time to come out. We have a white chocolate and yuzu pavlova which is really a thin layer of meringue as opposed to the light, fluffy centered Australian dessert. It comes with some white chocolate shards and a scoop of tart yuzu sorbet and a Thai basil syrup.
Salted caramel ice cream sundae, peanuts, popcorn and chocolate sauce $12
This is a generously portioned dessert with two scoops of sweet and salty caramel ice cream with whipped cream, toffee peanuts and popcorn and chocolate sauce. I have a weakness for candied peanuts and popcorn so I went for those.
The next evening we visit the St Regis's other restaurant Makana Terrace. Like Kauai Grill the restaurant enjoys a picturesque view of the mountains and ocean. The pick of the tables is undoubtedly on the terrace and the tables inside resemble that of a buffet restaurant.
Service is excellent here in contrast to the confusion yesterday. We are seated and our server Flyn is accommodating and friendly yet deferential. We start with a couple of dishes that we had been eyeing off on the menu online, the sushi and sashimi. Half of the menu is made up of sushi and soups and the other half are mains.
The bread comes out and there is a plain sliced loaf and a cranberry brown sliced loaf. They come with a plain butter and a plum honey butter. We've found a lot of American butters white in colour and almost resembling lard. This is because the cattle are often fed corn instead of pasture or grass and the beta carotene in the grass gives it the yellow colour.
Makana Terrace Roll $25USD
We choose the Makana Terrace roll as we liked the sound of the textures and spiciness. For those that don't like chilli, it's just the slightest tingle. The texture of the tempura shrimp and the spicy raw tuna on top and avocado is a good juxtaposition and we like the dab of spicy mayonnaise on top too.
Sashimi $42USD
There are four varieites of sashimi on the sashimi platter: tuna, salmon, yellowtail and hot seared kampachi. They are all good and I like the spice crust on the kampachi but the texture of the tuna is sublimely silky with an oily finish similar to salmon.
Truffle White Asparagus Soup $12USD
The truffle and white asparagus soup is a cream based soup filled with pieces of lump crab meat, diced tomato and white asparagus finished off with truffle scented taro croutons on top.
Pan Seared Scallops $20USD
The scallops are air freighted from the East Coast of the United States and they are monster sized! I guess it's true that everything is bigger in America! The scallops are succulent and sweet and come on a bed of sweet kabocha puree with a topping of caramelised Maui onion.
Lemon Pepper Crusted Opah $42USD
Mr NQN likes the opah although I find that this isn't my favourite fish to order as it can be quite dense and dry. Here is is coated in a lemon pepper that gives it a good amount of flavour. It is served with a timbale of red pepper Israeli Couscous, slices of grilled Hamakua mushrooms, sautéed wheat sprouts and truffle guava dressing.
Our server Flyn explains the matches the food to the wine for us and offers Mr NQN a white and red wine tasting flight. The restaurant manager tell us about the Reservoir Poseidon Vineyard Pinot Noir. When the winemaker was first starting out, French oak barrels were too expensive to use so he imported Hungarian oak to his location in Napa Valley and made his own barrels. He still uses them to this day.
Blue Cheese New York Strip $48USD
The beef is from Colorado and is grain fed. Although I don't tend to order red meat much when the weather is warm, we try the New York Strip with a Point Reyes blue cheese crust, roasted fingerling potato and shaved fennel salad. Chef Antwon Brinson tells us that this is his favourite dish and I can see why. The blue cheese is a wonderful pairing for the steak that is cooked medium. I am trying this the next time I make a steak and the steak brings out the almost sweet quality of a blue cheese.
Chocolate Chip Macadamia Nut Tart $12USD
The chocolate chip macadamia nut tart is an exercise in richness. It is an individual tart with a thin chocolate base and filled with melted chocolate and macadamia pieces. It comes with a scoop of salted caramel, chocolate sauce, frosted macadamia nut crumbs and a chocolate curl.
White Chocolate Cheesecake $12USD
I sometimes get cravings for cheesecake and tonight it hit me. I love raspberries and white chocolate as a combination and this cheesecake is creamy but judiciously portioned. It comes topped with raspberries, vanilla stewed Poha Berries and a scoop of Raspberry Sorbet. Nothing helps one sleep better than a satisfyingly good meal.
So tell me Dear Reader, do you notice little things that go wrong in restaurants? And have you ever been surprised when visiting a celebrity chef restaurant good or bad?
NQN visited Hawaii as a guest of Hawai'i Tourism Oceania
St Regis Princeville
5520 Ka Haku Rd, Kauai, HI 96722, United States
Phone:+1 808-826-9644
http://www.stregisprinceville.com/
Kauai Grill
5520 Ka Haku Rd, Kauai, HI 96722, United States
Phone:+1 808-826-9644
http://www.stregisprinceville.com/
Makana Terrace ##
5520 Ka Haku Rd, Kauai, HI 96722, United States
Phone:+1 808-826-9644
http://www.stregisprinceville.com/