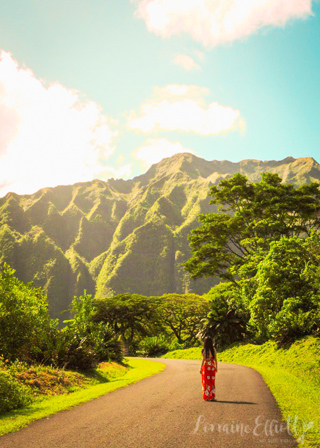 Oahu is such much more than just Waikiki! If you have an extra day rent a car and go explore the Windward or East side of Oahu for a stunning Hawaiian garden, great poke, Barack Obama's favourite shave ice and some traditional Hawaiian food!
The windward side of Oahu is so called as that as that is where the wind blows across the island and that is where you'll find areas like Kailua or Kaneohe or Waimanalo Beach. The differences between the west and east coast are striking; the east coast tends to get more rain than the North West side or Leeward side with Ko'Olina that can be a bit more arid. If you take a drive across O'ahu (which is entirely doable in a day) you'll notice the terrain changes dramatically. Lush greenery turns grass a pale sunburnt yellow as you make your way around the island.
Poke for breakfast or brunch feels right in these consistently warm temperatures. We head towards at Windward Mall, a strip mall just off the highway we find KBros Poke & Ice. There's a range of poke on offer that you can get in small containers with rice sold separately in scoops. The woman serving me is friendly but a pushy saleswoman trying to upsell me many times while another woman behind the counter was more accommodating and patient offering another group samples.
We order three poke variaties: Pau Hana, Dynamite Ahi and Crab salad as well as umami bombs. All of the poke are really tasty although the Pau Hana and Dynamite were the standouts. The umami bombs are inari tofu skin pouches topped with spicy ahi with a teriyaki sauce. We devour these at a scenic picnic table perched right by the water.
Poke lunch $35USD
For dessert we head towards Island Snow in the town of Kailua. Island Snow is a clothing shop that also sells shave ice although the shave ice seems to eclipse the clothing in popularity and the line can snake outside the store. One of the reasons for its popularity is that Island Snow has one famous fan - Barack Obama who grew up in the area. Whenever he visits Hawaii he is said to visit Island Snow for his favourite snow cone (his order is apparently the guava, orange, cherry and lemon-lime).
You can get upgrades and additions to your shave ice- if you want natural syrups that's $1.25 extra and you can also add mochi, a locally made mac nut ice cream or mochi to your shave ice. The shave ice comes in a cup and we order two of the natural syrups: guava and lychee and a scoop of ice cream and condensed milk (snow cap).
It's nice but I have to say that I am not a huge fan of the cup - a shallower bowl allows you access to all of the flavours easily. Also guava and lychee look identical so if you like to control the flavour of the one you are eating it's a lucky dip. I also think that the natural syrups needed to be a bit more reduced down more as they were a bit weak in flavour. We eat these while watching the windsurfers at nearby Kailua Beach.
A little further up the windward side is the Waiāhole Poi Factory. Founded in 1905, it is a popular takeaway shop that thrived during the pandemic when people wanted home-style native Hawaiian food. They sell plates of squid luau (squid with taro leaves and coconut milk), steamed lau lau (taro leaves stuffed with pork), kalua pig and chicken long rice. All of the dishes come with lomi salmon (salted salmon, tomatoes, onions, and green onions) and haupia (coconut pudding) and a choice or rice or poi (mashed taro root).
Sweet Lady of Waiahole $6.50USD
But they're also known for the Sweet Lady of Waiahole. It's not a person but instead a piece of kulolo (taro cake) with a scoop of haupia or coconut pudding ice cream. It's not overly sweet, comforting and cleverly they serve the kulolo warm so that the coconut ice cream melts into it merging the two flavours.
Twenty five minutes drive away from this are the The Ho'omaluhia Botanical Gardens, a stunning, expansive natural tropical garden. It is also free to enter so many people take their picnic lunches there or do hikes amongst the lush, green gardens. The gardens are also designed so that you can drive them if that is your preference. As we drive up a security guard asks us if it is our first time. We're distracted as a furry little creature darts across the road. It's a mongoose, one of nature's adorable creatures with the preposterous name. Indian Mongoose (or Manakuko in Hawaiian) families call the garden their home. The Koʻolau Mountain Range frame the garden and when the sun hits the craggy surfaces just so it reveals the myriad colours on each mountain as greens and yellows burst forth.
There is the perfect Instagram shot straight when you enter the gates and stand on the road but it seems like park rangers are perhaps tired of everyone's Insta antics and have put up signs that photos are no longer allowed, probably for everyone's safety. We were lucky that a portion of the road was closed off to cars so a few of us hiked down it, looked back and saw those magnificent mountains. Just as the sun hit it just so.
So tell me Dear Reader, do you often rent a car or get out of the main part of a city when you visit a new place?
Tips for Renting a Car In Hawaii
Car rental is expensive in Hawaii especially when you add state taxes and insurance to the deal and renting a car ends up costing around $170USD a day. Picking up a car from the airport is considerably cheaper than picking it up from Waikiki (usually half the price for the daily rental) but you may not want the car for the whole time especially if you spend a lot of time in Waikiki and also when you take into account that hotel parking is usually around $40-$60USD a night.
I found a service called Turo which is like Car Next Door where you rent people's actual cars on a daily basis (not sponsored, we paid for it all). We found a woman who managed a whole fleet of cars (Lexus, Porsche, Mercedes and Audis) and rented a Lexus NX from her - it was easier to drive a similar car to ours as it is difficult enough driving on the other side of the road. It was around $75USD a day (we opted for extra insurance, otherwise it would be $50USD a day), the car was in pristine condition and it was a 15 minute walk from our hotel to pick it up. I would definitely recommend it as an alternative to traditional car rental. This is her fleet of cars (again this isn't sponsored, we paid for it all).
NQN was a guest of Hawaii Tourism Oceania and flew to Hawaii as a guest of Hawaiian Airlines but all opinions remain her own and all food in this post was independently paid for.
Hawaiian Airlines service from Australia - www.HawaiianAirlines.com.au