There's a crowd gathered. Teenaged tanned surfing gods and goddesses stand impatiently shifting from one foot to another while giggling at sworn secrets whispered. Their hair is long with natural beach hair curls that are impossible to achieve naturally unless you live by the beach. They glimpse over their shoulders occasionally and regard you with a look before flipping hair back. It's the insouciance of youth.
We have just arrived at Kauai, the fourth largest island of the Hawaiian archipelago and geologically the oldest island at almost 6 million years old. Landing from Oahu we arrive at Lihue airport at the south east of the island. The warmth is all enveloping and the palm trees sway almost hypnotisingly. For five minutes we're treated to a short rain shower that pelts down on our Jeep. I keep one eye on Mr NQN to make sure that he stays on the correct side of the road.
I'm looking out for some "grinds" aka Hawaiian slang for food. My search is rewarded with the sight of an illuminated counter at Ara's Sakana-ya or fish shop. Prices are very reasonable and the hardest decision is picking what to order. Poke is the most popular item - poke (pronounced POH-keh, meaning "to cut") is seafood (cooked or raw) cut into small bite sized pieces and dressed in a range of flavoursome dressings.
There is spicy lobster poke and the abalone poke covered in tiny dots of roe but ahi tuna poke is perhaps the most popular and well known. If America delights in one thing in particular it's plenty of choice so we end up with about a dozen little tasting containers. They're patient and obliging and they stack up our boxes in a cardboard box and we're on our way to the hotel.
Kauai is easy to navigate as it radiates off one road, a highway that circles the whole island. Traffic can be slow at times, particularly between 3-6pm but it's never totally gridlocked. Our hotel is the Waipouli Beach Resort just off the highway as most of them are.
The signage is actually for their parent company the Outrigger resorts. Service is friendly and we are eager to get to our room and wash away the flight and eat our lunch which serves as an early dinner. There are three types of condos here and there are seven buildings in total. Some have ocean views, some are beach front while others have a mountain garden view which is ours (with a small view of the ocean).
The room G407 is large and it's similar to a serviced apartment. There's a good sized kitchen and lounge room and there is also a washer and dryer that makes it ideal for families or groups travelling together that want to self cater. There is a large supermarket, pharmacy, Starbucks and other stores across the road.
There aren't the luxuries of a regular hotel like a mini bar (although this doesn't really appear to be a Hawaii thing), room service or daily room cleaning - this comes at an extra $40 per service and needs to be pre-booked ahead of time.
It's clean and well appointed but our room shower had a significant problem with drainage in the shower. There is however complimentary and very fast internet and free self parking for guests. Our apartment on the fourth floor has nice views of the pool and we quickly discover that there are two bathrooms, one a guest one as well as a full sized bathroom.
We have a quick look at the bedroom and the enormous bathroom with double sinks. There are plenty of towels and a bottle of shampoo, conditioner and body lotion. They suggest washing the towels over having new ones sent up which I hadn't come across before but when you have families staying perhaps this is one way to save. The Oasis area with whirpools, caves and slides is more suited to children than adults.
It's now 5pm and our bodies are needing sustenance. And don't think that for a minute I've forgotten the box of seafood in our fridge. I don't think I've ever photographed a meal so quickly and we sit down listening to the activity in the pool downstairs, our brows soothed by the cool breeze.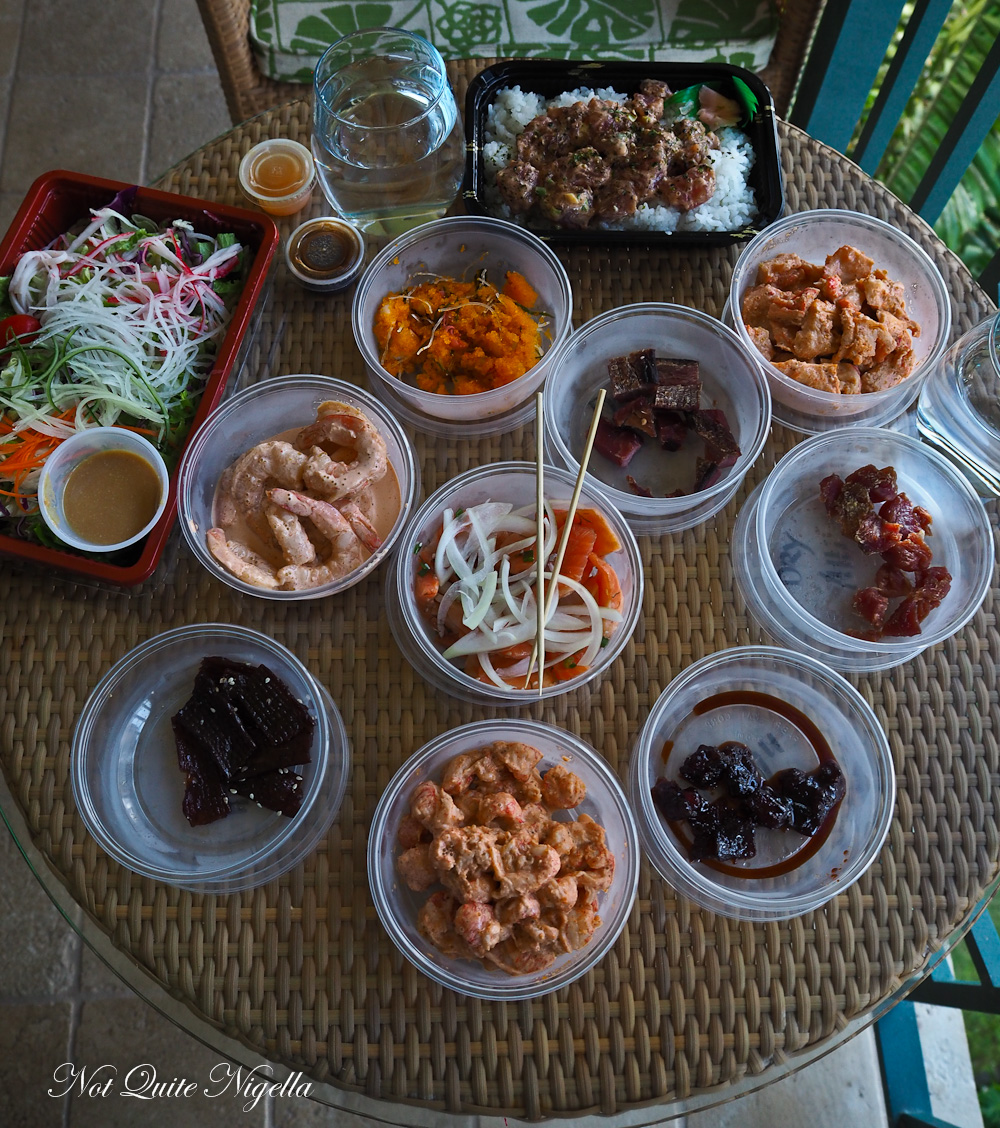 We have a choice of spicy lobster, spicy prawn, ahi tuna don (on rice), king crab, abalone, salmon belly and a range of dried fish and a salad. The ahi tuna has tiny pieces of limu seaweed and a sesame oil sauce - it's a favourite with both of us along with the spicy prawns that are succulent and topped with tiny dots of roe.
The king crab has a slightly chewy texture while the lobster has lots of clumps of leg and claw meat. The abalone is sprinkled liberally with roe and has a slight chewiness that abalone often does. They've given us small sauces of shoyu and mustard and chilli pepper water. I enjoy dipping the salmon belly in the shoyu mustard for flavour and then the chilli pepper water for heat. The salad with sesame and miso dressing is crunchy and fresh while the dried fish ranges from a sweet glazed Taegu fish to a jerky like ahi and aku or a sesame crusted fish. I marvel at how this entire spread cost just $44USD.
Kauai's many feral chickens
The next morning we depart armed with our Jeep, Bruce Springsteen and Blondie playing on the music with the sun shining bright. We take the drive back to Lihu'e town, the business area of Kauai. Traffic is light during the day and we take in the views in our less sleep deprived state.
We indulge in the lost art of street map reading. At home we simply plug the address into a GPS and are off. Earlier that morning, I roused Mr NQN from his extended slumber to tell him the addresses that we need to visit today and we traced our route on the paper map.
Lihue's Kauai Museum is a great look into the history of Hawaii and Kauai. Entry is $10 per person but you can get a pass that gives you return free access for a week. The museum details the origins of the Asian workers that emigrated to the islands to work on the plantations. Japanese names are prominent in Hawaiian business, many several generations old. Next to these are WWII artifacts all proudly emblazoned in the red, white and blue of the American flag.
Then there are the surprising bits of information like the fact that early Polynesians Hawaiians used to eat both pig and dog along with the protein found from the sea. Dog was their favourite meat and the principal meat served at feasts. They housed the dogs separately and fed them on food like taro root never allowing them to scavenge. The museum shows the island's history with whaling and missionaries while a small gift shop sells rooster cookies and wooden souvenirs.
If Lihue is the business area then Kapaa, roughly 20 minute's drive away is the charming boutique lined historic town. It's a few minutes' drive from our hotel and by mid morning the heat is high and we pass Ono Shave Ice. The queues yesterday were enormous but we take advantage of the quiet time to nab ourselves a refreshing shave ice.
There's a seemingly unlimited amount of sweet and sour flavours (including pickle and/or a gummy bear topping) and we go for the most popular flavour: the "Hawaiian Delight" with pineapple, coconut and banana. Although I never really go for faux banana I have to admit that this is incredibly thirst quenching. The ice melts in the mouth and penetrate through the snowy ice.
Just a block away at Hee Fat Grocery Store. If the Ono Shave Ice was good, the Hee Fat shave ice is absolutely amazing. From the outside it looks like a souvenir and general store but towards the left back of the store is the shave ice counter.
Hee Fat has a range of bottled syrups as well as a small selection of real fruit syrups. Their signature item involves a scoop of ice cream on the bottom of the shave ice (the macadamia nut is swoon-worthy) and a real fruit topping on top. We ask for a recommendation and they offer us the pineapple, coconut and strawberry.
Lava Flow $6.25USD
It comes with two spoons and two straws and even when you start to dig in you can see that it's different. The ice is so light in texture it completely melts on the tongue rather than compacting and turning to water. The flavours all taste absolutely true to type.
The coconut wins my heart but then the strawberry and pineapple are fantastic too as it's so good to have a real fruit flavour. And save a bit of the ice and syrup for the melted ice cream scoop swirled with the flavours hidden at the bottom because that's where the straws come in handy. It is pure manna from heaven.
Kapaa has a good range of boutiques to visit and in case you're bored with the view of shops, the Pacific Ocean is always within eyeshot. We stop at Kountry Kitchen for brunch. It's a diner style restaurant done over Hawaiian style with paintings of chickens covering one wall. We slide into a booth and they immediately offer us some drip filter coffee.
The menu starts with a sample page from the Garden Island War Daily from December 1941 that makes for interesting reading. I chuckle at the menu that specifies that customers must wear a shirt and slippers and where a side order is a 12oz (340g) serve of Mahi Mahi or two pork chops. Kountry Kitchen do a roaring trade in omelettes, pancakes and big breakfasts but it's the special, a crab cake eggs benedict that catches my eye.
Crab Cake Eggs Benedict with cornbread $13.70USD
The half serve of the crab cake eggs benedict has half a toasted English muffin topped with a fantastic crab cake. Crab cakes here are not stuffed with fillers like mashed potato, instead they're pure crab meat. On top is some hollandaise sauce with an unusual slightly grainy texture to it, small pieces of crispy bacon and some crispy edged hash browns. The warm cornbread comes as a large square slab. All it needs is a spread of butter to melt into the crumbly golden bread.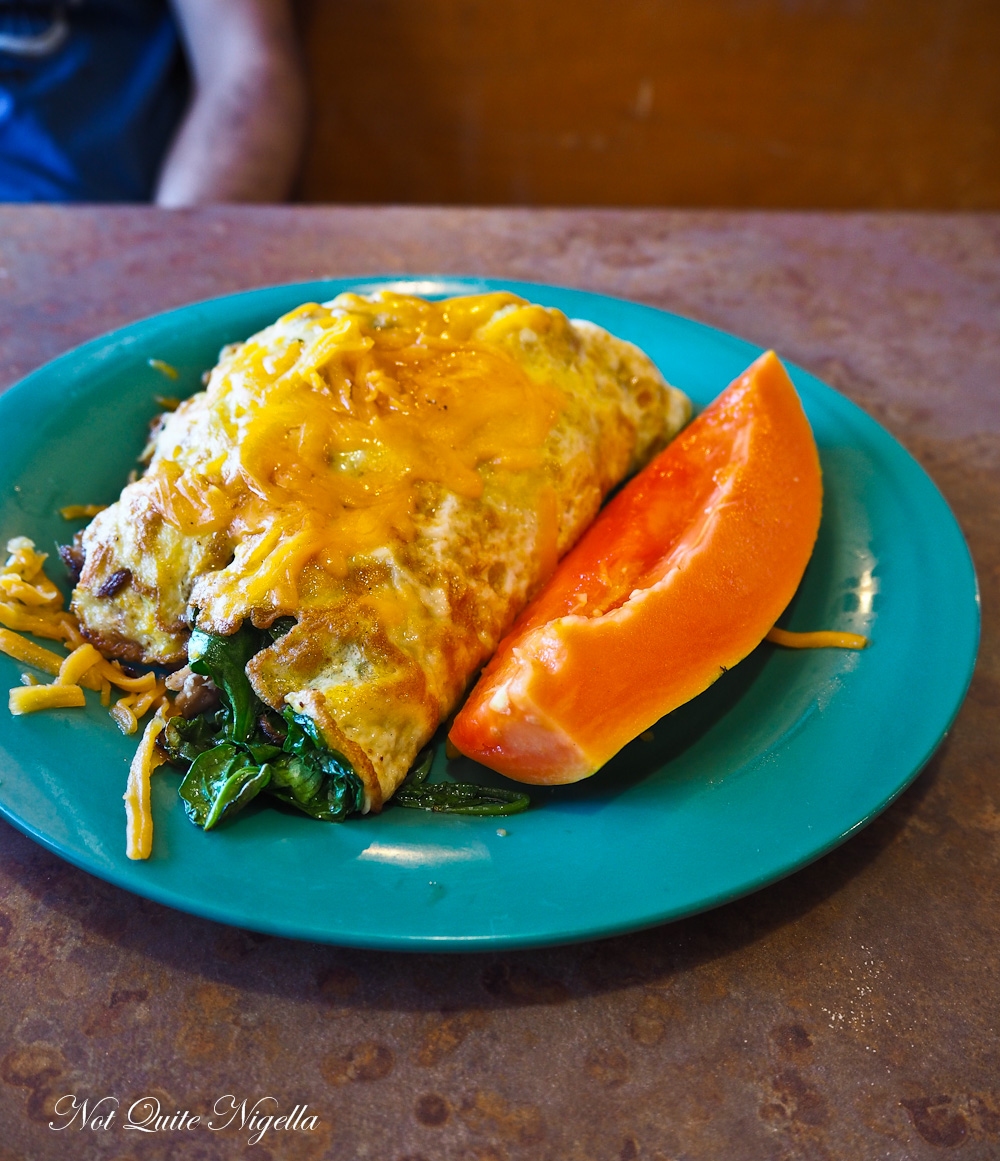 Luau Omelette $14USD
See underneath that orange cheese carapace on top? That is full of soft cooked kalua or bbq pork or pig as they call it here. The meat is plentiful with sweet onions and wilted spinach and I add some Tabasco to it to spice it up. There is a choice of rice, has brown or papaya and Mr NQN chose the latter.
We drive around while Mr NQN gets the hang on driving on the other side of the road. People are chilled even during the working week. Drivers are often seen giving another a Shake or "Hang Lose" sign as thanks. Every Wednesday Kapaa hosts a weekly afternoon farmer's market. Mainly fresh produce based it's a small but well patronised market where home growers can sell the produce from their home garden alongside commercial growers. We start with a fresh ice cold coconut water and look longingly at the bags of fresh longans. We are so full that we could almost burst.
Naturally the range is tropical. There are dark purple banana flowers for 50c as well as enormous sweet onions grown in Kauai. Papayas are plentiful and cheap at $1.50 each for regular sized although there one stand selling papayas from the land of the giants.
Waxy tropical flowers bursting with colour sell for $1-$2 a bunch. We see a young girl and her father carrying a box with an enormous jackfruit easily half her size. People carry around bunches of kale as if they were bouquets. Fragrant gardenias perfume the air. Soursop, apple bananas and sugar cane are sold in abundance.
We go back to the resort where I do some work and Mr NQN goes for a ride down the water slides (his verdict: more kid's sized than 6 foot man sized). Dinner this evening is at one of Kauai's most popular restaurants called Hukilau Lanai situated in the Kauai Coast Resort a very short drive away from the Waipouli. And a little warning: book ahead because the restaurant gets busy.
Hukilau Lanai literally means to "pull the leaves on a porch." The cultural meaning is the old Hawaiian method of fishing casting a ki leaf lined net from shore and then enlisting the help of a large group to pull it in. The purpose of the leaves is to scare the fish towards the centre of the net. Although comfortable, the restaurant decor itself is a not the highlight -rather it's the view from the front tables and the food. It's best to book for an early seating to make the most of the sunset.
Bread
Two fat, spongy pieces of fresh focaccia bread come out. They are topped with cheese, onion and bacon and comes with an olive oil and balsamic dip. I would have loved for it to be served warm but it's very fresh.
Adam's Poke Nachos $13USD
Whoever Adam is, he makes amazing ahi tuna poke nachos. This dish arrives first so it is probably best to share starters. The nachos are made up of sashimi grade tuna or ahi poke, local tomato, avocado, tobiko roe, inamona (a Hawaiian relish made with roasted kukui nuts or candlenuts and salt), sesame, a sweet mirin yaki based dressing, wasabi cream and deep fried wonton chips. There's all sorts of textures here from the creamy tuna cubes to the crispy won tons and I have to physically stop myself from eating more of this because I know how much food there is to come.
BBQ Ribs $12USD
They set down the plate of ribs along with some wet wipes. There are four succulent smoky, fall off the bone ribs in the serve. When Mr NQN goes to pick his up, they are so soft that he has to bring over his side plate to catch them. It comes with a sweet li hing miu (Chinese dried plum powder) seasoned watermelon rind preserves and the vanilla aroma to the delectable sauce adds an interesting element to the dish without it becoming too sweet. I polish off my two ribs in no time savouring every delicious bite.
Wally's Salad (served with the mains below)
Each main comes with a choice of sides from two salads or two soups. I choose one of each and they come out first, almost as a pre-main. Wally's salad is a crunchy fresh romaine, cucumber, cherry tomatoes, bacon, red onion, croutons and a papaya seed dressing. It's similar to a Caesar salad but it's garlicky and sweet too and very moreish.
Soup of the day: beef and blueberry soup (served with the mains below)
We actually ordered a different soup but this one arrives and since I've never had blueberry in soup I am happy to try it. It's rich and gelatinous, much like an oxtail soup or a rich French onion broth with tiny pieces of soft beef at the bottom.
Hukilau Mixed Grill $32USD
There are two types of fish on the mixed grill plate and the choice changes daily. Today is a piece of ono with cajun spice and a fillet of walu which I prefer because of the moist texture of the fish. It comes with four juicy sugarcane skewered prawns on a bed of orzo pasta with a Thai chilli coconut sauce. A lot of the menu here is on the sweet side with sweet sauces.
Prime Rib au Jus $31USD
Although he was getting full, it doesn't stop Mr NQN from eating a substantial part of the prime rib. It is very tender and slices easily and comes seasoned with Hawaiian salt, "secret spices", creamy horseradish and a red wine jus as well as a serve of tasty basil red skinned mashed potatoes.
Macadamia Nut Tart $9USD
There is a warm chocolate fondant but in the tropical weather I'm craving something a little lighter. Not that a macadamia caramel tart isn't rich of course! This is an individual tart made with a thick base of homemade pastry with a caramel and macadamia nut centre. To the side is a scoop of Lappert's cinnamon ice cream that is from one of the local ice cream stores. I particularly like how it is served warm so that it feels like it has just been baked and the cinnamon ice cream complements it well. I would have loved a touch of salt in the caramel though just to counter the sweetness.
Coconut Lilikoi Tart $8USD
Our last dessert is a coconut and lilikoi tart with a bottom layer of coconut custard and a top layer of lilikoi or passionfruit and it is served on a vanilla cookie and coconut crust. The tart has an appealing sweet tartness while the tropical flavours match the sound of the waves in the background.
So tell me Dear Reader, when you travel, do you mostly eat out or self cater or do you do a mixture of both? And do you prefer serviced apartments with kitchens or hotels? And when overseas and driving do you always rent a GPS or do you use paper maps?
NQN visited Hawaii as a guest of Hawai'i Tourism Oceania
Ara's Sakana-ya
3-4301 Kuhio Hwy #102, Lihue, HI 96766, United States
Phone:+1 808-245-1707
Waipouli Beach Resort
4-820 Kuhio Hwy, Kapaa, HI 96746, United States
Phone:+1 877-465-2824
http://www.outriggerwaipoulibeachcondo.com/
Kauai Museum
4428 Rice St, Lihue, HI 96766, United States
http://www.kauaimuseum.org/
Ono Ono Shave Ice
4-1292 Kuhio Hwy, Kapaa, HI 96746, United States
Phone:+1 808-822-0011
Hee Fat General Store
4-1354 Kuhio Hwy, Ste 1 Kapaa, HI 96746, United States
Phone number +1-808-823-6169
Kountry Kitchen
1485 Kuhio Hwy, Kapaa, HI 96746, United States
Phone:+1 808-822-3511
Open 6am-1:30pm 7 days a week
Kapaa Farmers Market
Kapaa New Town Park, Kahau Rd, Kapaa, HI 96746, United States
Phone number +1-808-635-0877
http://www.tastingkauai.com/farmers-market-kapaa/ Every Wednesday from 3 to 6 pm
Hukilau Lanai
520 Aleka Loop, Kapaa, Kauai, HI 96746
Phone:+1 808-822-0600
http://www.hukilaukauai.com/
Saturday to Sunday 5:00-9:00 pm
Monday Closed