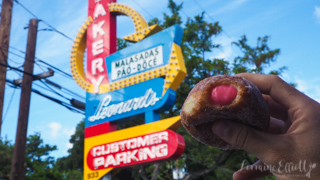 Kaimukī is an area located just next to the bustle of Waikiki, O'ahu. It's entirely walkable but also a short Uber ride away. You'll find some of Honolulu's favourite brunch spots, restaurants and shave ice and it's absolutely worth a day or two of exploring. It is also the site for the popular KCC farmers market and located near the Diamond Head hike.
Kaimuki is an eclectic neighbourhood. It is located behind the Diamond Head crater so people often pair it with a Diamond Head hike and an early Saturday visit to the KCC Farmers markets. The main street is Waialae Avenue which has lots of cute shops and eateries. Even as recent as the 19th century the area was a farm for King Kalākau who allowed ostriches to roam free. After that it became a farm growing carnations for funerals. The name Kaimuki translates to "ti root oven" referencing the many ovens that used to bake ti roots to form candy. To look down at this area head to Kaimuki Hill that affords you a wide view of the area.
Whilst it isn't as busy as Waikiki it can be a challenge to park and I'd recommend coming on a weekday, preferably mid to end of the week from Wednesday to Friday. The restaurants tend to be open then and parking can be a challenge unless you're walking or Ubering there. I've written out this list as a walking plan so that you can park or start at Koko Head Cafe at the beginning of the day, walk around to the other places and end up back near Koko Head Cafe at Mud Hen Water to pick up your car.
Brunch is a much loved occasion in Hawaii and Koko Head Cafe is the perfect spot to start your day exploring Kaimuki. At Koko Head Cafe, Top Chef alum Lee Anne Wong serves up a range of breakfasts from her signature cornflake French toast to skillet meals.
Cornflake French Toast $20
We start with a freshly squeezed lilikoi or passion fruit juice that has just the right amount of sweetness-it's fruit and nothing but the fruit. The cornflake French toast is a button popper but worth every bite. It starts with bread flown in from the Big Island with "billionaire's bacon" (candied and spiced bacon strips), a scoop of Frosted Flake cereal gelato and a gorgeous creamy black pepper maple syrup. It's crunchy, soft and all held together with that wonderful peppery, sweet sauce.
Koko Moco $20USD
The Koko Moco is the most popular savoury choice. It comes with a Kua'aina beef patty (done to your liking), mushroom gravy, sunny up egg, gochujang and garlic rice. Mine needed some salt and pepper and make sure to ask for the Hi Spice hot sauces in lilikoi (passion fruit), pineapple and dragon fruit to spice it up.
Outdoor area of Koko Head Cafe
Tip: They don't take bookings at Koko Head Cafe and it gets crazy busy on weekends. There are a couple of nearby paid carparks (bring change!).
There is a whole category of shop unique to Hawaii called Crack Seed stores. These are usually mom and pop stores that sell snacks dusted in Li Hing Mui plum powder and candies - kids usually grow up going to the Crack Seed store after school. A popular one is located around the corner from Koko Head Cafe. There you'll find a huge range of dried, sour fruit in many flavours-these are bought by the scoop.
After a Diamond Head Hive take a walk to Monserrat Shave Ice for one of the healthiest shave ice you can eat on O'ahu. This tiny little shopfront is located on Monsarrat Avenue and has friendly service and a range of fresh fruit toppings. All of the fruit purees are made from frozen fruit although the pineapple is Hawaiian pineapple. The sauces aren't sweetened so they taste just like eating fresh fruit!
Shimazu shave ice is located inside a collective of shops right next to the historic Rainbow Inn (definitely worth a visit in itself, read my story about Rainbow Inn). Now you can probably see why I recommend a couple of days to explore the area and we just kept coming back here. Shimazu Shave Ice has a lot of flavours available including a selection of "cream" flavours from milk tea, ube creme and coconut cream. I tried the creamy flavours and they're good although I don't think that I chose very well as I went with the orange cream on their recommendation which isn't the best combo with the ube. And a little word of warning: Shimazu's shave ice is huge - start with the small or keiki size. It used to be cash only but there was a sign saying that they now take credit cards.
Leonard's Bakery's and the history of Leonard's malasadas stretches as far back as 1882 when the ship "Monarch" brought Arsenio and Amelia DoRego from Portugal to Maui to work in the sugar cane fields. Three decades later their son Leonard was born. In 1946 he and his wife Margaret moved to Honolulu with their 8 year old daughter Diane. He worked at Snowflake Bakery until he founded Leonard's Bakery in 1952. Leonard's mother suggested that they make malasadas for Shrove Tuesday and although the baking team had doubts fearing that malasadas were too "ethnic" their most popular item was born. The bakery is now run by Leonard Rego Jnr.
Leonard's Bakery is located near Kaimuki and it's a good excuse to go for a walk (or if you have to drive, there's a small but popular car park). The queue moves fairly slowly at Leonard's but everyone is patient and staff are friendly and when they pass over the pink box from the pick up window the wait is worth it. We first visited at 6pm on a Saturday night and the queue still snaked around the building. The time spent queuing allows you to decide what you want to order - there are original, cinnamon and li hing mui donuts (dusted in that sour plum powder and sugar) as well as custard filled donuts. They can be purchased individually ($2.10 for filled, $1.70 for unfilled) or by the half dozen or dozen. There's also some very cute merchandise on sale.
The malasadas come out warm and we can barely contain our excitement as we remove the tape from the box. They've kindly given us two extra original donuts which is a nice surprise. These are the classic soft, downy and light donuts but filling them takes them to another level. Firstly the dough is superbly airy and spongey (I read some people describe them as chewy but to me they were so light) and they're generously filled. Our favourite is the guava custard and we also try the seasonal pumpkin custard which is pumpkin without the pumpkin spice. The Li Hing Mui is off in the corner in its own wrapping as the zingy, sour, sweet plum powder is so strong but tasty too. And Mr NQN carries these home on the long walk home people stop and smile when they see the pink box.
Mud Hen Water is a restaurant located on Waialae Ave, the main street of Kaimuki. The name Mud Hen Water is the English translation of Waialae. There chef Ed Kenney serves up modern American cuisine with a vegetable forward menu with a focus on local food. There is indoor and outdoor seating available and a hispter vibe in this eatery.
Beet Poke $13
The beet poke is roasted purple beets cut up into cubes and paired with avocado, wasabi, pickled limu (seaweed) and smoked macadamia nuts with the aroma of sesame oil. It's a really nice starter and really showcases the beets pairing them with Asian and Hawaiian flavours. I did think that the smoked macadamias would be a stronger flavour or texture but I didn't really notice them.
Buttered Ulu $13
Ulu is a root vegetable, similar to potato or taro with a mildly starchy quality. Here pieces of ulu are buttered and roasted and served with fermented black beans, sour orange and plenty of cilantro or coriander. I would have loved a bit more of the condiments as the pieces at the bottom had the most flavour but the ulu on its own also has a nice texture.
Chicken Long Rice Croquettes $11
At first you might think that the chicken long rice croquettes might be like an arancini ball but long rice is actually the name for rice vermicelli, in this case soft, wispy silky vermicelli noodles. The chicken and vermicelli are dipped and wrapped and deep fried with a crunchy crumb coating and it's served in a bowl with a thick, rich Japanese curry sauce. Delicious.
Sausage and Clams $19 + Breadshop Country Bread $3
We decide to share a main as we had eaten so much. The sausages and clams have slices of broken up lemongrass sausage that sink into the cups of the clams. The ong choy or kang kong melts in the coconut milk broth and you definitely want to order a thick slice of the toasted Breadshop country bread to dip into the sauce.
Chocolate Kiawe Bean Brownie $9
Dessert time rolls around and by now it's late - we booked at 8:30pm and there are a few people still milling around. It's a hard choice but our waiter convinces us to order the chocolate kiawe bean brownie. It's served up warm but in a surprisingly thin slice (and the kiawe beans aren't really that obvious) with a couple of scene stealers - black sesame ice cream and a highly addictive mac nut brittle. And sadly no they don't sell it...
So tell me Dear Reader, do you visit many neighbourhoods when you travel or do you stick to the city centre?
Want more info on the KCC Farmer's Markets? See post here.
All food in this post was independently paid for. NQN was a guest of Hawaii Tourism Oceania and flew to Hawaii as a guest of Hawaiian Airlines but all opinions remain her own.
Hawaiian Airlines service from Australia - www.HawaiianAirlines.com.au