My family and friends are used to odd requests, in fact I think in general people don't seem to bat an eyelid when I ask for strange things. Just yesterday I asked if anyone on twitter knew a nun or a priest (a few did, so that was a win for weirdness and random questions). But a couple of weeks ago I called my cousin Roger out of the blue and asked if I could film his five and a half year old daughter Natalie. I guess technically Natalie is my second cousin but I just call her my niece (it's a Chinese thing, every female member of the non immediate family is either aunty, cousin or niece).
I wanted Natalie to play me as a child in a youtube video and she looks sort of like me except cuter. She is also much smarter than me and was patient when getting dressed and when it came to filming she asked what her instructions were. Did she look at the camera, did she face a certain way, and how did I want her to draw? In short, she was such a pro and the whole thing was done perfectly in one take!
Ahhh if only her aunt (okay second cousin) Lorraine aka me was at good at following instructions! You see I saw these pumpkin and cream cheese muffins on Grace's blog A Southern Grace and knew that I had to make these straight away. On a hot 40°C/104°F day but you know when the craving strikes, you just have to go with it. I filmed it and had it baking in the oven but then I looked down while I was washing up. There were the two eggs that I was supposed to put in the batter.
Fail...
Given that the muffins were halfway through baking I just let them go and figured I could make another batch as I had more of everything. But when they came out I realised that they didn't need them at all. In fact these were some of the very best pumpkin muffins I had ever tasted! Grace had based these on some muffins from Starbucks. I've never had these so I can't compare (the last time I went to Starbucks was in China to use the wifi and air conditioning - what a leech!) but I do know that these muffins are absolutely brilliant. 100% so.
Here's a video of me making these pumpkin and cream cheese muffins. At the end I couldn't stop eating them. Story of my life...
And yep you guessed it, this is another pushy recipe! In fact I was going to put up another recipe but these just had to go up in case anyone was thinking of making something sweet and portable for Thanksgiving. I know it's an American tradition and we don't celebrate it much here in Australia. I mean I can barely get through Halloween and Christmas and I don't know how Americans can do all three holidays! But even if you are or aren't celebrating it, you just have to make these for the simple reason that they are absolutely heavenly. Moist (sorry :) ), aromatic with a bundle of spices and with a centre of soft, spiced cream cheese filling they belie how easy they are to make.
So tell me Dear Reader, how closely do you follow recipes? Do you use them just as a guide or are you very precise? Have you ever left something out and found that it didn't matter? And do you celebrate Thanksgiving?
Incredible Pumpkin & Cream Cheese Muffins
Degree of difficulty: easy
Preparation time: 10 minutes
Baking time: 25-30 minutes
1.5 cups cake flour*
2 teaspoons ground cinnamon
1/2 teaspoon ground nutmeg
1/2 teaspoon ground ginger
1/2 teaspoon fine salt
1/2 teaspoon bicarb of soda
1/8 teaspoon ground cloves
1 cup brown sugar
1.5 cups pumpkin puree
2/3 cup flavourless oil
125g cream cheese
1/2 cup icing or powdered sugar
1/2 teaspoon ground cinnamon
1/4 cup pepitas
*To make cake flour, place 3 tablespoons cornflour/cornstarch into a measuring jug and top up to 1.5 cup level with plain all purpose flour.
Step 1 - Preheat oven to 160C/320F fan forced. Line a cupcake tray with 10 liners. Process the cream cheese, icing sugar and cinnamon until smooth and place in a piping bag. Place in fridge.
Step 2 - In a large bowl whisk the flour, cinnamon, nutmeg, ginger, salt, bicarb, cloves and brown sugar to get rid of any lumps. In a jug whisk the pumpkin and oil together until smooth. Make a well in the centre of the flour and add the pumpkin mix. Stir until mixed together. The batter will seem thick but will come together. Spoon into the papers using two tablespoons.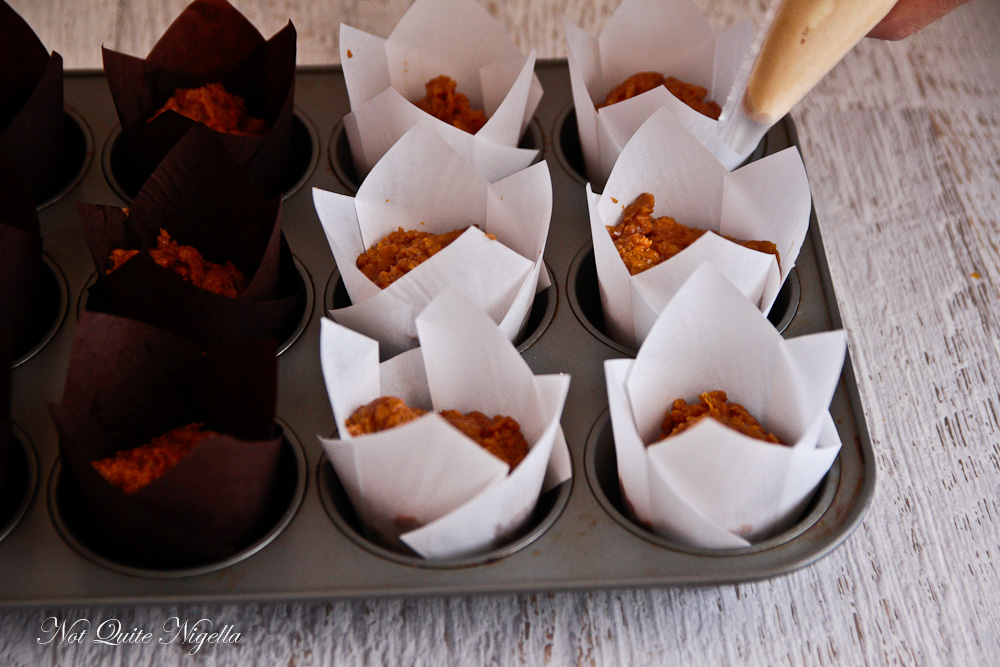 Step 3 - Snip off the end and pipe some of the cream cheese downwards into the centre of the muffin. Repeat until you've used up all the cream cheese (go back and fill them more if you have left over). Sprinkle pepitas on the outside and bake for 25-30 minutes until a skewer inserted comes out clean.