The Azamara Journey glides in Mahon's harbour. It's just before 9am and on our way in we pass bays with boats bobbing in the rose tinted sunlight. The capital of Menorca, the small island (minor) to Mallorca's large island (major) is said to have one of the most stunning harbours in the Mediterranean. Menorca is one of Spain's Balearic Islands and is protected under UNESCO heritage laws. The capital Mahón has two names Mahon in Spanish or Maó in Catalan.
It's our first time getting off at a port on a cruise and we're excited. We make our way excitedly downstairs and near the concierge is a representative of Menorca handing out maps and answering questions-this will happen at all port stops. We scan our cards and grab some bottles of water on the way out.
It's Sunday morning, not the best day to visit the island that still observes Sunday as a traditional rest or religious day. We're also a tad early and we note that for tomorrow perhaps a later start would be good in order to pop into the shops that don't open until later. Still, there is a small market selling pastries and produce. White and purple eggplant are sold alongside tomatoes and other Mediterranean produce.
A stall sells some traditional Mahon pastries. There are Cocas, Mitjallunes, Rubiols, Formatjades and Emsaimadas-all names for Menorcan pastries sold at Panderias or bakeries. We buy two pastries - a cold pork pastry stuffed with shreds of spiced pork called Formatjades and a ricotta cheese and sugar pastry called a Formatjades de brossat, the top with criss crossed fluted pastry with a hint of cinnamon.
Next is a stall selling sobrassada, that terracotta coloured spicy sausage sold as thick links the size of a child's arm.
Large Emsaimadas are sold in the window of Pastelería Valles. These pastries are incredibly popular in Menorca and Mallorca. The cakes in Menorca are a sight to behold in a huge variety of shapes. We join the queue of those staring in the window before choosing three cakes, one is a triangle of puff pastry topped with a dollop of meringue with a bruleed top.
I watch as they slide a tray of pine nut topped cakes into the display and order one along with another cake that appears to be all soft sponge layers, custard and coconut. The woman puts them onto a doily lined gold plate, attaches strip of paper to protect the top and then wraps and ribbons them. She hands these over with a smile and I am on my way.
Other sweets particular to Menorca are the Pastissets in a variety of shapes including flowers. These too are dusted with icing sugar. Xoriguer gin is a gin with almost cult status amongst gin drinkers with its strong juniper flavour and has been made on the island since British occupation. Pomada is the gin mixed with cloudy lemonade.
We pass by stores selling leather sandals. Menorca is also known for its shoe making business and the sandals sold here are called abarcas. These are simple flat sandals with thick, coloured leather straps. The architecture is interesting - no two houses are alike with pinks bordering oranges that alternate with greens in a variety of styles, some with the wiring exposed.
We cross through Parc des Freginal where there is a local's flea market. Bric a brac is sold alongside Halloween worthy pumpkins. I buy a vintage purse for my friend Queen Viv.
Afterwards we head back towards the Church Saint Maria. The midday sun beats down on our heads and our feet need a rest so we stop by El Turronero where the ice cream is made using local milk. We try the Leche Merengada that is a meringue with lemon and cinnamon. It is absolutely divine and we pair this with a serve of the blackberry ice cream. A range of horchatas and fresh juices are also sold.
El Turronero also sells a range of Mahon Menorcan cheese. This DOP protected cheese comes in a variety of types-I try some and it's sweet, intense and slightly dry, like a reggiano. After tourism, dairy farming is the island's second largest income.
We get lost wandering up and down the residential streets. Most of the Azamara's organised tours have large numbers of participants and the Mahon tours didn't focus on food a lot. Many guests also go back to the ship to have lunch but we are determined to eat lunch on the island. Our intentions are stymied somewhat because it is a Sunday and many restaurants are closed either today or closed for lunch.
We head back down to the Moll de Llevant promenade where we take a stroll past the restaurants that are open. We stop at Sa Gavina II where they serve home style tapas. Owner Kate is welcoming and we choose a table with a view of the harbour while the chef and owner Andreas cooks in the small kitchen.
Sa Gavina means seagull and they also own another restaurant Sa Gavina that has been going strong for 20 years in the north shore of the island. Sa Gavina II is just under a year old but has already amassed quite a following.
The menu is hand written with items in both Spanish and English. The roast suckling pig is a must order apparently and we choose a mixture of seafood dishes as well as a side of vegetables with our order. Everything is home made, even the bread and everything is cooked to order which means that it doesn't come out quickly but the view distracts perfectly. The menu also says that chef Andreas does not use a microwave. We nibble on a cracker and nut mix while our food is prepared.
I take a spoonful of the red peppers filled with cod or bacalao. I don't expect to fall for this dish but I do resoundingly. It's a simple dish made with pickled red peppers and filled with a cod filling not unlike a croquette filling that Kate explains to me how to make. It is absolutely divine, the cod wonderfully creamy inside the peppers.
Not a traditional tapas dish we ordered this to balance the meat content. The Mediterranean style vegetables are perfectly cooked.
The roast suckling pig is soft and tender and the skin is as crispy as a cracker. Kate brings us some garlicky aioli to eat it with and the go perfectly well together.
Local Menorcan mussels are very small so they use Galicia mussels from the North West of Spain. These are tender and served in a plentiful sweet and spicy sauce. Swirling in a bit of the garlic aoili richens it even further and we dunk our pieces of bread in afterwards.
We still have a few more hours in Mahon - Azamara is a destination focused cruise line so times in port are longer than other cruise lines but as our feet are a bit tired, we board the boat again. They offer us cold towels and hand sanitiser is mandatory because maintaining hygiene is paramount. I order some tea and cookies from room service.
Earlier that morning, I went to fetch my "mail" from the mailbox outside our room and in amongst the letters was a reminder about our Chef's Table dinner in Prime C, one of the top floor restaurants. There are three chef's table dinners during the cruise, a French, Italian and Californian dinner and each of the five courses is matched with a wine. The tariff for these dinners is an additional $95USD.
Before we get changed for dinner, we watch the ship sail away from Mahon. Some people wave from balconies and we wonder who lives in the enormous houses on the coastline.
We make our way to Prime C where the other ten guests are waiting for everyone's arrival. We sip Kir Royales that the ship's sommelier David Ackland brings over. Shortly after we are seated at a table. Unlike chef's tables that are located in the galley or kitchen, this is in the restaurant but the chef's table is hosted by a member of the crew. Tonight it is the spa manager Simon Matthews. The chef Frederic Camonin introduces himself and goes through the food menu with us.
We take our assigned seats and they serve us the first dish. The menu outlines each dish and the paired wine. The first course is a tuna tartare nicoise. While we are eating, David explains a little about the wine and how the grapes are grown. The dish is chopped tuna tartare, a smear of artichoke pudding, a crumbed egg yolk with a soft centre, haricot vert and shaved radish. It is said to have oven dried tomatoes but there aren't any. It's not bad but lacks a little in flavour.
The smoked potato and leek soup is smooth and creamy and served with a potato gaufrette, whipped chive creme fraiche and Paddlefish caviar. This too isn't bad but the gaufrette becomes quite wet in the soup although I do like the addition of the chive creme fraiche and caviar.
The scallops are excellent. They are served with an aromatic and delicious brown butter hollandaise (why can't brown butter be in everything?), parsley puree, crispy capers and seared cauliflower. The capers and hollandaise accompany the scallops perfectly.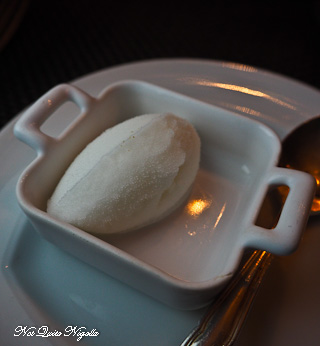 The refresher course comes just before the main. It's a Veuve Clicquot champagne sorbet, absolutely delightful and refreshing. And in a couple of pieces of trivia, David tells us that there are 5.5 atmospheres in a bottle of champagne and 49 million bubbles in a bottle!
There is a choice between two mains, a fish and a beef and we choose one of each. My favourite is the sea bass served with a cepe mushroom puree, caramelised fennel, a herb and fennel salad and a beurre rouge. The sweet flavours give the delicate fish a gentle support.
The beef fillet is very good too. Cooked medium rare it is juicy and has an excellent crust on the outside. It is served with a cherry tarragon compote, cepe mushroom duxelle, a cherry peppercorn gastrique and a fantastically moreish camembert potato aligot or mashed potato. Note to self: make camembert aligot at home!!
Although the cheese selection is said to be an international one according to the menu, all five cheeses are actually French which makes sense as it is a French degustation dinner. There is a Salsicure, Comte, Pont Le Vec, Camembert and a Roquefort.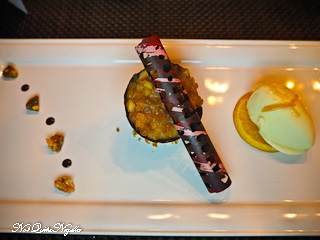 The final dessert is a sweet one and it is a sphere of milk chocolate filled with Calvados diced apple and pear atop a layer of nougat mousse on a scattering or praline dust.
But it's after dinner that we get into the juicy details of life on board with Simon. I ask him about crew life. He tells us that as a manager he has his own room but often people share either with one room mate or up to six room mates although obviously rooms are larger. The average sized single crew room is about half the size of a passenger's state room.
Crew often see ports in groups much like airline crew see a destination together. We ask him about one of the biggest problems on a ship - passengers getting gastro. He tells us that it is rare but can happen usually after a group of people go off shore to eat and pick it up, usually in ports where hygiene and food safety can be an issue. The key is to pick it up as early as possible and this helps measurably with containing it. In times of high precautions or OPP2 (the status of a ship with more than 1% of passengers infected) every inch of each commonly touched surface must be cleaned every 15 minutes with a bleach type of solution.
And what happens if someone misses the ship leaving a port? The consequences for a passenger is quite different than that of a crew. A passenger simply has to make their way to the next port. However for a crew member it is a potentially sackable offence and they are marshalled for a hearing when they return to the ship. And in a rather strange occurrence, the reason why the ship's internet is so slow is because it wings its way to and from Sydney, Australia! So while there is no kitchen action at the Azamara Chef's Table, the chef's table is a good chance to ask the senior crew all the questions you've ever wanted to know!
So tell me Dear Reader, what would you ask a cruise crew member if you could? And if you were on a cruise would you prefer to go back to the boat for lunch or eat it in the city you are visiting?
NQN travelled as a guest of Azamara Cruises. All meals outside of the ship were independently paid for.
Azamara Cruises
Fares start from $3,699 per person twin share for a 10-night Great Barrier Reef voyage onboard Azamara Quest. For further information or to make a booking, visit www.azamaraclubcruises.com, phone 1800 754 500 or contact your local travel agent.
Pastelería Valles
Carrer de Hannover, 19, 07703 Maó-Mahón, Illes Balears, Spain
Phone:+34 971 36 34 88
El Turronero
Carrer Nou, 22, 07701 Mahon, Minorca, Spain
Phone:+34 971362898
Sa Gavina II
Moll de Llevant, 157, Mahon, Minorca, Spain