The tiny principality of Monaco is nothing short of enchanting. Although it stretches just 2kms in width there is much to see, do and indeed taste including some Monagascan delicacies which are their own version of French or Mediterranean cuisine. Being a billionaire's playground there is no shortage of Michelin starred restaurants like Le Vistamar in the Hotel Hermitage Monte Carlo. We also pay a visit to the place where Crepes Suzette were invented trying the famous flambeed citrus dessert!
People often say the best thing about cruising is that every day you get to wake up to a new view. Pulling back the curtain each morning when you arrive at a new port is a wonderful way to star the day but there's nothing that quite prepares us for the view of Monaco as the Azamara Journey glides into port. It is a rose tinted hue of this postage stamp sized principality that is so arresting that we blink our eyes once, twice and three times. We're not the only ones astounded. All of our neighbours are having breakfast on the verandah and cooing about the view. Ten minutes later, the sun makes its regular turn and everything looks normal again. I look at the remains of my French toast that I've been nibbling on wondering if the last few minutes were real. It's a surreal welcome into Monaco.
Words such as "enchanting" and "fairytale" are often been used to describe Monaco. It is certainly a pristinely pretty country, measuring just over 2kms wide which makes it is about half the size of New York's Central Park. People often mistakenly use the term Monte Carlo for Monaco but Monte Carlo is one of Monaco's six departments. It is the most densely populated country in the world and much of it is made up of precariously steep hills.
Most people live in apartments and the native Monagascans account for 9,000 out of the 45,000 residents. The casino is a very important part of the economy in Monaco (although its citizens are not permitted to enter) and tourism is the number one industry.
For the past 700 years the Grimaldi Dynasty has ruled Monaco although the history goes are far back as the 13th century. The most famous Grimaldis are Princess Grace and Prince Rainier and their children. Prince Albert II the head of state can often be seen around Monaco. Only this morning Prince Albert was spotted our and about while Princess Stephanie is a common sight shopping at the markets.
The relationship between France which borders the country so closely that you can see it if you turn your head, and Monaco is classed as a special relationship where France guards Monaco's sovereignty and defence. There are close economic and cultural ties between the two countries and the official language of Monaco is French.
Our first stop in Monaco is at the La Condamine Markets in the Place d'Arms, about 15 minutes walk up the hill from the port. Here vendors sell a range of Mediterranean produce including shiny red tomatoes, onions, eggplants and oranges. We pass by a fisherman - Gerald Rinaldi's family of fisherman are dubbed "Monaco's last fisherman" as they are the last of a dying breed.
Inside the covered market is a range of bakeries and snack shops. An entire counter is covered in a colourful cornucopia of pizzas starting with pissaladiere. While many items sound the same as what you get in Nice, they're slightly different here in Monaco. For instance pisaladierre in Monaco is sold with tomato as well as the onion only version sold in Nice.
Torte de blette is a savoury slice made with chard but in France it is often sold as a sweet. Here is it always savoury. Fougasse, a bread sold as in a leaf pattern in France is sold here as a disc covered in almonds, pine nuts, sugar coated dragees and red and white candied aniseed.
It's a country where everyone knows everyone. Indeed the mayor runs a pharmacy where he can often be found in the morning. Native Monagascans are given special privileges to assist them with rent - it's a country where an apartment can set you back €6 million. People that become naturalised are called Monacans as opposed to Monagascans who are born in Monaco.
The Prince's private entrance to the Opera
We head towards Monte Carlo and walk around through the Jardin de Petite Afriques and up to the Casino Monte Carlo designed by Charles Garnier. The Opera Garnier sits next to it and while opera guests enter through the casino, the Prince gets his very own private but very grand entrance.
We make a pit stop at La Lago for a cup of coffee and to rest our legs. A tart peeks out at us from the display and we order a slice. We try the lemon meringue tart with a biscuity crust and people watch. There are plenty of people taking small dogs for a walk, the people impeccably dressed but not overdressed. There are countless designer bags hanging from the crooks of arms and expensive cars.
Our stop for lunch is at the Hotel Hermitage Monte Carlo, one of the principality's 5 star hotels. The stunning Belle Epoque hotel has two sides, one bedecked in light green shades while the other is all bold, dark reds. We are here to visit Le Vistamar, the Michelin starred rooftop restaurant so named because of the beautiful sea views.
The view from Vistamar
Chef Joel Garault focuses on the country's abundant seafood at Le Vistamar and he buys it from the Rinaldi family. They focus on one fish, one way of cooking and one vegetable and work to bring less popular or less well known fish to the fore by featuring them on the menu.
We are eating from the "Around The Seasons" menu and start off with a glass of champagne. The view from the terrace is stunning, the weather is just warm enough and the tables are sheltered so that dining outside is still comfortable in these last few weeks of October.
We start with possibly one of the most classic Monagasque dishes, the Barbejean which means "Uncle John". These are savoury, meatless ravioli deep fried and served as a snack. They're delicious, the filling soft and flavoursome.
Jerusalem artichoke mousseline, scallop carpaccio, lamb's lettuce and mocha vinaigrette
Its hard to decide which entree I like the best but I first try the scallop carpaccio on a bed of silky smooth Jerusalem artichoke mousseline. The scallops melt in the mouth. There is said to be a mocha vinaigrette but it is subtle.
"Butternut" pumpkin cream soup, grey shrimp and flesh of razor clam ravioli, Esplette chili pepper
They pour the soup at the table and it's a butternut pumpkin cream soup and in the centre sits a single plump ravioli filled with diced razor clams and grey shrimp - at first it looks like mushrooms until I take a bite.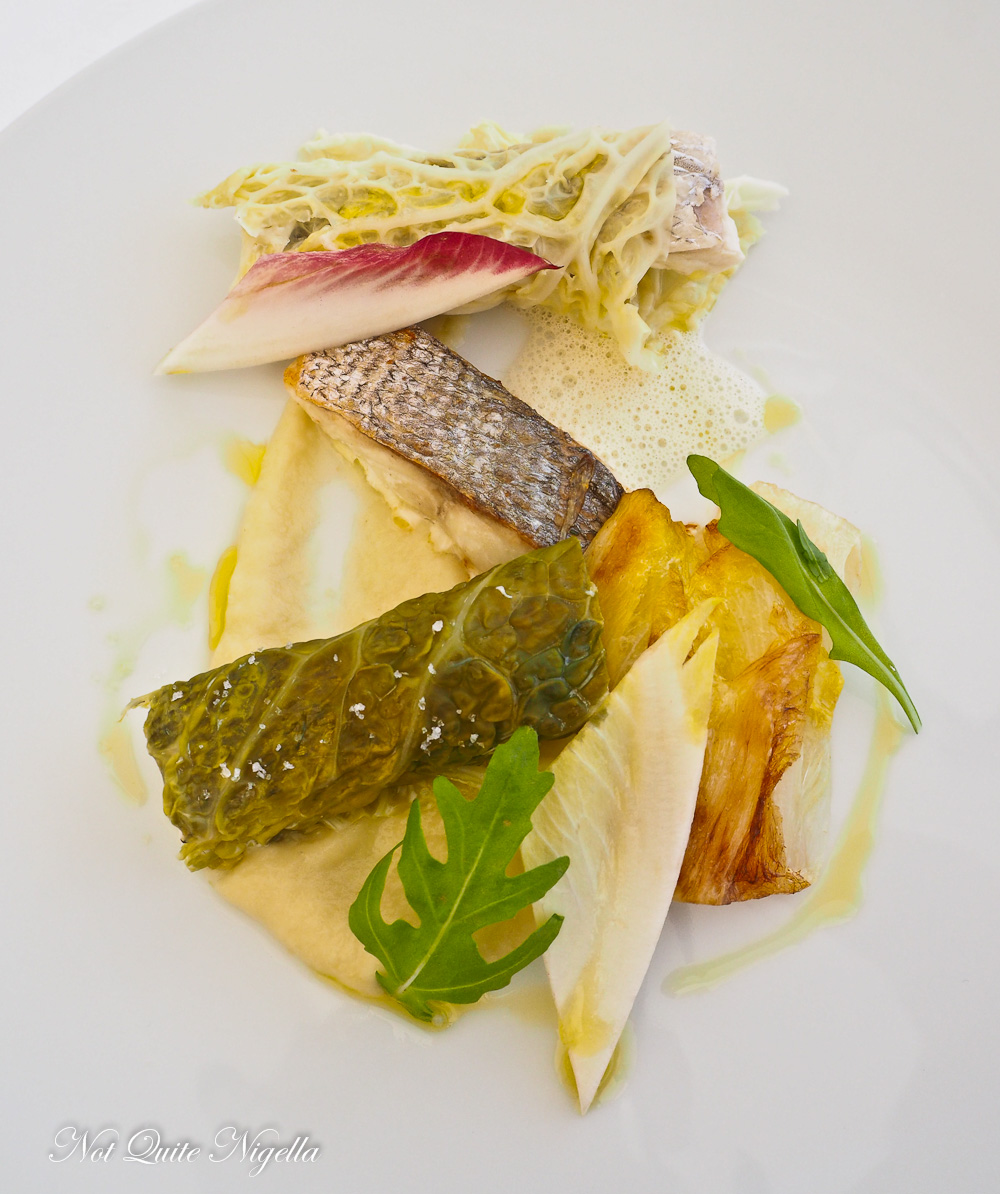 Aiguillette of gilt head bream with green cabbage, chicory with clementine, salsify coulis
Our main courses arrive and by now the outdoor terrace is getting very busy. The silvery skinned gilt head bream is served as a single pan fried fillet (an Aiguillette or a thin slice) as well as wrapped in fine green savoy cabbage leaves. The salsify coulis is soft and delicious and the chicory with clementine is a delicate touch.
Venison and wild boar infused with bergamot orange, quince and parsnip duo, young spinach
Mr NQN loves the wild boar and venison. It is strong and earthy with a strong hit of bergamot orange pervading the whole dish.
Iced Granny Smith apple meringue, creamy caramel infused with grape, milk jam
Desserts arrive and they are almost too pretty to take a fork to. The Granny Smith sorbet sits enveloped within a hard meringue shell. I particularly love the creamy caramel bars that are infused with grape and this is a refreshing dessert that is perfectly balanced.
Vistamar style iced Mont Blanc, mandarin fruit and sorbet
I'm a big fan of Mont Blanc, that fetching chestnut and whipped cream combination. This is given a burst of citrus from the mandarin sorbet that is hidden inside a white chocolate ball. Outside the ball is piped meringue and chestnut chiboust.
We reluctantly part ways with the view to explore a bit further. Walking is possible but the steep hills mean that the bus system is well utilised by residents. It's easy to navigate and we catch a #1 bus up to the old town or Monaco-Ville. It's an area popular with tourists and most places in the Old Town offer pizza, pasta and Coke. We buy some chocolates and nougats from Chocolaterie de Monaco - the milk and dark praline crowns are hard to resist as are the pink and green nougats.
Throughout Monaco they have a "Parquor Princess Grace" trail at points significant to her time in the principality. In the old town is also the Prince's Palace, a portion of which is open to the public. The palace was built in 1215 on the site of a Genoese fortress and it traces the family history.
€8 entry buys you a phone like apparatus that you can listen to in your own language. The English version even has an introduction to the tour from Prince Albert. Alas no photographs are permitted and it is diligently enforced by security. One thing that we notice is that Monaco is a safe country partly due to the number of police present.
We walk around the park area and near the Cathedral where Prince Rainier and Princess Grace were married. Looking for some local tastes we head towards Brasserie de Monaco on the waterfront. There is an outside seating area where it is Monaco's version of a beer garden - just with the harbour outside and million dollar yachts.
Here Francois Pichon, the brasserie's chief brewer creates Monaco's only local beer. They brew three types and the two best sellers are the Pilsener and wheat beers. 80% of their beer is sold here and they make 120,000 litres of beer a year.
As they are a small brewery they use natural fermentation methods resulting in finer bubbles. The whole process can take up to 4-5 weeks depending on the type of beer made. They have a beer sampler that Mr NQN tries along with a cider.
They also have an appetiser platter that features several of Monaco's specialties. There is an Italian focaccia with mozzarella and tomato - this is delicious. Also on the platter is the Monaco specialty - Barbajean and this tastes different from the one at Le Vistamar but is also good. Then there are the two types of pissaladierre - one with onions French style and one with tomato, Monaco style.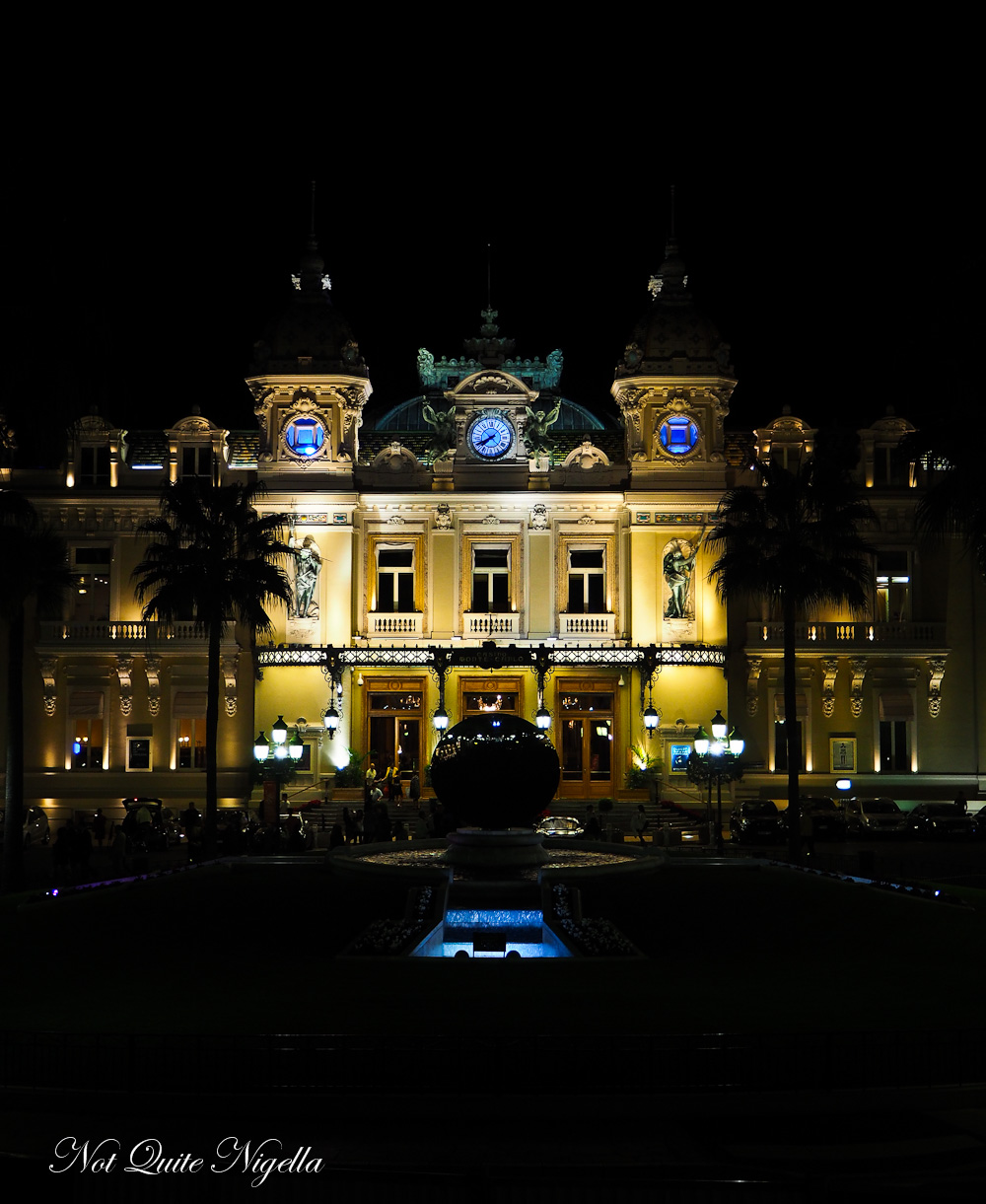 Casino de Monaco
One thing that people may not know but Monaco is said to be the place in which Crepes Suzette was invented -specifically at the Cafe de Paris in Monte Carlo, just adjacent to the casino. Next to this is the Hotel de Paris which houses the Le Louis XV Alain Ducasse restaurant which was alas closed. The legend goes that at the end of the 19th century Henri Charpentier who worked at the Cafe de Paris served the Prince of Wales (who would go on to become King Edward VII of England).
He was preparing crepes in liqueur when the pan caught alight. The prince was intrigued by this spectacle and asked for the name. He quickly made up that the they were to be called "princely crepes" but the prince demurred, he wanted the crepes to be named after a comely woman that he was dining with called Suzette. This is the romantic version of the story although it has been contested by others.
Nevertheless, crepes Suzette at the Cafe de Paris still continues to be a tradition. We take a seat inside where it is moderately busy. Next to is an older woman sits by herself with an enormous footed plate holding two dozen oysters, her enormous emerald ring catching the light as she spears oyster after oyster.
We watch as they fold four pre-cooked crepes into quarters and place them in a pan along with an orange butter sauce. They carefully turn these over and then add the liqueur to the pan and the flames bounce up high. The crepes arrive at the table still folded and we dig in. The crepes are thin and the sauce is rich and the liqueur giving it that needed bitterness. They are sublime, every single bite's worth. And as for tomorrow? We will we wake up in another country and city!
So tell me Dear Reader, do you like Crepes Suzette? And have you tried much Monegasque cuisine? And do you think you would ever want to be a royal and if so, of which country? I've always thought that Monaco seemed like a fun place to be a royal!
NQN travelled as a guest of Azamara Cruises and visited Monaco as a guest of Visit Monaco
Azamara Cruises
www.azamaraclubcruises.com
Le Vistamar
Hôtel Hermitage Monte-Carlo
Square Beaumarchais, 98000 Monaco, France
Phone:+377 98 06 40 00
http://www.montecarlosbm.com/restaurants-in-monaco/gourmet/vistamar/
Brasserie de Monaco
36 Route de la Piscine, 98000 Monaco
Phone:+377 97 98 51 20
http://brasseriedemonaco.com/
Cafe de Paris
Place du Casino, Monte-Carlo 98000, Monaco
Phone:+377 98 06 76 23
http://www.montecarlosbm.com/restaurants-in-monaco/brasseries/