*Our second stop on the Azamara Journey cruise was in Mallorca or Majorca, located in the Mediterranean Sea. The sun drenched island is home to some exquisite foods that don't often make it off the island. Our stop also included a night at the stunning Bellver Castle as part of the AzAmazing evening held once during every cruise. *
When I wrote my book a couple of years ago, my publisher Kirsten asked me what I'd like as a tagline. A list of a potential half dozen were floated and they all revolved around food. One of them had to do with the pursuit of pastry. It wasn't just a throwaway line. You see I really do seek pastries. And when we arrive in Mallorca, I'm seeking the ensaimade.
It's a pastry that is said to only be created in Mallorca and Menorca and any attempts to make it elsewhere have resulted in failure, that is a deflated pastry bereft of the pockets of air that characterise the pastry. Still made today using ancient measures like almudes and ounces the recipe is virtually unchanged from hundreds of years ago. It takes 24 hours to make an ensaimada. Each pinch of dough is rolled out to paper thin and semi translucent, smeared with lard, rolled into a log and then coiled around. They can be plain or filled with a angel's hair (a sweet pumpkin or squash filling) or with a custard, chocolate or even sobrasada for a savoury version.
Being a bit more canny on the second day of our cruise with Azamara Journey, we set off a bit later to explore Palma de Mallorca on the southern shore of the island. This gives us a bit more time to ask the representative from Mallorca questions. Every day that we dock, someone from the destination is on board to hand out maps and discuss the destination-a long detailed discussion about food isn't really possible if there are 40 people behind you. I had a hit list of foods that I wanted to try and the tourism officer points us in the direction of the "Mercato di Santa Caterina" for all of our goodies.
A shuttle bus drops us off just near the Gothic Cathedral built in the 13th century. It's a magnificent sight, one that takes the breath away with its sheer size and grandeur. Not only this but it faces the palm tree lined harbour and promenade. Next to it is the Palacio Almudaina and the Arab quarter - Mallorca was inhabited by Iberians, then the Phoenicians, Greeks, Carthaginians, Romans and Byzantines and the Moors.
The old town of Palma is quaint but rather touristy in nature. There are plenty of shops and cafes set against old buildings. The narrow streets are great for exploring in and ducking in and out of. Shops like La Montana sell a fantastic range of pork sausages, sobrassada, honeys, cheese and nougat or turrón and many items can be sampled.
Buildings near the Placa del Marques del Palmer were influenced by Gaudi and we follow our nose into alleyways. One small section holds antique stores and I pop into Pasteleria after Pasteleria to see if they have the Ensaimades. I'm out of luck.
It is when I peer into a particularly pretty alleyway that we find somewhere to stop for lunch. La Bodeguilla has an impressive cellar of wines and we take a seat in the downstairs dining room. Service is brusque and a plate of amuse is almost tossed on the table by the waitress. All she says is "cream cheese" and she is so rude we have to laugh.
Mr NQN orders a Hierbas Dulces or a 23 degree drink. It's a clear herbal green drink and has a strong taste of anise. Unlike other liqueurs there's no burn however, it's almost lolly sweet and utterly smooth. After my initial surprise at the strength of the anise, I really quite like it. It is flavoured with lemongrass, coriander, mint, marjoram, chamomile, and fennel and a branch of anise.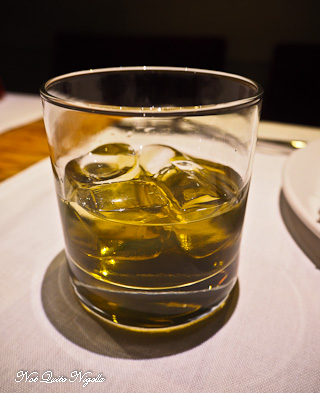 One of the easiest ways to order tapas is to choose the "tapas variadas" which is just a variety of tapas set by the kitchen. We just had one request-for the Iberian pork with chocolate, thyme and vanilla. We are in luck, the plate includes this and at €24 for two people, it's good value.
It comes out on a long plate and we start at one end. The salmon salad is a finely diced salmon with avocado and slightly ripe mango served as a timbale. It sits in a sweet almond vinaigrette that is utterly delicious and creamy. I could have a big plate of this to myself.
The next is a cup of summer gazpacho. I can usually either take or leave gazpacho but this is an excellent version with plenty of flavour and sweetness from the summer tomatoes.
The next item is a tempura battered fillet of cod wrapped in basil with a tomato salsa on top. It's golden crunchy and fresh while the cod retains an excellent texture inside.
Last is the Iberian pork. The chocolate and vanilla gives the impression of sweetness and dessert and the pork cheeks are tender and flavoursome and paired with a pommes puree to help soak up the sauce.
Hunger abated, we cross the Torrent de sa Riera or canal to the Santa Catarina area, the young and hip area of Palma and formerly a fisherman's village. It is here that the many ethnic restaurants are located and there are plenty of sushi bars as well as clubs and American diners. We are however headed towards Mercato de Santa Catarina.
There are plenty of bakeries or pastelerias surrounding the market and perhaps it's too late in the day but they are out of the ensaiamadas, cocarrois (filled pastries) and pa'amboli (bread with garlic, tomato, ham or cheese). Many of them sell French style cakes but all I want are the Mallorcan pastries.
We head inside to the market. Alas we have left it a bit late to look at the stores-many have closed including a bakery. We take a seat at one of the bars when I spy a Coca de Trampo and Coca de Tumbert or Mallorcan pizzas. The pizzas are baked in a large rectangle shape and the Coca de Trampo are topped with sobrassada, red and green capsicum, onions and zucchini. The Tumbert is a close cousin of ratatouille and is a vegetarian mix of eggplant, zucchini, red capsicum and onion. Both slices of pizza are wonderfully crunchy and crisp on the bottom and the topping is delicious.
Relaxing a bit more, Mr NQN orders a beer and we order a range of pintxos, i.e. small morsels on a toothpick. Each pintxos is €1 and there are four types: chorizo, anchovy, hamburger and bacon with cheese. They heat all but the anchovy one up for us and they're such tasty bites that go so well with the beer on this hot Autumn day.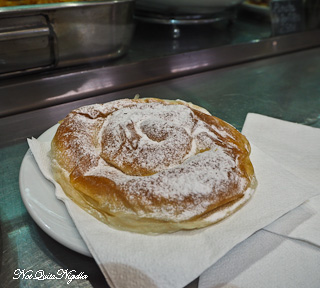 I ask about the ensaimade and the man behind the counter points at one on a plate. It's the last one of the day! Delighted, we order it and I inspect the icing sugar dusted pastry. The dough is made using lard (the name ensaimada is based on the Arabic word "Saim" or pork lard) and it is thin, like a filo pastry. There are pockets of air throughout the spiral pastry and this version has no filling, it is just airy, soft pastry dusted with icing sugar. We take a bite and it melts in the mouth. Even Mr NQN who doesn't like pastry loves the light texture of these pastries. The texture is like no other pastry and I can see why people adore them so much.
On our way back to the pick up point for the bus back to the ship, we pass by a display of cakes in a cafe window. There's an enormous emsaimade in amongst the cheesecakes and chocolate cakes. This one has a filling in it. They slice up a generous slice for us and we dig in.
The pastry is the same-it's that light, paper thin, delicate pastry but this is filled with a creme patisserie filling and there is also a caramelised layer of toffee that has softened giving it the taste of caramel. Flaked almonds give the pastry a nutty richness and it's hard to decide which we like better. This fuller figured gal with her rich, creamy knock 'em dead voluptuousness or the lighter, more delicate more austere, unfilled pastry. It's probably a good thing that we are leaving Mallorca soon or I would have bought another few pieces! But we have to get ready for this evening's big event.
Every Azamara Cruise features one special money can't buy event at a spectacular, cultural setting. This evening's event is at Bellver Castle built in the 14th century. It is Europe's oldest round castle and was originally built as a summer residence for the second Mallorcan king. Since then it has been a hospital and coin factory and military prison. Tonight it is being exclusively used by the Azamara cruise guests.
The evening starts with an organised transfer to our evening. We alight the bus and hear the faint strains of a tenor. We take a glass of champagne and walk towards the singing while stopping at many of the tables to try some traditional Mallorcan cheeses and canapes.
We make our way to the centre of the castle and we look up onto the open sky. It's a spectacular venue and tonight we will be treated to some traditional Mallorcan dance. The cruise director Eric de Grey introduces the evening and Captain Johannes Tysse who is then followed by Mallorca's deputy mayor who welcomes everyone.
The dancers are spectacular, whirling and turning with lightning speed doing the Ball de Bot dance. The women wear their long hair tied back in long plaits and beribboned and don lace veils and cardigans with chains. Their skirts are either patterned or in singular plain colours and these twirl as if they have a life of their own. The men wear vests, and pantaloons with wide sashes. These costumes date back as far as middle 19th century.
In each hand they clasp castanets clicking them to a rhythmic clack clack clack. There are two types of traditional Mallorcan dance: Jotas and Boleros introduced in the middle of the 18th century from the south of Spain. Women lead the dance and men follow steps and improvise. It's an energetic 30 minute performance and by 9pm we are ready to board the ship again.
A seven piece band plays welcoming guests back and it's an impressive way to board the ship. There are sandwiches and cocktails in The Looking Glass bar. We sit back and relax and watch the band play.
On our bed there is a gift wrapped Siurell a small clay figurine whistle. Dating back to ancient times and said to be brought to Mallorca by the Phoenicians. Its use is a mystery, some say that it is a toy or a religious figurine. We're left pondering it, the memory of a beautiful dance playing in the background of our minds.
So tell me Dear Reader, have you ever heard of an ensaimada? When you travel, do you have a list of foods that you want to try? If you could have a tagline for your memoir, what would it be?
NQN travelled as a guest of Azamara Cruises. All meals outside of the ship were independently paid for.
Azamara Cruises
www.azamaraclubcruises.com
Fares start from $3,699 per person twin share for a 10-night Great Barrier Reef voyage onboard Azamara Quest. For further information or to make a booking, visit www.azamaraclubcruises.com, phone 1800 754 500 or contact your local travel agent.
La Bodeguilla
Carrer de Sant Jaume, 3, 07012 Palma, Illes Balears, Spain
Phone:+34 971 71 82 74
Open 12-11:30pm 7 days a week
Santa Catalina Market
Placa Navegacio
T: 971230710
Open: Monday-Saturday 7am-2pm