The newest branch of the family run Dae Jang Kum restaurants, then Eastwood branch open since the beginning of January 2015 is also the most upmarket. The name Dae Jang Kum means the royal family chef as well as being a soap opera. The restaurant specialises in hard to find cuts of beef including a succulent wagyu chuck tail flap and neck chain. Another must order is the Yukae Joseon Raw Beef with tender raw strips of beef rump with sesame and matchsticks of nashi pear.
Although I eat out a lot, I think my friend Nick eats out even more. He fills up his Instagram feed almost every day or certainly second day with meals eaten out, usually photo bombed with a pic of his wrist holding a watch with dubious hashtags like #pantydropper #playboyforlife and other things that make Belinda and I (his "sisters") cringe and respond back #liveswithhismum and #goodgreekboy. We're just looking out for the ladies ;)
One night, he messaged us from Dae Jang Kum in Eastwood. It's a family run series of restaurants in Chatswood and Haymarket and Eastwood is their newest and most upmarket location. While Louise, Viggo, Mr NQN, Cheryl and I do loops trying to find a park as the restaurant's car park is full, Nick glides in in his car and they have a reserved space for him. Of course.
Nick gives a cheery greeting to a customer outside that he knows and then John the owner who Nick befriended on his visit last week. The two tables outside seem to be where the "dudes" sit both young and old and I guess it has the added bonus of ventilation although the drop down exhausts above the inside tables do a good job. Dae Jang Kum is the name given to the king or royal family's chef and it is also the name of a soap opera. We leave it up to Nick to order a few of his favourite things from his last visit.
We toast the get together with glasses of Korean rice wine which is fermented on the premises for 2 days. It's an intriguing milky white in colour and served in small wooden bowls. They also bring out a delicious range of banchan or vegetable side dishes including the classic bean sprouts, sweetened potato cubes and my favourite: soy sauce tofu strips.
Yukae Joseon Raw Beef $20
In the Goryeo period, beef was banned and it was in the 13th century that this ban was lifted by the Mongols and now it has pride of place at a Korean feast. First to arrive after the banchan are the bowls of Yukae Joseon, thinly sliced lean rump with matchsticks of nashi pear and sesame. It's divine, a fresh but sweet and fragrant combination of raw beef and crisp nashi pear. It's the perfect dish on a hot summer's day and is a pick of many at the table.
Combination Wagyu $49
Beef is the star here and at Dae Jang Kum, they have several types that are hard to find and or exclusive. There are six of us so we get two lots of combination wagyu. There is the oyster blade, kalbi and a rather special cut called the chuck tail flap.
They source this meat directly from the abattoir to ensure that it is genuine chuck tail flap as it is often (and easily) substituted for an inferior cut. Once you try the luscious, fatty texture of the meat it is very distinctive and the wagyu lends itself to this cut. The oyster blade and kalbi are also excellent, the oyster blade being preferred by Viggo.
Seafood Pancake $15
Seafood pancakes tend to have varying degrees of seafood in them. This has a good amount of baby octopus and prawns and has a good crispness to the edges with a soft centre without being doughy.
1/2 original fried chicken $16
Korean Fried Chicken, that delicious dish that we cannot get enough of. There are several varieties to choose from so we don't know which ones to go for so we end up getting a range of them. First up I try the original fried chicken, all shaggy edges and crispy goodness. It comes in a range of cuts from boneless to wings.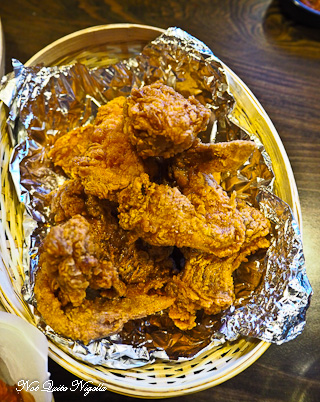 1/2 soy glazed chicken $17
But I have to admit that my favourite is the soy chicken with the extra kick of flavour from the soy that makes it hard to put down.
1 spicy chicken $32
The spicy chicken is coated in a sauce and glistens appealingly. It's spicy but not fiery and still retains a crunch even with the sauce. It isn't quite as lacquered and crispy as I have had overseas but it's still good.
Neck chain
There is just one last meat on the grill and that is a cut called the neck chain (under the thorax curving up to extend to the 6th rib). John tell us that they exclusively stock this cut in Sydney. It's a tender cut and unlike the wagyu which is obviously marbled with fat this is a deep dark red in colour. It is wonderfully tender and flavoursome and we appreciate how different each cut tastes.
There's no dessert at Dae Jang Kum and there's no really hurry to leave. We cross the road to Cafe Cherry Beans for an enormous family sized Pat Bing Soo. It's a first for Cheryl who hasn't eaten anything like it. It's a warm evening with a hint of breeze so it's the perfect way to end a Friday night and see us into the weekend.
So tell me Dear Reader, do you have a favourite beef cut? Do you have a preference for grass fed or wagyu? Have you ever tried the neck chain cut? And at Korean bbq do you like the cooking part or do you leave that to someone else in the group?
These meals were independently paid for but some drinks were comped at Dae Jang Kum because of Nick's relationship with the owner.
Dae Jang Kum
9 Rowe St Eastwood, NSW 2122
Tel: +61 (02) 9858 3411
Open 7 days from 11am-midnight