As the temperature drops and Winter takes a hold what better way to warm up than with some delicious hot pot! We take a hotpot tour of Chatswood travelling around the world trying hot pots from different countries! Some are extravagant and offer surprises and extras while others are cheap and cheerful. Come along for the ride and discover 5 delicious hot pot restaurants!
This food tour is brought to you by Willoughby City Council
Hot pot originated in Asia and is basically soup in a pot in which you cook a variety of foods. Hot pot can also be a hot vessel or small pot holding something deliciously warming. Winter is hot pot season to me and there's nothing more satisfying than sitting in front of a bubbling cauldron of soup and fishing out something tasty from the broth. Hot Pot is popular in many countries especially across Asia and in this story we are trying Chinese, Korean and Hong Kong style hot pot. I had no shortage of people willing to come along and Mr NQN and Laura were the ideal candidates for this mission as both love hot pot.
How to Hot Pot:
1 - We like trying two types of soup bases and like to select a mild and a spicy soup. We once made the mistake of choosing two spicy ones at a restaurant and while it was delicious we really prefer the contrast between mild and spicy.
2 - The thinly sliced meats are very quick to cook-often you can just hold them in your chopsticks and dunk them into the boiling soup for 20 seconds or so. I find that if I leave it in the soup it gets lost.
3- If your soup runs low ask them to fill it up with hot water.
4 - Don't wear your best clothes. Hot pot is all about fishing things out of a soup pot and you may end up getting splashes on your clothing.
5 - The hot pot sauce station is usually a few dollars more per person but it is worth it.
6 - The Best Hot Pot Sauce: if you find the hot pot sauce selection daunting take note of this sauce recipe that Laura got from TikTok. It makes the BEST hot pot dipping sauce for everything! Mix 3 tablespoons peanut sauce, 1/2 tablespoon soy sauce, 1/2 tablespoon sesame oil, 2 tablespoons of chilli oil (make sure to get 1 tablespoon chilli oil and 1 tablespoon of the chilli flakes at the bottom), 1 tablespoon chopped fresh coriander, 1 tablespoon spring onion, 1 tablespoon finely chopped garlic, 1 tablespoon sesame seeds and 1 teaspoon sugar.
Memory Tongue
We start with Memory Tongue hotpot. Located on the second floor of the Chatswood Interchange (just near Gram) it is a spacious upmarket Chinese Chongqing hot pot restaurant with lots of booths. We tried the lychee flavoured spicy soup and the "Soul Catching Spicy soup" that both have the Chongqing hot and numbing Sichuan peppercorns. Both of these soups taste quite similar to each other (next time we will order a milder one but it's hard to tell what the soup is like because there are no pictures of the soup which most hot pot restaurants have).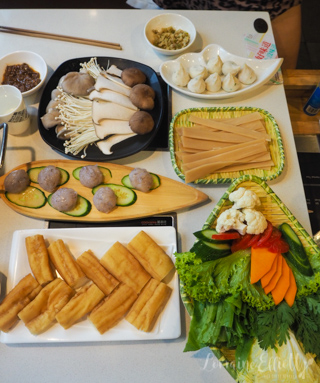 Memory Tongue are famous for two things: meat Barbies and the giant sesame rice ball. Meat Barbie comes in either pork or wagyu beef and we choose the wagyu beef. You can go as adventurous as you like with beef aorta, duck blood or gizzards or you can get hand pulled noodles, pork rolls, chicken and prawns. Our favourites were the shrimp meatballs, mushrooms, sweet potato noodles and the fish balls with fish egg stuffing.
Make sure to order watermelon juice as Chongqing hot pot can get spicy. We also really recommend getting the giant fried glutinous rice ball which is bigger than our heads and similar to a yum cha sesame ball but without the filling. It's absolutely delicious and great for a textural contrast and also to absorb the chilli oil on your tongue.
While they prepare your hotpot you help yourself to the sauce station which is $4 per person extra. Laura goes up to make her signature sauce combination and there are also some other interesting sauces like a "meat sauce" which is like a seasoned saucy beef mince that has a lot of flavour to it. Memory Tongue isn't cheap and our spread for two people was just over $200.
Memory Tongue: Shop 66, Chatswood Interchange, Podium, Level 3/436 Victoria Ave, Chatswood NSW 2067 Hours: 7 days 11:30am–2pm, 5–10pm
OZ Hotpot Buffet Chatswood
If you're watching your pennies or just new to hot pot then head to OZ Hot Pot Buffet in the food court of the Mandarin Centre. While service is perfunctory it is a great place to try hot pot at an economical price. The hot pot buffet is $35 per person for a weekend lunch or $38 for dinner or $28 for a weekday lunch . The restaurant has a real following-we were the first to arrive at 5pm but it filled up quickly. There's a 90 minute time limit here and your 90 minutes starts from when you receive your soup so regulars know to get their sauces and ingredients straight away. The fridges have all of the usual hot pot items from thinly sliced beef and lamb to prawns and seafood.
Soup base wise we went with the curry laksa and the shrimp flavour. Both are mild but good and Laura mixes up her magic sauce mix and we are off! There is a fee for wastage so we just get two of everything that looks good. The beef and lamb are delicious as are these fat, chewy mochi noodles, prawns and all of the fish cakes. We see tables with plates piled up high with beef and lamb rolls and prawns making the most of their 90 minutes!
OZ Hotpot Buffet Chatswood: Shop212, Food Court, Mandarin Centre, 65 Albert Ave, Chatswood NSW 2067 Hours: 7 days11:45am–3pm, 5:15–9:30pm. Phone: 0466 799 304
Chimack
Our next stop is Chimack. Entry is on Victoria Street (ignore the google maps address on Katherine Street). Chimack has a Korean menu with plenty of the usual goodies like Korean Fried Chicken but we keep out focus on hot pot. We order the Budae hot pot, the most popular one.
They bring us a portable gas stove and the banchan and these complimentary side dishes are one of my favourite reasons to go to Korean restaurants. I love all side dishes and Chimack's potato salad is outstanding as are the sliced fish cakes. There are also sesame bean sprouts and kim chi as well as bowls of rice that come with our hot pot.
Budae hot pot translates to Army Base Stew and it is a hearty bubbling hot pot that the waiter brings to the table already bubbling. We cook it for 3-5 minutes and by then the brick of instant noodles will cook down. There's a bit of everything in this pot: kimchi, sausage, bacon, enoki mushrooms, leeks, tteobokki rice cakes, spam, tofu and onion all submerged in a spicy, rich scarlet soup. It's wonderfully filling and delicious and Mr NQN goes back for bowl after bowl although it could really feed 3-4 people so we can't finish it.
Chimack: The Bentleigh 233/1 Katherine St, Chatswood NSW 2067 (access through Victoria Street entrance). Hours: Monday 5am–11pm Tuesday to Sunday 12–2:30pm, 5–11:30pm Phone: (02) 9411 1040
Chatswood BBQ and Hotpot
Our next stop is Chatswood BBQ and Hotpot for a different but no less delicious type of hot pot. This eatery stands out in the busy intersection at the heart of Chatswood mainly because of the queue of people waiting. But never fear, that's the takeaway queue (which actually moves quickly).
This Hong Kong style restaurant is hot pot central although previously I've only really gone here for the barbecue in the window. They serve up individual hot pots already cooked in a hot pot rather than the boil at the table hot pots from the restaurants above. There is a huge list of 22 hot pots all dubbed "Yummy Hot Pot" and there's also a menu after 5pm of medicinal free range chicken hot pot and a whole separate menu of rice in hot pot too.
We choose the ones that were recommended to us: three cup sauce pork rib hot pot which is so delicious I can't stop eating (I only pause when I drop a piece on my skirt). The sauce is a wonderful mix of rice wine, sesame oil, fragrant Thai sweet basil, ginger and garlic with bone-in pieces of pork rib. Mr NQN loves the king prawn and XO sauce vermicelli hot pot with a surprisingly generous amount of king prawns. They're both sizeable and we can barely finish them although that has something to do with the sheer number of hot pots we are trying!
Chatswood BBQ and Hotpot: Victoria Plaza Shopping Centre Address: 377 Victoria Ave, Chatswood NSW 2067 Hours: 7 days 10:30am–10pm. Phone: (02) 9884 8232
Haidilao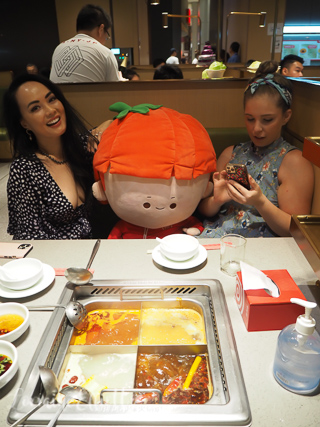 Last but not least is the big daddy of hot pot. Hot pots really range in price-they can be simple like the OZ bbq or they can be like Haidilao and have robots, dancers and all sorts of entertainment. Haidilao is very popular and your best bet is to book online ahead of time or you may end up waiting. Everything is like a well oiled machine and Haidilao mixes entertainment with great food-make sure to order the Dancing Noodles and someone will turn up at your table and twirl the noodles right in front of you. We had a huge range of items at Haidilao and most items are surprisingly good value including the seafood platter at $32.90 compared to Memory Tongue's seafood platter at $58.50.
This is also the only hot pot restaurant that has great service - the person that looks after your table is like your favourite Chinese auntie that gives you aprons and sleeve covers to avoid splashes. You can also get a photo with their giant tomato mascot plush toy and if you visit from Monday to Friday they give you complimentary manicures (we went on a weekend and received a voucher to come back for a manicure).
You can try up to 4 types of soup bases and we had the mala spicy, tomato, chicken and tom yum. The soup bases are excellent and the quality of all of the food is exceptional-there wasn't one thing that wasn't a hit. Also try the unlimited plum juice at $2 per person to help dampen the heat from the mala broth. There is also a complimentary dessert of osmanthus jelly and watermelon and sesame soup as well as orange slices.
Haidilao: Shop 607/1 Anderson St, Chatswood NSW 2067 Hours: 7 days 11:30am–9pm (9.30pm on weekends). Phone: (02) 9411 2006
So tell me Dear Reader, which hot pot would you pick? Have you tried any of these hot pot restaurants?