Din Tai Fung's four day pop up at Sydney Tower Eye to celebrate Chinese New Year is located 250 metres above ground in Sydney's CBD. For four days their savoury and sweet steamed buns and lychee and mint slushie drink offer a repast for those sightseeing up in the tower. The most popular bites are the sweet lamb and goat buns in homage to 2015, the year of the goat/sheep.
The superstition goes that during Chinese New Year, the first day should begin with a feast not be made by your own hand because that would forecast a year of hard work. This means that come Chinese New Year, restaurants swell to capacity with the Chinese version of Christmas dinner eaten out. Friends and families gather together after the Reunion dinner (the night before) and much food is consumed.
It is the first day of Chinese New Year and I am at the top of Sydney Tower with my sometime vegetarian friend Laura. She is proudly holding her $10 dragon that she bought yesterday in Chinatown that we've nicknamed Super Dragon. As it's the first day of Chinese New Year the rules dictate that we must eat out so we are eating some steamed buns at the Din Tai Fung pop up store 250 metres above ground. To access the level, one needs to buy a ticket to the observation deck and take the 44 second or so ride up to the top.
For four days until Sunday the 22nd of February, people can order their special "lamb" and "goat" buns to celebrate the year of the sheep/goat. These buns are only available here or at Din Tai Fung restaurants but not at the takeaways. The most popular time to arrive is at 8pm to watch the sun set.
A small area has been cordoned off to eat the buns and they are sold by the piece rather than by the steamer lot. Alas dumplings and their famous xiao long bao and other dumplings aren't able to be cooked at this location due to regulations.
Pork and vegetarian buns $3 each, lychee and mint drink $6*
We start with the savoury steamed buns first. There are two flavours and the first is filled with pork mince and there's also a vegetarian version with greens, mushrooms, garlic and vermicelli noodles. Out of the two I actually prefer the vegetarian ones. The dumplings are washed down with Din Tai Fung's signature lychee mint slushie drink, a sweet but refreshing drink.
Black sesame buns $2 each
There are three types of sweet buns. First is a black sesame bun, all sweet nuttiness with a crunchy, slightly gritty filling from the ground black sesame seeds.
Lamb and goat Lunar buns $3.50 each
Then we break open the goat and lamb buns. Almost too cute to eat, they're filled with a mixture of smooth taro paste and chocolate. It's a surprisingly tasty combination and one that I wouldn't have imagined going together. The details like the horns, ears and eyes are well done.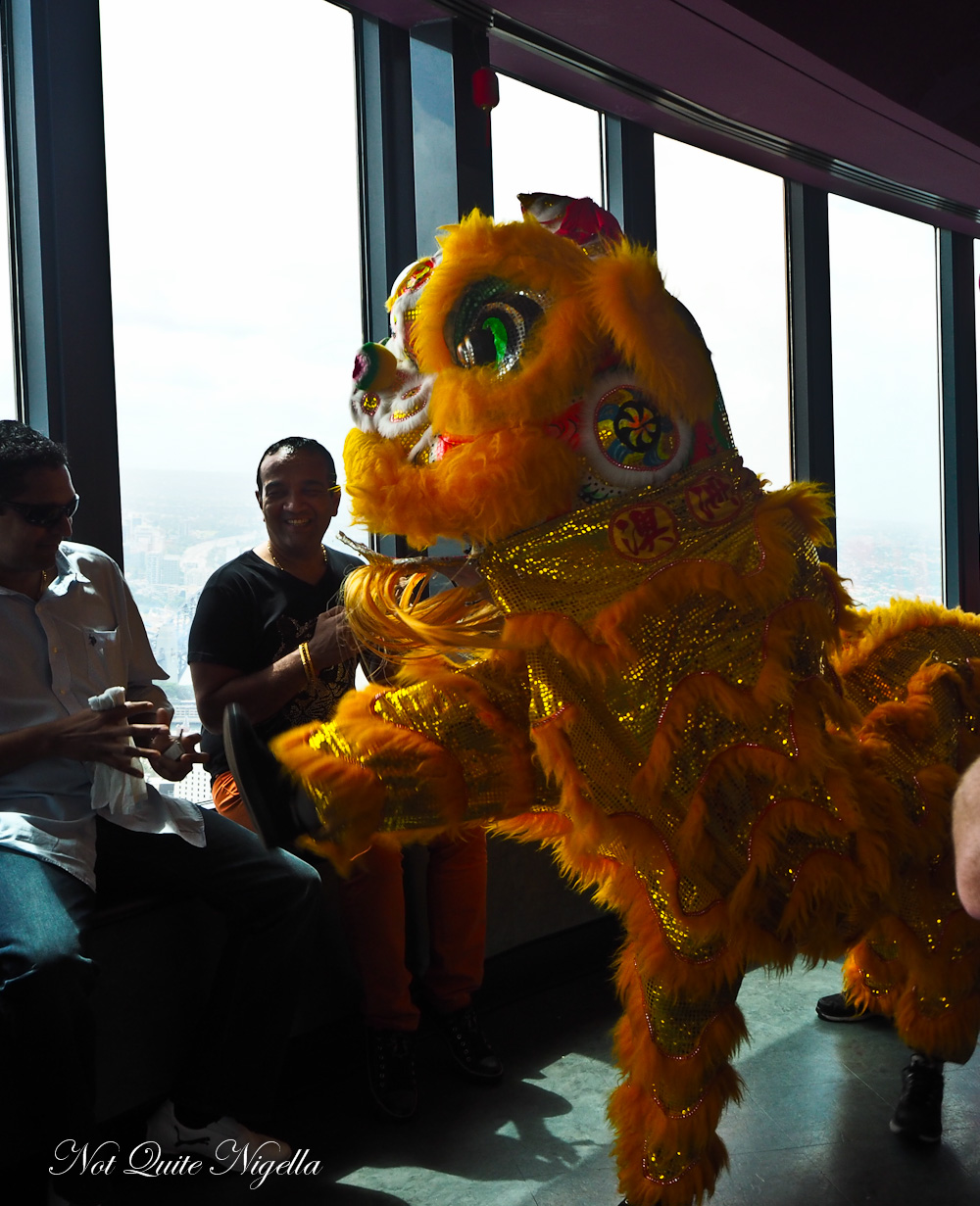 "Lion in the house!" Laura says excitedly and picks up her dragon. Between 2-2:30pm on these four days, there are Chinese Lion dances scheduled. The lion dances around the circumference of the observation deck three or four times, creating an almighty din.
The lion interacts with people, even swallowing up Laura's mini dragon. A small boy finishes off his bun and fortified, stands defiantly in front of the lion in a David and Goliath type of stand off. The lion retreats after a few rounds and yells out "Gong Hei Fat Choy!" and "Happy New Year!" to the waiting crowd.
So tell me Dear Reader, do you get scared of heights? And do you go and see the lion or dragon dances? Were you scared of them as a child? The noise really used to frighten me!
NQN tried the buns as a guest of Din Tai Fung
Din Tai Fung at Sydney Tower Eye
Level 5, corner of Pitt Street and Market Street
Thursday, 19 February – Sunday, 22 February 2015
Pop up restaurant: open daily from 11:30am-2pm and 5:30-8:30pm
Lion Dance performance: daily from 2-2:30pm
COST: Entry to Sydney Tower Eye is $26.50 for adults and $16 for children.