Ragazzi is a new Italian eatery on Angel Place. This tiny restaurant is a hot ticket and has a simple menu made up of snacks, pastas and gelato with a comprehensive wine list with 300 mostly Italian wines with quite a few by the glass. The name Ragazzi is a common Italian greeting used among friends.
Everyone seems to be having a Christmas party and as people that are self employed Ivy and I didn't want to miss out on the fun. The only problem with this last minute idea was that everywhere was booked up for Christmas. The only tables we could get are at 9pm early in the week or you end up compromising and going somewhere not as exciting.
Luckily there are restaurants that leave room for walk ins and if you get there early enough, a table can be had with a small wait. That's what we did with Ragazzi. It is located on Angel Place and is by the same people from Love, Tilly Devine and Dear Sainte Eloise. It is a tiny restaurant that seats 38 inside and 10 outside. We put our names down and they tell us that they'll call us in about 10-15 minutes. We go to have a drink and within 10 minutes they let us know that the table will be leaving in about 5 minutes.
We take a seat at a table outside and wrap blankets around us. It's a surprisingly cold day for summer at 21C (although it feels like 17C). Ivy orders a glass of rosé while I stick with water. My throat has been sore this week and I've got karaoke this weekend and I don't want to agitate it further.
Tuna Crudo, Buckwheat, pasta Fritta $8
Can two gals split a single snack? We are here to testify yes because we basically wanted a bit of everything but we didn't want to get too full. We start with the raw, chopped tuna with buckwheat on a square of fried pasta dough. It's crunchy, creamy and delicious. We immediately we want another.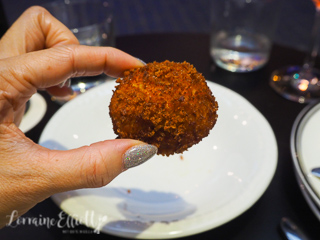 Taleggio and Nduja Croquette $5
One of my favourite bites is the taleggio and nduja croquette also with a pronounced amount of chilli spice via the nduja and oozy, cheesy melted goodness.
Lamb Tartare, anchovy cream, hazelnuts $18
The tables are small so they bring every dish out separately. The next dish is the lamb tartare with a flavoursome anchovy cream and hazelnuts on unsalted potato crisps.
Mafaldine, Blue Mackerel, fermented chilli $27
The first pasta to come out is the mafaldine or the long fluted ribbon pasta with blue mackerel and fermented chilli. This dish isn't for people that don't like strongly flavoured or "fishy" fish but we love both. The mafaldine is thin and curly and very al dente in texture and I wish we had ordered some bread for the sauce.
Rotolo of Goat, Roast Peppers, Stracciatella $29
The rotolo of goat comes out next and when they set it down we know we have ordered the right thing (also when we asked, they couldn't really point us towards any particular dish). The pasta dough encircles a filling of the softest slow cooked goat with roast peppers and herbs and on top are milky curds of stracciatella cheese. Even the smell of this drives us wild and I am chagrined by the fact that my photograph can't convey how divine this dish is.
Gem Lettuce, reggiano, radish $9
Ivy decided to order the gem lettuce to balance the rich food that we were ordering which is a good idea. It's refreshing with a nice simple vinaigrette dressing, shaving of radish and reggiano cheese.
Honey Panna Cotta, Rhubarb Granita $12
There's a range of 5 or 6 gelatoes and one dessert. The honey panna cotta is very strong in honey. It's a honey from Martin Boetz's farm in the Hawkesbury and is very intense with a slight bitter tail at the end. This is paired with a rhubarb granita with a splash of Campari to balance the panna cotta's sweetness.
Plum and Grappa $5
The plum and grappa gelato is tangy yet sweet and is best eaten before the sweeter panna cotta as Ivy finds it a bit too zingy after the honeyed sweetness. This is very refreshing, just what you want after a big rich meal!
So tell me Dear Reader, do you ever split really small snacks between friends or family to avoid getting too full? And have you had your work Christmas party yet and what did you do?
This meal was independently paid for.
Ragazzi Wine and Pasta
Shop 1/2-12 Angel Pl, Sydney NSW 2000 Monday to Friday 11am–12am
Saturday 3pm–12am
Sunday Closed
Phone: (02) 8964 3062
ragazziwineandpasta.com