A small but bustling dumpling bar serving hand made dumplings and noodles dishes with a bit of a twist, Missy K is located on Flinders Street in Paddington. It's just a few minutes' walk from the cricket grounds and football stadium. The Peking duck spring rolls, angel hair pasta with prawns, prawn dumplings and curry with beef curry are flavoursome and satisfying.
I can tell when Mr NQN is unwell. Sometimes, he falls victim to the manflu and it's all very dramatic with plenty of moaning and forlorn stares. There's the occasional dramatic cough and sigh (and Dear Reader I will admit that I do plenty of these too). But I know that he is really sick when he can't make a five minute drive to eat dumplings.
So it is just Belinda and I one Sunday night for dinner. I left Mr NQN with his own meal at home while we made the short drive to Missy K, a cute dumpling place in Paddington near the stadium and cricket ground. It is a place that we've driven past countless of times and always wondered about. A booking elsewhere didn't work out so we took our chances here where they don't take bookings. Fortunately, as we arrive at 6pm it is empty so nabbing a table is easy but it soon fills up.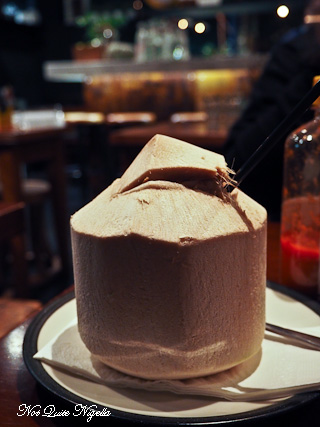 The atmosphere is welcoming and we take a look at the menu on one page with drinks on another two pages. I love coconut water and sometimes fresh coconut water varies in taste. This one is sweet, fresh and chilled.
Our first bites come out quickly and we shuffle things around to fit them on our small table. This is a last minute addition to our order by Belinda and I'm glad that we ordered them. Often spring rolls are filled with vegetables and not much meat but there's a good amount of Peking duck and they're packed with flavour. The chilli soy sauce is perfect for dipping and we could happily order a platter of these.
The dumplings are all made in house and when we first sat down we saw a woman making dumplings on another table (always a good sign). The prawn dumplings are more expensive than you might find at Chinatown yum cha but they're excellent and I like the little touches of toasted sesame seeds, spring onion and chilli oil. They're filled with juicy, perfectly cooked prawns.
Ever since I tried dry wontons at Hu Tong in Melbourne I've been looking for something similar here. Alas most of them seem to put peanut sauce which is just odd. As the menu said peanut oil I thought that these might be like the Hutong ones. No, it's peanut paste sauce. Neither of us go for these.
The sound of the garlic & black pepper tiger prawns stir fried with angel hair pasta sounded a bit more intriguing than the classic noodle dishes like Pad Thai. We're rewarded with a deliciously saucy angel hair pasta topped with three large prawns and a generous serve of tobiko roe. There's a bit too much onion in this but I'm quibbling as this is a satisfying dish with plenty of punch from the sauce and black pepper.
By now we're both really full but we can't help but try some of the dry spiced beef curry with plenty of soft pieces of beef and three pieces of freshly grilled buttery roti and a cucumber and onion relish. The curry is rich in spices and herbs and I can taste kaffir lime in this. The roti is flaky and moreish and the perfect foil to dunk in the creamy curry sauce. But try as we might we can't finish it. I send Mr NQN a pic of the lone piece of roti and curry that was really destined for him.
There's no dessert on the menu here but that's fine, no need to torture Mr NQN more with what he may have missed!
So tell me Dear Reader, if you are sick with the flu, do you go out to eat? Or do you stay at home in bed? Do you ever instagram pictures of your food or send them to friends and family?
This meal was independently paid for.
Missy K
Shop 1/160 Flinders St, Paddington NSW 2021
Tel:+61 (02) 9331 0064
http://www.missyk.com.au/
Open 7 nights 5.30 - 9.30pm