There's no trace of a Southern American lilt with pastry chef Jillian Butler's accent. The only way to know her roots is when you take a look at the display of cakes at Jillian's Cakery in Surry Hills. A colourful range of tall and proud layer cakes stands alongside Pecan Pie, Pumpkin Pie and Red Velvet Cake. The other clue is the warm Southern Hospitality.
Jillian's Cakery is on Reservoir Street in Surry Hills set amongst other cafes. The glass front window sits propped open and a wisp of fragrant steam blows out. It's the smell that first lured my friend Jaqi to Jillian's. Ironically it was a visit to her nearby dentist and she caught wind of the smell of cinnamon buns baking. Jillian was pulling out a special order batch of cinnamon buns. Jaqi took some pumpkin pie home and smitten, she brought me back with another friend Valentina in tow.
Jillian's father is from Connecticut but she has spent half her life in Dallas and the other half in Australia. In Dallas she worked as a pastry chef at the renowned Mansion on Turtle Creek (coincidentally, this is a restaurant that we visited on our road trip). Her bakery display - a pastry chef's arsenal not only has American favourites but also galettes, some devilishly good salted caramel popcorn, Scottish shortbread, galettes and a daily soup served with bread.
We take a seat on the banquette and order one of everything of the savouries. Because you know you should eat your veggies before cake because quite frankly, life is cake. Valentina says that she isn't hungry and our eyes widen. Never fear, her husband Peter calls from nearby. He hasn't been picked for jury duty so he joins with his appetite!
There are two types of galette, a bacon and cheese galette and a parmesan cheese, pesto and tomato galette. Both are made using a sour cream and garlic pastry which is delicious and adds much flavour to the filling. My favourite out of the two is the bacon one because of the added boost of flavour. They use streaky bacon from the USA.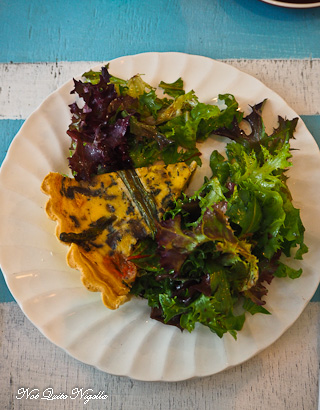 The quiche is a mushroom, asparagus and tomato quiche that is creamy and delicious and not watery like some can be if the egg is overcooked. It is served with a simple dressed green salad and for $7 it represents great value.
A few minutes later the soup arrives with bread baked fresh from the oven. It is a tomato and basil soup and it goes perfectly with the soft, downy and warm black olive bread. The soup changes daily but it is always served with this black olive bread.
But then it comes time for the cakes. We ask about the most popular ones and Jillian recommends the pecan pie, pumpkin pie and the tres leches cake. For good measure we also order a slice of the red velvet (okay that was me, I'm obsessed with red velvet).
The tres leches cake, originally said to be from South America is a slightly different version to the one I've had at South American restaurants and homes. The American version is a denser cake as opposed to the South American one which is a very light sponge. It's a good cake but I do slightly prefer the South American sponge version. The pumpkin pie from her Aunt Glo (short for Gloria) has a good thin crust and an aromatic range of spices with sweet pumpkin filling and Jillian serves this with some chantilly cream.
The red velvet cake is a moist three layer cake with a vanilla buttercream frosting and it her second version of the cake after having some issues with the first. It's a nice version of the classic Southern cake and the frosting is slightly different from the cream cheese frosting that you normally associate with red velvet cake. But it's the pecan pie served warm with a scoop of vanilla ice cream that has us all swooning. It is Jillian's mother in law Shirley B's recipe. Shirley grew up with a pecan tree in the backyard. There are plenty of pecans that give the pie crunch but it's the sticky toffee filling and the melding of this with the river of melted vanilla ice cream that conspires to make us go back again and again for a forkful.
And lovely Jaqi hands around a brown paper bag to take home. She has bought us all cinnamon buns! I feel the soft buns in the bag. They're gratifyingly warm and pillow soft. At home I sink my teeth into them and they have just the right amount of sweetness and cinnamon combined with a downy bite.
So tell me Dear Reader, have you ever tried Southern American pies and cakes before? Do you have a favourite? Do you eat cake plain, with cream or with ice cream?
This meal was independently paid for.
Jillian's Cakery
1/242 Elizabeth St, Surry Hills NSW 2010
Phone:(02) 9212 4253
Mon-Wed 7.30am - 4pm
Thu-Fri 7.30am - 7pm (summer hours)
Sat 8.30am - 1pm
http://jillianscakery.com.au/