When travelling as a couple, Mr NQN is a most agreeable companion. Especially when it comes to being schlepped around the place and visiting food establishment after establishment. There's nary a protest as he knows that I do it for a job and it's not a terrible thing to come along for the ride. But occasionally he will ask if we can do something.
And visiting the North Shore of Oahu for their amazing surf was one of them. For me however, I was more than happy to visit because the North Shore is littered with lots of shrimp trucks that dish up plate after plate of buttery garlic shrimp or prawns.
About an hour away from where most of the hotels are located, we took the advice of locals and went on a week day. This turned out to be fortuitous advice as gridlock can set in in a city as populated as Honolulu and entire highways can stand still. Not so, this Friday and before we knew it, we had hit Haleiwa in the North Shore. It's fairly busy with tourists and locals watching the international surfing competition. We sit and watch.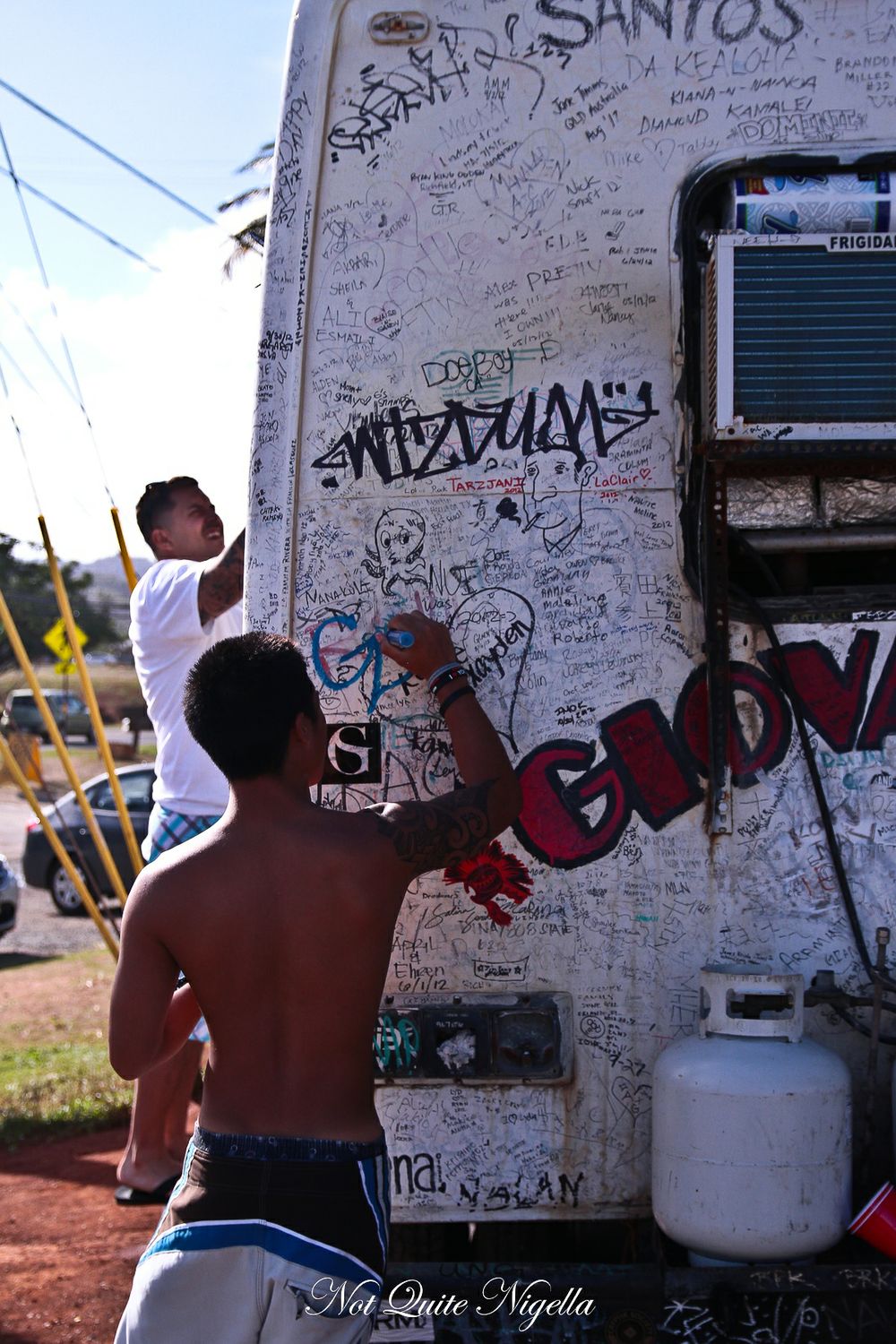 My mind wanders to shrimp and the shrimp trucks and once Mr NQN's surfing call is sated, we drive around to Kahuku where the more established shrimp trucks park. We pass several and some have a few customers, others more. The most popular is Giovanni's Shrimp Truck and the signature scrawled writing on it. While we are watching, two people borrow markers and scribble their signatures. It's only later that we realise that there was a Giovanni's at Haleiwa but this is the original location.
Giovanni's shrimp truck started operating in 1953 and its popularity is obvious from the moment we pull up. The lines are enormous and they have bought the land on which the truck operates building a pavilion for diners to eat under. There are also a multitude of little stalls selling trinkets and interesting items like funnel cake (a batter that is squirted into hot oil through a funnel), mahi mahi chicken, Korean food, BBQ corn and plate lunches.
There are sinks with soap to wash your hands and even the facilities have toilet seats that have been graffitied. I stand in line and order a plate of their most popular dish - butter and garlic shrimp. Their second offering of the hot and spicy shrimp comes with an ominous warning "Very hot: no refunds!"
It takes a while as everything is cooked to order in the tiny caravan but about fifteen minutes later, a plate of a dozen garlic butter shrimp and two scoops of rice is passed to me. Complimentary hot sauce is also available and the plate sits atop another plate for the shells and a thick sheaf of napkins and two forks.
Giovanni's butter garlic shrimp $13
The shrimp here is $13 including tax and they're large and like prawns to me (although I will wonder about this at our next stop where they also sell prawns as well as shrimp). The prawns come headless with the shell on with a good amount of garlic to them with two scoops of soft garlic rice which has large pieces of garlic. The prawns are cooked well and I eat them shell and all but Nr NQN sucks the garlic sauce off his and then peels them. They're oh so very good, with a resounding hit of garlic but it is worth warding off any kissing partners (especially when your kissing partner has the same garlicky breath).
Like all shrimp trucks, it is cash only and at Giovanni's you can get half serves. Drinks are $1 each and we are tempted to try a shaved ice at a nearby stall (I have a serious love for shaved ice topped with condensed milk!) but we decide to try another shrimp truck.
We passed Romy's which we wanted to try as they have a shrimp farm just next to the stand. Their Japanese signage means that it was well patronised by Japanese visitors and there is a group who have cleverly brought a case of cold beer to have with their prawns.
They are the only place to have a prawn farm and their menu states that you either get a serve of eight shrimp or three to five prawns so the prawns sound bigger in size. These shrimp look like tiger prawns to me in terms of colour and thickness of the shell.
Romy's garlic butter prawns $13.75
The prawns are cut down the back, just like Giovanni's but there's a stronger garlic smell and immediately remind me of stir fried prawns that you would get in a Chinese restaurant compared to Giovanni's butter and garlic sauce that reminded me of garlic bread. Stop me if I'm not making sense ;) In fact, the garlic was a tad overcooked so some of it was quite bitter and the rice was less wet and not garlic rice like at Giovanni's rice. Rather than being served as two scoops, it was served as a layer on the bottom. There are no half serves and drinks are $2.50 each here but apart from prawns and shrimp, they're also known for their sunfish.
The drive back to the Hilton Hawaiian Village hotel is sublime, full of lush greenery and whilst it's long it's worth every minute of view (just ignore the powerlines ;) ). I turn to Mr NQN and ask him if he enjoyed his day and he smiles and tell me that it was one of his favourite days.
Just earlier that day, Mr NQN and I had flown with Hawaiian Airlines from Maui to Honolulu armed with snacks including a SPAM musubi for the short 20 minute flight. This is SPAM sushi aka a piece of cooked SPAM brushed with a teriyaki style sauce on a mound of sushi rice and finished with seaweed. It was actually quite tasty-not unlike teriyaki pork on rice. For dessert, there was a two piece mac nut crunch.
We had checked into our home for the next five nights, the Hilton Hawaiian Village. The resort sits on an enormous 22 acres in Waikiki right along the beach. The drive from the airport to the Hilton is easy enough and well signposted and by now, Mr NQN has got his sea legs by driving in the lesser populated Maui. Whilst the island of Oahu is smaller than Maui, we would definitely recommend hiring a car-it's roughly $45 a day and you can easily reach scenic areas like the North Shore.
The Hilton hotel chain has been on Honolulu for fifty years and has a small village feel to it with ninety shops and services downstairs at the bottom of the hotel in a pretty little village setting. Guests can shop and eat and charge things back to their room without taking the trip to downtown. Scenes from Hawaii 5-0 have featured the village and the hotel as the Hilton is a partner of the television series - we note that there are even car spots in the car park reserved for Hawaii 5-0. Internet in the lobby is free and the daily resort charge of $25 includes wireless internet, Playstation 3 with unlimited games and movies, cultural activities and free local calls.
We check in and our room is in the newly renovated Rainbow Tower which is an ocean front tower. Our room, #1801 on the 18th floor is a King Corner Ocean View room with incredible views of the Pacific Ocean, Waikiki Beach and Diamond Head and looking down we see Duke Kahanamoku lagoon, named after the Hawaiian that was credited with spreading the word of the sport of surfing. In fact all I see is blue outside and I step outside onto both the curved balconies and breathe in the smell. I'd imagine that because there is a lot of activity in the hotel (with over 2,000 rooms in several towers), you would want to be as high as possible to insulate against noise.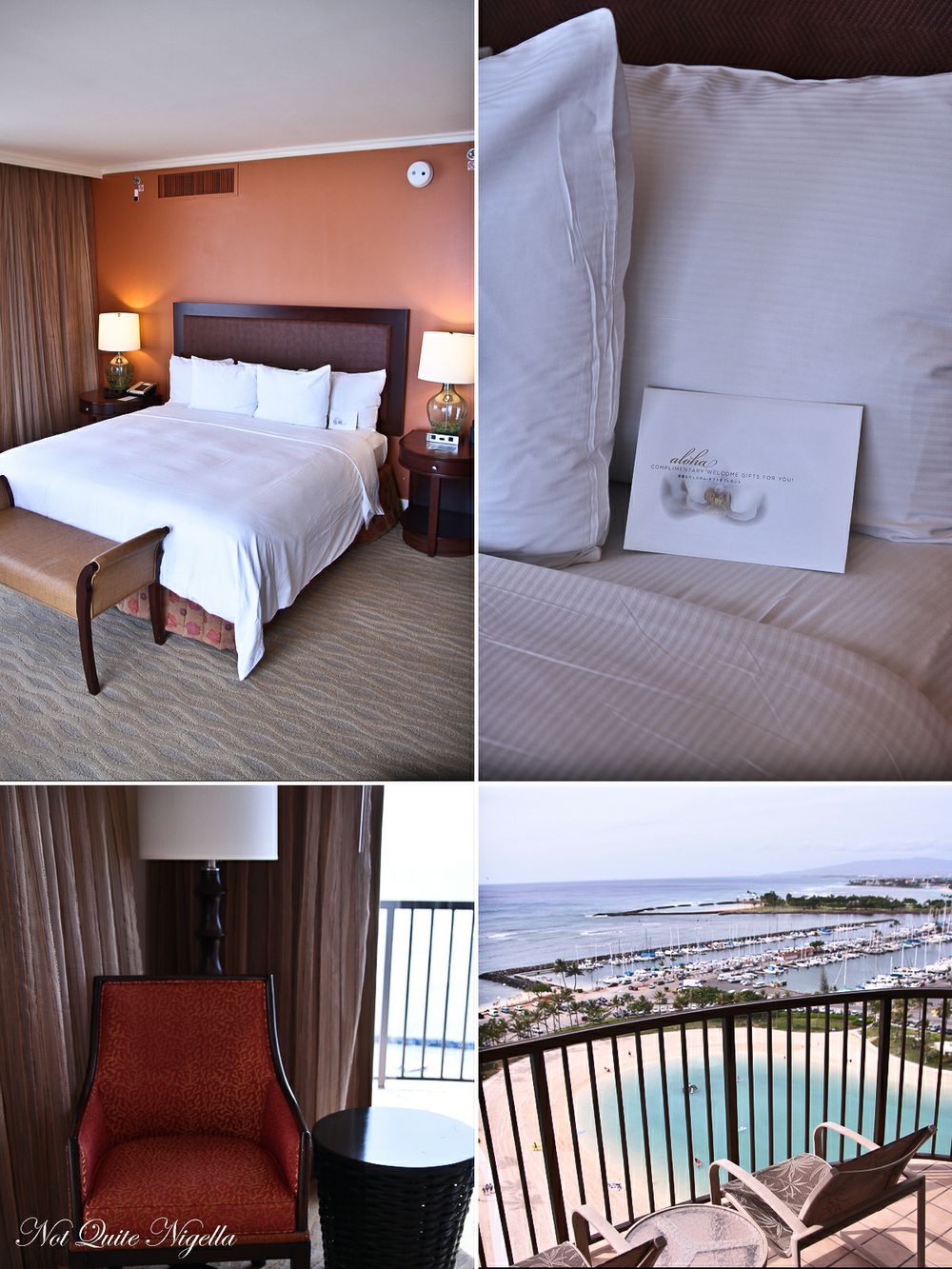 But as a hotel enthusiast, I've got to explore the room. The carpet is plush (a difference to the Maui hotels, where the flooring was woven matting) and the furnishings are modern, Hawaiian themed and new. The king sized bed is the Hilton Serenity bed with comfortable feather pillows and a duvet. There's a Hiton alarm clock and MP3 player and a large 37 inch television.
The bathroom has a bath shower combo and the bath is a smaller three quarter sized bath. The toiletries are by Peter Thomas Roth and include shampoo, conditioner, a facial soap, a massage soap bar, body lotion and a shower cap. Mini bars don't seem to be a Hawaiian thing and there is a bar fridge but it is empty. There are ceramic mugs for tea and coffee and there's plenty of both in supply although I buy some milk downstairs as I haven't gotten quite accustomed to half and half and non dairy creamer.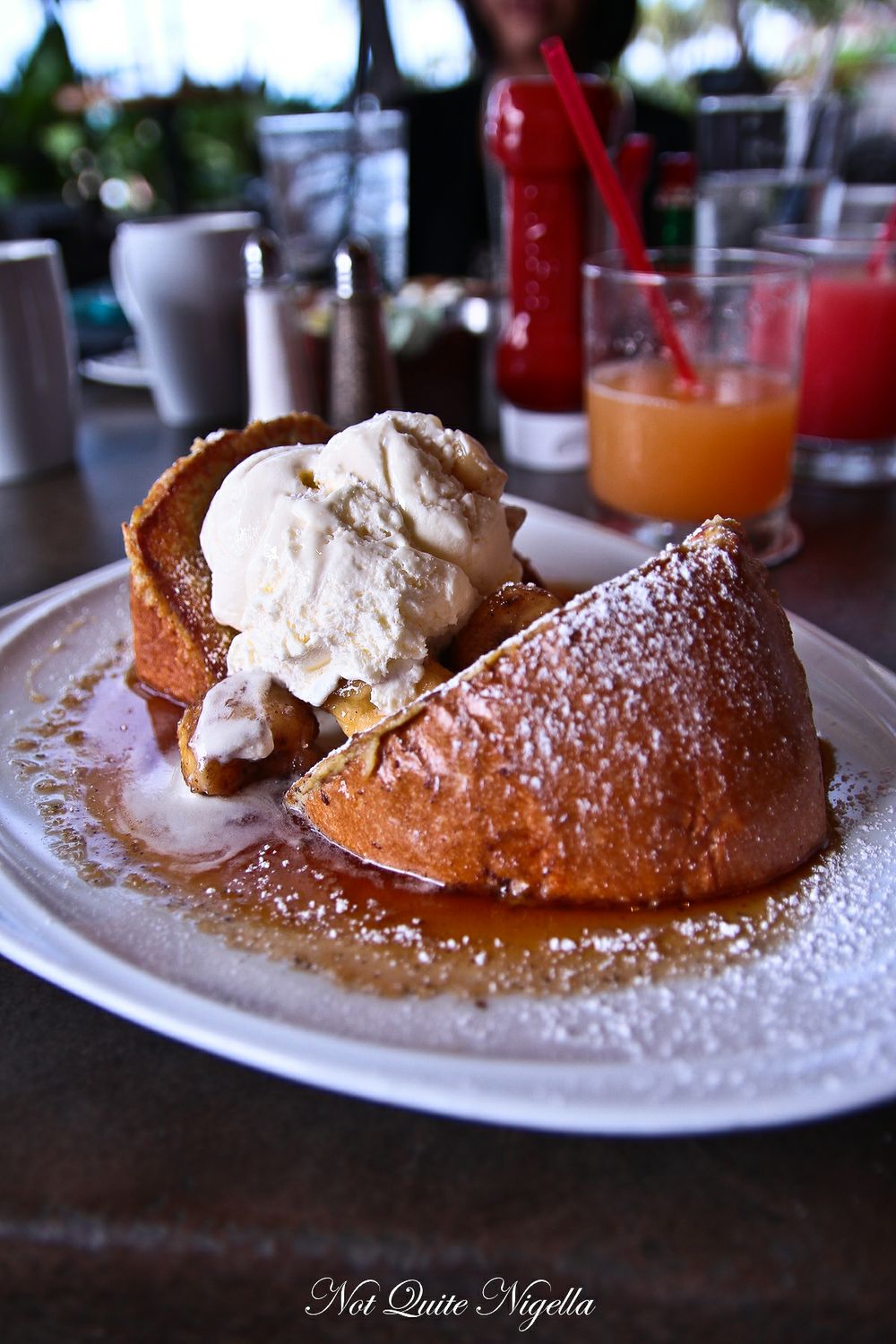 Hawaiian Bananas Foster French Toast $15.25USD
And what is breakfast like? Mr NQN's eyes widen. In front of him is a plate of the most enormous French toast that he has ever seen. It's practically a loaf of bread, dipped in egg and smothered with Hawaiian brown sugar caramel sauce. The Portuguese loaf lends itself well to French toast and it is very hard to resist the flambeed buttery caramelised banana and macadamia nut ice cream replete with crunchy macadamia pieces. It's about two meal's worth on one plate.
Hawaiian Loco Moco $19.75USD
My breakfast the next day is one of the other most popular dishes and is a traditional Hawaiian dish. On the bottom is a layer of steamed rice, on top of this is a hamburger patty and then two eggs, sunny side up or however you'd like. Around this is a mushroom based gravy. They tell us that it is very popular with Japanese women, some so tiny but they finish every drop and it reminds me of the hamburg which is a bun less hamburger that you can find in Japan, down to the brown sauce.
Papaya salad
The papaya in Hawaii is excellent, not stringy and sweet and with a less strong smell than some that you can get with other papaya. It is served with crisp, sweet grapes and half a strawberry.
Off the pier, there are various boat expeditions and that morning, we try out the Atlantis Submarine that leaves from the Hilton's pier. Now, there's a reason why I haven't been on a cruise-I'm a bit terrified of open water, so the idea of going out into open water and getting into a submarine, well I'm excited but a little bit nervous never having been in a submarine before.
The first boat goes out and we watch a safety demonstration video before the nine minute ride to the submarine finishes. Going up to the covered top deck means getting great photos not only of the people surfing along the way but also the submarine breaching the water.
Climbing on is easy. We're doing the premium submarine tour which means that you get a larger submarine. It's a popular tour so every seat is taken and the friendly crew speak English and fluent Japanese. Everyone gets a window seat with two rows with their backs facing each other looking out to the port holes. We pass a few varieties of fish swimming in schools and a large silver trevally which they tell us scares not only the little fish but can fight off sharks.
There are racks donated by Asahi which are usually used to make nori seaweed although the water is too warm to make nori. Plane and ship wrecks house much of the fish life in this man made reef and the submarine can go down to 100 feet and travel at a rate of 2.5 knots. You don't tend to feel pressure as it is like being in a plane but the initial boat ride might make those prone to seasickness feel it (we both did). We're down for about 45 minutes in total and halfway through, the submarine turns around to switch views.
We made sure that we were well prepared with Dramamine for that evening's Spirit of Aloha sunset cruise with Hawaii Nautical which also leaves from the Hilton's pier. We remove our shoes and step out onto the catamaran and the friendly crew of three take the boat out.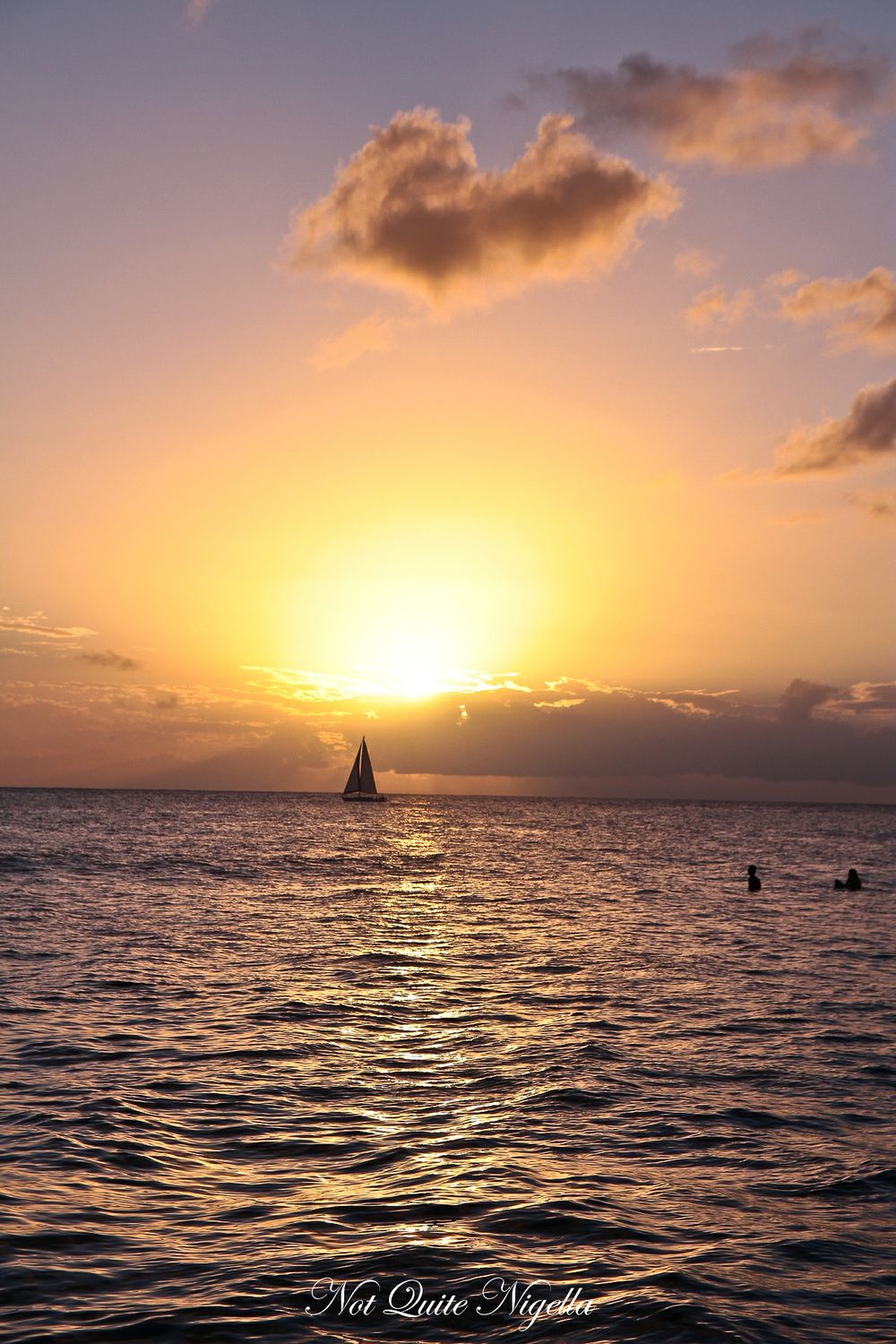 The views are incredible and it's a wonderful way to spend the evening just looking at the sun set while drinking in the colours and cloud patterns and watching the last of the surfers catch their waves. The breeze is cool and because I've taken seasickness medication, I'm able to really enjoy it but I do feel for a couple of other passengers who are a little green around the gills.
There is also food available including saucy chicken wings, meatballs with a marinara sauce, crudites with ranch dip as well as chips, goldfish crackers and Chex mix. The cruise comes with two free alcoholic drink tokens and non alcoholic drinks are complimentary.
If you want extra alcoholic drinks, they come at $2 each which makes this the cheapest bar on the island. The crew make sure everyone is happy and has a drink throughout the cruise. I look up at Mr NQN who is silent but happy drinking in the views and sitting back. "It has been a good day" he says.
So tell me Dear Reader, when you travel do you mostly do things that you want to do or what your partner wants to do? And do you get seasick easily?
NQN travelled to Hawaii as a guest of Hawaii Tourism and Hawaiian Airlines. The Shrimp Truck meals were independently paid for.
Giovanni's Shrimp Truck
56-505 Kamehameha Highway Kahuku, HI 96731
(808) 293-1839
Hilton Hawaiian Village
2005 Kalia Road Honolulu, HI 96815
(808) 949-4321
Altantis Submarines
www.atlantisadventures.com/
Spirit of Aloha Catamaran Hilton Sunset Cocktails
http://www.hiltonhawaiianvillage.com/beachandpools/water_activities.cfm#spirit