This summery jam combination is a gorgeous, dizzying mix of watermelon, strawberries and rosewater. The fruit is kept in chunks and it is suspended in a thick syrup and the flavours of each element come through beautifully. This jam is perfect on scones or bread but also suits spooning over yogurt or ice cream. Anywhere in fact and even straight from the jar if you dare!
Dear Reader, this week has been a bit of a challenging week at the House of Elliott wrought with sniffles, coughs, aches and moans. Usually the week before I go away things are chaotic as I try and cook as many things as possible but this week has had double the pressure as we've both been hit with whatever has nipped a lot of people this winter. It is a particularly nasty virus that lays people low for a long time. I was down first and then a few days later Mr NQN returned from the Blue Mountains with pictures of snow and the same thing.
I'm usually ok after maybe one day off but I had four days in bed and things still aren't quite right. In fact if there was a demand for human mucus let me just say that I could make a fortune. Unfortunately there aren't any takers for that (although it does make me wonder, there must be people out there with a mucus fetish no?). Best not google that...
Sorry, that was a bit gross wasn't it? Let me change the subject onto something pretty. Something positively SUMMERY. This watermelon, strawberry and rose jam. I was inspired to make this combination by the watermelon cake at Black Star Pastry. I recently met the chefs and they invited me to come and watch them make their famous watermelon cake which was an exciting honour. For those of you that haven't eaten it, it's layers of almond dacquoise, fresh watermelon, strawberries, cream, pistachios and rose petals and it is the lightest, prettiest cake you can imagine. Alas the first date fell through as I was comatose in bed but the next date is set.
It's a beautiful combination of flavours. I'd normally wait for summer to make this but I saw some watermelon at the markets at a great price as well as strawberries also going cheap. I'm not sure how and why the market prices work but not wanting to look a gift horse in the mouth I quickly snatched up a big wedge of watermelon and two punnets of strawberries for this jam. Because the cake works so perfectly I had an inkling that this jam would be delightful but I didn't realise just how delightful it would be. And if you happen to be in the Northern Hemisphere enjoying summer then this is absolutely the time to make this if the combination arouses your curiosity!
I kept the watermelon as chunks and the strawberries halved although you can always blitz it up. I also added natural pectin from lemon skins and seeds. It gave it a nice slightly gelling consistency without setting it hard (a preference of mine but feel free to use powdered pectin if you like it more solid). The applications for this jam are endless and this is a pushy recipe if you love gorgeous full fruit jams in fabulous flavour combinations. It's beautiful spooned onto scones, on a slice of bread or spooned on top of yogurt or ice cream. It also doubles as a mood brightener dare I say because there's no way that you can eat a spoon of this heavenly concoction and not smile. Through mucus and coughing ;)
So tell me Dear Reader, have you been hit by the flu this season? And have you ever tried this combination before? What did you think? And do you prefer loose or hard set jams or jellies?
DID YOU MAKE THIS RECIPE? Share your creations by tagging @notquitenigella on Instagram with the hashtag #notquitenigella
Watermelon, Strawberry & Rose Jam
An Original Recipe by Lorraine Elliott/Not Quite Nigella
Preparation time: 10 minutes plus steeping overnight
Cooking time: 1 hour 20 minutes
600g/21.2ozs. watermelon, chopped into cubes
400g/14.13ozs. strawberries, calyx removed and sliced in half
750g/26.5ozs. white sugar
Juice, seeds and zest of 2 lemons*
Rosewater to taste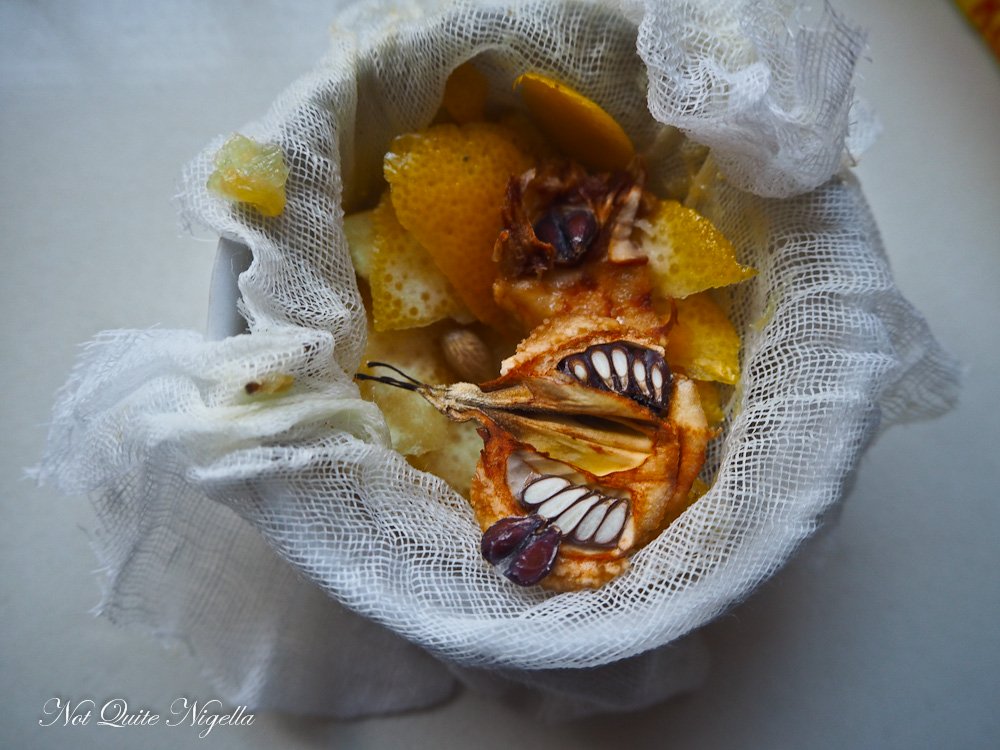 *Try and find home grown lemons if you can (I don't mean trespass in strangers' gardens, more ask friends). I find a lot of commercial lemons now don't have many seeds and the seeds (and zest) they provide a lot of natural pectin. My mother's friends give her lemons which she passes onto me and there are at least a dozen seeds in each lemon which makes for a great source of pectin. I even threw in a quince core from a quince I was using in another recipe. Otherwise you can use pectin powder to set the jam.
Step 1 - Place the watermelon and strawberries in a large glass bowl and toss in the sugar. Cover with cling film and refrigerate overnight.
Step 2 - The next day place the fruit and sugar in a heavy bottomed large saucepan and bring to a boil along with the lemon juice. Place the lemon zest strips and the seeds in a muslin square and tie up with kitchen string and place the pouch in the saucepan. Simmer away for 45 minutes with the lid on slightly ajar and then after that remove the lid and simmer for another 35-45 minutes or so. It's not an exact time as the fruit and pectin will tell you when it is ready.
Step 3 - Meanwhile place a ceramic plate in the freezer and sterilise the jars (bake the jars and lids in a 180C/350F oven for 10 minutes making sure that there is no rubber seal on the lids). I like to gently push down and around the muslin bag in the jam to make sure that the pectin is extracted from the little pouch. Add the rosewater to taste towards the end.
Step 4 - The jam is ready when you put a small teaspoon of the liquid on the chilled plate and then draw a line through it. If the part line holds steady then it is ready. While the jam and the jars are hot, remove the pouch and ladle the jam into the jars carefully (I might sound like your mum but both are hot and I don't want you to burn yourself). Then screw the jars tight while wearing gloves (I use washing up gloves to give me a bit more dexterity) and place upside down on a tray for 10 minutes. Turn upright and you should have a seal. Allow to cool completely. Serve this anywhere and everywhere!