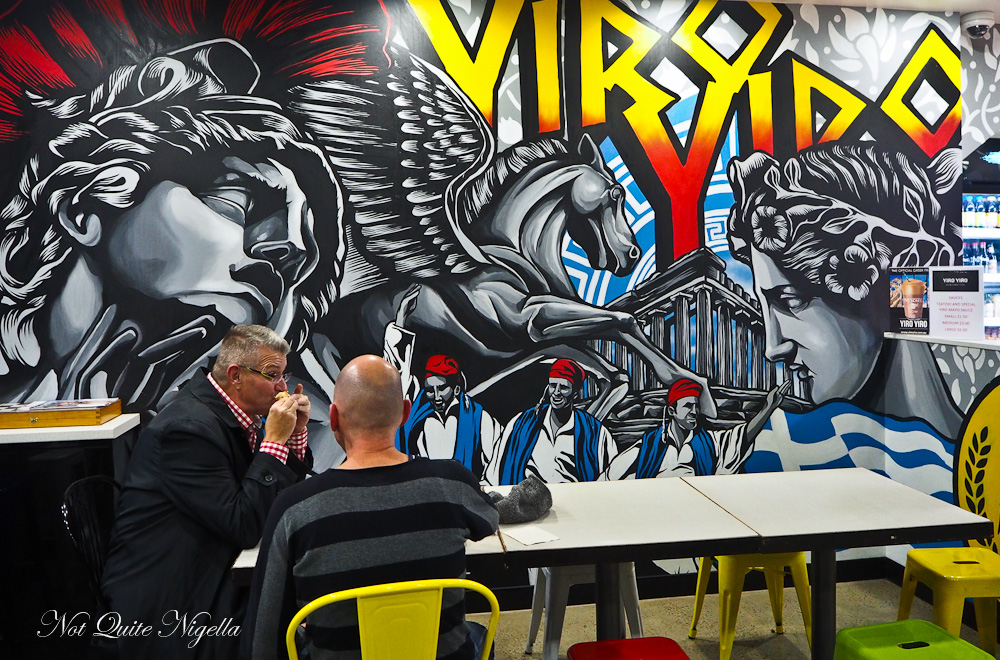 In the heart of Belmore on Burwood Road is Yiro Yiro, a Greek yiro/yeeros and souvlaki eatery that serves up generous portions of pita stuffed with pork, lamb, chicken, sausage and beefteki with salad and chips. The menu also features fried halloumi, dips, salads, rice pudding as well as fries topped with finely crumbled feta.
"Do you even know where you're going?" Mr NQN said to me, his brow furrowing tightly, concerned etched on his face.
"Oh it's fine I'll just put it in the GPS. It's somewhere out there..." I said gesturing wildly at the western side of well, Sydney. I was in too much of a hurry to look up the route and besides which isn't that what GPSs are for? I figure it will take me about half an hour to get there which is because I imagined Belmore to be sort of near Marrickville.
Which of course it isn't. I look at the GPS puzzled while trying to keep an eye on the road as it takes me towards the airport and into gridlock. The 5:30pm meeting with the lovely and understanding Amy slowly morphs into 6pm and it's times like this that I really had listened to Mr NQN (shhh don't tell him he was right). "Lakemba? Geez I was way off!" I mutter to myself when I finally arrive frazzle and embarrassed at my tardiness.
Located on Burwood Road in Belmore Yiro Yiro is a Greek yiro or yeeros place that offers a simple but enticing menu. There is souvlaki or yiro either on a plate or in a pita. Accompanying these are salads, halloumi, dips and chips. Chips with feta to be precise.
Service is very friendly from the smiling woman behind the counter and she lets us know that the plate that we're ordering already has chips so we don't need to order extra (it is always nice when they tell you these things to avoid doubling up) and she also lets us know that we can have feta on our chips too. We are given a receipt with our number and take a seat. There's a sink nearby and hand wipes (I'm guessing things can get messy) and our order comes out.
Pork Souvlaki Pita $9
First is the pork souvlaki pita. They tell us that lamb and pork are the two most popular meats here (there's also chicken and bifteki which is seasoned beef with breadcrumbs). The tender pork pieces are wrapped up in a warm, soft pita bread and there's chips wedged in there alongside salad and red onion and sauce. It's soft, saucy and delicious and hits the spot very nicely.
Halloumi $9
The halloumi is all squeaky goodness with a layer of olive oil, dried oregano and a wedge of lemon. I'm trying to think of anyone that doesn't love this cheese and I can't think of one single person. Are you out there? Anyone?
Lamb Yiro Plate $17
Our lamb yiro plate arrives and it is piled high with goodies. First there are the chips. At first they had come without feta but this is quickly rectified with a generous blanketing of crumbled feta for $2 extra. The seasoning is moreish and the feta is a salty, rich seasoning for the chips not unlike salt. The serve of lamb is a generous pile on a warm pita bread cut into fours and there's a tomato, capsicum and onion salad and a thick and creamy cucumber and yogurt dip. It's almost impossible to make a dent into this although we try our best as it is very good. Amy ends up taking most of this away with her.
They bring by some wrapped sweets or Tilihto to make up for the feta mix up (it wasn't a big deal for us but it's a nice gesture) and they're wrapped in blue and white. Looking up at the wall we're knee deep in the Bulldogs football team territory with signatures from players and photos on the wall. Inside the foil is a egg shaped sponge cake soaked in almond syrup and coated in chocolate.
On our way out I spot the dips-tarama which I am a fiend for and another dip. I buy them to take them home to Mr NQN who is feeling poorly. The tarama is full of flavour and creamy while the feta chilli dip gives a real tingle and saltiness! He even forgot to roll his eyes as my driving as he was distracted by the dips ;)
So tell me Dear Reader, do you ever just not know where you are going? Do you use a GPS much to get around? And chips with feta-yay or nay?
This meal was independently paid for.
Yiro Yiro
374 Burwood Rd, Belmore NSW 2192
Phone:(02) 8084 1874
Open Sunday to Friday 10am-10pm, Saturday 10am-11pm
http://www.yiroyiro.com.au/