Kouzina Greco is a Greek restaurant in Parramatta. They serve Greek classics done well like fresh figs and grilled halloumi and prawn saganaki. The star of the show is Kleftiko, a divine 4 hour slow cooked lamb shoulder served with lemon potatoes.
It was a perfect day for a trip to Parramatta. Not only was it Valentine's Day it was a beautiful 24C with a light breeze. A few weeks prior Mr NQN had nervously asked me, "Do you mind if I do a wind foiling regatta? It's on February 14th...". But that was no problem as I was celebrating Galentine's Day with Laura, the third member of our non-sexual throuple.
It's busy on this Valentine's Day and with no set menu there's a good mix of people at the restaurant from couples to groups. Service is very friendly and we are seated in the large outside area. The wine list is mostly Australian with a few Greek selections. The owners are couple Peter and Alana laliotitis who have been running the restaurant since 2000. Alana's family has been in the restaurant business since 1984 with restaurants Aphrodite and Adonis.
Taramasalata cod roe dip $8 and marinated anchovies $9
There are some very tempting options, somewhat limited by the fact that a) Laura and I have already had a big lunch and b) she doesn't eat red meat. This actually helps us narrow down what we want to eat on the menu. We both adore taramasalata, the pink cod roe dip. It's creamy and delicious although it would probably be one of the least salty taramasalatas that we've eaten.
"I LOVE that they have marinated anchovies as a side," says Laura before adding it to our order. And do you know what? They're delicious especially with the tarama as it adds a bit of saltiness.
Fresh Figs and Grilled Halloumi $24
It's fig season and it's hard to resist the fresh figs split in half and served with grilled Cypriot halloumi with a fig glaze and olive oil. I would have loved a bit more fig glaze or sweetness but this is a nice dish.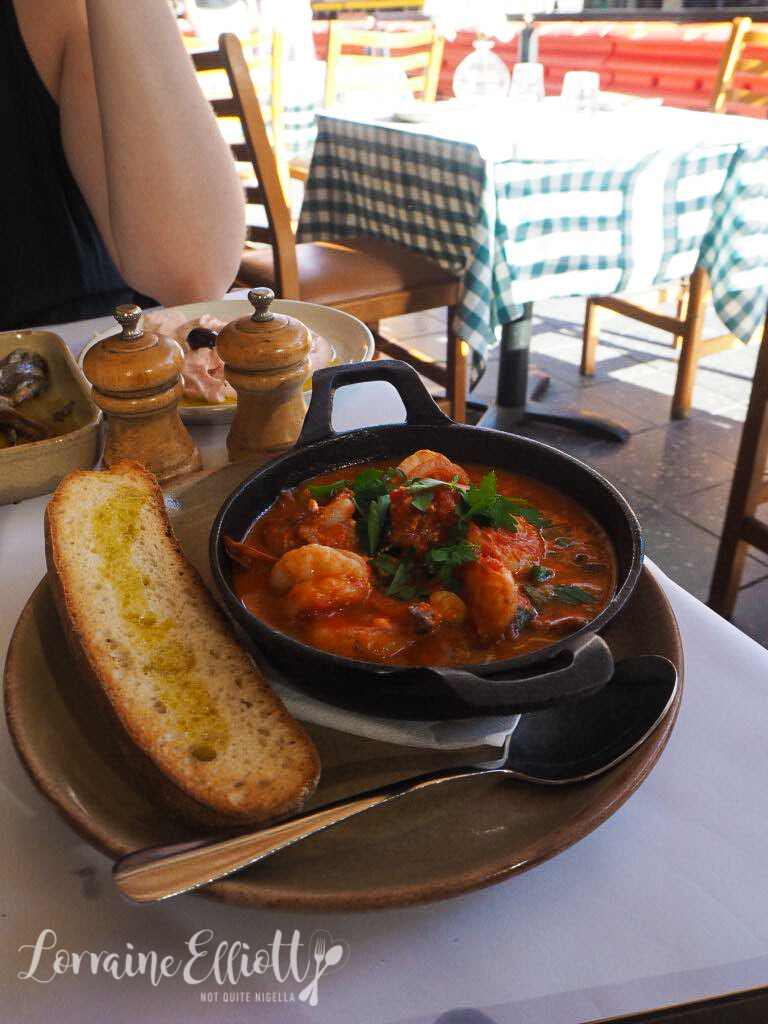 Prawn Saganaki $25
The prawn saganaki has a generous amount of prawns in a white wine and tomato sauce with crumbled feta and shallots. It comes with a slice of delicious house made toasted bread brushed with olive oil which is perfect for dipping into the sauce. I add a little salt to it.
Kleftiko $42
One of my favourite dishes and the Kouzina Greco's signature dish is the Kleftiko or 4 hour oven roasted Riverina lamb shoulder with lemon potatoes. It has the texture of butter and my favourite part is the skin on top which is beautifully crispy and luscious. I make myself a little sandwich with it using the pita bread and a dab of taramasalata. The lemon potatoes have a wonderful texture with a lovely hit of lemon to them.
Bougatsa $15
I adore Greek desserts so it's hard to choose between the bougatsa, baklava cigars or the orange filo syrup cake but the bougatsa wins in the end. It's a baked semolina custard flavoured with orange blossom wrapped in filo and served with vanilla bean ice cream.
So tell me Dear Reader, do you enjoy Greek desserts and do you have a favourite? And do you like Greek style lamb?
This meal was independently paid for. Parramatta Council asked me to make some Instagram reels of restaurants in Parramatta. I paid for all my meals and I enjoyed the food here so I decided to do a blog post on it.
Kouzina Greco
16 Phillip St, Parramatta NSW 2150
Tuesday to Friday 12–3pm, 5:30–10pm
Saturday 5:30–10pm
Sunday & Monday closed
Phone: (02) 9687 3669