Lil Eets is a private chef and dining experience in your own home. Chef Lil Kaskoutas creates wonderful 5 course menus to suit you and your guests whether it be a banquet inspired by her Greek roots or a Chinese banquet inspired by her time working at Queen Chow and Lotus 2.0. All of the cooking and serving is taken care of. So what is a private chef experience like?
"I just want to feed people in an intimate setting. It's a social thing for me it's not just work, it's an outlet for me to creative have fun and express my roots," says Lil Kaskoutas adding, "I like the feeling I get when I do this. After spending a couple of years working in commercial kitchens I figured out quick smart that working in restaurants wasn't where I wanted to be. Unfortunately, my very short attention span, love of chitchat and socialising has never done me any favours at work. I always knew that it was hosting and catering intimate events was my calling."
Lil grew up with a strong family influence. Her Yiayia Lilly was an excellent dessert maker and makes the desserts for her learning them from Lil's great grandfather Elias who was a pastry chef in Egypt in the 30s and 40's. In the 50s he brought his skills over to Sydney and opened his own patisserie on Bondi Road. Her Papou Platon is more a savoury cook who has an abundant garden. "They both shared a passion for entertaining and loved to host large groups of people where they would share food, stories and listen to Greek music," says Lil.
Lil's menus are influenced by her work and travels and a recent trip to Spain gave her inspiration to design a menu for a pop up dinner at PS40. She also works at Queen Chow as an apprentice so she is able to tap into Asian cuisine easily and also offers Asian banquets. "I grew up in Bardwell Park with my Yiayia and Papou living on the street parallel from mine. Growing up in Earlwood and going to school in Hurstville meant that I was lucky enough to be exposed to many different cultures and cuisines other than just my own. These areas are rich in diversity and culture with Italians, Vietnamese, Lebanese, Croatians, Chinese, just to name a few. I was so lucky that my family always loved experiencing the food available from these other cultures. My favourite was always Vietnamese, starting with the humble rice paper roll when I was a young girl, I was always obsessed with the bright and fresh flavours of Vietnamese and other south East Asian cuisines," says Lil.
Lil first conceived of Lil Eets as a business during COVID-19 as the restaurant she was working at Lotus 2.0 closed. While she was receiving government payments, she was bored. She started making mouth-watering dumplings and chilli oil that were a hit. "I couldn't keep up with demand of dumplings as it was just me making them. While the dumplings had to be put on hold she still makes her signature chilli oil. Her Lil Eets chunky chilli oil is full of chilli crisp making up almost three quarters of the jar.
Lil arrives at my house at 5pm and unloads her car full of goodies. When I offer to clear more fridge space she smiles and tells me to relax. "I'll do all the Tetris you just chill," she says. I chat to Lil while she preps her 5 course meal and then I go upstairs to get ready. Usually with a dinner party, adrenalin is taking over and quite frankly it's frantic up until the moment when the first guest arrives but with Lil in charge I'm calm and relaxed. In fact the whole afternoon involved watching a movie, taking the dogs for a walk and playing on my phone whereas I'd usually be cooking all day.
Lil designs all menus with the guest in mind and because we were fairly easy with no big allergies or preferences she was recreating the menu at her PS40 pop up dinner. "My travels through Spain and Greece were my biggest inspiration for the dishes at my most recent pop up at ps40 bar," says Lil. All you need to provide is drinks, plates and cutlery. It is $90 a person for a 5 course meal which is a a great price especially as there's a lot of seafood involved.
House marinated olives and freshly shucked Sydney Rock Clyde River Oysters
An hour later Valentina, Peter and Katie arrive. I'm busy talking to them which is nice because usually I'd be in front of the stove and then Lil brings over the start of the food. There are house marinated olives that were inspired by Lil's travels to Spain and these are marinated in sherry vinegar and orange peel and served warm. Whenever I have a warm olive I wonder why all olives aren't served warm. There are black and giant green ones for variety. She also serves some freshly shucked some Sydney rock oysters from Clyde River with a gorgeous preserved lemon mignonette.
Labneh, caramelised leek, crispy onions, chilli oil
The next course comes out as a two parter with warm pita bread. There is a beautifully creamy labne topped with caramelised leeks, crispy onions and her chilli oil. She fried the bread fresh so that it was pillowy soft and warm and just made for dragging through that divine dip. This was one of my favourite courses and I could not stop eating it. This is a dish inspired by her family, "The flavours of the labneh are inspired by my grandmothers lentil soup. Unlike traditional Greek lentil soup, she would use cumin and other spices to add flavour, this is a testament to her upbringing in Egypt. I wanted to infuse these nostalgic flavours in to my slowly caramelised leeks. Which I then spooned over a generous dollop of labneh and then garnished with my chilli oil," says Lil.
Eggplant, whipped feta, garlic and herb salad
This dip is paired with whole eggplant which is cooked down until gloriously creamy with whipped feta, garlic and herb salad. Everything comes as two plates for four people although there's enough food that there's enough for the five of us. "The eggplant is my fun twist on the classic melitzanosalata (eggplant dip). I've taken whole eggplants and roasted them whole over charcoal and served them on a bed of whipped feta. It is brightened up with a salsa full of fresh herbs, garlic, lemon juice and oil then garnished with crispy fried garlic," explains Lil before adding, "I encourage my customers to chop everything up and mix it all together before spooning it over some warm and fluffy pita breads."
Octopus, lemon and garlic potatoes, loukaniko
The next course is also a two parter with slow cooked octopus, lemon and garlic potatoes and loukaniko, a type of Greek sausage finely crumbled on top to give it a boost of flavour. The octopus is incredible, so tender and the lemon and garlic potatoes are highly addictive. Lil explains that the octopus is, "slowly poached in red wine with a few simple aromatics then seared and served over a bed of lemon garlic potatoes. The loukaniko (Greek spicy sausage) oil was heavily inspired by the smokey and aromatic paprika oil drizzled over most of the octopus dishes in Spain."
Tomato and Stone fruit salad
The tomato and plum salad is simple but shows off the sweetness of the two summer fruits together. If anything the slightly tart plum makes the tomatoes sweeter. "This is kind of my spin on an Italian panzanella salad. I've used twice baked bread which we call 'paximadia' this adds a nice crunch to the salad and when tossed soaks up all of the delicious juices. I've salted the tomatoes and let them sit, then used the juice of the tomato in the vinaigrette also," says Lil.
King prawns, ladolemomo, prawn oil
The king prawns are perfectly cooked and come peeled with the heads and tails on. They are topped with ladolemomo (a Greek lemon and oil sauce) and an intensely flavoursome prawn oil made from the prawn shells that intensifies the flavour of those divine king prawns. And to top it off are a few leaves of baby oregano from her Papou's garden. Lil is generous with her serves and there are enough for two enormous prawns per person.
Meatball Subs
Lil then brings out an extra course which isn't really necessary as we're all full, but it's entirely necessary because it is so delicious. These are lamb meatballs slow cooked until super tender and served in hot dog buns with a shaving of grated graviera cheese on top and is a spin on classic a Greek dish called soutzoukakia.
Galaktoboureko
Lil's private cheffing business is a family effort. She does most of the prep in her parents' kitchen and her Papou gives her a huge range of garden grown herbs while her Yiayia makes desserts. Tonight's dessert is galaktoboureko, "This is Yaiyas section, I'm allowed to watch but she's hesitant to let me get involved. Her galaktoboureko is the perfect sweetness and has hints of orange and lemon zest. This left to soak in a syrup infused with orange and spices. Her galaktoboureko, unlike most I've had, isn't overly sweet but is super moist and buttery (a little bit goes a long way). I'm currently making an effort to record her every time she makes her desserts so I can carry on the tradition."
And what was lovely was that Lil does all of the dishes and leaves the dishwasher on so you really don't have to do anything. At the end of the night, as everyone leaves I realise that I'm super relaxed, I'm not exhausted and my legs don't hurt and I'm not left with a dirty kitchen full of plates and glasses to wash.
So tell me Dear Reader, have you ever had a private chef cooking for you? What do you think of this menu?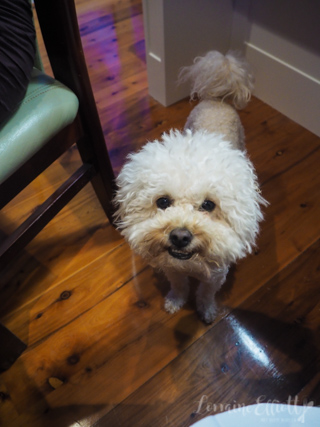 Hello? Is it me you're looking for?
Lil Eets
https://www.instagram.com/lil_eets/
NQN was offered this dinner by Lil Eets but all opinions remain her own.