What's a gal to do when she has been confined to bed for 4 days? Venture out on a Sunday night of course and meet her friend Belinda at one of her favourite bars: Raven's Eye in Newtown where the menu includes a caramel corn old fashioned cocktail and the food menu offers a Royale with cheese burger, one of the best burgers in Sydney as well as Mac and cheese arancini balls filled with pig's head.
Four days in bed confinement will do strange things to a gal. You start living in your pyjamas. Being seen without makeup is suddenly the norm and days are filled with a to do list of 2 things: rest and liquids and finishing the Holly Madison book and season 3 of Orange is the New Black. All very fine - I needed the rest but come day 5 I am desperate to leave the house. I looked at Mr NQN who I had infected (oops!) and gave him a kiss goodbye and met Belinda at one of her favourite haunts: Raven's Eye in Newtown on a chilly Sunday night.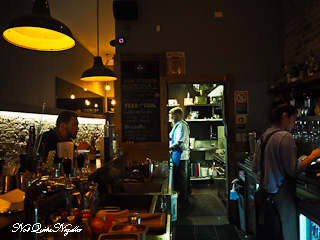 The name is taken from the movie Donnie Brasco and is the name of a mafia hangout. There's nothing even vaguely sinister here and the only thing vaguely related is the menu which has a bent towards Italian. Belinda is a regular as she enjoys the friendly atmosphere, food and drinks. She's dangerously close to becoming Norm from Cheers with them yelling her name in unison. So she knows her way around the menu both food and drink. Although it is 5pm, there are quite a few people in the back area as well in the front area as the bar opens from just before noon on weekends.
I start with a cocktail. With House Winter Pimms, Pampero Especial, Amaro Montenegro and spices and topped with lime and ginger ale it's a delicious cocktail served in a tall glass with a good mix of flavours.
We start with the Mac 'n' Cini balls. They come three to a serve on a smoked tomato jam with chives. They're crunchy golden crumbed on the outside and filled with cheesey macaroni and pig's head ham inside. And they're so good you definitely want two to yourself.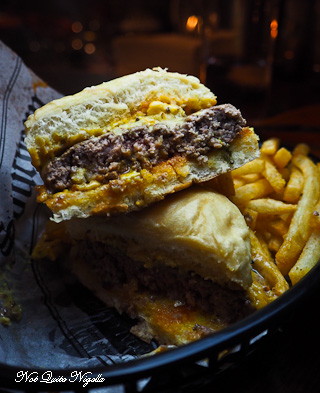 Belinda has a slight obsession with this burger and when she describes the crispy texture of it I think back to the amazing burgers we had in Texas and how they'd always toast the bun on the cut side until it was crispy. They do the same thing here with the Royale with cheese which comes with a serve of crispy French fries. We love the home made mustard pickle, American cheese, crispy soft bun and the beef patty and sauce and I forget any notion of trying to preserve my lipstick on this baby.
I wish I could say that I loved the meatball sub as much but the bread was very firm and dry and while the meatballs were good they too were on the very firm side.
We wondered if the rice would be replaced by cauliflower (like cauliflower rice) or whether it would be an ingredient in a traditional risotto. It's the latter, a comforting, creamy risotto small florets of cauliflower, burnt butter and flaked almonds.
It's time for Belinda to order a cocktail and we discover a page of three "Extra Fancy Cocktails" on their cocktail menu. There's one called "The Black Spot" Navy Grog which is strictly limited to one per customer but we decide to go with the fun sounding Caramel Corn Old Fashioned with buttered popcorn Bulleit Bourbon (which is bourbon infused with popcorn and butter and steeped overnight), Talisker 10 year old scotch, salted caramel syrup and orange bitters. It comes with a little cup of caramel corn and we take a sip. It's less strong than an old fashioned and very easy to imbibe especially given its super powers of caramel corn flavour.
We decide to order dessert which comes out shortly after and there is a lemon pie bombe alaska which they set alight. We just blow it out when it reaches a torch level that we like. Belinda is slightly worried, "Blow it out!" she whispers urgently. The inside is a sweet lemon curd centre with lemon ice cream, soft Italian meringue - it's like a lemon meringue pie with a torched crust.
The second dessert is the peanut butter and strawberry jelly ice cream sandwich which is jammy sweet and creamy with a hint of peanut butter. It's edged in a home made biscuit crust and is so large that we can barely make a dent in it!
I may have overestimated my health and come 8pm I am ready to go back to the confines of the warm bedroom but I feel as gleeful as a prison escapee afforded a day out in the city.
So tell me Dear Reader, what is your limit for staying in bed before you start to go a bit loco? Have you seen Donnie Brasco and recognised the name? Is there a place that you go to where everyone knows your name?
This meal was independently paid for.
Raven's Eye
127 King Street, Newtown, NSW
Tel; +61 (02) Monday to Thursday 5pm–midnight
Friday to Saturday 11.30am–midnight
Sunday 11.30am–10pm
http://www.ravenseye.com.au/