I've been wanting to try Belly Bao's baos for years. Three years to be exact. It's hard to pick a place to write about, especially when reviews pile up of the same place over the opening weeks. You don't want to add yet another review to what's already there so you hold off. But then it gets to be years later and then one thing prompts a sudden visit: the television show Stranger Things. It was the coming together of two of my favourite things: food and television.
I was eating lunch I saw the Instagram post: a Stranger Things trivia night that evening at Belly Bao. I was in. But given the short notice my crack team of Stranger Things loving friends was smaller than what I would have wanted. It's just Viggo and me and Mr NQN who hasn't watched a single episode of it. No matter, we're here for the baos really.
Belly Bao is the brainchild of the lovely Sylvia Tran who grew up working at her parents' Vietnamese restaurant Thanh Long in Surry Hills. But there aren't Vietnamese dishes from her heritage, the star of the show is the Taiwan bao or Gua Bao, a downy soft, folded over bun filled with pork belly. Here at Belly Bao the pork belly is just the beginning and there are a variety of fillings peeking out.
Sylvia says, "A couple of years ago, I took a holiday from work to New York and had these amazing gua baos from Eddie Huang's Bao Haus. Since then, I was on a quest to experience it again. Back in Sydney, I realised we hadn't caught on to the Gua Bao trend, and I was fiending for some baos! Disillusioned by CBD life, I left my job to find my true passion. I dabbled in a few things, then decided I might tap into my passion for food... really I just wanted to eat some bao. With little kitchen experience and no baking experience, I'd set myself a real challenge. A perfectionist at heart, I became obsessed with getting it right."
A bao is not as simple as it looks. "It took me around a year to perfect the recipe of the bao bread. I would immerse myself into the world of flour and learn all there is to know about it. I still remember my partner coming home every night and I'll make him try it and then I'll go back to the drawing board the next day. It would just be a little less flour, yeast or sugar. Although there aren't many ingredients to make bao it's the ratios, how long they get proved for or the temperature they rest in etc are all so important to achieve that texture and consistency. Even when we were at the markets I was still doing some final tweaks," says Sylvia.
Belly Bao is located at a small basement club called Hudson Ballroom (formerly Plan B Small Club) on Liverpool Street in Haymarket. It gets busy here especially on trivia nights so you do need to book ahead to reserve a booth or table. Ordering is done at the food bar and there are six bao fillings to choose from as well as fried chicken (wings, half or whole), sweet potato fries, two salads and golden baos for dessert (more on those later). Thursday night has a Baoger which is an Angus beef patty bao burger bun.
I order a range of items to share between the three of us. Oh sweet potato fries, how I love thee. They are pretty much the perfect sweet potato fry in terms of softness and crispiness. They're served with a chilli aioli that packs a satisfying hit. The ones at the bottom miss out on this so I perhaps would ask for a bit extra to sauce those babies.
The slow braised beef short rib is filled with cotton soft slow cooked beef that melts in the mouth. It's served with kimchi, spring onion and a sesame mayonnaise. Next to this is the crackling roast pork belly bao that has a slice of roast pork as well as a piece of crisp crackling, pickled radish, coriander and kewpie mayonnaise. The filling has an appealing crunch with every bite against the soft bao.
The soft shell crab bao has a super crunchy soft shell crab filling with watercress, chilli aioli and lemon vinaigrette (oh how I love sauces!) while everyone's favourite bao is a bit of a surprise. It's the panko crumbed chicken breast. We thought we might like the soft shell crab or the crackling pork but the flavours of the chicken with lettuce, pickled radish, coriander, coriander pesto aioli and secret sauce go so well together that we wish we had ordered half a dozen more.
We were originally going to get the wings but I was swayed towards the half chicken with the promise of sticky wings (but then again I also wanted the crunchy and spicy ones, oh the choices!). Everyone swoons over the chicken which is super crunchy on the outside and juicy on the inside. The sweet, sticky sauce is a nice surprise-not too sweet and it's not too sticky either, just enough to give it flavour and there's a wonderful crunch too. Did I mention that fried chicken is my weakness?
Who ordered the salad? Hmm that would be me. I love baos and fried chicken but sometimes you have to eat like an adult and have vegetables. And this papaya salad is all sorts of refreshing goodness. It's green papaya, carrots, mint, Thai basil and crushed peanuts with a very sweet dressing and black sesame crackers.
It's about half an hour until the trivia night starts so we order some dessert. There are two sweet baos on the menu. A banana one and a strawberry one both served on a crispy golden deep fried bao. The baonana split has a log of vanilla ice cream, banana slices, salted peanuts and a drizzling of Nutella on top. It's rich and gooey and the boys pull this apart in no time like a demogorgon.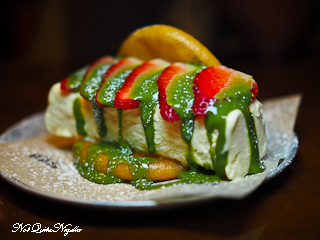 I actually liked the strawbelly bao with vanilla ice cream, sliced strawberries and a drizzle of matcha condensed milk. This one is sweet but not quite as rich as the banana Nutella one above. And of course I had to keep my wits about me because just as we are finishing, there comes an announcement for the beginning of the Stranger Things trivia night!
Now as far as trivia nights go, this is a fairly simple, basic one. There are 30 questions in total with 3 rounds of 10. My mind immediately goes into studying mode, something that I wasn't particularly good at but I want to win so I swot for the last few minutes by reading the Stranger Things Wikipedia page. They hold these trivia nights weekly and the upcoming ones in October are for Bo Jack horseman and The Simpson's Treehouse of Horror.
I'm determined to win first prize and I don't really even know what the prizes are (first prize was tickets to Comic con and a poster). Round 1 goes well. We get 9 out of 10 answers correct. But then round 2 completely stumps us and we end up getting just 3.5 points out of 10. It seems to have stumped many because while our team took a beating, it looks like a lot of others did too.
I make Viggo go up to retrieve our sheet fearing the walk of shame back with such a low scoring round. It's like being back at school and all I can think about is my mother giving me a surprise comprehension test. I can see her red pen marking through the wrong answers and I remember her and her Tiger Mum friends scoffing over a child that got 99 out of 100 in the high school certificate ("failure! disgrace!"). I feel about as old as the four kids in Stranger Things.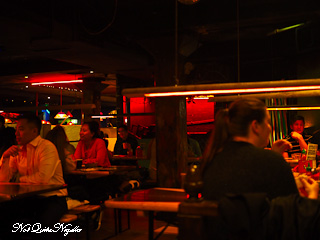 We fare marginally better in round 3 and end up with a total of 18.5 points out of 30. A dismal effort. "I don't think I'm cut out for trivia nights, my heart..." I say dramatically whereas what was significantly more injured was my pride.
"Well at least the food was great," commiserates Mr NQN. And I think to myself, true, but I would have loved a taste of victory too...And then they mention that they will be back for the Stranger Things Season 2 trivia night. I'll make sure to study for that!
So tell me Dear Reader, are you a Stranger Things fan? Do you participate in trivia nights? Do you have an area of expertise? And which bao did you like the sound of the most?
This meal was independently paid for.
Belly Bao
53-55 Liverpool St, Sydney NSW 2000 Wednesday to Friday 5pm to 10pm
Saturday 6pm to 10pm
http://www.bellybao.com/