What to do on a weekend than a round of mini golf and a vegan friendly bar? Gurdy's on King Street in Newtown serves up a menu of modern pub favourites. With a fitout that is a few parts Newtown a few parts Halloween, there's small plates made for sharing.
A friend sent me a link to a story on Gurdy's and said that it was a vegan small bar. That's probably overstating it and I'd call it more vegan friendly than a strict vegan bar. Perhaps it used to be but currently there are three items that are vegan friendly, not the plethora of choice that I thought might be on offer. On the menu V denotes vegetarian and VV denotes vegan although that's a guess as there's no legend on the menu.
It's a hot spring day and we're all a bit thirsty and celebratory after our round of mini golf. We order some cocktails including the "Vanilla Passion" with vodka, passionfruit and vanilla served long which is so drinkable and sweet. There is also the "Pomegranate margarita" with pomegranate liqueur, tequila and lime.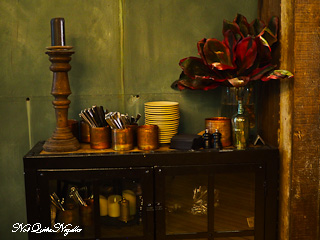 It's pretty quiet when we visit so the food arrives quickly. The chips are hand cut and crunchy but they're not quite the triple cooked chips that I think I was expecting. I do like the BBQ sauce that they come with although I think I might have enjoyed the truffle aioli that comes with the polenta chips.
I do love the arancini though, these large balls of rice with plenty of shallots and ginger. They are served with a spicy soy aioli and I could easily eat a few of these.
The meatballs are made with slow cooked pork mince meatballs in a spicy tomato sauce. Underneath are hand cut chips but they are mostly soft under the sauce and I would have loved them on top so they would be crispy.
I loved these halloumi and tapicoa fingers having had something similar at other cafes. They're slightly spongey and crunchy and drizzled with a delicious chilli honey. I may or may not have eaten three of these...
There are six skewers on the skewer plate: two chicken with the chipotle bbq sauce, lamb skewers with mint sauce and beef with a spiced labne sauce.
This salad is a vegan one with slices of roast pumpkin, confit tomatoes and puy lentils on a bed of basil and salsa verde which gives it a good punch of flavour. This is one of my favourite dishes.
I didn't realise that Garth dislikes Brussels sprouts before I ordered these but this is a pan roasted Brussels sprout and kale salad with marinated zucchini, pomegranate seeds, toasted almonds and a creamy tahini sauce. This also gets polished off quickly. There's no dessert but that's ok, that just means more cocktails!
So tell me Dear Reader, do you ever worry when you're the only people at a restaurant? And do you always have to have dessert when you go out or do you sometimes skip it?
This meal was independently paid for.
Gurdy's
349 King St, Newtown NSW 2042
(02) 7900 3911
Open Tuesday – Thursday 4pm – 12am
Friday and Saturday 12pm – 12am
Sudnay 12pm – 10pm
Closed Mondays