This cake is something special. Sent in by a Dear Reader Robbie she first tried this cake at the hotel Ai Lumi in Trapani, Sicily who furnished her with the recipe. This cake is perfect served for breakfast, morning tea afternoon tea or dessert-in fact Robbie had it for breakfast at the hotel!
I've mentioned a few times that I'm not really a breakfast person. but I think some of this could have to do with breakfasts offerings growing up. It was normally cereal with milk or fruit salad. Two things that are fine but don't excite me on any real level (not like say cake or pizza). But I did notice one thing on offer at breakfast while I was travelling overseas.
Cake. Yup cake. When travelling through regional France and in Buenos Aires there were cakes at the breakfast buffet! I don't mean muffins - these cakes were usually uniced but beautiful looking specimens, both round and in loaf form. "You have cake for breakfast?" I asked someone and they nodded as if that were a strange questions and why wouldn't one have cake for breakfast? I briefly considered moving to each city and town that served cake but realised that that was a tad too obsessive.
And then Dear Reader Robbie mentioned a recipe to me - it was a Sicilian pear and chocolate cake. She emailed it to me and said, "Please find attached the recipe for the pear and chocolate cake from Trapani, Sicily (where I ate it for breakfast at a divine little hotel called Ai Lumi (the lights)."
I made this last week and it was a beauty. I adapted Robbie's recipe to add some sliced pear halves on top and cut off two slices-one for me and one for MMr NQN and then handed the rest to Mr NQN to take to work where it was extraordinarily well received. It is a gorgeous cake with a moist crumb and has the perfect level of sweetness and moisture from the pears both diced inside the cake and on top. The chocolate chips were there to add pops of richness to the cake. I wanted to share it with you now because this cake is wonderful and I wanted you to be able to make it while there are pears still around in the Southern Hemisphere and for upcoming Autumn for those in the Northern Hemisphere.
Robbie ended off her email by kindly saying, "Keep up your amazing work (work just doesn't seem to be the right word, there should be another word for when you do what you love)" and I thought that she was right, there should be another work doing what you love. The Italians probably have the closest phrase for it and that's La Dolce Vita.
So tell me Dear Reader, have you ever eaten cake for breakfast or would you? Have you ever encountered cake on a breakfast spread? What do you usually eat for breakfast? I'd love some breakfast inspiration ideas!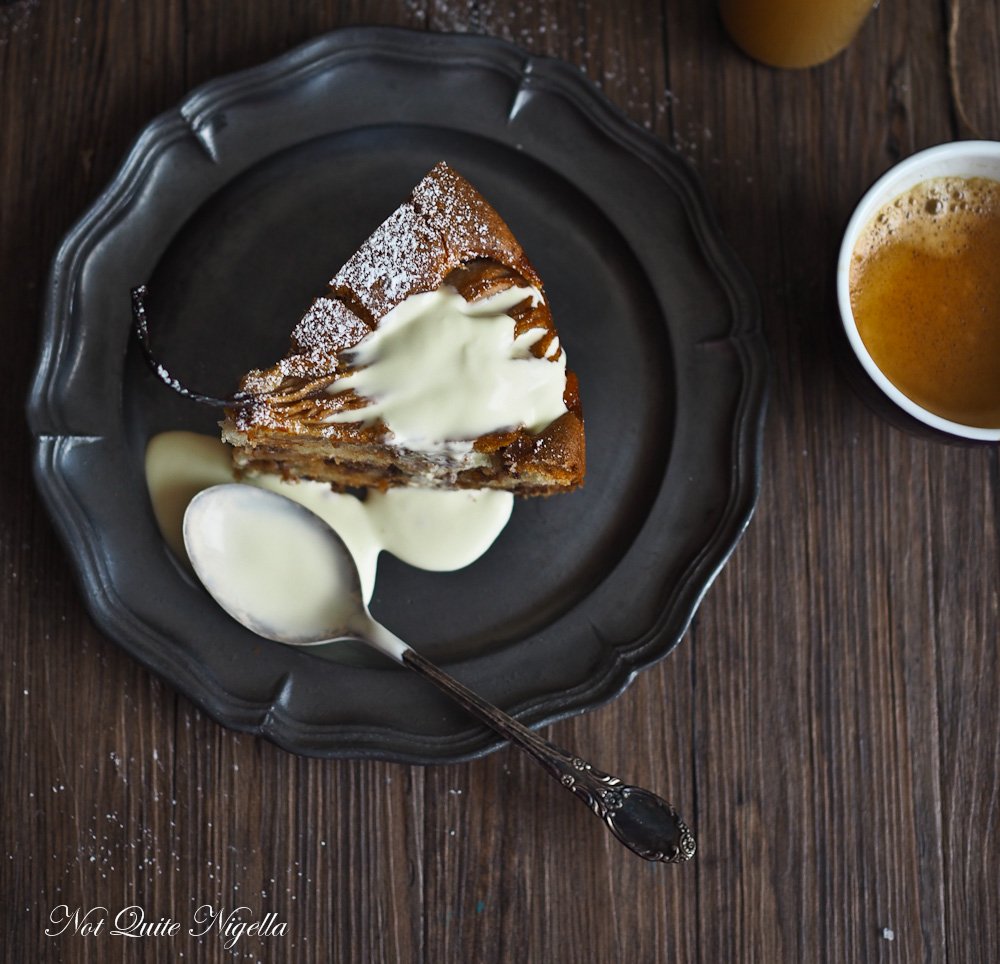 DID YOU MAKE THIS RECIPE? Share your creations by tagging @notquitenigella on Instagram with the hashtag #notquitenigella
Italian Pear & Chocolate Breakfast Cake
Adapted from the Hotel Ai Lumi, sent in by reader Robbie
Serves 6-8
Preparation time:
Cooking time:
100ml/3.5fl ozs. flavourless oil
150g/5.3ozs, caster sugar
2 eggs (I used duck eggs), at room temperature
1 teaspoon vanilla extract
250g/8.83ozs.cake flour*
2 teaspoons baking powder
75ml/2.65ozs. milk
5 pears (I used beurre bosc pears), peeled, halved and cored, two of them chopped up into small pieces, the other three intact but cored
125g/4.41ozs. chocolate chips
Duck eggs
*To make 250g/4.41ozs cake flour, place four tablespoons of cornflour/cornstarch in a bowl and add plain all purpose flour to reach a 250g/4.41ozs weight.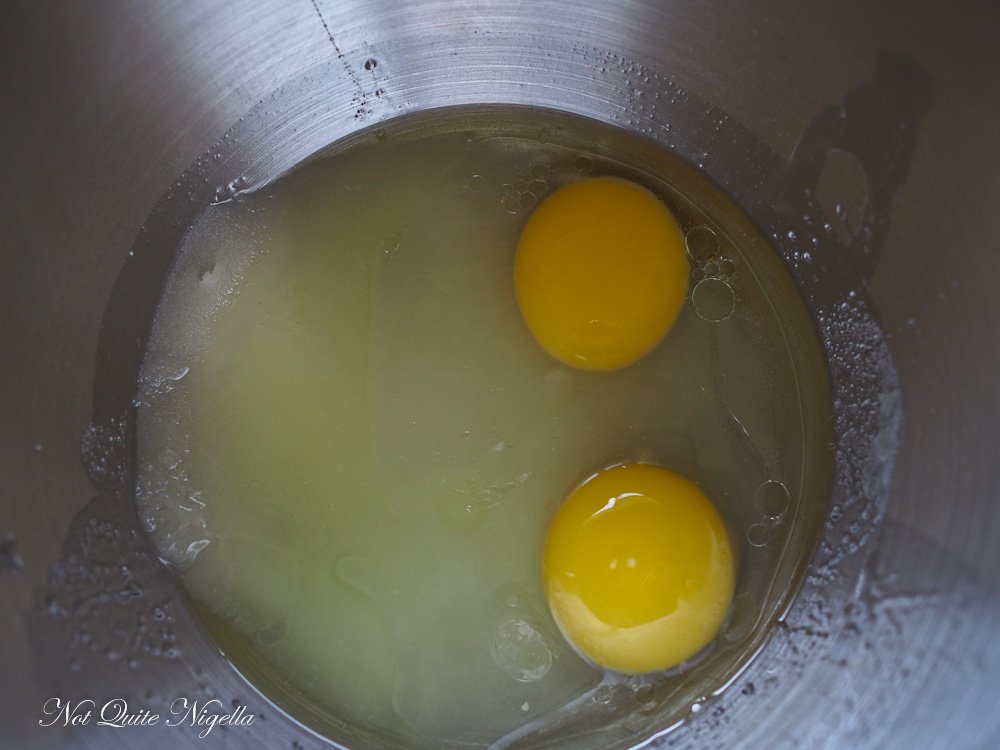 Step 1 - Preheat oven to 180C/350F. Grease and line the base and sides of a 23cm/9.2inch springform tin. Using an electric mixer fitted with a whisk attachment whisk the oil, sugar, eggs and vanilla until double or triple in volume. Sift in half of the flour and baking powder and add half the milk and fold. Sift in the remaining flour and milk and then the pears and chocolate chips. Scoop into the prepared tin.
Step 2 - With a knife score the pears using a sharp knife making sure not to cut all the way through. Place these on top of the cake and gently submerge them a little (see picture). Bake for 1 hour or until a skewer inserted comes out clean (mine took 1 hour and 20 minutes). Serve with icing sugar and cream for any occasion.
Tip: use a melon baller to remove the core of the pear!