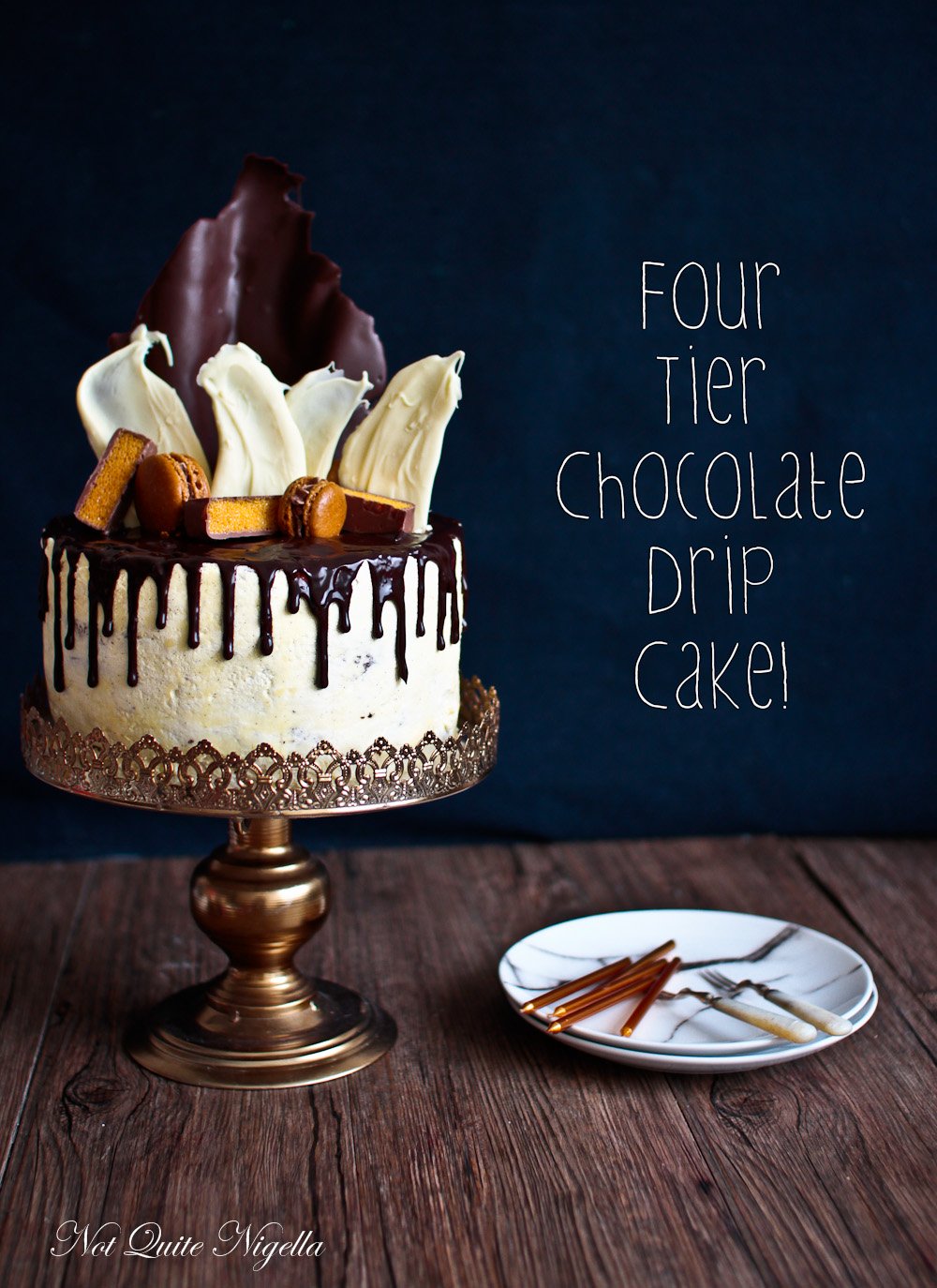 This recipe is brought to you by Woolworths Gold.
Ever wanted to make one of those luscious chocolate ganache drip tier cakes but thought that they were beyond your reach? I promise you it's not with these easy step by step instructions! There's no need for any special equipment or skills to create it! Pinky swear :)
The day after my Halloween party this year I expected to spring up and get to work packing and returning things to their usual spot. I had had a good night's sleep in the house that my guests had dubbed "The Haunted Mansion" but when I moved my legs to spring out of bed, they almost creaked and I felt like a rusty wooden doll that had been neglected and gathered dust on top of a cupboard. I shook my head, what was wrong with me?
The rest of the day was a blur, made up of minimal movement. Thankfully Mr NQN sprung into action and helped me out enormously as my limbs felt as though they had been dropped from a height. He also did the laundry and packed boxes up with nary a whimper. In turn all I could do was lie in bed.
I needed a pick me up and I needed one fast. I went for my most common ailment solution: food. Specifically coffee and chocolate. I had both on hand because I had promised Nina a cake using her favourite flavours: coffee and chocolate. It was for an important party and I wanted it to be special. I called her Queenie because she is regal and deserves a name.
I decided to use two Woolworths Gold products. One is their new coffee range which comes in both ground and coffee pods. There is Single Origin Pure Arabica Brazilian Ground Coffee. Also importantly, it is Fair Trade coffee. There are three varieties: Brazilian, Ethiopian and a Gold Espresso Roast. They've also got coffee pods that come in six varieties as a 10 pack and fit Nespresso machines. They're endorsed by master roaster and blender Toby Smith from Toby's Estate.
The other item are their blocks of Swiss chocolate. If you don't have time to temper chocolate but want a crisp, good quality chocolate you can use in baking and cooking then these are great. I used the Woolworths Gold Caramel Sea Salt Dark Chocolate 55% with 55% cacao with bittersweet chocolate and sea salt caramel nougat pieces for crunch. I also used their Woolworths Gold Intense Dark chocolate with 76% cacao just because Nina loves dark chocolate.
If you are intimidated by layer cakes or drip cakes I urge you to give this cake a try. For starters the sponge cakes are really easy and bake to perfection so that there are no domes on top so you don't have to do any trimming at all (my nemesis). The Swiss meringue buttercream is a dream to spread over (and really there's just one extra step over normal buttercream) and the chocolate drips are the easiest thing ever. Even the chocolate sails that look complicated are deceptively simple. The rest is made up of bits and pieces-you can use chocolate bars, macarons or flowers!
So tell me Dear Reader, what are your pick me ups? What do you think about naming cakes? Is that a step into madness? Do you enjoy making showpiece cakes like this? And if you could choose two favourite flavours to make up a cake what would they be?
DID YOU MAKE THIS RECIPE? Share your creations by tagging @notquitenigella on Instagram with the hashtag #notquitenigella
Four Layer Chocolate Ganache Drip Cake
The cakes and icing are best made the day before and then assembled on the day.
For the cake:
10 eggs, at room temperature
1 1/3 cup caster or superfine sugar
1.5 cups plain all purpose flour
1 cup cocoa powder
4 teaspoons baking powder
1 teaspoon Woolworths Gold Single Origin Brazilian Ground Coffee or Woolworths Gold Ethiopian Capsule ground coffee
For the icing:
3 egg whites
3/4 cup caster or superfine sugar
300g/10.6ozs. butter, softened, cut into cubes
1 teaspoon vanilla bean extract
For decoration:
1 cup espresso made with Woolworths Gold Single Origin Brazilian Ground Coffee or Woolworths Gold Ethiopian Capsule ground coffee
100g/3.5oz block Woolworths Gold Swiss Caramel Sea Salt Dark Chocolate, chopped roughly
2x 100g/3.5oz. blocks Woolworths Gold Intense Dark with 76% cacao
100ml/3.5ozs cream
50g/1.7ozs white chocolate
2x cannoli sticks (or any 2 small 1 inch thick sticks will do)
2 sheets baking parchment
2x macarons to decorate
3 mini Crunchie bars, halved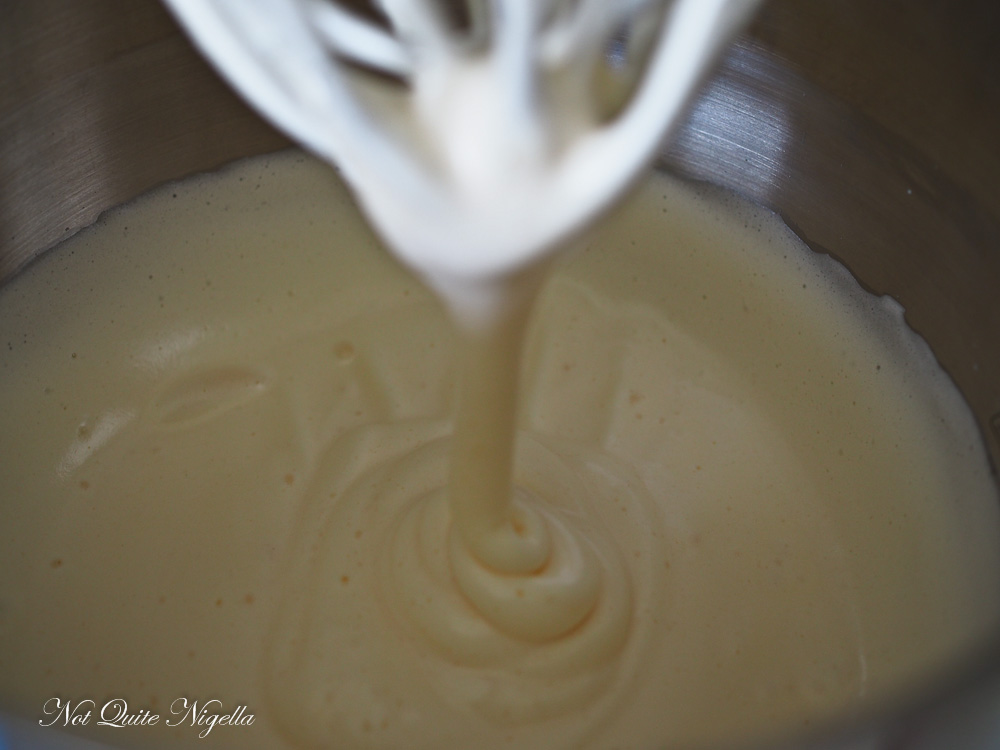 Step 1 - Preheat oven to 180C/350F. Line 4 x 20cm/8inch round baking tins. Whisk eggs and sugar in an electric mixer fitted with a whisk attachment until triple the volume - this can take up to 8 minutes.
Step 2 - Meanwhile sift the flour, cocoa powder and baking powder three times at height by tapping the sieve with the base of your hand. Once the egg mixture is thick and voluminous add the flour mixture in three lots on the lowest speed. Divide the mixture into the four tins and bake for 18-20 minutes or until a skewer inserted comes out clean. Cool completely and wrap in cling film.
Step 3 - Make the Swiss meringue buttercream. In a heat proof bowl sitting over a saucepan of simmering water whisk the whites and caster sugar until it reaches 60C/140F. Remove from heat and whisk this mixture until you get stiff peaks. Then switch to a paddle beater attachment and start adding the cubes of butter and vanilla. The mixture should not be hot so the butter should combine well into it without becoming liquid. Cover and set aside.
Step 4 - Make the chocolate sail decorations. Melt 100g/3.5ozs. of the Woolworths Gold Intense Dark Chocolate in a double boiler or in a microwave. Take two baking trays and two pieces of parchment. Spread the melted dark chocolate onto one piece of parchment (not too thin, you need it to be thick enough to stand up) and then position the cannoli molds underneath it. Place in a cool place to set completely (on a very hot day you may have to put it in the fridge).
Cannoli molds underneath
Step 5 - Melt the white chocolate and spread out onto parchment to make smaller sails.
Step 6 - To assemble the cake, brush the first layer with cold coffee. Then spread the first cake layer with some buttercream and then a small handful of the chopped Woolworths Gold Swiss Caramel Sea Salt Dark Chocolate. Then repeat until you have added all the layers finishing with just coffee and buttercream (no chopped chocolate on top). Refrigerate until firm and then use a cake scraper to smooth the sides.
Step 7 - Melt the remaining block of the Woolworths Gold Intense Dark Chocolate and heat the cream. Mix until you get a smooth ganache. Using a teaspoon drop little drips down the side of the cake with various amounts so that some drips are longer than others. Repeat around the whole cake. Then spread the remaining ganache on top. Spread the icing around the cake. Place the dark and white chocolate sails and macarons on top.