Ever wanted to have some fun with chocolate? Try this smash cake, one of the easiest and most fun cakes you could make. Also called a pinata cake the fun is taking to the cake with a rubber mallet and finding what goodies lie inside it! For this cake which I made for Nina my trainer and friend, I stuffed it with her favourite chocolates and then made the outside using her favourite 85% dark chocolate. Even better is the fact that I knew that she would love using her capoeira moves on the cake to smash it in the end!
Every year Nina and I make birthday cakes for each other. Time and time again I racked my brain for her cake. Nina is a super fussy eater-she only really likes chocolate as a sweet and avoids gluten if possible. And then it came to me-make her a smash cake!
Except, well this cake had gotten the better of me a few times. This was in fact the sixth or seventh time I had attempted this cake. The first time I tried to make it was in the midst of summer (not a wise idea admittedly). And this was before we had air conditioning so it really was foolish. I'd melt the chocolate, it would have problems releasing or just crack and I'd remelt and remelt again a total of four or five times. Stung by the rejection I let it sit for a few months. Now with air conditioning and winter weather I was willing to try it again.
I was brainstorming this cake with chocolate artisan Jessica Pedemont a couple of weeks before Nina's birthday. Jessica said, "Oh you know I made Nina's first wedding cake right?". Jessica and Nina know each other from wrestling but as much as I thought I knew Nina I didn't realise that she had been married before! You see Nina and her best friend Romy were single at the time and living together and Nina needed citizenship. They both figured that since they'd never meet a man they may as well kill two birds with one stone and get married!
By the time the "wedding" rolled around they had decided that it wasn't worth the risk and potential problems vis a vis penalties and instead used it as an excuse to have a big wedding style party instead. And by then Garth had appeared in the picture and attended the faux wedding-Nina was dressed in tails and Jessica described her outfit as "as if Madonna was getting married in tails" while Romy wore white. Jessica showed me a picture of the cake. It was a colourful cake with a peacock feather on the top.
I thought I'd joke around with Nina that I had thought of a fun idea for her current wedding cake to Garth. I sent her a picture of Jessica's peacock feather cake. Nina answered, "That's so wired. When my friend and I had a fake wedding Jessica made that exact cake for us!". It turns out that she thought that she had told me about her first fake wedding and wondered how I had managed to find the exact same cake out of every cake there was in the world!
Anyway, when it came time to have her chocolate smash cake we invited her and Garth over to our place. I handed her a mallet and told her to smash her cake as much as she could. Her eyes lit up and she decided to use "medium strength" pressure. I should have known that medium strength for Nina is probably hard strength for everyone else and the cake pieces flew in all directions!
How To Make a Chocolate Smash Cake Video
So tell me Dear Reader, would you enjoy smashing a chocolate smash cake? What would you ideal pinata be filled with? And what is your favourite type of chocolate?
DID YOU MAKE THIS RECIPE? Share your creations by tagging @notquitenigella on Instagram with the hashtag #notquitenigella
How To Make A Chocolate Smash Cake!
An Original Recipe by Lorraine Elliott
Preparation time: 30 minutes plus chilling time
Cooking time: 15 minutes
Oil spray for greasing
350g/12.5ozs dark chocolate
1.5 cups lollies (I used 12 or so Rochers and Rondnoirs)
Raspberry m&ms
1 waffle cone
1 cup marshmallows
1 cup rice bubbles
100g/3.5ozs. pink chocolate or pink chocolate melts
3 tablespoons sprinkles
Step 1 - Spray a bowl with oil spray and place in the freezer for 5 minutes. Melt the chocolate in the microwave or over a double boiler and then pour into the bowl turning to bowl to coat the base and the sides. Pour away any excess back into the bowl and refrigerate the chocolate coated bowl for 15 minutes or so or until hard.
Step 2 - Go over the sides with a spoon and more chocolate. The chocolate in the bowl should be a little less liquid so you should be able to spread a second coat of chocolate. Refrigerate until set, around 30 minutes or so. Reserve about 1/2 cup of melted chocolate.
Step 3 - Gently lift the chocolate out of the bowl. I found some bowls didn't give (my pudding basin) but with this bowl the chocolate lifted easily. Carefully fill with the treats and place a serving platter on top and upend carefully.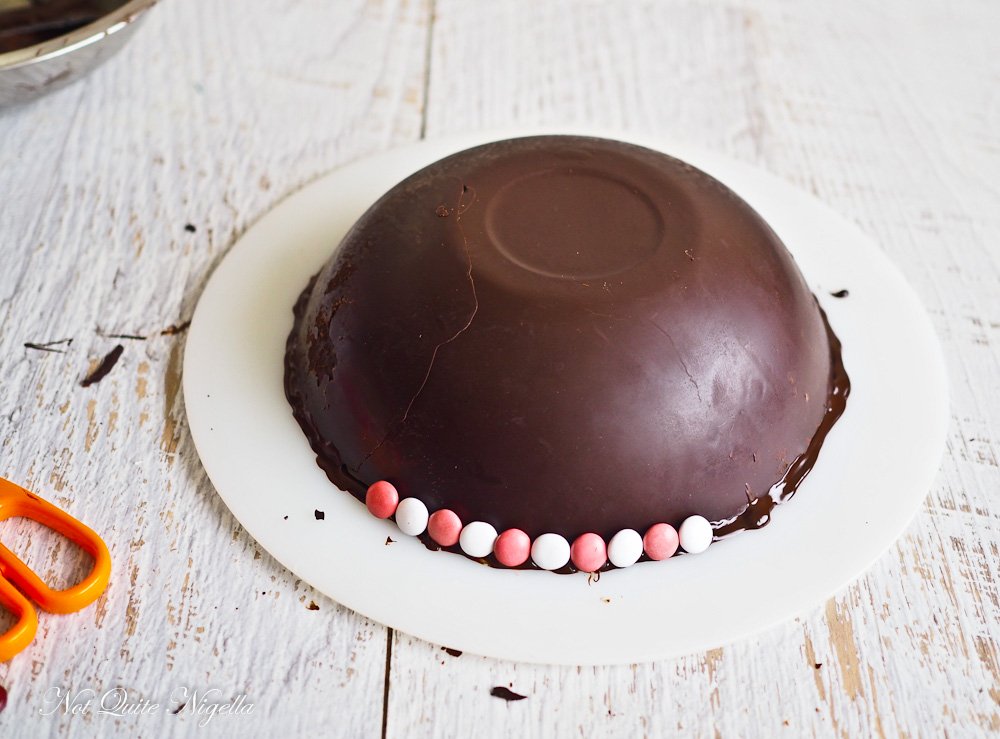 Step 4 - Place the remaining 1/2 cup of chocolate in a piping bag and pipe around the edge to secure the dome to the platter. Then line up the m&m's alternating colours on the chocolate before it sets.
Step 5 - Melt the marshmallows in the microwave-they heat up very quickly so do it in 30 second bursts checking on it. Mix the soft marshmallows with the rice bubbles well and then scoop it into the cone. Set on a piece of parchment.
Step 6 - Melt the pink chocolate until smooth and then using a tablespoon coat the ice cream and the first inch of the cone in the pink chocolate. Spoon the sprinkles around the edge of the cone.
Step 7 - Pour the pink chocolate on top of the dome creating drips and then place the ice cream on an angle. Allow this to set.