Hello Kitty had finally landed on the sunny shores of Sydney. Located in Chatswood at The Interchange the opening promised crowds and things for Hello Kitty fanatics. Burgers were designed by Chur Burger's Warren Turnbull and there's a range of milkshakes and soft drinks to accompany snacks. So what is Hello Kitty Diner like? Read on...
There's a line from one of my favourite movies Office Space. A restaurant manager is explaining to a staff member about the importance of "flair" or making an extra effort. The manager asks the waitress whether she wants to do the bare minimum or whether she wants to go all out by adding more "flair".
I find myself thinking of this quote when I get to the Hello Kitty Diner. There was a lot written about Hello Kitty coming to Sydney. People were excited about it, there was hype, queues formed and we were told that Chur Burger's Warren Turnbull was consulting on the burger side of things.
So I have expectations when I reach the third floor of Chatswood's Interchange above the train station. The Hello Kitty Diner is located nearby Tim Ho Wan and is tucked away in a corner is a neon sign peeking out. And one Hello Kitty figurine standing guard to the left. The space is small, there are no bookings taken which is understandable given its tiny size. But as a theme enthusiast I find myself disappointed at the lack of theme. Perhaps I had overly high expectations from living in Japan for two years during my Hello Kitty collecting mania. Maybe I've seen Hello Kitty eateries done well in other countries. Japan is a country that does themes brilliantly while Australia, not so much. It's almost like we're afraid to embrace our inner geek. Or flair ;)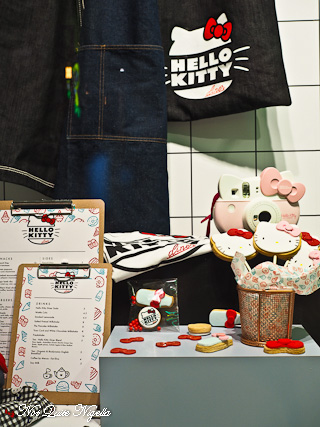 We slide into a booth and seven year old Ruby, all decked out in pink sits across from twelve year old Mia who wears a defiant Minnie Mouse tshirt. They had both been looking forward to their visit here all week. There are menus and a bucket of napkins and cutlery on the table.
The menu sounds good. There is a drinks menu where all of the drinks are made in house (alas the Freakshake on the menu for $14 is still in concept) and the food menu is divided into snacks, burgers, sides and dessert. Ordering is done at the front counter (no split bills) and you take your number to the table.
Food comes out quickly and rather alarmingly so. Not even five minutes passes before our dishes arrive in rapid succession. First is the Prawn popcorn with yuzu mayonnaise. It is battered prawns on prawn crackers with yuzu mayonnaise. The serve is small although for $10 I guess it fits. The prawns could be hotter though.
We all prefer the crumbed mozzarella sticks with a side of miso mayonnaise although it says jalapeno mayonnaise. However some pieces are oddly very sweet while others aren't.
While the food was a little up and down, we do enjoy the drinks. The pancake milkshake is flavoured with maple syrup while we love the light tang of the yuzu in the white chocolate milkshake. The smoke in the smoked lemonade adds another almost savoury dimension to it.
Our burgers arrive at the same time all served on plastic white plates. The buns are cold which is a bit disappointing. The pork belly is said to be crispy but it just isn't crispy. There are two types of pork on the burger, a slice of pork belly and some soft pulled pork meat. There is also supposed to be maple glazed bacon, pink lady apple and green slaw in it.
Similarly Miss Ebi is filled with just four or five medium sized chilli and lemon salted crispy prawns with chipotle mayonnaise and lettuce. This is a rather thin burger without much filling and is mostly bun.
The Gee Gee fares better. With sweet and sticky Korean fried chicken, cucumber kimchi and pickled vegetables, it is seasoned. There is no salt and pepper on the table and we found a lot of food to be unseasoned.
Case in point for underseasoning was the fries. Mia at least likes these while Ruby pushes everything away and looks mournfully disappointed.
This fried chicken and waffles comes out after everything else and we tuck into the Kitty shaped waffle with crunchy boneless chicken pieces. I don't mind this dish although I prefer the chicken dipped in the miso sauce that came with the mozzarella sticks. We do a bit of DIY saucing and dipping to get the desired effect with our dishes.
Alas plans to order dessert are derailed. Ruby needed something to eat and she wasn't allowed to eat it in the diner. None of us were particularly desperate to try the desserts (cinnamon waffles or chocolate brownie). So we looked around, assessed our options and left rather quickly.
Or maybe we found that we were grown up and no longer part of Hello Kitty world anymore.
So tell me Dear Reader, are you a Hello Kitty fan? Would you be curious to give this place a go? Have you visited Hello Kitty Diner and what did you think? Do you ever mix up sauces and DIY seasoning to your food?
This meal was independently paid for.
Hello Kitty Diner
Level 3, Chatswood Interchange, 436 Victoria Ave, Chatswood, NSW
Open Monday - Sunday 11:00 am-9:00 pm