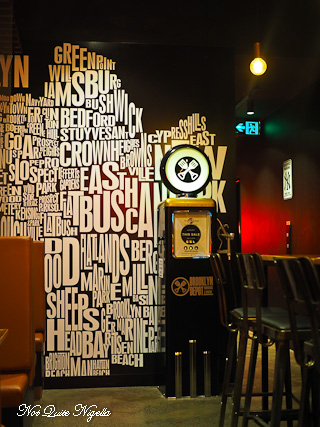 Sydney's burger craze definitely does not seem to be dying off any time soon. The What's App message came from Mr NQN one afternoon. It read, "New burger place, opened today, big queues." The place he was talking about was Brooklyn Depot burgers. The Surfers Paradise burger house has opened up their first burger eatery outside of Queensland on Holt Street in Surry Hills.
The warning about queues was a moot point as it was the "Stormageddon" weekend in Sydney. The Bureau of Meteorlogy had asked Sydney residents to stay indoors for the whole weekend so when we arrived at Brooklyn Depot Burgers it was quite empty. We were the only ones foolish enough to venture outside (and actually our suburb was really not as badly affected as others). Mr NQN and I arrive first and take a seat in one of the back booths. These are small and more suited for couples than groups of four so we move elsewhere when Louise and Viggo arrive.
We've already had a few minutes to look at the menu (okay confession: I completely stalked it online days ahead of time). There are bottled soft drinks, cocktails and five PG or AO milkshakes, the PG ones without and the AO ones with a shot of alcohol in them. We are very hungry so we place our order quickly with the waitress. The menu is pretty large with 13 types of burgers on offer. This alarms us slightly-we've found our favourite burger joints have a small burger selection - one to four burgers that they do phenomenally and have taste tested to perfection. What would these be like?
Beef Chilli Bowl $12
The starters and sides arrive first and we are grateful and ravenous. The beef chilli bowl has finely minced beef chilli seasoned with cumin and other spices topped with a dab of Sriracha yogurt and served with a side of tortilla chips and chunky guacamole. Viggo is a big fan of this chilli and the only criticism is really that there aren't enough tortilla chips. We ended up dipping the "Phat" potato chips below in this.
Charred Corn $8
The charred corn is two corn cobettes rolled in chipotle mayo and topped with grated parmesan. The corn is quite dry and not very juicy so I leave my share.
Garbage fries $10
The thing about fries with toppings is that sometimes the fries are really soggy underneath the topping and while it sounds like a great concept, the execution is a bit lacking. These suffer no such fate - the fries are piping hot and golden and topped with finely diced bacon, onion ring strings, cheese sauce and fried pickles or frickles. I think I ate half of this serve as they were so good.
Depot "Phat" chips $7
The depot phat chips are thicker cut chips that are golden and crunchy and seasoned with a chilli sea salt. They're good but I do love chips with a sauce and given that these are quite fat, they could benefit with a side sauce.
Shakes clockwise from left: gringo, peanut butter & salted caramel, honky and yo'mama $8 each
Our four shakes arrive including the monthly shake which is a peanut butter and salted caramel shake that is Viggo's choice that has a good amount of both flavours. They're sizeable too and served in those old fashioned milkshake mixer canisters. Louise's Honky is a vanilla bean shake with coconut flakes and is mild and creamy while Mr NQN's is a Gringo with dulce de leche, salted caramel sauce and brownie bits which has a balanced level of sweetness without being sickly sweet. But I have to admit that my favourite is the Yo' Mama, made with house made strawberry puree and Kit Kat shards that tastes of sweet strawberries. And what's not to love about Kit Kat shards?
Filthy Pigrim $15
Our four burgers arrive on a long board and we start on one end with the Filthy Pilgrim. This has turkey breast, homemade gravy sauce, roast potato & garlic patty, melted brie cheese, herbed stuffing crumble and cranberry mayo. The combo sounds like it would work (confession: I love stuffing, gravy and roast meat on a roll) but it's quite dry and the predominant taste is of mashed potato which is puzzling considering it is such a mild ingredient amongst so many other things. I don't think the cranberry mayonnaise worked too.
Wisenheimer $13
The Wisenheimer is better. It is filled with a slow cooked pork belly, classic green apple slaw and truffle mayo. The milk bun isn't quite as soft as other milk buns that we've had and the pork belly is soft but fairly indistinguishable in amongst the rest of the filling while the truffle mayo is very mild in truffle.
Chicky Babe $13
I love a good crispy chicken burger but this is just confusing. The chicken inside it is cold, actually close to being fridge cold. It even starts a little debate at the table about how the chicken was cooked as it isn't crispy at all and Viggo thinks that it is grilled. We end up asking about how it is cooked because it isn't obvious and it is supposed to be deep fried. They end up taking this off the bill. It is meant to be a deep fried buttermilk chicken thigh fillet, Depot slaw, chilli relish, American cheese, cowboy caviar & chipotle mayo.
Fuhgeddaboudit! $15
Thankfully we all really enjoyed the Fuhgeddaboudit with a grass fed beef patty, beef chilli, American cheese, onion rings, chilli relish and a choice of lethal injection hot sauce. There are four hot sauces to choose from including mild, medium, hot, or Fuhgeddaboudit. We ask if it is possible to get the two hottest ones on the side and the friendly waitress explains that they come in syringes so you just add how much you like which is a cute idea. The combination has a sweet element to it and it's like a cross between a burger and a sloppy Joe and while the Fuhgeddaboudit sauce is hot, it's not unbearable. It's everyone's favourite burger out of the lot.
Do-My-Nut Sundae $9
With this much food I was the only one curious about dessert because, well I'm a glutton. There are three desserts to choose from and we go with the donut sundae. It comes as two donuts topped with vanilla ice cream and a choice of toppings. You can choose from peanut butter and jelly, Oreo, apple pie or blueberry cheesecake. We decide to go with the apple pie and it's quite moreish (no mean feat when you consider how much we've ordered). There are soft apple chunks, a caramel sauce and cinnamon sugar dusted donuts. The donuts are freshly cooked too which is so important with deep fried food.
So tell me Dear Reader, are you still on the burger train? Do you have a favourite burger place? And do you prefer beef, chicken, lamb, pork or vege patties? And do you like really big menus with lots of choices or ones with fewer choices? Were you affected by Stormaggedon?
This meal was independently paid for.
Brooklyn Depot
65 Holt Street, Surry Hills NSW, 2010
Phone: 02 9211 2255
Open 7 days 11am until late
http://www.brooklyndepot.com.au/