Does the idea of making your own burger, hot dog, fries, tater tot or corn chip combo excite you? Loaded by BL on Missenden Road in Newtown lets you do just that. But the burger can only be as good as what you choose so the risk is real!
I've been standing in front of the enormous list of options for a while now. So long that I think that the friendly guy behind the counter has decided to put me out of my misery and suggest something. "Your only limit is your imagination!" he says and I suspect that he's told a few people that already.
Loaded by BL (the BL means Bar Luca, the popular CBD burger place) has so many options that there's often a bit of a bottleneck at the counter especially during busy periods. A better option might be if they tried one of those Japanese ramen vending machines or an app on your phone but for now, I'm just glad that I've come at a quiet time it took me about 10 minutes to sort through all of these options and order two burgers and a side. The staff are very helpful with suggestions and I take up his idea of Bar Luca's most popular burger, the Blame Canada with beef, maple glazed streaky bacon, French fries, beef gravy, bocconcini & maple aioli but in a hot dog form.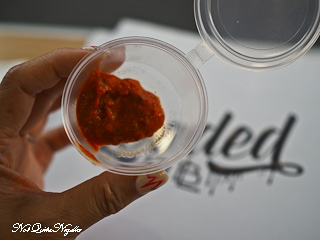 Suicide Chilli sauce
Prices are based on the basic item and the numbers of additions that you want. The hamburger is a bun with a beef patty and one sauce included but the rest is up to you. You can start with a hamburger, smoked beef hotdog, hand cut sweet potato fries, beer battered onion rings, mac and cheese, fries, tater tots or corn chips. And just a warning: the suicide chilli sauce is seriously hot. I'd recommend getting it on the side.
Burger $6 with mac and cheese $3, chorizo $3, scorched American cheese $2, Corn Chips $1, Sriracha BBQ Mayo $0 and toasted sesame $0
Food doesn't take long to arrive and they're sliding across some cardboard boxes, heavy with over enthusiastic ordering. My first order is one that I made up of a hamburger beef patty with mac and cheese added to it, slices of chorizo, scorched American cheese, corn chips, Sriracha BBQ sauce and sesame seeds. Corn chips on a burger you may ask? Trust me, ever since I tried it in San Antonio, Texas I've done this every time I can because I love crunchy in a burger. It's big but still entirely possible to wrap your lips around it. Mr NQN loves this burger especially with the chorizo although another 2-3 pieces of chorizo would be great.
Hot dog $6 with bacon jam $3, fries $2, cheese curds $2, liquid cheese $2, maple aioli $1, gravy $0 and garlic breadcrumbs $0
I loved the hot dog version of their award winning Blame Canada burger. This baby is sweet from maple bacon jam and with a nicely smoked beef hotdog sausage works so well. The rest of the hot dog is shoestring fries, cheese curds, gravy, maple aioli and garlic breadcrumbs and lashings of the bacon jam. It's soft, oozy sweet and juicy.
Tater tots $5 with popcorn chicken $4, liquid cheese $2, sport peppers $1, truffle aioli $0 and shallots $0
While we could have gotten fries I went for Tater Tots just because loaded tater tots are easier to eat than loaded skinny fries. I added popcorn chicken, liquid cheese (like nacho cheese), sport peppers, truffle aioli and shallots. It's rich, the textures work together so you can get a bit of everything in the one forkful and the tater tots stay crispy.
There's no dessert but there's no room for anything else anyway. Mr NQN asks what would happen if someone ordered everything on the menu? It's possible they say and it's called the Dalai Lama and would cost $101. So far, nobody has taken them up on the order.
So tell me Dear Readerdo you like creating your own burgers, hot dogs etc or do you become a bit paralysed by choice? And would you ever order something like the Dalao Lama?
This meal was independently paid for.
Loaded by BL
170/172 Missenden Rd, Newtown NSW 2042
Monday to Wednesday & Sunday 11:30am–9pm
Thursday 11:30am–10pm
Friday & Saturday 11:30am–11:30pm
Phone: (02) 9550 3145