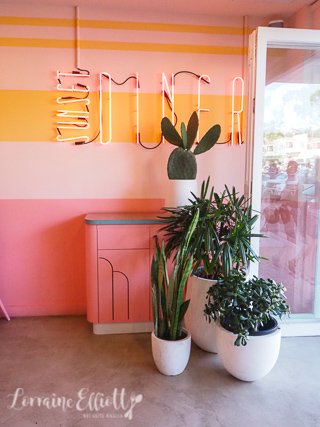 It was a glorious, unseasonably warm Autumn Sunday this past weekend so we ventured across the bridge. The destination? The picturesque suburb of Avalon on Sydney's Northern Beaches for Sunset Diner!
Avalon local and Sunset Diner's owner Ben Varela was inspired by his and his wife's trips to America to L.A., Florida and Aspen. Their idea was to pair Avalon's holiday style town and community vibe with the Californian and Miami one. "I was nervous at first with the pink but it seems to have worked," says Ben and it has since become a popular venue on Instagram.
The flamingo pink colour scheme hits Ivy as soon as she sees it. To her it's the colours and Art Deco architecture of Florida's Key West. There's an indoor section with candy pink chairs and tables as well as some back booths. But we are seated in the beer garden area at a shady table in the dog friendly section. Looking down on us is a bright flamingo mural.
The food menu has a mix of hot dogs, burgers, shakes and sundaes. Ryan knows what he wants already: a salad and a key lime sundae. He even promises to share some of it. Ivy and I choose the rest and go up to the front counter to order.
The Pina $17 Vanilla Malt Shake $6 with whipped cream and cherry 50c
Drinks and food come out surprisingly quickly. First the drinks-the vanilla malt milkshake is malty perfection. They're not stingy on the malt and cook it down into a malt caramel to really concentrate the flavour. In fact their shake sales rival beer sales they're that popular. Likewise The Pina cocktail with spiced rum, pineapple, coconut, banana jam and soft serve is utterly drinkable especially on a warm day.
The Burger $12
The Burger just plain and simple ends up being my favourite item and is their bestseller. We didn't pimp this up with bacon (although that is my habit) nor did we double up on the patty (another bad habit of mine). This is just well balanced and juicy with a beef patty, cheese onion, lettuce, tomato, pickles and sunset sauce which is a slightly spicy aioli.
Crispy Chicken burger $15 and bacon $3
The chicken burger with a crunchy buttermilk marinated chicken fillet, herb and cabbage slaw, pickles and chipotle mayo and added bacon (look I tried to resist but couldn't) is also good and this too is juicy and moist although I think the regular burger is a little ahead of it in terms of moreishness.
Smoked Brisket Dog $12 and Onion Rings $5
There are three hot dogs and we go for their recommendation which they warned up was rich. It's their signature smokey frankfurt with pieces of smoked brisket on top with mustard, pickle relish and onion. And yes it is rich but it's also really good.
Havana Salad $16, Crispy Chicken $4
Ryan's meal choice is the Havana salad with brown rice, black beans, avocado, coriander tomato salsa, spiced mango vinaigrette and corn crumble and he adds the crispy chicken to it. It's tasty but you'd have to have a will of steel to keep eating the salad if the burgers and hot dogs are around.
Truffle parmesan fries $7, Herb and Cabbage Slaw $5, 4 sauces $1 each
The truffle parmesan fries are fine but I wanted more truffle and parmesan on these. Still we dip them in the four sauces because we just love sauce and they were $1 each so it seems silly not to try them all. We tried the chipotle mayo, honey mustard, sunset sauce and mayo Sriracha aioli with the first and last being my favourites. The coleslaw is finely shaved but there is a lot of dressing on it which may be too much for some. The onion rings are crisp and crunchy and also good dipped in the sauces.
Sundaes clockwise from left: Strawberry Cheesecake, Key Lime Pie and Smores $8 each
It's time for dessert and there are six sundaes on the menu. The original plan was to split two sundaes but when we saw them coming towards another table we decided on three. There's a S'mores sundae made with torched marshmallows, Callebaut chocolate sauce and cookie crumble-this is nice but we all prefer the other two. The strawberry sundae has chunks of cheesecake and slices of fresh strawberries and is sweet and moreish. But the prettiest and tastiest of them all is the key lime sundae-with house made lime curd, crisp meringue and cookie crumble!
Just enough energy to power us back home!
So tell me Dear Reader, which sundae appeals to you the most? Which cuisine or style of food would you focus on if you were to open up your own restaurant?
This meal was independently paid for.
Sunset Diner
41 Old Barrenjoey Rd, Avalon Beach NSW 2017
Monday & Tuesday Closed
Wednesday & Thursday 12–10pm
Friday 12–11pm
Saturday 11am–11pm
Sunday 10am–11pm
Phone: (02) 9918 8776
sunsetdiner.com.au/