Australia Day is coming up very soon on January 26th and a pavlova would arguably be the national dessert of Australia. The idea for a pavlova in the shape of Australia came to me while I was daydreaming about cake (what else is there to daydream about?). I dreamt of one topped with a range of Australian fruit sectioned off by state along with a blanket of whipped cream and passionfruit! Would it be possible? #pavlovaparty anyone?
This year we're celebrating Australia Day with my usual squad and I am bringing a lamb dish and a pavlova. I knew I wanted to make a pavlova and a small part of me thought that one shaped like Australia might be easily achievable. While my dreams often fall short in reality I realised before starting it that meringue spreads when you bake it and that I might not actually end up with a pavlova in the shape of Australia, but rather one in the shape of a cat's head. And that would be funny and crazy (and then I started thinking of a cat pavlova).
Then I remembered something that I was given called a Bake Snake in March last year (not sponsored but you can bet that I was glad that I had it in my cupboard). It's a series of silicon pieces that interlock and you can create shapes like numbers or letters using it. Or in my case Australia! I didn't think it would work for a very liquid batter but a pavlova would be perfect for it. Mr NQN and I shaped the pavlova and the bake snake wouldn't hold the Australia shape quite in the way that we wanted it so we added ramekins and then...we had Australia! I made the pavlova, spread it out in the mold, made a video, slid it in the oven for one and a half hours too scared to open it, and crossed my fingers.
Well blow me over with a feather. It actually worked! The rest was just fun decorating. I added a topping of lightly sweetened whipped cream, a layer of fresh passionfruit pulp and then like the OCD bunny that I am, I decorated each state/territory with its own fruit (Please forgive me ACT? I ran out of fruit and the ability to count :( x). I know banana as NSW is tenuous but I sort of ran out of fruit to assign to each state and raw apples seemed unsuitable for a pavlova. Also Queensland pretty much grows everything really so it couldn't get all the fruit.
Can I just say that I am now convinced that pavlova needs to be baked in a ring mold because when it isn't bound, it spreads and loses height. Whereas this baby is tall and proud with a beautifully crispy outer and the lightest, highest layer inside. There's the sweet spot from where the crunch hits the airy filling and the cream and the tart passionfruit and fruit hits the sugary sweetness of the meringue. We had no choice but to have a pavlova party with all of the pavlova that we made. Doesn't that sound like the sweetest kind of party?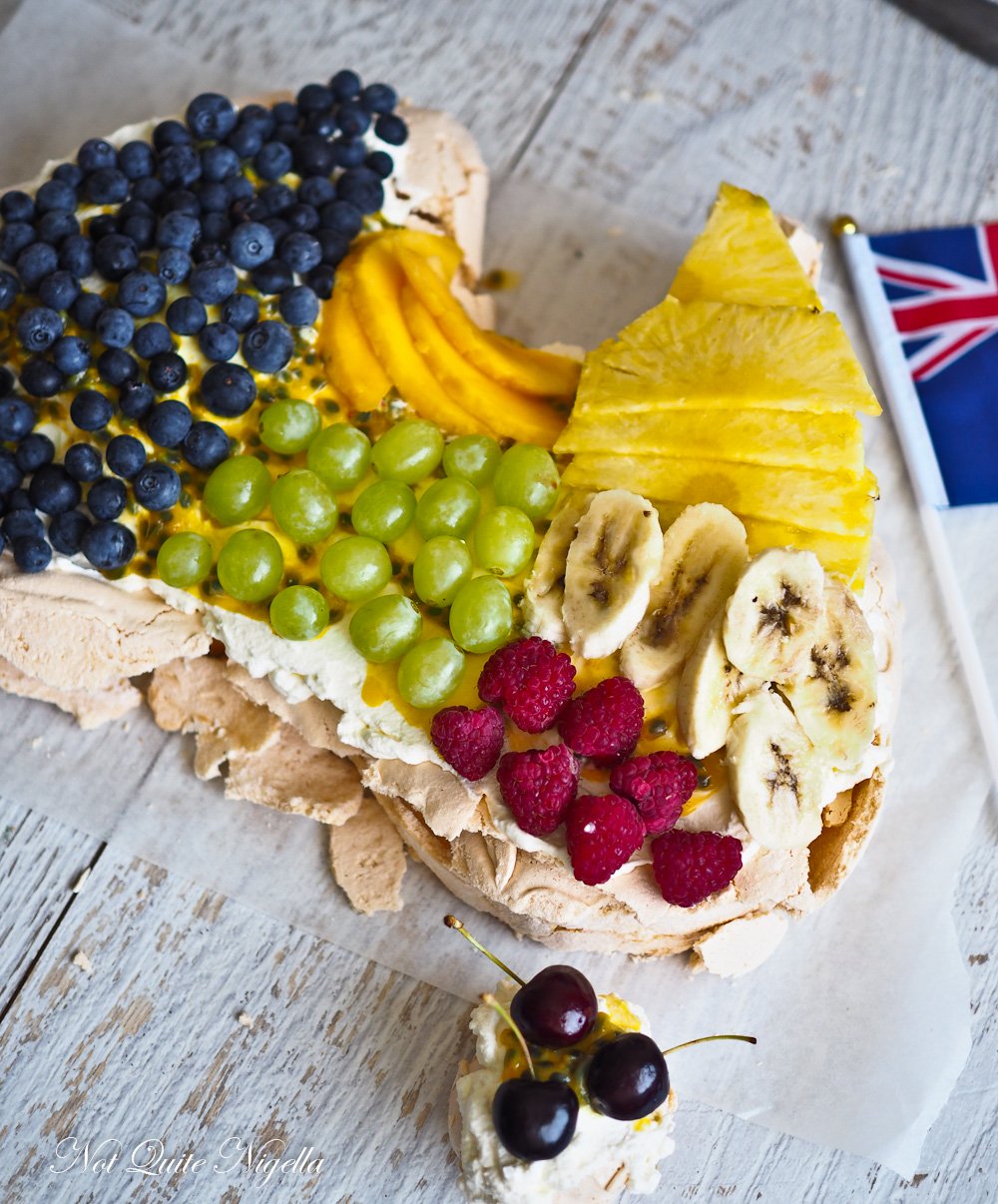 I also just wanted to check, are we still all eating sugar after Christmas? We are of course although the other day Mr NQN emerged from the bathroom in the hotel we were staying at and practically shrieked. Now if you know him, he has a deep voice that utters few words so a high shriek is most uncommon.
"Mon cheri!! I am FAT!" he said wringing his hands worriedly. He explained that he got on the hotel room's scale (ours is broken, almost deliberately so as I refuse to put batteries in ours and/or get on it) and he actually saw his weight.
"I put on four kilos in the last two years!" he exclaimed.
I was a little distracted as I was writing so I turned to him and said, "In how long? Two weeks?" thinking that it was all the Christmas food.
"No, two years," he said.
"Amateur," I responded drily. Honestly I could do that in two days. And he's worried about two years? And when I prompted him about it, it turned out that his 6 foot 2 frame is just 80 kilos now. He occasionally frets about it but my response is that pavlova contains a lot of fruit and so it must be terribly good for you ;) And besides which, Australia Day is the perfect day for a Pavlova Party!
So tell me Dear Reader, a cheeky question but how long would it take you to put on 4 kilos? And are you still eating healthily? Do you take "time off" from healthy eating for holidays or celebrations? And which fruit section would you pick?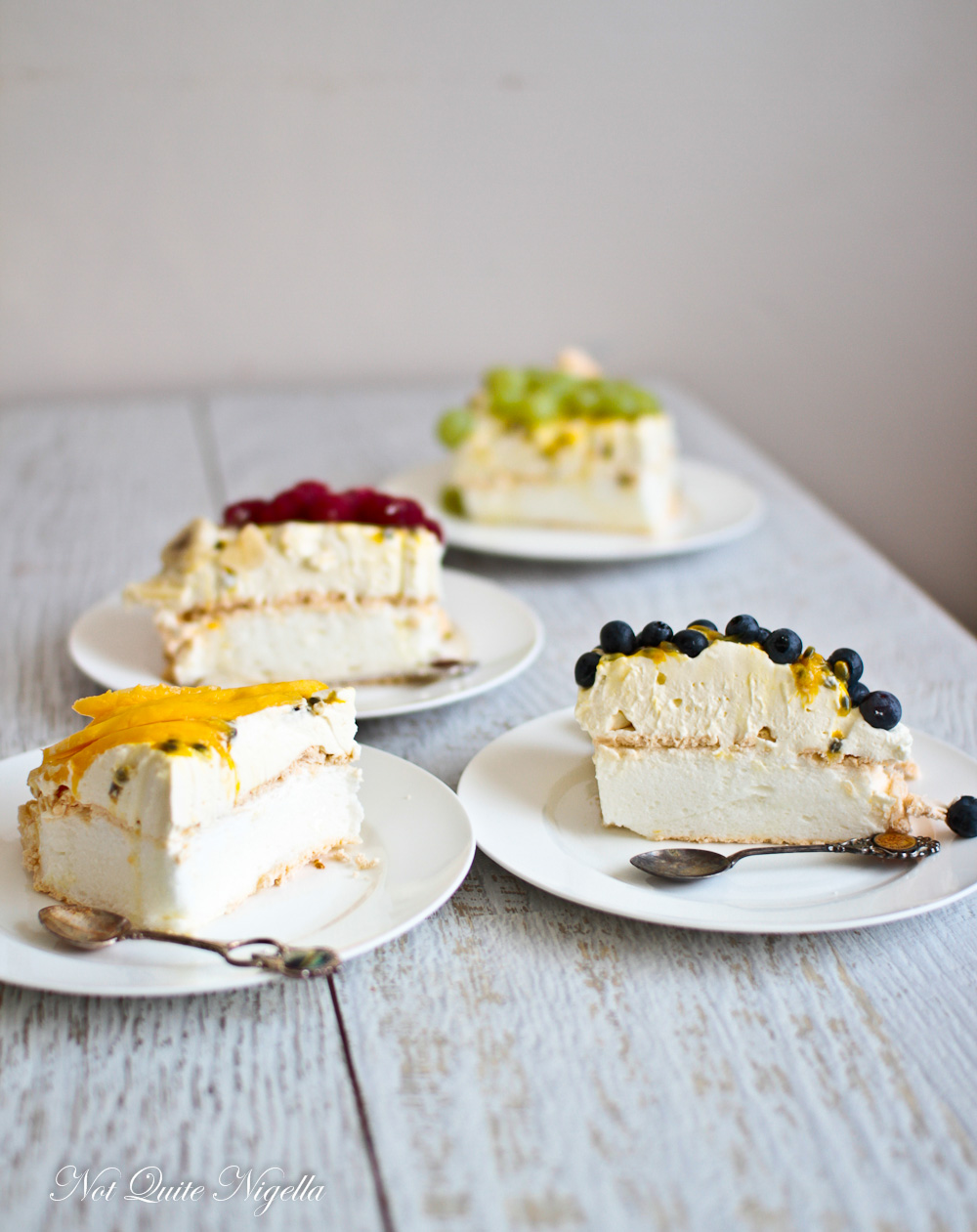 When your cream to meringue ratio is about equal ;)
DID YOU MAKE THIS RECIPE? Share your creations by tagging @notquitenigella on Instagram with the hashtag #notquitenigella
A Very Australian Shaped Pavlova
An Original Recipe by Lorraine Elliott/Not Quite Nigella
Preparation time: 20 minutes
Cooking time: 1.5 hours
8 egg whites
1.5 cups caster or superfine sugar
1.5 tablespoons cornflour (or fine cornstarch)
1.5 teaspoons white vinegar
1/2 teapoon cream of tartar
600ml/21.2 fl ozs. pure or thickened cream
2 tablespoons caster of superfine sugar
3 passionfruit
200g/7ozs. fresh blueberries
1/2 cup grapes (seedless)
50g/1.7ozs. raspberries
1 small banana
1/2 mango, peeled and sliced
1/4 pineapple, sliced thinly into rings and then cut in half to make half moons
3 cherries
You will also need a bake snake and some ramekins or an Australia shaped mold.
Step 1 - First construct the shape of Australia with your bake snake. I placed it on the largest baking tray lined with parchment and put the bake snake together (all but one piece which we left for Tasmania). We fashioned the shape of Australia using the ramekins to hold it into place at the top and bottom (no need to grease the bake snake but if you're using a metal mold, line it with parchment. Tasmania isn't a circle but the bake snake doesn't really lend itself to a triangle shape so you can trim it once it is done.
Step 2 - Make sure that your mixing bowl and beaters are spotlessly clean and that there is no egg yolk in the whites. Preheat oven to 180C/350F. Start whipping the egg whites until they get foamy and then add the sugar in a steady stream. Add the cornflour, white vinegar and cream of tartar and whip until you get stiff peaks. If you can tip the bowl upside down without the meringue moving it is perfect.
Step 3 - Spoon the meringue mixture into the bake snake and smooth the top over with an angled spatula and place in the oven in the middle rack. Reduce heat down to 150C/300F and bake for 1 hour. Then reduce the heat and bake for another 30 minutes at 130C/266F. Set oven door ajar and allow the pavlova to gradually cool down.
Step 4 - Whip the cream with the 2 tablespoons sugar and place in the fridge until ready. Scoop out the filling from the passionfruit and place in a bowl. Slice the banana, mango and pineapple and have the rest of the fruit ready in a tray.
Step 5 - Just before you want to serve it, decorate it. Spread the pavlova with the cream and then drizzle the passionfruit over the top. Don't worry if the pavlova starts to collapse, just push it together gently. Then make each state a different fruit. We tried to do each according to what each state grew but really all states grow a lot of fruit so you can use whatever fruit you prefer. I'd recommend soft fruit over hard ones like say apple slices. Tart fruit is also good because of the sweetness of the pavlova.
Note: this dessert does not travel well once decorated. If you need to travel with it, take the undressed pavlova and dress it just before you serve it.