I left it up to Nina to decide where we were going for brunch as her specific food requirements had bled my "to eat" list dry. The night before she texted me about XS Espresso and on the way I looked at their Instagram page full of colour shakes, donuts, fried chicken and burgers and wondered if she had finally come over to the dark side. My side.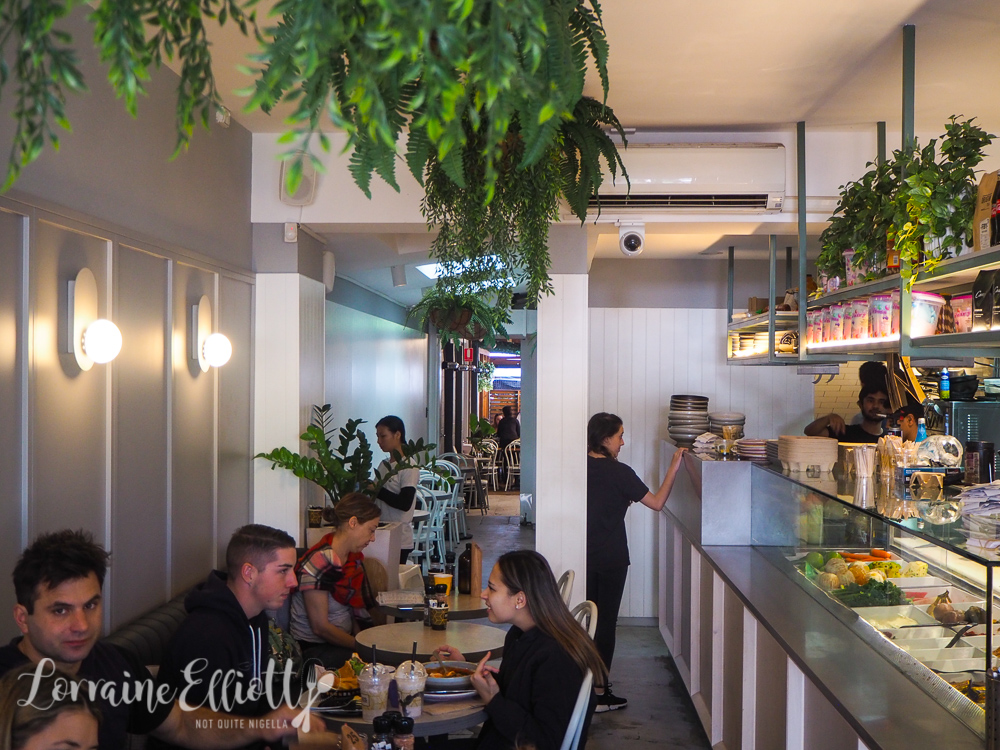 "Oh no they've got healthy food too," she said and she and Garth order their healthy breakfasts while I order some things from the other side of the menu. It's like we were eating at two different cafes.
XS Espresso is very busy and sits on a sun drenched corner of Hall Street in Bondi. You order and pay at the counter and they bring the food to you. The food comes out one at a time. First the sweet waffles come out and there's a fairly long wait before the chicken waffles come out. And then finally around 20 minutes later Nina and Garth's breakfast arrives.
Cold Drip $4 and Taro latte $4.90
The drinks are faster although not fast. The cold drip coffee and taro latte are first. The latter is a sweetened, tasty version of the taro milk latte.
XS Surprise Shake $14
The Cronut shake wasn't available as they were out of Cronuts so we go for the XS Surprise. It's the sort of drink that kids go gaga over. I only know this because every kid that walked past went positively crazy over it begging their parents to order one while others counted up their change so they could afford one. And at $15 it isn't cheap. It is a Kinder Surprise topped waffle cone dipped in white chocolate with sprinkles and there's a chocolate shake in there too. Oh and there's also rainbow fairy floss just because.
Next Level Waffles $17
The waffles come out on a supersized plate. It's a waffle sandwich smothered in Nutella and Belgian chocolate, sliced strawberries, about a packet of mini m&m's and a smashed Crunchie and two fat scoops of vanilla ice cream.
This is really for those that like their desserts super sweet and sugary. I think the berries are really needed especially with this much sweetness and try as we might, we can only demolish half of this so this is really best shared with 3 or 4 people.
Chicken & Waffle $18
I know, another waffle dish but when I asked what was good they said this. It's a buttermilk fried chicken on a cinnamon waffle with maple bacon, creamy carrot and purple cabbage slaw, melted cheese and XS secret sauce which is like a chipotle mayonnaise. It's enormous and the chicken is juicy although a little cooked too far. I don't really detect much cinnamon in the waffle and there's a generous amount of maple syrup.
Happy Bowl $21
Strangely enough, I think out of all the dishes I prefer Garth's Happy Bowl with grilled chicken tenderloins, quinoa, smashed sweet potato, kale, grilled halloumi, beetroot hummus, cucumber, soft boiled egg with lemon, garlic and chilli. Sure it's a bit healthy for you but the chicken is tender and halloumi is always good.
XS Stack $17
Nina honed in on the avocado toast with a slice of sourdough topped with poached eggs, grilled halloumi, tomatoes and smashed avocado with za'atar. She's quite happy with her choice indeed.
And of course dessert isn't needed! ;)
So tell me Dear Reader, what are your thoughts of shakes like the one above? And which dish would you have ordered?
This meal was independently paid for.
XS Espresso
99 Hall St, Bondi NSW 2026
Monday to Friday 6am–10pm
Saturday & Sunday 7am–10pm
Phone: (02) 9130 3514
xsespresso.com.au/