Kaiseki is regarded as the most high end of Japanese cuisine. Based on the philosophy of the tea ceremony master Sen no Rikyu who lived in 1522-1591 it has now evolved to become the exquisite meal that it is today. It involves several courses, usually around a dozen or so, of beautifully presented dishes. And we try kaiseki at the two Michelin starred restaurant Roan Kikunoi in Kyoto.
Integral to the kaiseki experience is the seasons and although eating seasonally and locally has recently become a trend in Western culture, it has always been this way with Kaiseki cuisine. Roan Kikunoi's owner chef Yoshihiro Murata is a third generation here and oversees the three branches: two in Kyoto and one in Tokyo in Akasaka.
When booking at kaiseki restaurants, customers specify the number of courses they would like to have - there may be a few choices and it often depend on how much money you want to spend. It is rare to see a full kaiseki menu for less than Y15,000/$185AUD/$140USD at dinner. Mini kaisekis are a good way to start and these can be around Y13000 or around Y80,000 for lunch. But since this was our wedding anniversary trip this became our "special" dinner to celebrate.
Don't be offended if they ask you for a phone number or some sort of guarantee that you will turn up. Mico san booked for me and she had to guarantee that we would turn up or she would be charged as I didn't have a Japanese phone number. Unfortunately there have been some instances when foreigners book but don't turn up.
Roan Kikunoi is located just off the main street Shijo dori in Kyoto. A chef standing at the front brings over a piece of paper with a couple of Western names and we point to ours. He leads us to a counter seat where a place card displays our name. English is spoken by some of the younger chefs who seem happy enough to explain and converse when you ask them questions.
There are 10 courses listed on the menu but some of these courses are broken up into two courses so in the end you end up having about 15 or so courses. And the Japanese are masters of speed. It depends on how fast you eat of course (and we did stop and take pics and do snaps) but even then the whole dinner with 15 courses took 90 minutes.
Our first item is poured from a ceramic teapot into a small shallow bowl. Shirozake is a deliciously sweet white sake which is the celebratory drink for the Doll's Festival on March 3rd.
The amuse is a poached umeboshi red pickled apricot, cod millet sauce and a tiny peach petal. Although it sounds like it could be plain, the apricot with the pit inside is all about texture, the soft flesh easing off the pit and the cod millet sauce is a blanket of flavour surrounding it.
The appetisers come out next in a three tier lacquer tea box. We unwrap the ribbon and the contents cause me to gasp they're so beautiful. On the right is a poached egg-bearing octopus, warabi, bamboo shoot squid and udo stalk in Kinome (prickly ash leaf bud) sauce.
On the left is a Shirauo sushi - shirauo being a small white fish eaten whole on top of sushi rice. It it served with a yurine (lily bulb) petal with salmon roe and a carrot leaf. Both are as delicious as they are beautiful. We love the variety of textures as well as the flavours.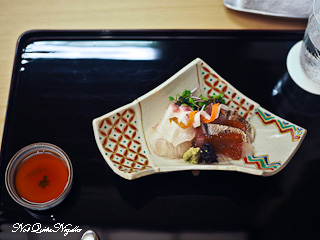 The sashimi course is up next and there are two types on this plate: a Tai or red sea bream and Sawara or Spanish mackerel, a fish well loved by the Japanese. They tell us to dip the tai into the soy sauce and add wasabi while the sawara is served with slices of ponzu jelly that need no dipping. While I love the texture of the Tai the ponzu jelly adds such a welcome complexity to the sawara.
In a lot of Western countries, tuna and salmon make up much of the sashimi range but here in Japan they tend to use other fish and seafood for sashimi. So much so that this is actually my first taste of tuna sashimi in my week in Japan and it is a beauty. The koshibi or baby tuna comes with a marinated egg yolk sauce. This is made when whole egg yolks are marinated for three days in soy sauce. Without mixing or breaking them they remove them and serve them as a thick, creamy sauce that you are to dip the tuna in on both sides. It's such a gorgeously creamy sauce but the baby tuna would also have been delicious on its own.
The soup is served in a bowl and traditionally you raise the bowl to your mouth and sip. Inside is a clam dumpling made with minced soft clam meat as we as finely diced clam pieces. There is also kogomi, urui, kintoki or carrot, bamboo shoot, seri (celery) and kinome. There is a lot of chives on top and this mildly flavoured soup really helps accentuates the flavour of clam and of the sea. And now I'm starting to sound like one of the judges on Iron Chef Japan...
The grilled course is a fillet of Karei (flat fish). This is perhaps the closest to what you might find to a Japanese dish in Australia. It reminds me texturally of the black cod in miso and simply melts in the mouth. On top of the fish is grated egg yolk and rape greens. It comes with one perfectly seasoned shiitake topped with poppyseeds.
The chefs warn us that the wasabi is very hot in the sorbet. It's actually the perfect amount of wasabi, just enough to give it a tingle but not to implode your sinuses. We are in the middle of strawberry season too so the sorbet sings with natural sweetness.
The next serve is a salad and I'm struck by how different the order of things are in contrast with Western cuisine. It's a kujo negi a version of spring onion with cuttlefish, konjac jelly made from devil's tongue root and mixed with mustard and a white miso dressing.
The hot pot is the second last savoury course. It is made up of slices of red bream fillet, small scallops, clams and tofu. By now (actually two courses ago) I was getting very stuffed so I only manage a bit of this.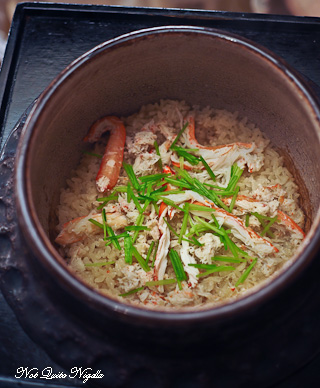 The rice comes out in a huge ceramic pot with lid. Inside is rice with a generous amount of crab meat. They serve us some of this and offer to fill it up a bit more but we can't fit much more in. There is a burdock root soup-at first it tastes a bit odd but then the more you have it the tastier it is.
There are Japanese pickles on the side and there is one in particular that is divine. It is made from sea bream, ginger, sake and miso and is perfectly balanced and moreish. They even sell it in vacuum sealed packets at the restaurant.
It's dessert time and there is a choice of two: a more Western style dessert with pistachio ice cream and mango soup-this is good although we both prefer the traditional dessert.
This is a roasted barley ice cream that takes on an almost coffee like flavour. On top is some miso powder and to the side are three mochi rice flour dumplings on a stick with sweet adzuki beans that have that wonderful chewy texture.
We had expected to be here all night and it is only 90 minutes from when we start. We chat to another customer, an American who is dining solo. When we get up to leave they hand us a paper bag. As we weren't able to finish our rice they packed it up for it and wrapped it beautifully in wrapping paper before handing it to us in a paper bag with chopsticks. No doubt the perfect bento idea for our shinkansen ride to Tokyo the next day.
So tell me Dear Reader, what do you think of the kaiseki concept? Would you try it or have you tried it? What is the most amount of courses you have had? And how long was the longest meal you've had?
This meal was independently paid for.
Roan Kikunoi
118 Saito-cho, Shijo-sagaru, Kiyamachi-dori, Shimogyo-ku, Kyoto-shi, Kyoto 600-8012
京都府 京都市下京区 木屋町通四条下ル斉藤町118
http://kikunoi.jp/english/store/roan/ Lunch: 11:30am to 1:30 pm (last entry)
Dinner: 5:00 pm to 8:30 pm (last entry)
+81-75-361-5580