Matsuba crab is one of the treats on offer in the sea port area of Sakaiminato. It's a meaty crab with a soft shell that is a pleasure to eat and when you see the prices of crab meals you may find yourself booking a flight to visit! Some also love the area as it is a shrine to the home of popular Japanese manga writer Shigeru Mizuki where streets and sweets are devoted to his quirky characters. And sometimes you may meet one in real life!
We are on the move again. Covering Japan like a whirlwind the Shinkansen train leaves from Okayama and heads towards Yonago. We drive past rice paddies, in and out of tunnels and two hours later the nasal sound of the driver (they speak through their nose to preserve their voice) sounds. He is apologising for arriving two minutes late for a two hour train ride. I think back to our own train system in Sydney and think that only in Japan would this happen.
From there Mico San and I drop our bags at the hotel and then catch a train from Yonago to Sakaiminato station. I've become really quite addicted to a drink called Amazake a non alcoholic drink made from sake. It doesn't look particularly exciting but once you try this fermented drink you may become addicted to its natural, pronounced sweetness. I sip some at the train station and also try an eki ben. Eki (train) ben (bento) is a popular choice for commuters and at Yonago station they feature one of the local specialities: Sabazushi.
Saba is Spanish mackerel and here it is served on vinegared sushi rice and konbu kelp. The sushi has a sweetness from the vinegar and is absolutely worth a try, the slightly oily mackerel such a good counterpoint for the vinegar.
Sakaiminato is about an hour away but the area that we are headed to is called Sakai port. The train that we board departs from Platform No. 0 and all trains going to Sakaiminato are decorated with one of Sakaiminato's most beloved manga artists creations GeGeGe no Kitaro by Shigeru Mizuki.
The trains are decorated on the inside and outside with the story's characters (more on them later) and many make the pilgrimage to Sakaiminato to see the museum and his house. But for us, first it is lunch. From the train station it is a short taxi ride to the area known for its seafood. We pass squid boats and other maritime sights.
Here you're best to bring a love of seafood because there is plenty of it. We enter Matsuya, usually very busy but as we are arriving a bit later, it's easy to get a table. There is a choice of low tables or regular tables. I bask in the sun through the window and open up the menu. The draw here is Matsuba crab, a glorious specimen with long legs with dense and plentiful meat inside. There are plenty of choices and the main ones have pictures-if you're not a fan of seafood the flipside of the menu features regular non seafood Japanese dishes.
We decide to share a Y2700 seafood platter which they suggest is a good idea given the size. And at around $30AUD it is an incredible amount of food! Eating Matsuba crab is pure pleasure for not only is the meat wonderfully textured and sweet (and made all the more sweeter with a sweet vinegar dipping sauce) but the shell is also very soft and pliable and breaking it allows the meat to come out in long, easy to reach pieces.
The sashimi plate has isaki, hamachi, doro ebi (a muddy shrimp) and amaebi. The raw prawns have a wonderfully creamy texture to them and a sweetness especially amaebi which is so named "sweet shrimp".
Many Japanese like using specific soy sauce for sushi as opposed to cooking. Here it is thicker as it is cooked to thicken it which concentrates the flavour. The tempura prawns are especially fantastic and there is a generous serve of uni or sea urchin, white squid sashimi, chawanmushi, a fish soup and stew. One of my favourite things apart from the crab and raw prawns is the crab miso soup with just the right amount of miso added so that the crab flavour shines through. I'm not particularly taken with the very chewy turban shell or the fried rice-although adding some uni to the rice gives it a much needed saltiness.
We head back to Sakaiminato town where our next stop is a sweet stop on Mizuki Shigeru road. The story of GeGeGe no Kitaro is the story of a boy who with his fellow yokai or spirit monster friends fights demons to unite the human and spirit world. Hanging on the side of him is his father Medama-oyaji or "eyeball daddy" which is just a big eyeball for a head with a body. I know right? They have some imagination here.
And these wagashi sweet made by a quality wagashi maker sell like hot cakes or hot eyeballs. They're filled with red bean and coated with a rice flour coating. They even suggest poses in which to pull with the eyeball (sticks are extra). Next door is the museum where there are plenty of visitors posing for selfies with their eyeball wagashi. And then Mico san squeals. Behind us is the mute figure of Neko Musime, his friend who acts like a cat. I feel like I'm in the presence of manga royalty.
Walking down streets they're well themed in celebration of the manga comic. On the walk back to the station we pass by so many shops selling the manga merchandise. There is one shop close to the station selling sembei along with toasted sembi that tastes exactly like sembei or rice crackers crossed with mochi for texture.
Many hotels have shuttle buses to and from the Adachi Museum of Art. It's a little out of the way so it's a good idea to try and make use of these if you want to visit. The museum named after the founder Adachi Zenko is regarded as having one of the top gardens in Japan to visit. Called a Dry Landscape Garden spanning 165,000 square metres some of it can be viewed from behind glass. Despite the fact that you can't walk through it it is very soothing, the harmony in which it was designed apparent as soon as you see it. There is white gravel and pine garden and off in the distance you can see the Kikaku waterfall.
We stop for a matcha latte and some anmitsu in one of the tea rooms. Midori coffee shop has wonderful views and we sip our teas and snack on anmitsu which is a dessert snack made with shiratama (white chewy mochi balls), angko (sweet red bean), kanten jelly cubes, matcha ice cream and warabi mochi dusted with kinako or sweet toasted soybean flour. There is a little jug of kuromitsu syrup to pour on top.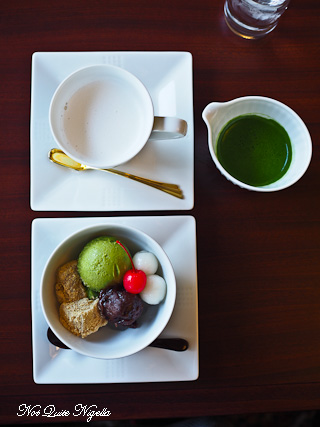 The artists featured include many notable Japanese artists like Yokoyama Taiken, Takeuchi Seiho, Hashimoto Kansetsu etc. Alas no photography is allowed of any of the works so we enjoy the garden view.
I've only got a short time before we head out to dinner. Mico san has managed to get us a spot at a renowned Kappou restaurant in the main area of Yonago called Kisara. A Kappou restaurant is usually one in which the customer eats fine dining food but is seated at a counter opposite a chef. When you book at a Kappou restaurant you need to specify the number of courses that you want. The food is prepared right in front of you and it is easy to talk to a chef this way. This also means that if you dine alone you won't feel completely alone! Kappo itself simply means cooking and the food prepared is often traditional. Kisara is a 10 seater restaurant. Jazz plays and there is French wine available by the glass. The chefs wear ties here-they're a world away from the chefs that we often see with tattoos, beards and slicked back hair.
They bow deeply and service from all of the staff is wonderful. The name Kisara means "Happiness Again". Chef Takahiro Takabe is busy preparing the food. They begin the service with a flourish as they turn the plate around so that the front faces us. From left to right there is Hotaruika raw squid with Brussels sprout, Sakura ebi or spring prawn with egg omelette (tamagoyaki), flower nano hana, baigai shell, a seaweed jelly cube, jinenjo sticky rice potato with Tasmanian mustard in soy sauce and asari seafood with egg.
The next item looks like salmon but it is Karasumi or pollock roe that has been shaved and topped with ikura fish eggs. The karasumi has been dipped in Dasai sake, a rare and sought after sake. The last bite in the lidded cup is farmed salmon from Sakaiminato served with ponzu and daikon. We go from left to right tasting and sipping water. Every little morsel is delightful and we enjoy the variety of flavours and textures every bite affords us.
The next course comes in a lidded bowl. We lift the lid and see that there is a Hamaguri clam, a slice of bamboo shoot, udo vegetable from the mountains, negi or the white end of a green onion and a single sansho leaf. I've become really taken with sansho with its fantastic burst of complex flavours that dance on the tongue.
At Kappou restaurants, they use the term otskuri instead of sashimi which denotes one level up for sashimi. The items on this otskuri plate come with a lit candle and a branch of cherry blossom tree. There is a Mosa ebi, squid, saba (Spanish mackerel) and sayuri fish. They're beautifully clean and I savour each bite slowly.
But then out comes my favourite course. Now I'm a total seafood lover but here this beef wins me over. They ask me how I'd like the beef done and I always say however the chef recommends. This wagyu beef is from Tottori, the prefecture that we are in. The cut they use is called Ichibo is comes from the lower back above the rump. It has been dry aged for 1 month and there are three finishes on top. We go from right to left this time.
I pop a piece topped with wasabi. It's eye rollingly good. So good that I just want this course to repeat itself a dozen times until I'm left on the floor shrieking "no more!". Then I pop the second piece in my mouth topped with mosa prawn and it is even better. The last piece with maguro tuna intestines is the best thing I've eaten today and while intestines may not sound palatable, there's nothing offaly about it, just a pronounced savouryness and depth of flavour.
We are back to seafood in the next course with Sumiso or miso with vinegar, hotaruika or tiny full sized adult shrimp and spring seaweed with ponzu. The shrimp melts in the mouth as it is lightly torched on the grill.
To reset the palate here they use dried persimmon or kaki, cut into tiny cubes and served on a spoon. The dried fruit is still plump and sweet.
Next there is a choice of topping for the anago or saltwater eel. Anago is less fatty than unagi eel that is usually served with a sweet sauce. Here they serve it with pink soy sauce, ume plum and sansho or Japanese prickly ash pepper. And pink soy sauce? Yes it's a thing and it is absolutely delicious! Intense in flavour and definitely pink in colour. Mico san and I loved it so much we bought some!
The next palate cleanser is another square of dried persimmon this time grilled with butter. Well what can I say but I love the taste of butter! A good toast alternative perhaps?
There are two more savoury courses and the next is a Hatahata fish that has been slightly dried and then grilled. It is served with two pieces of anago eel fillet with sansho. I flip the fish over and remove the backbone which is easy to do. The fish has a slightly oily and still moist texture even though it has been slightly dried.
The last course is a choice of rice or soba and I go for the soba. It is served in a dashi (fish broth) made with ago or a jumping fish that is said to make a sublime dashi. It is served with a Jinenjo sticky potato cake made with Matsuba crab and some Ita wakame, a local wakame that has been deep fried.
The dessert is a typical Japanese dessert made with traditional ingredients as well as fresh fruit. Fruit in Japan is really something else. Absolutely perfect looking (I often wonder what happens to the not so perfect looking fruit) and unbelievably sweet it is also strawberry season so they are widely available at reasonable prices. It's small but perfectly portioned and with a light sweetness to end the meal.
So tell me Dear Reader, have you ever been to a Kappou restaurant before? And have you ever heard of that GeGeGe No Kitaro? Can you believe those prices too?
NQN travelled to Japan as a guest of the JNTO (Japan National Tourism Organisation) but all opinions remain her own.
Matsuya
Adachi Museum
320 Furukawacho, Yasugi, Shimane Prefecture 692-0064, Japan
https://www.adachi-museum.or.jp/en/
Kisara
36 Yokkaichimachi, Yonago 683-0061, Tottori Prefecture