"In this region, you say "Dandan" instead of arigato gozaimasu" says Mico san. We are in Matsue City set along Lake Shinji. The town itself is quiet but pretty with lovely little touches. There are sake bars, knife shops and cafes. As it is a Wednesday a lot of places are closed for their weekend break but walking around town reveals serendipitous treats, gift purchases not to mention a visual treat for the eyes and palate in the form of lunch.
The area of Matsue is known for a few dishes and one of them is called Taimeshi. At the gorgeously refined restaurants Minami-Kan (meaning south building), kimono clad staff guide you to the main dining room or private rooms. They overlook a beautiful Japanese garden and Lake Shinji.
Lunch set menus are a fantastic way to try high end dining at very reasonable prices in all sorts of establishments all over Japan. Taimeshi is a dish that was created by Matsudaira Harusato in the Edo period. He was inspired by the Dutch and made use of local sea bream. It's a dish that is made up of finely chopped egg white, finely chopped egg yolk, cooked sea bream, spring onion, nori and daikon. You place some rice in a bowl, add some of these to the bowl and then pour dashi on top. It makes a comforting and mildly flavoured dish that you eat with the small round spoon provided.
I sip on a non alcoholic ume plum juice. There's a deep fried kare fish that you can eat the bones and all. Alongside this is a chawanmushi with a slippery top layer that is prized in Japanese cuisine (something that we might consider slimy), seaweed and a otskuri sashimi plate with sea bream, tai, squid and marugo fish. One thing that I try is the item similar to tofu but made with usuimame a type of green bean topped with sesame. It has a soft, pudding like texture. The meal is quite large and there is no way I can finish it all even though I want to.
We do some shopping and I pick up some gifts from a gorgeous little boutique called Journey Zakka and Fabric with new and vintage items from all over the world. There are vintage French buttons, ribbons from Germany and locally made candles.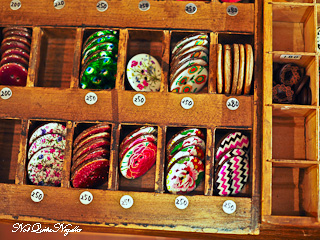 In the distance is Matsue Castle, a medieval castle nicknamed the black castle or the plover castle.
After this we try another place that is famous for serving Matsue's other famous dish: wariko soba. Yakumoan is a small restaurant and even at 2:15pm in the afternoon it is very busy still. Signed autographs of famous actors and sports stars adorn the walls including Matsue born tennis player Kei Nishikori who is said to consider this one of his favourite restaurants.
The concept of wariko soba is simple. It is three round lacquer stacked boxes of house made cold soba noodles. It comes with nori seaweed, spring onion, karasumi (dried shaved flakes of pollock roe) and spicy grated carrot as well as soba sauce.
It's simple and sustaining and said to be good for digestion and I'd imagine that it is very soothing in summer. Wariko soba was said to be popular because even if your land was not fertile, buckwheat which is what soba is mostly made up of, was always able to be easily obtained.
Our home for the evening is the Hotel Ichibata situated directly across from Lake Shinji. It's an enormous hotel and I was wary. For the last few nights I have struggled with the accommodation having very bad sleeps at each and every place. From the tiny rooms (to be expected) to hard mattresses, hard high pillows and cigarette smoke coming through the vents, some nights I would only have three hours sleep consisting of mostly tossing and turning. So I have no idea what this hotel might hold.
There are two types of rooms here. They have given me a Japanese tatami room where the staff bring out a futon at night and lay the bed for you. It sounds charming but as soon as I walk in the smell of cigarettes hits me. The Japanese rooms allow smoking so I switch to a Western style room. Twin beds seem to be de rigeur in all hotel rooms and this room is surprisingly sizeable. It's minimalist but my favourite touch is the yukata that you choose in the lobby. There are so many pretty colours and patterns to choose from.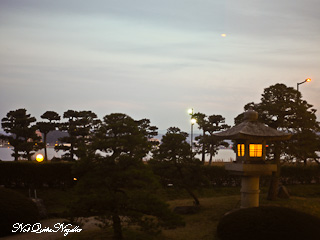 I put on the air purifying machine (these have been at almost all of the hotels) and do some work before time beckons me downstairs where I join Mico san for an 11 course Beni Zuwai crab meal. It's part of an accommodation package deal and is only available to guests of the hotel.
Mico san has just made use of the hotel's onsen facility. This is free to all hotel guests and she explains that Japanese often like to use the onsen before dinner and after dinner. They also use it before breakfast each morning with an average total of three times a day. Indeed some guests come downstairs wearing slippers and their yukata having come straight from the onsen.
Despite the fact that there are 11 courses, some come out at the same time so the pace moves along well. First of all is a goma style tofu (made with sesame paste) topped with some crab meat. It has a smokey flavour to it from the sesame and is smooth and delicious. Along with this are two pieces of crab leg sashimi. I've never had crab sashimi before although I'm not fond of lobster sashimi but this is a pleasant surprise. It's possibly even richer than cooked crab meat.
Next to this is a Beni Zuwai crab and the waiter painstakingly explains how to best remove the meat using the specially designed scissors that have one longer end. Because the shell is so soft it is easy to get at the meat and certainly much easier than a mud crab or a spanner crab. While the legs aren't as meaty as say the Matsuba crab's legs, there is a good amount of meat. It does take a while to go through the whole crab though.
The next item is more Western than Japanese and it is a crab gratin wrapped in a buttery pastry. I realise how much I've missed pastry even in this short amount of time and I eat this greedily and with gusto.
They light the tea light on the pot on the table and it starts bubbling away. Already in the bowl are some crab legs and a light broth with bean sprouts and greens. By now I'm getting really full as crab is such a rich delicacy.
Cream croquettes are one of those unexplainable things-like how do bikes actually work and stay upright or how do plans stay in the air? How do these not fall apart on the way from the deep fryer to the plate? The inside of a cream croquette is so creamy that even picking it up causes it to break up. Oh how I love thee.
When they set down the grilled crab I must admit that I seemed a bit panicked because I couldn't eat another morsel of crab really. Well apart from a bit doused in lemon because research :)
This is a version of the soba that we had earlier today except that it isn't in three parts. There is one serve of soba with spring onions, nori, spicy carrot and daikon and karasumi as well as some picked crab meat. There's a side of soba sauce, this time stronger and slightly thicker than the one that we have had.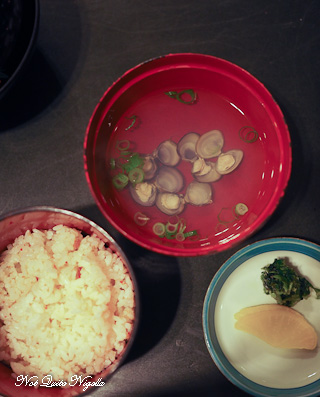 The last course is rice which signifies the end of the meal (apart from dessert). It's short grain rice with bits of crab meat and roe interspersed throughout it. I can't finish it but I do adore the shijimi clam dashi soup that has just the perfect balance of sweetness and saltiness to it.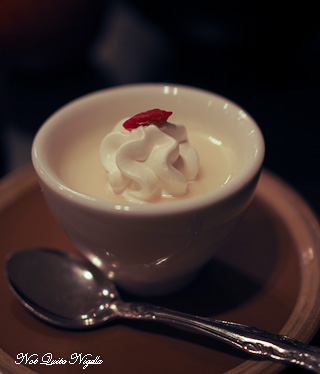 Dessert is an almond jelly topped with cream. There isn't any crab but the texture is good and it's light enough so that you want to finish it.
The next morning features two Matsue experiences that involve two of the area's most well known and popular traditional foods. At Saiundo, they've been making Japanese wagashi cakes for 130 years. Wagashi are beautiful sweets made out of ingredients like sweetened adzuki bean (angko) and tebomame or white beans. They can be filled with chestnuts and are coloured using natural colourings (shokubene) and created to reflect the season's best produce.
Each month they demonstrate how to make two types of wagashi. In March because it is cherry blossom season, they show people how to make the Sakura haru or cherry blossom wagashi as well as a nanohana or a yellow spring flower with white butterflies. Wagashi master Hirata san has been shaping wagashi for over 40 years and although retired, he still teaches the art of wagashi to students.
With just a few tools you can make wagashi and working with the bean paste is very similar to working with fondant or marzipan. He is a great teacher and very encouraging, even when mine go lopsided and a bit odd. Sieves of different hole sizes help create wonderful patterns but the best tool of all is the hands. Each class is Y1080 and goes for 30 minutes and by the end you get to take home your two wagashi as well as the Saiundo signature wagashi called Wakakusa. This rice cake is a soft, chewy rectangle dusted in a vivid green rice and sugar blended flour.
Hirata san even shows me how to make this elaborate wagashi that takes over 1 hour for him to make (he can make regular wagashi in around one minute). This wagashi is priced at around Y10,000/$125AUD each because of the time taken to make them and the effect is created with a pair of curved scissors. You can buy these at Kappadori in Tokyo.
Usually matcha or green tea is associated with Kyoto where much of the matcha is grown (in Ugi in Kyoto and Ai Ichi prefecture). But unlike other areas of Japan where they drink green tea, in Matsue people drink matcha. So what is the difference?
Normal sencha green tea is grown in fields and requires a lot of sunlight. It is harvested in May. Matcha is grown under shade and they pick two levels of leaves off. The top part is called the Okoicha and is the top grade matcha, the second half is called Usucha and is slightly cheaper. It is then steamed and the fermentation is stopped and the leaves quickly dried. It is then crushed and then ground using granite to produce the fine powder.
Prices in Matsue at places like Nakamura are less expensive than in Kyoto and Tokyo because people are so very accustomed to drinking it over regular green tea. At Nakamura tea house the highest grade Okoicha matcha costs Y3,000/$37AUD for 30g while the Usucha grade can cost Y1200/$15AUD for 30g. The company started in Matsue around 130 years ago when the king of Matsue Castle Matsudaira liked drinking matcha so much that Nakamura san opened up a shop here.
Visitors to the Nakamura tea shop can also have a matcha tea ceremony experience. You enter the tea ceremony building on your knees after washing your face with water. Then you start by eating traditional sweets-in our case it is the Wakakusa wagashi. Then Tanaksa san shows us how to make two types of matcha. First check that the chasen or frother made out of bamboo is shaped correctly. You can use a kusenaoshi to shape it. You then use the chashaku curved stick to measure two scoops of matcha powder that measures 1.25grams in total. You then add 60ml of water.
Picking up the chasen with three fingers you start off stirring slowly and then use rapid up and down movements using the wrist and a straightened arm. If you make the tea with a thick cover of small bubbles this is called Urasenke and is a creamy style of matcha. If the bubbles don't cover all of the surface and you can see the tea underneath then it is called Omotesenke.
You then pick up the bowl and move the drawing or emblem to the offside and then sip three times, the last time aspirating the tea across your palate and tongue to show appreciation. It's the last taste I have before I depart Matsue to meet Mr NQN in Kyoto!
So tell me Dear Reader, what food would you like 11 courses of? Have you ever participated in a tea ceremony or tried onsen?
NQN travelled to Japan as a guest of the JNTO (Japan National Tourism Organisation) but all opinions remain her own.
Minami-Kan
14 Suetsugu Honmachi, Matsue 690-0843, Shimane Prefecture
http://www.ryokan.or.jp/english/yado/main/97074
Journey Zakka and Fabric
Matsue Suetsuguhon-cho, 101 journey2 floor Telephone 0852-24-1620
http://journey.petit.cc/ Open 11: 00-19: 00, closed Tuesday
Tel:+81 0852-61-1678
Yakumoan
308 Kitahoricho, Matsue, Shimane Prefecture 690-0888, Japan
Phone:+81 852-22-2400
Hotel Ichibata
Japan, 〒690-0852 Shimane Prefecture, Matsue, 千鳥町30
Phone:+81 852-22-0188
http://www.ichibata.co.jp/hotel/stay/english.html
Saiundo
124 Tenjin-Machi, Matsue, Shimane Prefecture
Nakamura Chaho
Tenjin Machi 6, Matsue 690-0064 Shimane, Japan
Tel: 0852-24-0001
http://www.nippon-tea.co.jp/another/indexeng.html