A new burger place in Sydney opened quietly in September this year. Williams Burger Days is from the same people that brought the chain Grill'd to Australia but sports a very different sort of menu. What is Williams like?
The Williams menu was developed by Grill'd's Shane Pigdon and Josh Powell (formerly of Vue de Monde, Circa and The Fat Duck). The name Williams is based on the friendship between Grill'd's Simon Crowe and Shane Pigdon. Williams is a first and middle name that has been in the Crowe and Pigdon families for five generations.
In terms of a store look, it's all about clean lines and minimalist decor and the aesthetic is Scandinavia meets Japan. This is from the architects Design Office and creative agency Moffit.Moffit. The website espouses laidback surfer lifestyle although its location is on the 5th floor of the Westfield Sydney.
Service is friendly; you order at the counter and they bring your food to you. Takeaway customers can order through the touch screens. I'm here on a Monday night with Mr NQN and Ivy.
Kombucha & Finger lime $7.50 and Chardonnay $10
We start with drinks - Williams is licensed with cocktails, beer and wine. It's a glass of Chardonnay for Ivy and a Kombucha & Finger lime drink for me. This is a little peculiar. It's not really that finger limey, I expect some pops of finger lime beads but there are none. If anything it tastes like Chinese salted plum to me.
Passionfruit Milkshake $8
It is a passionfruit milkshake for Mr NQN which is delicious and perfectly fruity and creamy.
Beef, Bacon & Cheese Burger $15
The reason why I didn't eat at Grill'd much beyond one visit is because I like milk buns for my burgers. Grill'd uses firmer, thicker and even crusty buns which I think makes eating burgers a completely different experience and Williams is the same (but at least they're not the crusty buns). Everyone's favourite burger is the classic beef, bacon and cheese with an O'Connor beef patty, Williams sauce (made with tomato sauce, Tabasco and herbs), iceberg lettuce, tomato, charred onion, cheddar cheese and dry-cured bacon. It's a good burger and I just add a bit more sauce because again they love those firmer buns and I leave the top of the bun behind.
Sunday Roast Chicken $14
The second burger has a dipping sauce of chicken gravy. This actually helps with the thickness and denseness of the bread. Inside is a fillet of crispy chicken, iceberg, pickles and chicken crackling mayo. But once you dunk it all in you don't really get the individual components.
Tuna Cheeseburger $17
This is probably the most "cheffy" burger out of the three. It's a tuna patty sourced from the Fish Butchery in Paddington with a smoky native bbq sauce, iceberg lettuce, a thick slice of cheddar and mayonnaise. The smokiness makes this one quite distinct. The burgers are good but again I just don't love the bun although Mr NQN and I had a conversation about the buns at home and he said, "I wasn't so upset by the bun," which made me think that perhaps I get overly emotional about food. Probably, yes definitely.
Charred broccoli with whipped feta $4.50 (front) Williams Skin-On Chips $4.50 and Brisket Gravy +$2.50
Well you know me right? Emo about food and all about the sauces. I had to get gravy and all the sauces and one thing I do like is that the sauces are well priced as are the sides and they're also a good taster size although some people might find them small. The skin on chips are crunchy and seasoned with sea salt. The brisket gravy on the side has little pieces of beef brisket and is delicious. The charred broccoli is a tasty and simple side dish and is served on some whipped Meredith goat's feta.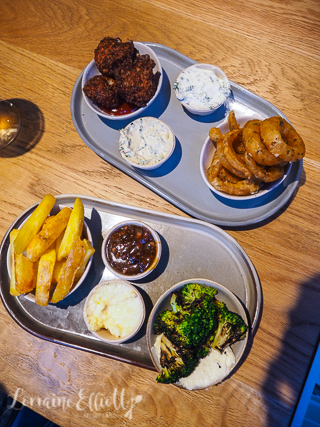 We also try the cheddar mayo which is on the thick side with tiny dots of cheddar cheese. The ranch sauce is made with lots of fresh herbs and a sour cream and mayonnaise base-it tastes like a riff on tzatziki rather than a buttermilk ranch.
Grain & Cous-Cous Salad $13
The salad is quite sizable and has lots of different textures and flavours from roasted pumpkin, grilled zucchini, freekah, pearl couscous, whipped feta, red onion, golden raisins, toasted almonds, pomegranate and fresh herbs. It's nice to have a fresh salad although it's quite large if you're dining as one and a smaller size would be good as an option.
Cheese & Biscuit Bites $5 (front) and Onion Rings $4.50
We all really like the onion rings with their crispy, light saltbush batter with vinegar. There could be a bit more vinegar to them but the crispness is the key here. We were a little confused by the cheese and biscuit bites (which we later find out should have crumbled savoy crackers on top). They're like the Brazilian cheese and tapioca patties that are crumbed and deep fried and I guess if you like arancini and tapioca they might be your sort of thing.
Williams Ice Cream $6
There's one dessert concept here and it's ice cream bought in in a choice of salted caramel, chocolate or vanilla. It's supposed to be your choice dipped in melted chocolate on a stick. In its place is an ice cream covered in flaked chocolate. We choose salted caramel and it's fine but perhaps not something I'd order again (the chocolate dipped ice cream sounds much better).
So tell me Dear Reader, do you get emo about food? What is your ideal burger bun? Do you have a favourite burger place?
This meal was independently paid for.
Williams Burger Days
Level 5, Westfield Sydney,188 Pitt Street, Sydney, NSW
Open seven days from 11am